What Goes Well With Potato Salad?
Simply Healthy Family may collect a share of sales or other compensation from the links on this page.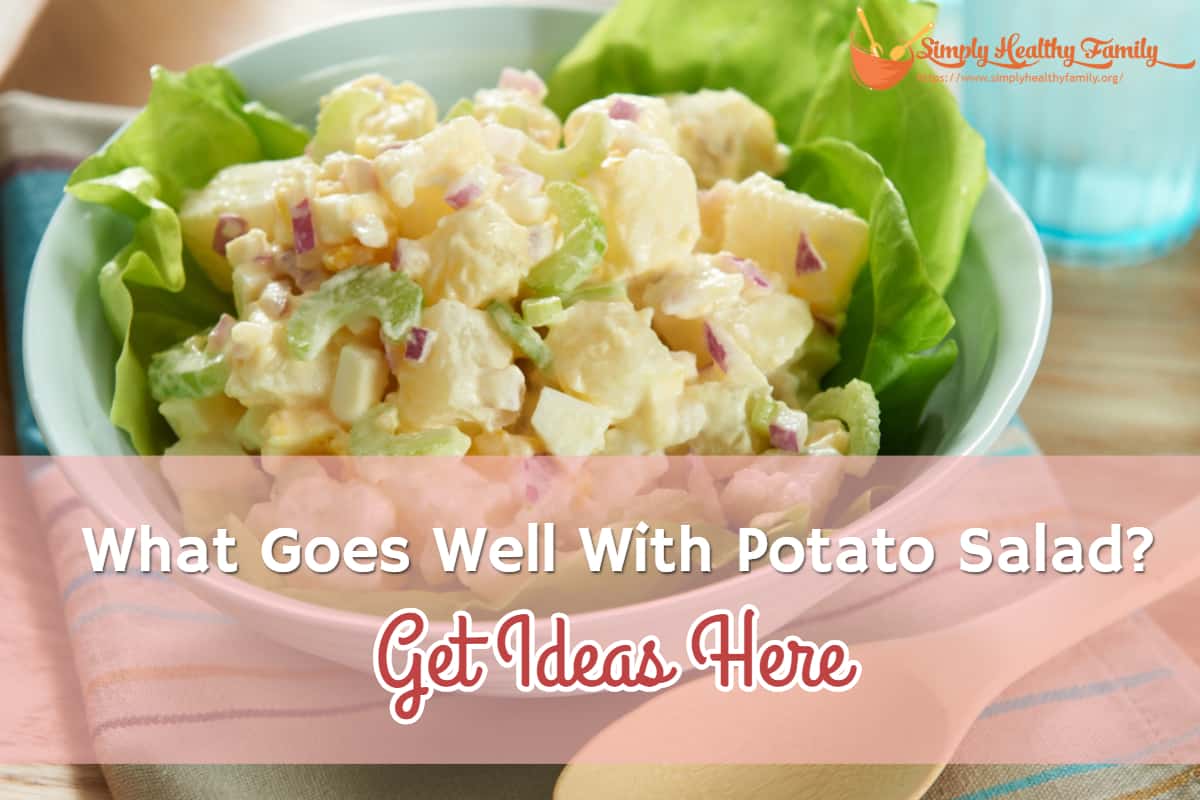 Potatoes are one of the most versatile vegetables. There are countless ways to cook it. You can mash it to go with meatloaf or pork chops. You can fry or bake them. And you can make them into potato salad.
But what goes well with potato salad? Is it just a cold treat to accompany main dishes? Or is it something that you eat simply to nourish your body with fiber?
I've always enjoyed potato salad. I remember my mom making a lot of this during summer barbeque parties. It's also something she would always bring to family gatherings. Suffice to say, it was always well received.
What is potato salad?
A plate of Potato Salad and a fork on the table
Potato salad is a type of salad consisting of boiled potatoes, mayonnaise, and other ingredients like onion, celery and herbs.
There's no written record how potato salad came about, but some quarters claim that it originated from Europe in the 16th century. It eventually made its way to the US in the 19th century thanks to European settlers.
The potato salad that Americans know is different from the European style potato salad. The standard European potato salad is served warm. It also includes olive oil and herbs.
On the other hand, American potato salad is served cold with mayonnaise and chopped potatoes like pickles and pimentos.
Related Reading: What To Serve With Paella? Five Great Paella Side Dishes
What to pair with potato salad?
Potato Salad and slices of black bread on the plate
Potato salads are often paired with meat dishes like barbecue, grilled pork and chicken, and meatloaf. Rich in fiber and nutrients like vitamin C and potassium, potato salads are the perfect complement to these protein-packed dishes.
Aside from the meat dishes I mentioned earlier, you can also pair potato salad with chicken nuggets, roasted chicken, pork chop, battered chicken, and the like. Potato is a light dish that can go well with any of these dishes.
I personally love pairing potato salad with grilled ham steak. It's a very flavorful and appetizing combination with a Southern flavor. The salad complements the thick-cut ham steak (see also '25 Easy Leftover Steak Recipes For Midweek Meals'). Then add apricot curry sauce to the salad—perfect!
Another dish that I usually pair potato salad with is lemon roasted chicken. Zesty and delicious, lemon roasted chicken is packed with flavor. It's a great dish that you can cook in less than 30 minutes. Even simple foods like hot wings, hamburgers, sausage and hotdogs would go well with potato salad.
But what if you're tired of too much meat? Well, you can also pair potato salad with other fish dishes. From pan seared fish to breaded fish fillets, any fish recipes would go well with potato salad. You can also serve potato salad with fresh or smoked salmon and tiger prawns.
**Want to know a quick way to store sweet potato? Read here for a quick guide on how to freeze them!**
Smoked duck and sesame potato salad recipe
Here's a sample recipe that I would like to share with you. This smoked duck and sesame potato salad is a very filling snack that you can serve to your guests. It's easy to prepare as it would only take less than 30 minutes, and can feed 4 people.
Ingredients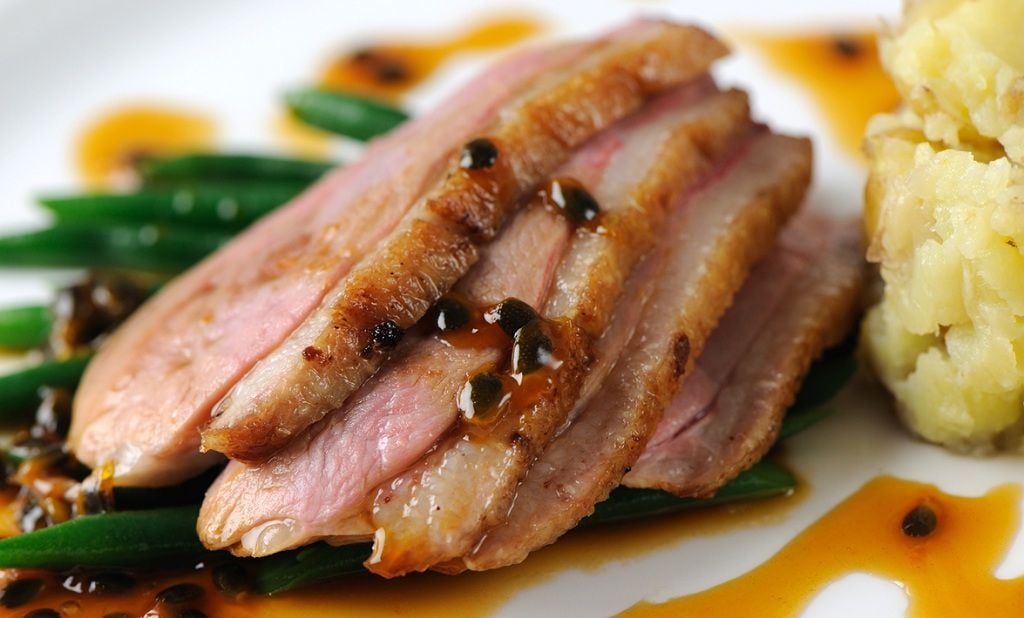 Slices of smoked duck breasts and Potato Salad on the plate
2 smoked duck breasts, sliced
1 large potato, peeled and cubed
Two tablespoons of vegetable oil
Salt and black pepper to taste
50 grams of sesame seeds
Soy sauce
100 ml of plum sauce
50 ml of rice wine vinegar
1 lime (juice only)
1 tablespoon of fresh coriander
1 chili
Fresh mint leaves
2 baby gem lettuce leaves
Step by step guide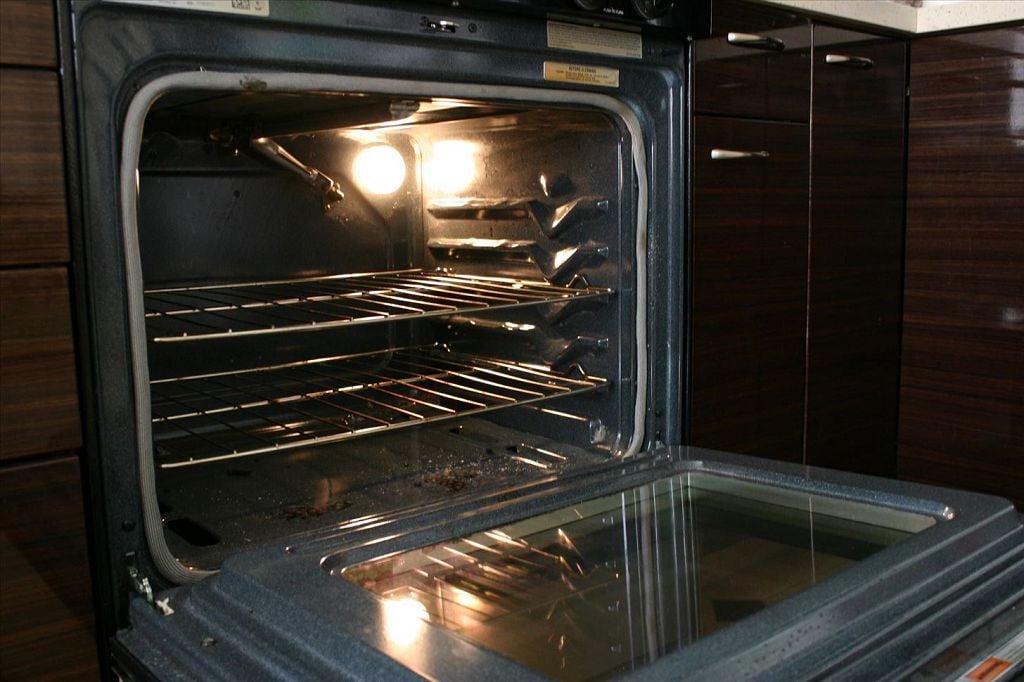 Preheat the oven to 400 degrees Fahrenheit
Preheat the oven to 400 degrees Fahrenheit.
Put oil in an ovenproof dish then place the dish in the oven. Wait for five minutes or until the dish has become hot.
Add the potato cubes and season with salt and pepper
Add the potato cubes and season with salt and pepper.
Remove the dish from the oven then add sesame seeds and soy sauce. Stir well.
Combine the plum sauce, rice wine vinegar, chili, lime and fresh coriander in a bowl
Combine the plum sauce, rice wine vinegar, chili, lime and fresh coriander in a bowl.
Place the mint and lettuce leaves in a large bowl. Add the dressing and mix well so that the lettuce leaves will be well-coated. Add potatoes and top with the slices of smoked duck breast.
Tips for making potato salad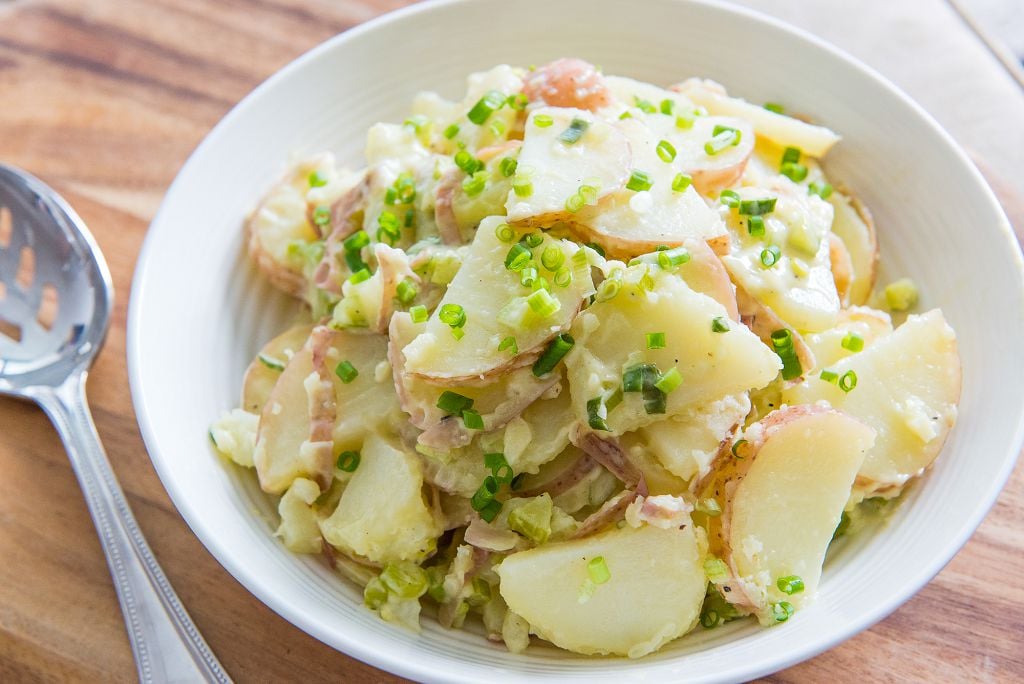 A plate of Potato Salad and a fork on the table
Here are some pointers to remember in preparing potato salad:
Use waxy potatoes for potato salad. These include fingerling and red bliss potatoes. These potatoes are not starchy and can retain their shape when boiled.
Add salt to the water when the potatoes are being boiled. This can make the potatoes flavorful. Don't add salt to the potatoes when these are cold or when you are to dress the salad.
Remember not to overcook the potatoes. Since potatoes are the main ingredient in a potato salad recipe, you want them to be soft and tender. Check if they're cooked by piercing their skin with a fork. Based on my experience, it would only take 8 to 12 minutes for potatoes to get cooked.
**​Searching for a tasty potato treat? Here's an amazing white sweet potato recipe, see it here!**
Conclusion
A plate of Potato salads on the table
Potato salads can go well with a lot of dishes. That what separates it from many other salad types. It can go well with chicken, pork and beef dishes. And you can eat it with fish dishes, too.
What's your favorite dish to go along with potato salad? Let us know in the comments section below.