Delicious Copycat Black Bear Diner Pancake Recipe
You'll love these so much that you'll want an easy way to cook them! Black Bear Diner is a restaurant chain specializing in traditional American cuisine, and the pancakes on its breakfast menu are famous. Black Bear Diner pancakes are known for their large size and fluffy texture and are made from a batter that includes buttermilk and is cooked on a griddle until golden brown. Their pancakes inspire this recipe, and do not use buttermilk!
If you have a crepe maker, you can ensure they're always perfect. And if you have a portable electric stove, you can even cook them when camping!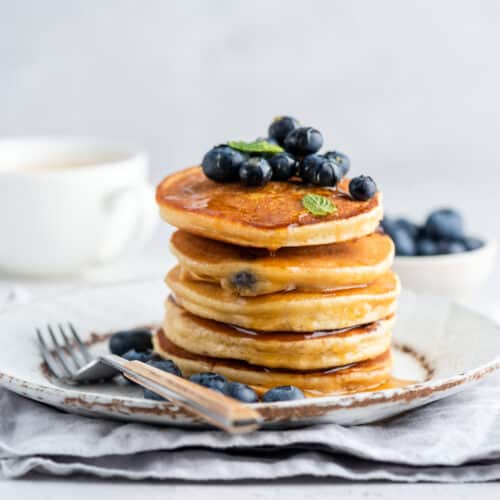 Black Bear Diner Pancake Recipe
Ingredients
1/4

cup

Sugar

2

tsp.

Baking Powder

Pinch of Salt

2

cups

Flour

3

Eggs

1

cup

Milk

1

cup

Half and Half

1 1/2

tbsp

Vanilla Extract

Butter

Syrup

Other toppings desired
Instructions
Mix Dry Ingredients

Start by mixing all the dry ingredients together. Combine the sugar, baking powder, salt, and flour in one bowl. It's essential that the mixture doesn't have lumps. A smooth mix is the key to a perfect pancake. Sift the dry ingredients if necessary to get the right consistency.

Separate the Eggs

Separate the egg yolks from their whites by cracking the eggs and switching the egg yolk from one part of the shell to the other, until only the yolk remains. Catch the whites in a bowl and set aside. The egg whites are a vital ingredient to be used later.

Mix Wet Ingredients

Mix all of the liquid ingredients – egg yolks, milk, half and half, and vanilla – together in their own bowl. Mix these ingredients thoroughly.

Combine Wet and Dry Ingredients

Mix together the wet and dry ingredients. Do not over-mix, but instead mix ingredients just until they combine. Be mindful not to allow any lumps to form because this will change the consistency of the pancakes.

Mix Egg WhitesIt's time to use the egg whites that were set aside. Whip them with a mixer or by hand with a whisk or fork until they form soft peaks.

Fold In Egg Whites

Gently fold (do not stir) the egg whites into the rest of the mixture. The folding allows the batter to get the right consistency – a pancake that is fluffy.

Prep Skillet

Heat the skillet on medium-high heat. Then, when fully heated, add butter to the skillet. Take ⅓ cup of the batter and add it to the skillet, making a round pancake shape.

Cook

Cook to preference, or until the pancakes become golden brown in color, flipping when one side turns golden. Give the pancake two to three minutes per side. Repeat this until all of the batter is gone. Add butter, syrup, whipped cream, or other toppings to the pancakes based on preference.
Notes
Based on preference, substitute some ingredients for low-fat versions, such as equal amounts of water or dairy-free milk in place of half and half and/or milk. It is also possible to switch out the butter with some other non-stick component, like cooking spray, to prevent pancakes from sticking to the skillet, thus making cooking and cleaning up challenging.
Copycat Black Bear Diner Pancakes Tips
This copycat Black Bear Diner sweet cream pancakes recipe should taste similar to the real thing. The diner has a secret recipe, but some tips will help make your pancakes taste similar. There are a few ways to switch the recipe up, too, and it's easy to experiment to find the best flavor.
Use Heavy Cream or Heavy Whipping Cream
While most copycat recipes call for half and half, some substitute with heavy whipping cream. The difference between heavy cream and the half and half is that heavy cream has a higher fat content, which leads to a more decadent pancake. Recipes that call for heavy cream may also have other differences in instructions and ingredients.
Switch Toppings
A classic way to eat the sweet cream pancakes from Black Bear Diner is with maple syrup and butter. But there are many other ways to enrich this breakfast recipe. Use fresh fruit (like strawberries or blueberries), chocolate chips to the batter, or whipped cream on top. The original pancakes will be delicious, but there's a lot of room for creativity.
Cooking Tips
If cooking for a crowd, doubling up on the given recipe is a good idea. It may be worth it to triple the recipe if there are many people to feed at once. It's also possible to freeze the pancakes for later.
Using an electric mixer to whip the egg whites will produce fluffy pancakes!
The hardest part about cooking pancakes is knowing when to flip them. I usually spread pancake batter on a medium-heat griddle or cast iron pan and wait until I see little bubbles forming, usually 2-3 minutes on one side of the pancake. Then flip the pancake over to cook for 1-2 minutes.
To freeze, place pancakes in one layer on a baking sheet, and put them in the freezer for 30 minutes to an hour. Then stack the pancakes on top of one another, separating them with parchment or wax paper to prevent them from sticking together.
Store the stacked pancakes in a freezer-safe bag, and store them in the freezer for up to two months. Eat them within a couple of months for the best taste. Reheat using the oven or microwave, or use the toaster.
Replicating Black Bear Diner sweet cream pancakes is possible with the right ingredients. Much of this recipe is about getting the right texture for the pancakes. Although some practice may be required, this recipe is simple and easy to follow.
And if you like to try other textures in your pancakes, try cooking these pancakes in a rice cooker! Rice cooker pancakes are fluffier than pan-cooked, but they're oh-so-fun to eat.