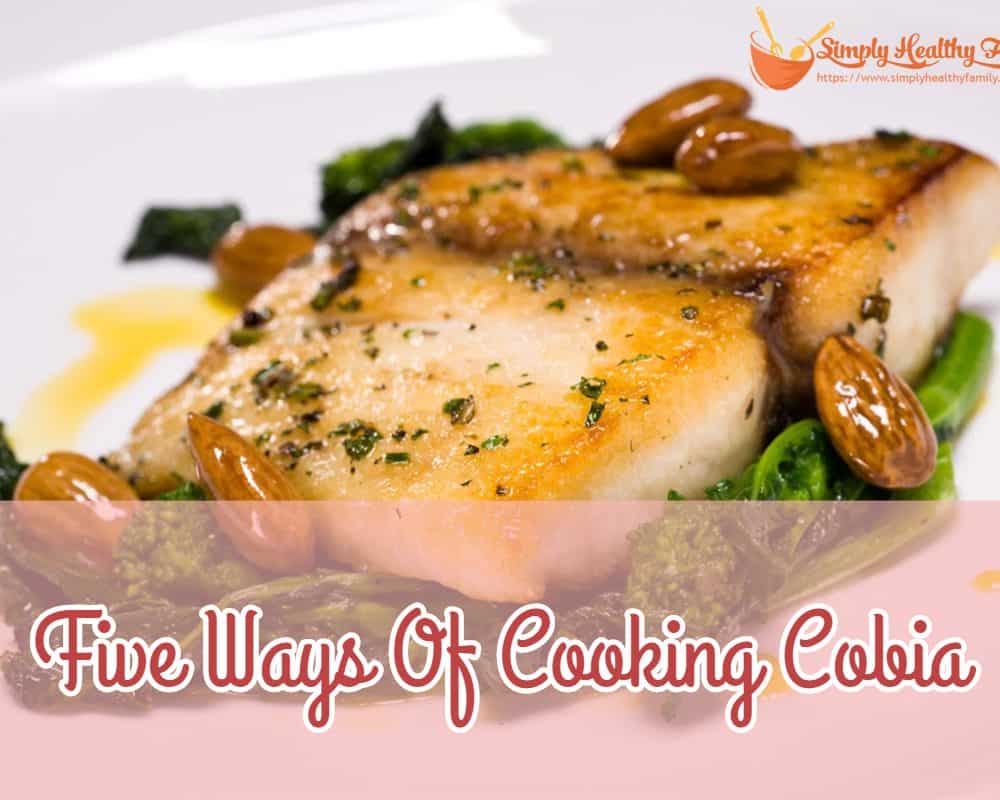 Simply Healthy Family may collect a share of sales or other compensation from the links on this page.
Cobia is a fish that you may have never heard before. Sure, it is not as popular as tilapia or salmon but it will soon become one of the fish of the future. That means more cobia fishes will be reproduced and it may very well be one of the top seafood in the next five to 10 years.
For anglers, though, cobia is such a prized catch. It's a fish that is very challenging to catch. With weight reaching up to 100 pounds and notoriously aggressive, it is not surprising why many anglers dream of catching one.
But if you are fortunate enough to catch or buy one, you are in for a treat. Cobia has a sweet and quite nutty flavor.
Now you may wonder—how do you cook cobia? Cobia can be cooked in different ways. Continue reading and I'll let you know more about it.
What is cobia?
Cobia and slices of Cobia on the plate
Cobia is a fish with a bulging lower jaw and flat head. It is colored dark brown with a white belly. The fish has a dark stripe that stretches from its eye to its tail. It can reach up to 78 inches in length.
Some people compare the flavor of cobia to that of tilapia. It's a fair comparison although I find the meat of cobia slightly sweeter and milder than tilapia.
One glaring similarity between cobia and tilapia is that overcooking them can lead to dry and tough meat.
Different ways of cooking cobia
As I mentioned earlier, there are many ways to cook cobia. It is up to you how you cook it; depending on the time that you have and the ingredients you have in hand.
1
Broiled
Slices of broiled cobia and slices of lemon on the plate
One way is to broil cobia. Start by preheating the broiler. You can then brush the pan with olive oil so as the cobia fillets won't stick to the pan.
You can then proceed to put the fish on the broiler pan. You can season it with salt and pepper, or even cayenne pepper.
Broiling one side of cobia should not take more than five minutes. Turn the cobia and broil the other side for another five minutes. You would know that the cobia is cooked when it is opaque in color.
Once the cobia is done, you can remove it from the pan. Serve it with lemon wedges as garnish.
2
Fried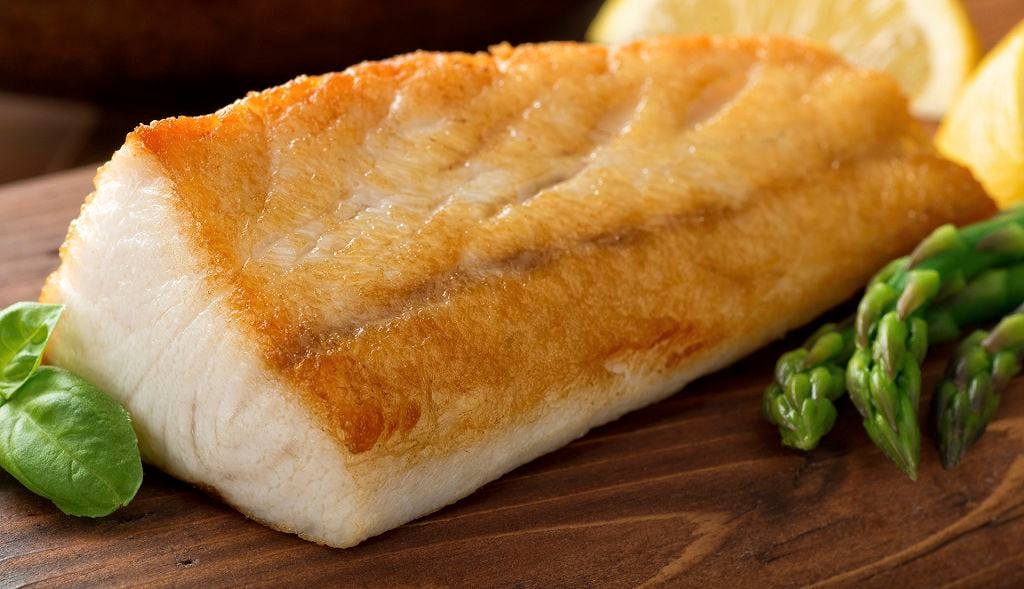 Slices of broiled cobia on the chopping board
You can also fry cobia. To absorb excess moisture, pat the fish with paper towel. You can then sprinkle the fish with salt and pepper. I usually add more salt to the skin side.
Heat a pan over medium-high heat. Add oil then place the cobia in the pan once it is hot. Like in broiling cobia, it should take around 3 to 5 minutes to cook the fish. You will know that the fish is cooked when the skin is crisp, and the color has turned white.
3
Grilled
Slices of broiled cobia on the plate
Preheat the grill to medium-high heat. I usually set it to about 400 degrees Fahrenheit. Again. To prevent the cobia from sticking, the grates should be covered by olive oil.
You can simply season the fish with salt and pepper. Lay it on the grill and cook it for 5 minutes. Turn the fillets and grill for another five minutes.
4
Sauteed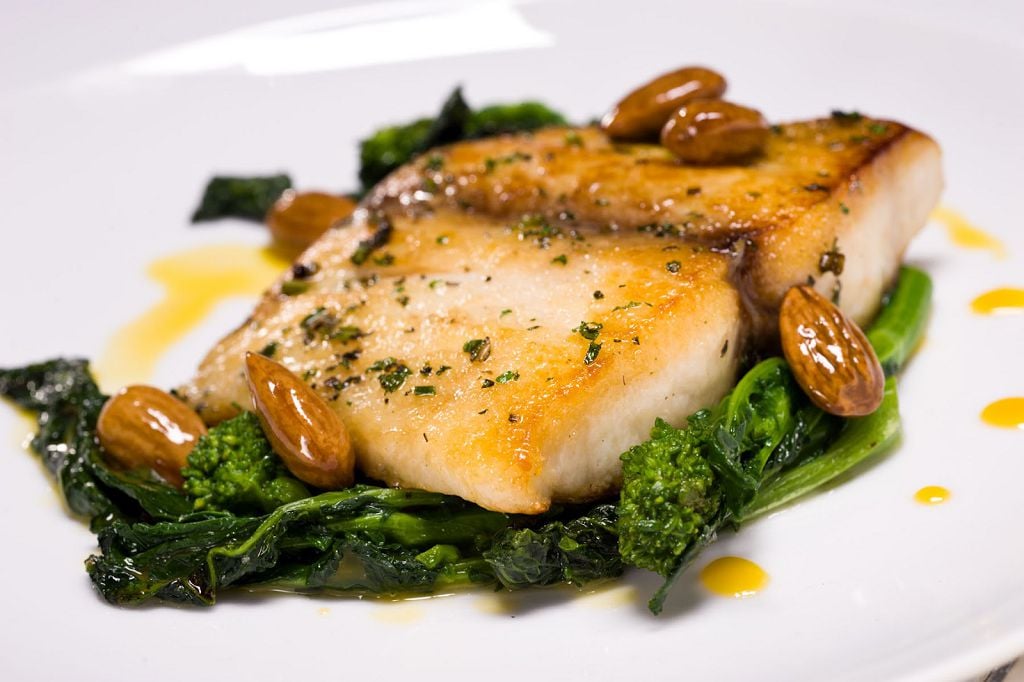 sauté cobia and vegetables on the plate
You can also sauté cobia. Start by placing a skillet over high heat, then putting in 3 tablespoons of olive oil. Add fresh garlic then reduce the heat to medium. You will then sauté the garlic until it starts to pop.
Season the fish with salt, pepper, and oregano. Then place the fish in the pan. Saute it for about three minutes, turning it to sauté the other side for another 3 minutes. The cobia should be ready or cooked when it is opaque all the way through.
5
Baked
You can also bake cobia fillets. However, you would have to spend some time in doing so because baking cobia would take around 20 to 30 minutes. The wait is worth it, so to speak because you would end up with a delicious meal.
This baked cobia with mushrooms and thyme recipe I am about to share serves four people. You will need the following ingredients:
Ingredients
Hummus, lemon juice, cobia fillets, finely chopped, black pepper, sea salt, virgin olive oil and mushrooms
4 large mushrooms (check how long your mushrooms are good for, because you want them as fresh as possible)
One-fourth cup of extra virgin olive oil
Sea salt
Black pepper
A bunch of thyme, finely chopped
Four cobia fillets
Hummus
Step by step guide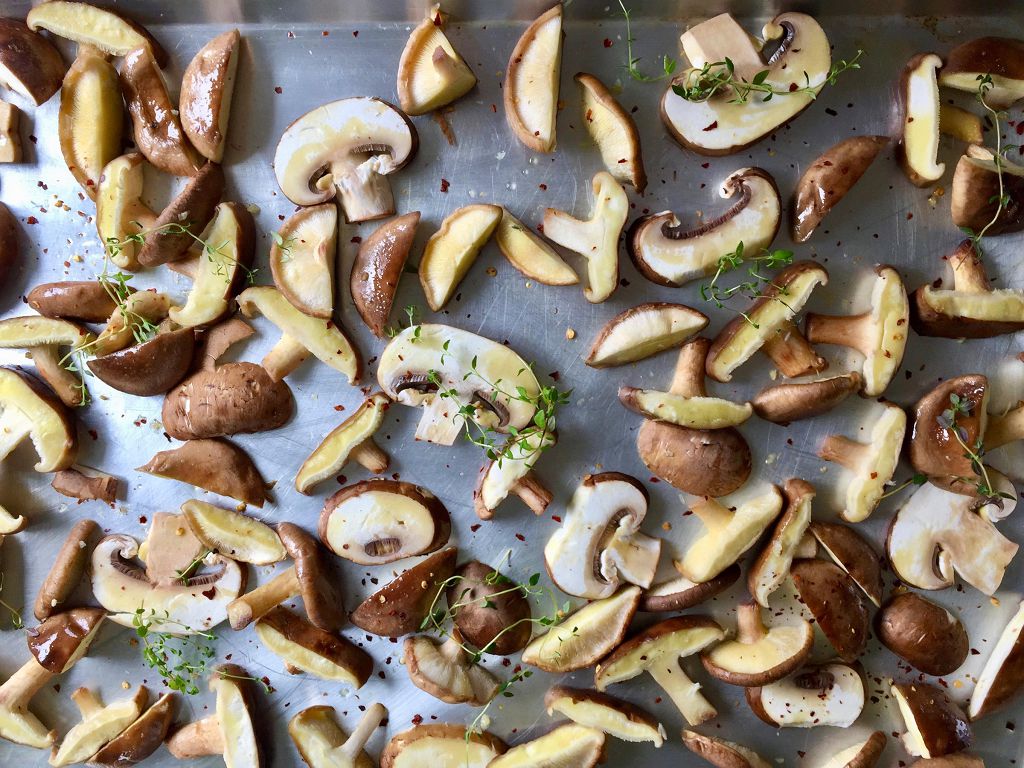 Sprinkle some olive oil over the mushrooms
Preheat the oven to a temperature of 200 degrees Fahrenheit.
Sprinkle some olive oil over the mushrooms. Season it with salt and pepper.
Add thyme then bake the mushrooms for 20 minutes.
Rub the cobia fillets with oil and add salt. Place them on a tray
Rub the cobia fillets with oil and add salt. Place them on a tray and bake for eight minutes or until the fish becomes firm.
Carve the mushrooms then serve with hummus.
**Want to learn some new kitchen trick? Read our quick guide about measurement tricks here!!!**​
Conclusion
Cobia may not ring a bell today but many people believe that it will be more accessible to a lot of folks several years from now. After reading this post you should now have a head start so to speak as far as knowledge of cooking cobia is concerned.
And a bonus is that these cooking methods can also be used to cook other fish, like triggerfish or pompano fillets!