What Is Cobia and How Do You Cook It? Five Different Ways to Cook it
Simply Healthy Family may collect a share of sales or other compensation from the links on this page.
Cobia is a fish that you may have probably never heard of before. Cobia, also known as black kingfish, is a large, tropical fish in warm waters worldwide. It has a firm, white flesh and a mild, sweet flavor that is often compared to that of mahi-mahi or swordfish.
Sure, it is not as popular as tilapia or salmon, but it will soon become one of the fish of the future. That means more cobia fishes will be reproduced, which may very well be one of the top seafood in the next five to 10 years.
But if you are fortunate enough to catch or buy one, you are in for a treat. Cobia has a mild sweet taste and quite a nutty flavor.
Now you may wonder—how do you cook cobia? Cobia can be cooked in different ways. Continue reading, and I'll let you know more about it.
What is cobia?
Cobia and slices of Cobia on the plate
Cobia is a white fish with a bulging lower jaw and flat head. It is colored dark brown with a white belly. The fish has a dark stripe that stretches from its eye to its tail. It can reach up to 78 inches in length.
Some people compare the flavor of cobia to that of tilapia. It's a fair comparison, although I find the meat of cobia slightly sweeter and milder than tilapia.
One glaring similarity between cobia and tilapia is that overcooking them can lead to dry and tough meat.
Where are Cobia fish from?
Cobia fish are found in warm waters worldwide, including the Atlantic, Indian, and Pacific Oceans.
They are commonly caught in the coastal waters of the southeastern United States, particularly in the Gulf of Mexico and off the coast of Florida.
Cobia is also found in the Caribbean Sea and the waters around Australia, Southeast Asia, and the coast of Africa. In some regions, such as the Gulf of Mexico, Cobia is farmed in aquaculture operations to meet the demand for this popular fish.
Are Cobia fish safe to eat? Is Cobia fish high in Mercury?
Cobia is a large predatory fish, and like other large fish, it can contain elevated levels of mercury. Mercury is a naturally occurring heavy metal that can accumulate in the bodies of fish over time, particularly in muscle tissue.
The US Food and Drug Administration (FDA) provides guidelines for safe levels of mercury consumption in seafood, recommending that pregnant women, nursing mothers, and young children reduce certain fish to eat, including Cobia. The FDA recommends that these groups limit their intake of Cobia to no more than one serving per week or 8 ounces (226 grams) per week, and has a great FAQ page giving answers.
The FDA provides information on the mercury levels in various types of fish and recommendations for safe consumption levels based on age and gender. The FDA also recommends that people who are not in these high-risk groups still eat a variety of seafood to obtain the many health benefits that fish and other seafood provide while still being mindful of the potential risks of mercury consumption.
Like all fish, different areas where the fish was caught could impact how much mercury has accumulated in the meat. Please check local advisories regarding fish consumption and follow the recommendations provided by health and regulatory agencies.
Different ways of cooking cobia
As I mentioned earlier, there are many ways to cook cobia. It is up to you how you cook it, depending on the time you have and the ingredients you have in hand.
1. Broiled
A dish of broiled cobia and slices of lemon on the plate
One way to cook cobia is to broil it:
Start by preheating the broiler (usually 5-10 minutes is enough time)
You can then brush the pan with olive oil or melted butter so that the cobia fillets won't stick to the pan
You can then proceed to put the fish in the broiler pan. You can season it with salt and pepper or cayenne pepper/paprika and garlic powder.
Broiling one side of the cobia should not take more than five minutes.
Turn the cobia and broil the other side for another five minutes.
You would know that the cobia is cooked when it is opaque in color.
Once the cobia is done, you can remove it from the pan. Serve it with lemon wedges as garnish.
2. Fried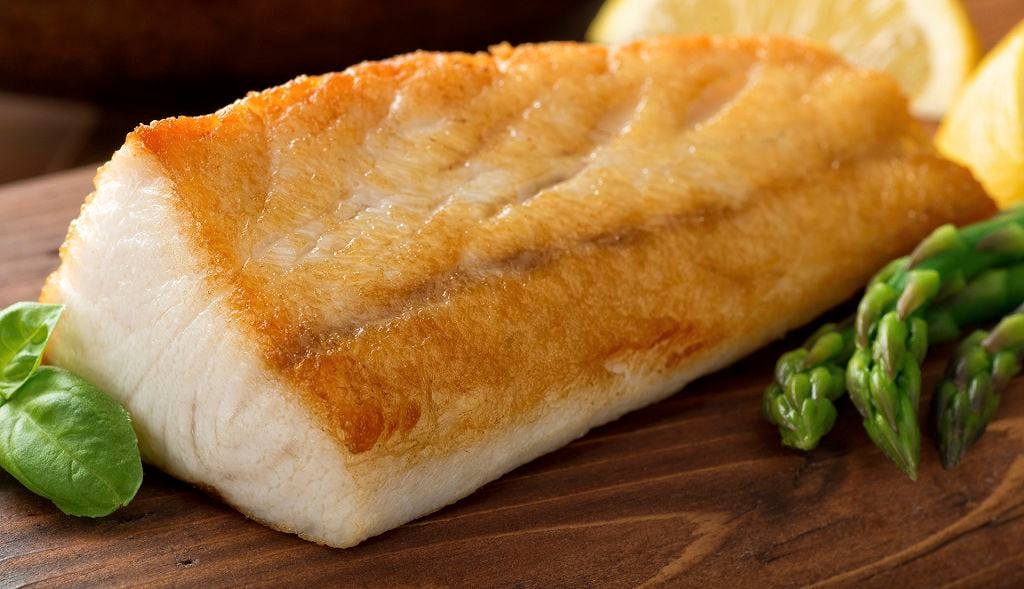 Slices of broiled cobia on the chopping board
Another way to cook the Cobia is to fry it!
To absorb excess moisture, pat the fish with a paper towel.
Create a flour mixture with flour, salt, and pepper. The flour mixture helps to keep the fish moist when it cooks and makes the fish crispy and delicious.

Heat a pan over medium-high heat (350 deg F – 375 deg F or 175 – 190 deg C)

Add oil, then place the cobia in the pan once it is hot.

Like broiling cobia, cooking the fish should take around 2 to 5 minutes per side. The exact cooking time will depend on the thickness of the fish
You will know that the fish is cooked when the skin is crisp and the color has turned white.
3. Grilled
Slices of broiled cobia on the plate
The third way is to grill the Cobia!
Preheat the grill to medium-high heat. I usually set it to about 400 degrees Fahrenheit.
Again to prevent the cobia from sticking, the grates should be covered with olive oil or melted butter.
Mix ground cumin-spiced fish rub with other spices such as chili powder, paprika, garlic powder, salt, and black pepper for a simple cumin-spiced fish rub.
Rub the spice mixture onto the fish.

Lay it on the grill and cook it for 5 minutes.

Turn the fillets and grill for another five minutes.
Again, you will know that the fish is cooked when the skin is crisp and the color has turned white.
4. Sauteed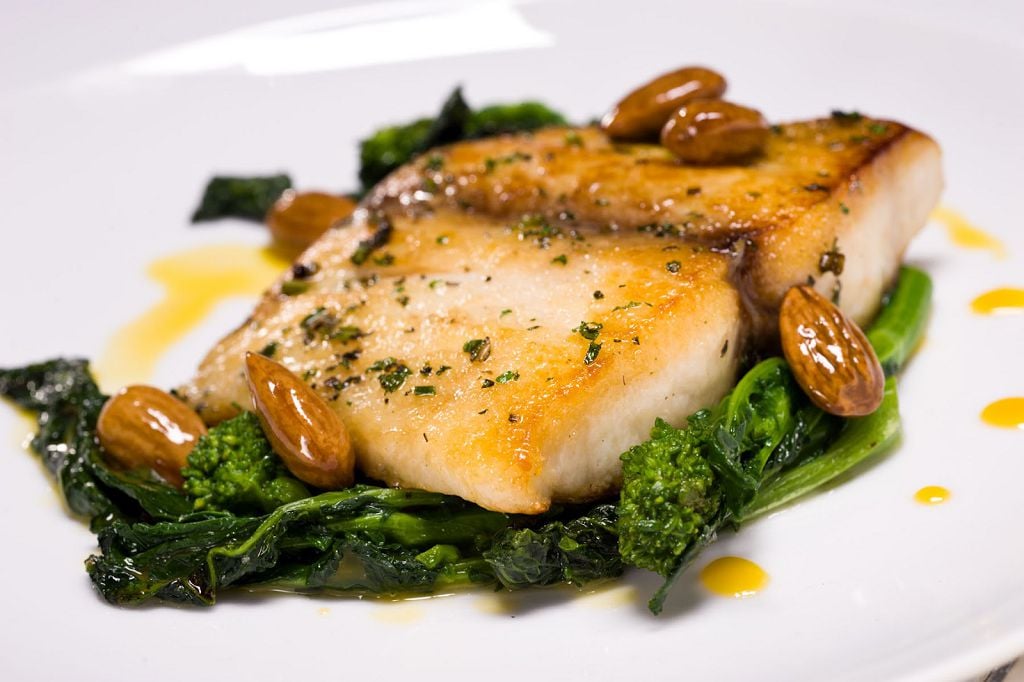 sauté cobia and vegetables on the plate
The fourth way is to saute the Cobia.
Season the Cobia fish with salt and pepper on both sides, then dredge them in flour to coat

Place a skillet on medium-high heat, then add three tablespoons of olive oil or butter.

Once the butter has melted and the pan is hot, add the fish and cook for 3-5 minutes on each side (until golden and cooked through)

Transfer the fish to a dish on a plate and keep it warm.

Add

fresh garlic,

then reduce the heat to medium and

sauté the garlic until it starts to pop (1-2 minutes)

Pour in white wine and chicken broth and bring to a simmer. Cook for 5-7 minutes until the sauce has reduced to half and thickened slightly.
Return the fish fillets to the skillet and spoon the white sauce over them. Cook for 1- 2 minutes.
Finish the Cobia fish by adding chopped parsley or cilantro over the fish and serve with lemon wedges.
5. Baked
The fifth way is to bake the cobia fillets!
Preheat the oven to 375 deg F (190 deg C)
Season the fish fillets with salt and pepper on both sides
Coat a baking dish with olive oil or cooking spray which will prevent the fish from sticking
Place the fish in the baking dish and drizzle with olive oil if needed
Bake the fish until the internal temperature is 145 deg F or 63 deg C; you can check it using a meat thermometer! Depending on how thick the fish is, I would start checking the fish after 12-15 minutes
Remove the fish and let it rest for a few minutes before serving it with lemon wedges
I also have a baked Cobia recipe below as inspiration to bake this delicious fish!
Baked Cobia Recipe with Mushrooms
This baked cobia with mushrooms and thyme recipe I am about to share serves four people.
Ingredients
Hummus, lemon juice, cobia fillets, finely chopped, black pepper, sea salt, virgin olive oil, and mushrooms
4 Portabello mushrooms (check how long your mushrooms are good for because you want them as fresh as possible)
1/4 cup or 60 mL of extra virgin olive oil
Sea salt
Black pepper
2 tsp of crushed garlic
A bunch of thyme, finely chopped
Four cobia fillets
Hummus
Step by step guide
Preheat the oven to a temperature of 375 degrees Fahrenheit.
Sprinkle some olive oil over the whole mushrooms. Season it with salt and pepper.
Add garlic and thyme, then bake the mushrooms on a lined baking sheet for 15-20 minutes.
Rub the cobia fillets with oil and add salt. Place them on a tray and bake the fish until the internal temperature is 145 deg F or 63 deg C.  Depending on how thick the fish is, I would start checking the fish after 12-15 minutes
Remove the fish from the oven and let the fish rest for a few minutes.
Carve the mushrooms, then serve with hummus.
**Want to learn some new kitchen trick? Read our quick guide about measurement tricks here!!!**​
Conclusion
Cobia may not ring a bell today, but many people believe that it will be more accessible to a lot of folks several years from now. After reading this post, you should now have a head start, so to speak, regarding knowledge of cooking cobia!
And a bonus is that these cooking methods can also be used to cook other fish, like triggerfish or pompano fillets!