Simply Healthy Family may collect a share of sales or other compensation from the links on this page.
Superman cheesecake not only tastes incredible but looks amazing, too. The recipe has become a favorite in Michigan but there's no reason why this cake can't be enjoyed anywhere.
Here we'll take a look at what you need to make it, how to cook it and also give you some tips on how to make yours special. By the time you get to the end, your mouth will be watering and you'll be ready to get started!
Ingredients
The Crust
1 ½ cup of Graham cracker crumbs
¼ cup of granulated sugar (superfine sugar) or replace with 2 tbsp. of sugar
¼ cup melted butter
The Cheesecake
4 by 8-ounce bars of cream cheese (32 ounces) left at room temperature
½ cup of granulated sugar (superfine sugar) or 1 ⅓ cups of sugar
4 large eggs
¾ cup of heavy cream (or replace with 1 cup heavy cream and 1 cup sour cream)
1 tsp. vanilla extract (optional 1 tsp. lemon extract if you want to give it a tang)
Americolor food coloring gel (blue, red, yellow, or you can change it by adding red, purple, and more)
How to Make Superman Cheesecake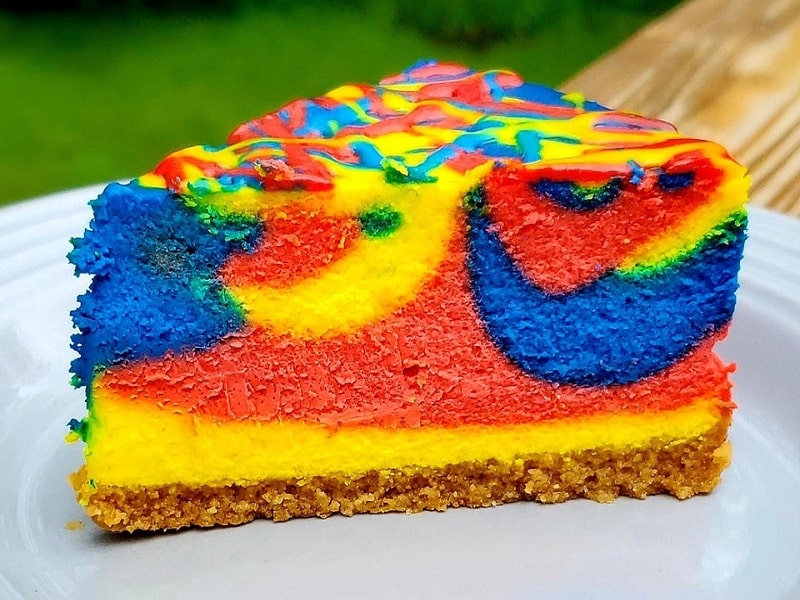 The Crust
Step 1: Preheat Oven To 350 And Prepare The Crust
Heat up the oven. Take a leak-proof pan and spray the pan with a non-stick cooking spray.
Take your melted butter and mix it with the Graham cracker crumbs and your sugar. Press the mixture into your pan at the bottom and on all sides. Place in the oven and bake for about seven minutes and leave on a cool rack.
The Filling
Step 1: Get Out Your Mixer
If you have a mixer, fit it with the paddle attachment. Take the cream cheese and combine it with the sugar. Beat the ingredients until smooth. Add your eggs one at a time. Make sure to scrape down your bowl in between adding an egg. Add your cream, extracts, and mix until smooth and creamy.
Step 2: Add The Butter And Food Coloring
Take your batter and divide it into six Ziploc bags. Next, add your food coloring to reach your desired color. Use small bowls to help stir in your coloring.
Take your batter and drop it into the crust by allowing the colors to overlap. Use a butter knife to swirl your colors around or leave it in layers as preferred.
However, do not overmix them. When swirling, do this once or twice with the tip of the knife.
Step 3: Make A Water Bath
Take a 10×10-cake pan or even a roasting pan and fill it halfway using water to create a bath. Then, place your cheesecake pan into the water.
Step 4: Put Your Superman Cheesecake Into The Oven
Place in the oven and bake for up to 45 minutes until you notice the edges have set. You will notice the middle still wobbles. Close the oven door, switch it off, and let your cake rest for an hour inside.
Step 5: Cool Down And Refrigerate
Remove the cake from the water bath and leave it on the cooling rack to cool. Place in the refrigerator overnight.
Superman Cheesecake Recipe Notes
You can make the superman cheesecake without coloring, as it is fluffy to enjoy as a typical cheesecake.
To add some more color go wild using the colorful sprinkles.
As mentioned, if you do not have a leak-proof pan, wrap the pan's base well using heavy-duty foil. It helps prevent the water from seeping through to your cake.
Never skip the water bath as it helps keep the cake intact without cracking.
For the best color results use a gel food coloring you can buy at craft stores or online. You can substitute it with liquid food coloring, but it will not come out as vibrant.
Using gel food colors only needs about two to three drops to give the cheesecake a vibrant look.
You May Also Like: French-Style Cheesecake Recipe
Nutritional Value
| | |
| --- | --- |
| Calories: | 507 kcal |
| Carbohydrates: | 37 grams |
| Fat: | 38 grams |
| Saturated fat: | 21 grams |
| Protein: | 7 grams |
| Cholesterol: | 168 mg |
| Potassium: | 154 mg |
| Sodium: | 372 mg |
| Sugar: | 30 grams |
| Fiber: | 1 gram |
| Calcium: | 101 mg |
| Iron: | 1 mg |
| Vitamin A: | 1431 IU |
| Vitamin C: | 1 mg |
As you can see, making your own superman cheesecake is straightforward by following the recipe. The best part is that you can make the basic recipe into different forms by adding color and flavors to it.
Incorporate Some Chocolate
While not a new trend, using Kit Kat in your cheesecake with a smooth cream filling on the top is delicious. You get a crunchy texture with the wafer base, and no one will be able to resist it.
Add Something Extra
You need not keep it traditional but can add chopped fruit, berries, or chocolate pieces to the filling, and even nuts. If you want something unique, add a topping and go wild with cream, chocolate, nuts, or anything want. You can even add sponge fingers or biscotti to the sides.
Tips for the Perfect Superman Cheesecake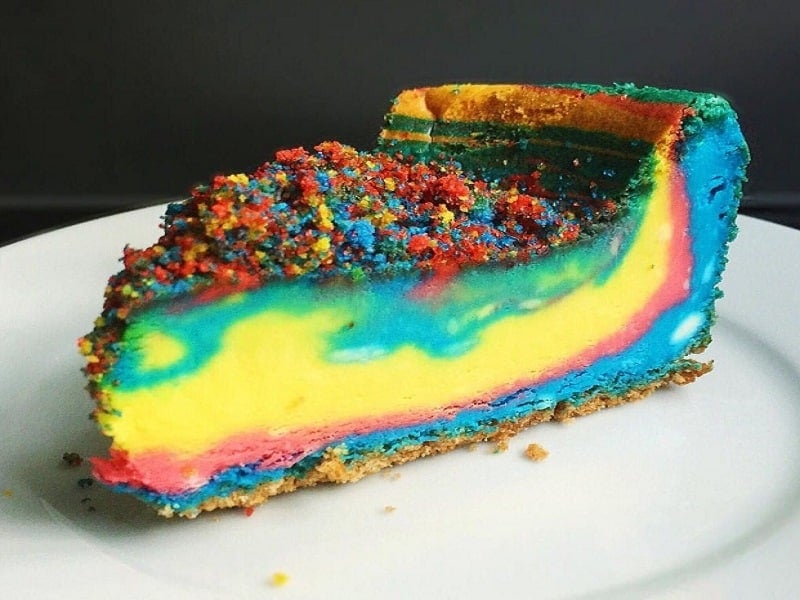 Now that you have the superman cheesecake recipe, how can you make the perfect cake?
As you can see, this is a recipe for a baked cheesecake, but you can also make it into an ice-cream version as well. Make sure the ingredients mentioned are fatty and not low-fat whipping cream cheese and cream.
The reason is that low-fat creams can create ice crystals. Place the cream in the fridge to chill and whip it up to stiff peaks using the paddle in the mixer. Place in another bowl and combine your cream cheese and sour cream if you plan to use it. Leave out the eggs and mix in your granulated sugar with your vanilla extract.
Use a spatula and fold in your whipped cream. Now separate the cream as mentioned in the recipe to color using your food coloring. Next, pour your ingredients in layers and give them a swirl if you like onto the crust.
Leave it on your counter for up to three minutes to help it settle. Then, level the top with your spatula and decorate with your sprinkles and more. Place in the freezer for up to six hours or overnight if you prefer.
When the time comes to enjoy your masterpiece, use a hot knife around your cake to help loosen it from the pan. If still frozen, leave for five minutes making it easier to cut. Take your knife dipped in hot water to slice and serve with whipped cream swirls, fresh fruit, or sauces.
Good luck in making your cheesecake. We're sure that if you follow this recipe, it will taste incredible!
Related Reading: