Copycat Santiago's Green Chili Recipe, but Better
Simply Healthy Family may collect a share of sales or other compensation from the links on this page.
Santiago's green chili is an iconic dish from Denver, Colorado. The recipe is an excellent example of Colorado's Mexican cuisine. Mexican settlers in Colorado's San Luis Valley combined their love of chili, mutton, and marinated pork with local ingredients to create this unique and interesting chili.
Santiago's green chili is a juicy dish that is full of flavor. It takes its name from the award-winning restaurant called Santiago's in Denver. You can eat this green chili dish on its own, with tortilla chips, or with a breakfast burrito. This green chili also works well over eggs or chips. Overall, Santiago's green chili is a great dish for spring and winter.
If you use ultra fresh ingredients, your Santiago's green chili will be extra tasty. Make sure your aromatics like garlic, onion, and spices are all fresh (here's how to check if your garlic has gone bad, along with substitutes for sage and substitutes for cumin in case you don't have those on hand).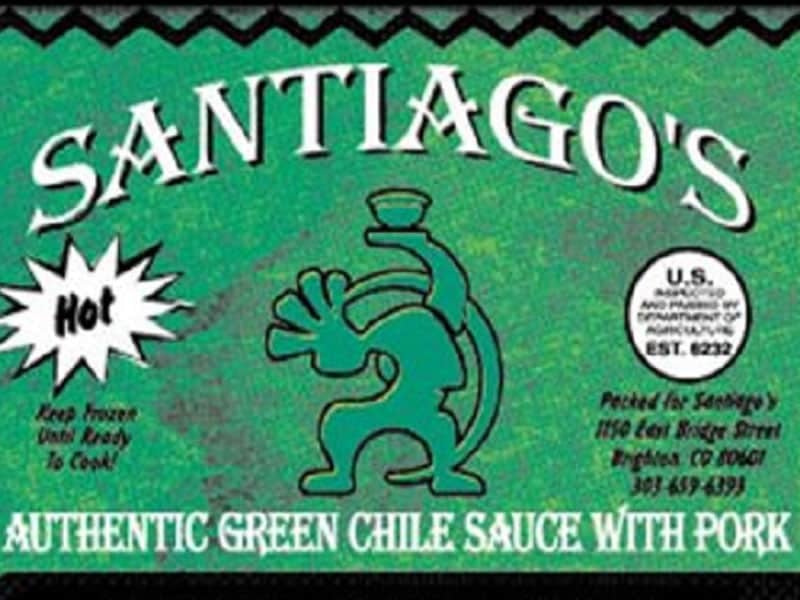 Santiago's Green Chili Recipe
Santiago's green chili is an iconic dish from Denver, Colorado. The recipe is an excellent example of Colorado's Mexican cuisine.
Ingredients
1

lb

of diced pork

diced in 1/4 or 1/2-inches

1/2

cup

of lard

plus an additional 1 tbsp of lard

4

pressed cloves of garlic

1

cup

of finely chopped onions

1 1/2

tbsp

of ground dry mustard powder

1

tsp

of black pepper

1

tsp

of dried oregano

1/4

tsp

of dried sage

1/4

tsp

of ground cumin

14-

oz

can of diced tomatoes

6

oz

of tomato paste

3

cans of chicken broth

1 1/2

cups

of green chilies

either mild or hot, or a mix of both

1 1/2

cups

of canned jalapeños

12-oz can or jar

1

cup

of flour

2

cups

of water
Instructions
Puree the green chilies, jalapeños, and diced tomatoes in a blender or food processor. You can puree these ingredients together or separately. You may need to add some water to achieve the right consistency. Once done, set the puree aside.

Take a large pot. Add 1 tablespoon of lard and add the pork. Cook until browned.

Next, add the onions. Cook for around 3-4 minutes until the onions are soft.

Add all the spices and the pressed garlic. Cook for another minute.

Now add your pureed green chilies, jalapeños, diced tomatoes, 1 can of chicken broth, and 1 cup of water. Cook everything on low heat for an hour.

After, stir in 6 oz of tomato paste. Leave the chili to simmer.

Next up, you need to make the roux. Take a medium-sized saucepan. Melt 1/2 cup of lard over medium-low heat. Add in the flour and 2 tbsp of chicken bouillon. Stir the ingredients to blend them together. Stir constantly as the roux thickens.

Keep adding small quantities of the leftover can of chicken broth and water. Aim for a consistency that can pour easily but is not too runny.

Add the roux to the green chili. Mix the chili and the roux together until the dish is well blended. Simmer for another 15-20 minutes.

Serve over breakfast burritos, with tortilla chips, eggs, or chips. Alternatively, this green chili can be left to slow cook in a crockpot for several hours. Add salt and pepper to taste.
Santiago's Green Chili Sauce Tips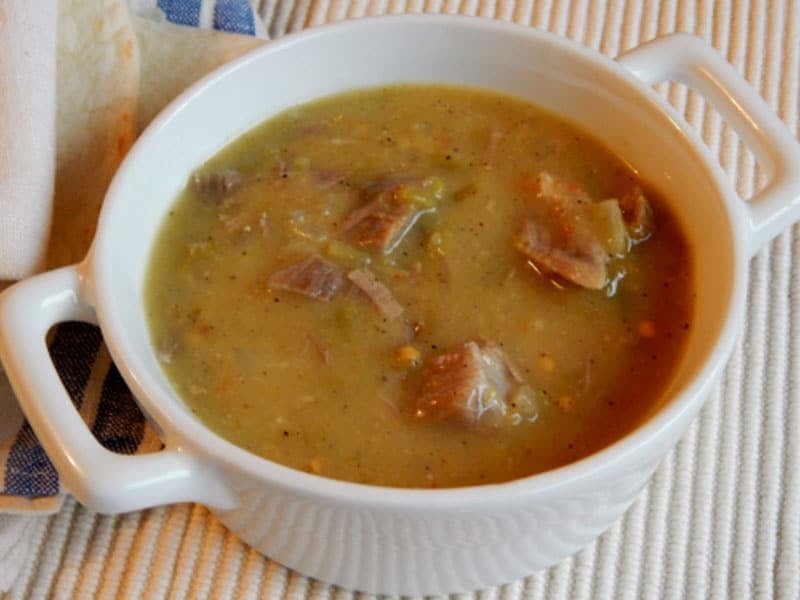 How can I thicken my Santiago's green chili sauce?
Cornstarch slurry is a great way to thicken your chili. A slurry is made by mixing a liquid (i.e., water or broth) with either cornstarch or another cornstarch substitute. (Slurries can be made with flour, but starch is most effective!) From there, this mixture is slowly whisked into the green chili. You can use this process if you like a sauce with a thicker consistency.
How long can I keep my homemade Santiago's green chili in the fridge?
Santiago's green chili can be kept in an unopened jar in the fridge for around 12 months. However, the green chili should be consumed within two months once the jar has been opened.
What are the best foods to eat with Santiago's green chili?
Santiago's green chili is a versatile accompaniment for many foods. The best foods to enjoy with green chili depend on your preferences. Here are some foods that work well with Santiago's green chili:
Green chili works very well with any meat. Many people enjoy Santiago's green chili with beef, pork, chicken, and fish. Green chili is also excellent with potatoes and eggs because it adds heat to any dish.
Green chili is best enjoyed with protein. Protein gives you energy, while chili provides extra nutrients and vitamins.
Santiago's green chili works well with tacos. Tacos with green chili are straightforward to make. Take some meat, add salsa and green chili, and wrap in a tortilla. It's beautiful.
Green chili can be used to make a spicy breakfast. Scrambled eggs, tortillas, and huevos rancheros can all be improved with a dollop of homemade chili.
Green chili is typically milder than red chili. Many people choose to put their homemade Santiago's green chili on chicken and fish.
Tips to make Santiago's Green Chili Taste Even Better
The recipe above makes an excellent Santiago's green chili. However, here are some additional tips that you can use to make it even better.
Many dishes like chili, bolognese, and lasagne are often improved the next day. One way to make green chili taste even better is to marinate it for at least 2 hours. If time allows, let it marinate overnight. This process will help the chili tenderize and allow the flavors to become more pronounced.
Use the freshest green chilies you can find. Additionally, it would be best if you cooked chilies in a way that protects their flavor and texture. Ensure you don't cook your chilies so they become too soft.
One way to improve your homemade Santiago's green chili is to add more jalapeños. Adding more jalapeños is suitable for people who prefer the flavor of these spicy peppers over the heat of green chilis.
Is Santiago's Green Chili a Healthy Dish?
Santiago's green chili is good for you if eaten in moderation. Chilies come with lots of vitamins and antioxidants, like vitamin C and beta-carotene. Many studies have shown that eating chili can help protect against cancer.
You May Also Like: Make A Quick and Delicious Meal with the Best Canned Chili Products Today
Wife, Mom of 4 and so much more living in the Sonoran desert. I am passionate about making meals and snacks healthier without sacrificing flavor! I promise you that if you buy healthy foods and make healthy foods, YOUR KIDS WILL EAT HEALTHY FOODS! My motto: Live as naturally as you want to feel.