How Long to Cook Meatloaf at 375°F
Simply Healthy Family may collect a share of sales or other compensation from the links on this page.
Meatloaf is a classic American dish made of ground beef, breadcrumbs, vegetables, and spices. Minced meat is combined with the other ingredients and packed into a loaf with a light glaze on top.
Meatloaf takes 30 to 35 minutes to cook per pound at 375°F. Once the meatloaf is cooked for 35 minutes it should have an internal temperature of 160°F. Ensure the meatloaf reaches this internal temperature, indicating that the meat is cooked and safe for consumption. Each extra pound of meatloaf adds 15 minutes to the overall cooking time.
Meatloaf can be cooked at 350°F in a convection oven if you want to retain moisture. Although, you will need to add an extra 10 to 15 minutes to the total cooking time in a convection oven to fully cook the meat.
How Long to Cook (Bake) Meatloaf at 375°F
Here's how long it takes to cook meatloaf at 375°F:
| | |
| --- | --- |
| Meatloaf Size | Cooking Time |
| 1 pound meatloaf | 30 to 35 minutes |
| 1.5 pound meatloaf | 35 to 40 minutes |
| 2 pound meatloaf | 45 to 50 minutes |
| 2.5 pound meatloaf | 50 to 55 minutes |
| 3 pound meatloaf | 1 hour to 1 hour 5 minutes |
| 3.5 pound meatloaf | 1 hour 5 minutes to 1 hour 10 minutes |
| 4 pound meatloaf | 1 hour 15 minutes to 1 hour 20 minutes |
According to the USDA, for ground meat to be safe for consumption, it must reach an internal temperature of 160°F. You should check the internal temperature of the meatloaf during the last 10 minutes of cooking time with an instant-read thermometer to ensure the meatloaf is cooked.
Classic and Easy Meatloaf Recipe
A classic one-pound meatloaf is easy for any beginner cook to make. You can cover the meatloaf with a simple glaze to give the dish a sweet and tangy flavor. Here's how:
Ingredients
Meatloaf
1 ½ pound ground beef (90% lean)
¾ cup panko bread crumbs
⅓ cup milk
¼ cup ketchup
2 cloves garlic (minced)
1 large egg
1 onion (chopped)
1 tablespoons Worcestershire sauce
2 tablespoons fresh parsley (finely chopped)
1 teaspoons Italian seasoning
1 teaspoons dried thyme
¾ teaspoons pepper
½ teaspoons paprika
½ teaspoons salt
Sauce
½ cup ketchup
1 ½ tablespoon brown sugar (check that the brown sugar hasn't gone bad)
1 teaspoons white vinegar
1 teaspoons garlic powder
½ teaspoons dried onion powder
¼ teaspoons salt
¼ teaspoons black pepper
Instructions
Line a 9 x 5-inch loaf pan with aluminum foil and preheat the oven to 375°F
Combine all the meatloaf ingredients in a bowl with your hands or a wooden spoon
Add the mixture to the loaf pan and gently press down to shape the minced meat mixture into a loosely-packed loaf
Place the loaf pan into the oven and bake for 30 minutes. While the meatloaf is baking, combine the liquid ingredients in a bowl and whisk
Remove the meatloaf from the oven after 30 minutes and check the internal temperature using an instant-read thermometer
Brush the meatloaf with the mixed sauce before placing the pan back in the oven for the last 5 to 10 minutes of baking
Once cooked to an internal temperature of 160°F, leave the meatloaf to rest for 10 minutes on a cooling rack before cutting into slices and serving
Tips for Cooking the Perfect Meatloaf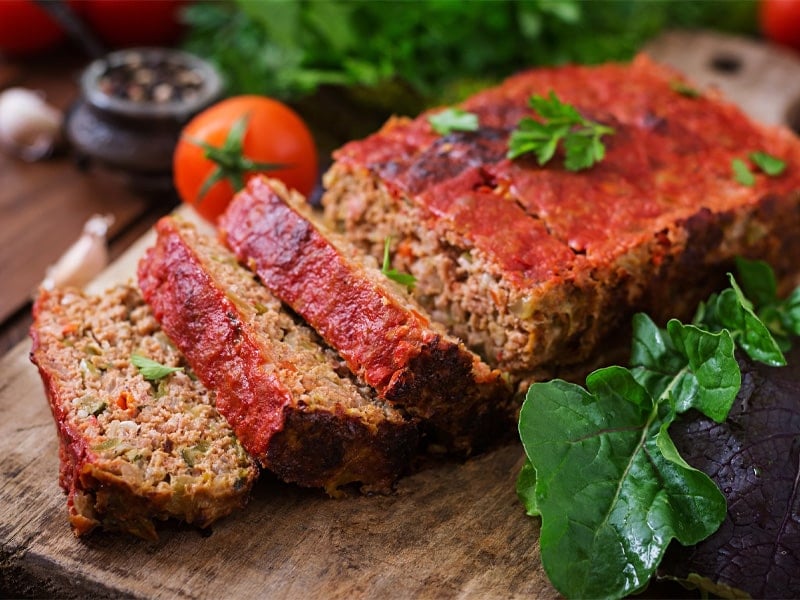 Here are some tips and suggestions for making meatloaf at home:
Line the tin — Line the tin with aluminum foil instead of parchment paper to help cook the meatloaf evenly and retain moisture. The foil will also keep the tin clean and reduce the cleaning time after dinner
Brown the onions — Gently brown the onions and garlic in butter before adding them to the mixture. Doing this adds extra flavor to the dish. Place the chopped onions and garlic in a heated pan with 1 teaspoon of butter and cook for 5 to 7 minutes
Cover the loaf — Covering the meatloaf with aluminum foil retains moisture, but you must remove the cover for the last 10 to 15 minutes of cooking. Uncovering the meatloaf will ensure the top crisps and cooks evenly
Add milk — Adding milk to the recipe will keep the meatloaf moist and prevents the meat from drying out
Seasoned bread crumbs — A great substitute for panko bread crumbs are seasoned bread crumbs which will add more flavor to the dish. You can also use both types of bread crumbs in a 1:1 ratio of panko bread crumbs to seasoned bread crumbs
Taste test — Once the ingredients are combined, take a spoonful of the minced meat mixture and fry it in a pan with butter. This will give you an indication of how the meatloaf will taste once cooked and allows you to alter the seasoning before you bake the meatloaf
Meal preparation — Meatloaf can be prepared ahead of time to reduce your time in the kitchen. Combine the ingredients, cover the loaf tin with foil, and keep it in the fridge for up to two days before cooking. Allow the meatloaf to reach room temperature before placing it in the preheated oven
Add other types of meat — Some meatloaf recipes combine minced beef, lamb, and pork to create a bold flavor. You can simply substitute ¼ of the beef mince for pork mince and another ¼ of the beef mince for lamb mince if you want your meatloaf to have a deep and meaty flavor
Serve with vegetables — Meatloaf can be eaten on its own but is better served with a side of creamy mashed potatoes and steamed vegetables. Leftover meatloaf is perfect in sandwiches the next day too
Wife, Mom of 4 and so much more living in the Sonoran desert. I am passionate about making meals and snacks healthier without sacrificing flavor! I promise you that if you buy healthy foods and make healthy foods, YOUR KIDS WILL EAT HEALTHY FOODS! My motto: Live as naturally as you want to feel.