What To Serve With Paella? Five Great Paella Side Dishes
Simply Healthy Family may collect a share of sales or other compensation from the links on this page.
Paella might be the most famous main course Spanish dish of all time. This rice dish is well-loved throughout the world. If you are wondering what to serve with paella, read on and find out which dishes are the perfect sides.
What is Paella?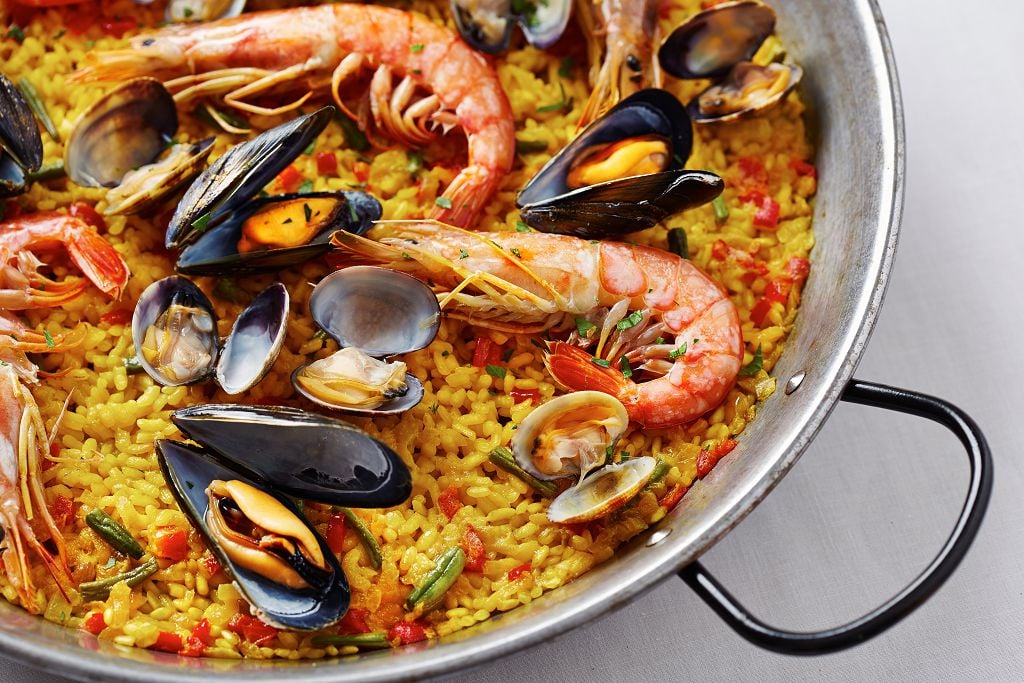 A pan of Paella
Non-Spaniards like me typically associate paella with Spain. Many people think it is the country's national food. However, Spaniards usually say that paella is a regional dish.  Paella is a rice dish from the Spanish province of Valencia. It can be made in numerous ways, like vegetarian, seafood, or mixed. Mixed paella would be considered the most authentic. Classic paella from valencia uses chicken and either pork ribs or rabbit with green beans, butter beans, garlic, and spices like paprika and saffron.
The dish comes from the shallow, wide traditional paella pan used to cook it – Paella is the word for frying pan in the Valencian/Catalan language.
Best dishes to serve with Paella
Paella is a heavy dish. It is usually served by itself. But while paella can stand on its own, there are certain dishes that you can serve with it. My top recommendations for the perfect side dish include the following:
Caesar salad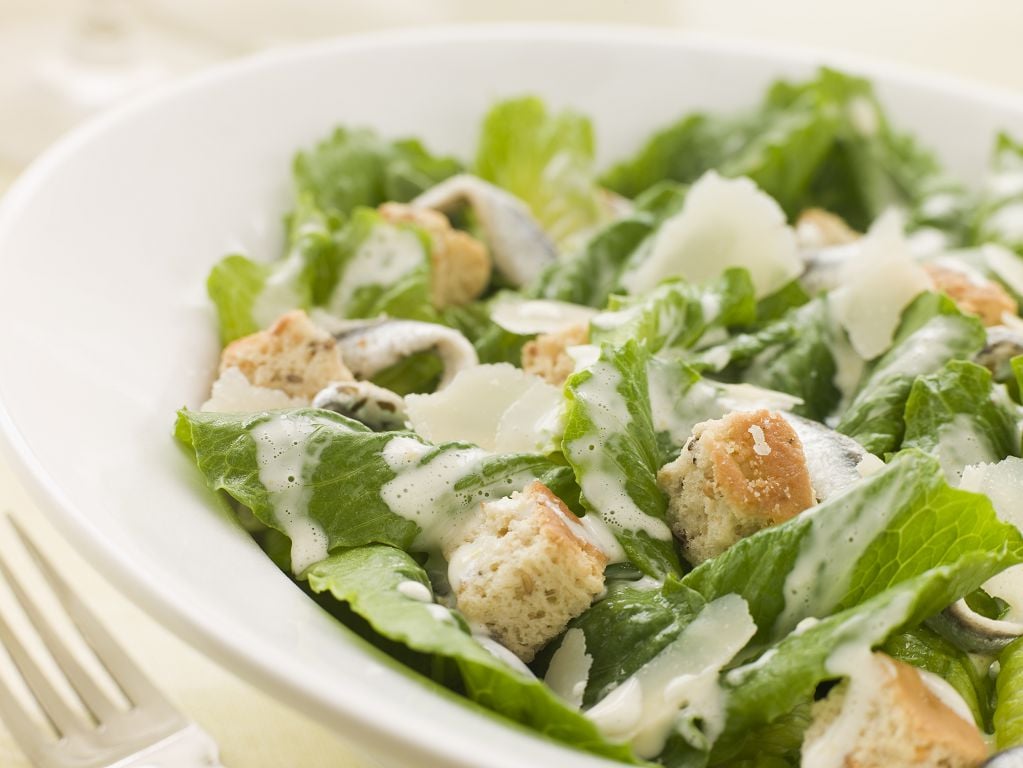 A plate of Caesar Salad and a fork
I believe Caesar salad is the best complement to paella. Their flavors blend well. Caesar salad gives a fresh flavor that goes well with the meaty flavor of paella. Serve these two dishes, and you have a tasty lunch or dinner.
Aside from being delicious, Caesar salad is very healthy. The lettuce found in Caesar salad has high levels of carotenoids that protect the body against free radical damage. It is also rich in folate and saponins that can help prevent cancer.
Crusty Bread
Slices of Bread on the chopping board
This may surprise you. After all, why serve another carbohydrate-heavy food when the paella is already loaded with carbs?
Sure, both bread and paella are packed with carbohydrates. But bread, especially crusty, can significantly change texture when you serve it with paella. It can also gather all the juices from the paella pan!
A warm baguette should be good enough to be paired with paella. Add warm olive oil to the bread, then eat the paella in the crust without cutlery. It's an authentic Spanish dining experience that you should try. You can also have cheese or olives on the side as beautiful accompaniments.
Fried Sweet Plantain slices
In Spanish, they call these Plantanos Maduros Fritos. These are delicious, sweet plantain slices that were fried to perfection. Many Spaniards say this is the best side dish to be served with paella.
This side dish is also effortless to prepare. You can cook one in less than 10 minutes! No kidding!
Ingredients
green bananas
2 ripe sweet plantains
A cup of vegetable oil
Salt
Step-by-step guide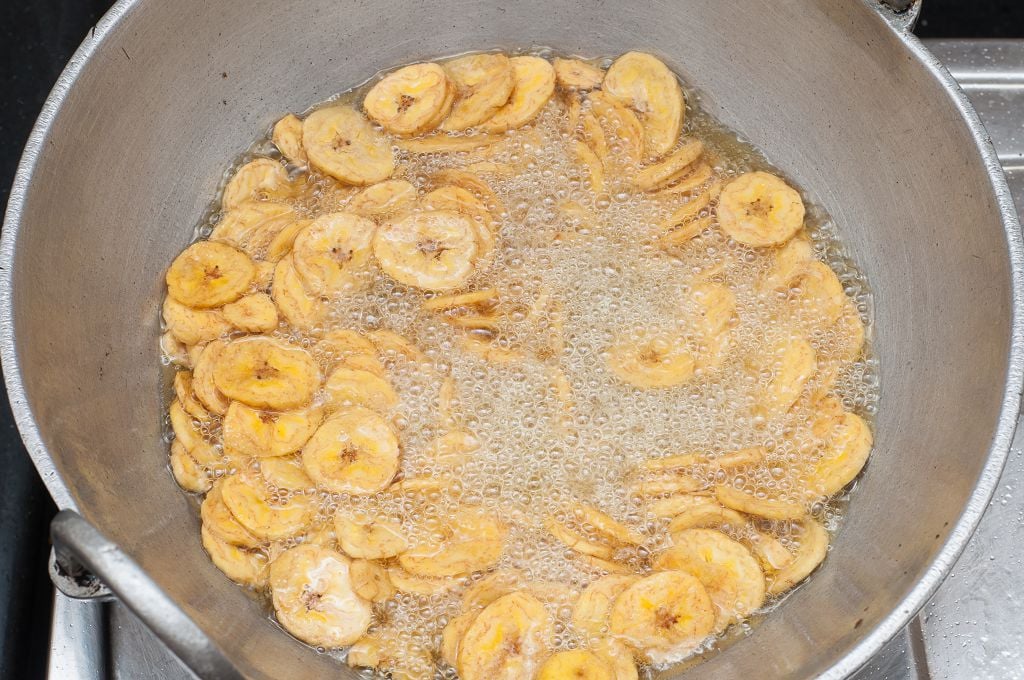 frying pan with slices of banana
Heat oil in a frying pan placed over medium heat.
Peel the plantains. Cut them into slices about half an inch thick. Add them to the frying pan.
A bowl of fried slices of banana
Cook on each side for about 2 minutes, or until the plantains have turned golden brown. Remove from the frying pan and place into a plate lined with paper towel to remove excess grease.
Add salt, then serve warm as a side dish.
Fried Pimientos de Padron or Padron Peppers
A bowl of Fried Pimientos De Padron
If you haven't heard of this dish, then don't worry. It's not the most popular dish from Spain, after all. This is a type of Spanish chili that is often fried and eaten (generally as a tapas or an appetizer). If you want an all-Spanish party, I suggest you serve this dish with seafood or vegetable paella.
This is a chili that's lightly fried in olive oil. It makes for a great side dish with paella.
In Spain, people usually wash the chili and dry it thoroughly before cooking. They then heat olive oil over medium heat in a medium skillet. The peppers are added and fried for about 2-3 minutes or until their color turns brown.
The fried Pimientos De Padron are then sprinkled with salt before serving. Some say it goes well with bread.
Roasted red peppers
Roasted Red Peppers on the chopping board
Another tapas-type idea is roasted red peppers. The problem with the preceding side dish is that sourcing Pimientos de Padron can be quite tricky. Instead of using Spanish chili, you can roast red peppers with the paella.
What I love about roasted red peppers is that they provide a smoky taste to the paella. This side dish can also add texture to the paella.
Like the other side dishes I shared, this roasted red pepper recipe is simple. All you need are some red peppers.
Line a baking sheet with aluminum foil, then place the peppers on their sides. The stems of the peppers should point sideways. Preheat the oven to 400 degrees. Then bake the peppers for about 20 minutes.
You'll know that the peppers are done when they are slightly collapsed, and the skin charred and soft.
Of course, there is always dessert – almond flan, cake or ice cream could be another fantastic experience after the paella!
Conclusion
Paella may be considered a complete dish, but that doesn't mean you can pair it with other side dishes. You can serve paella with Caesar salad, roasted red peppers, and bread.
If you want an authentic Paella party, you can serve it with fried Pimientos de Padron or fried sweet Plantain slices.
Whatever side dish you choose from this list, I assure you that you will enjoy paella even more.
Wife, Mom of 4 and so much more living in the Sonoran desert. I am passionate about making meals and snacks healthier without sacrificing flavor! I promise you that if you buy healthy foods and make healthy foods, YOUR KIDS WILL EAT HEALTHY FOODS! My motto: Live as naturally as you want to feel.