Bake Cookies Perfectly with the Best Cookie Scoop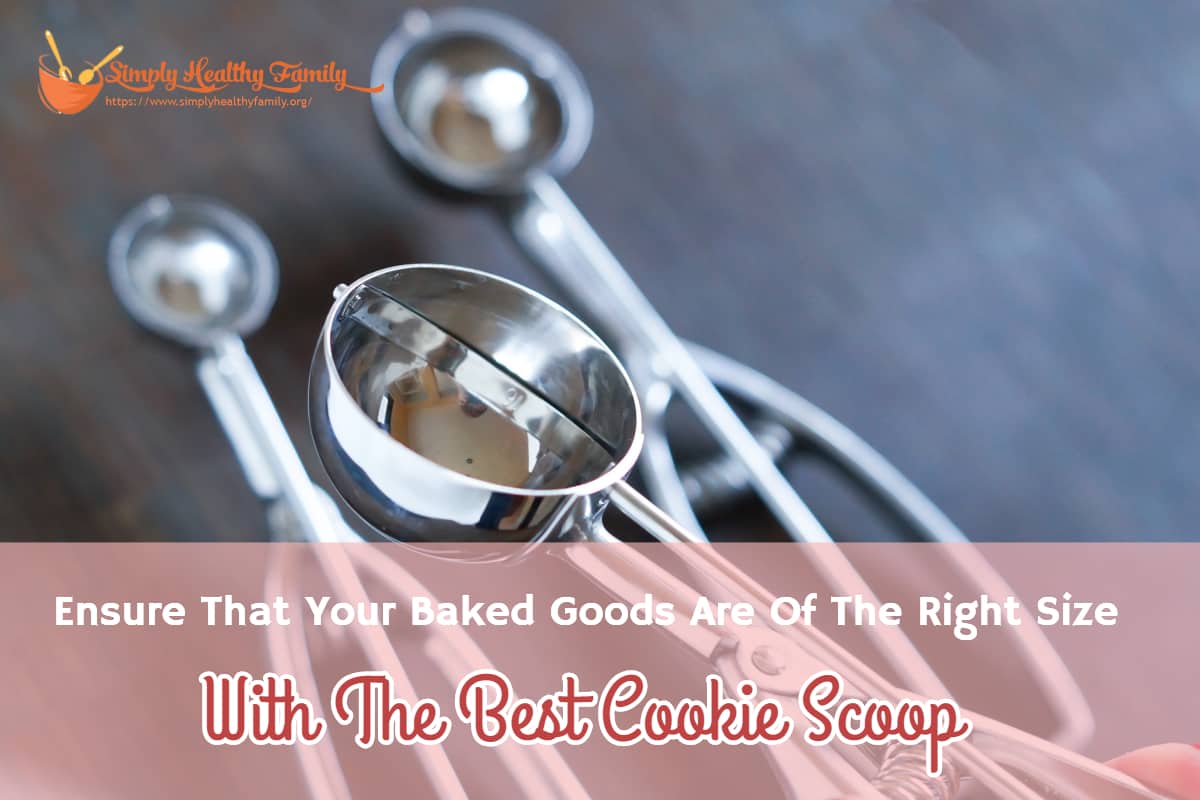 Getting a cookie scoop may be the farthest from your mind if you are only starting to learn how to bake. But as you improve your baking skills and learn how to make various baked goods, you would eventually realize the importance of having a cookie scoop in your kitchen. Sure, you might say that a regular kitchen spoon is enough to measure portions of cookie dough. But in reality, it can really be tough to do it. I consider myself a very meticulous baker and yet I would end up with uneven batches of oatmeal and chocolate chips. It was only when I started using a cookie scoop that I realized how easy it is to ensure that baked goods are of the perfect size. A cookie scoop is that an essential tool when baking cookies and other sweet treats like meringues, cupcakes and muffins. You can also it in making rice balls, meatballs, melons and even ice cream—if you don't have an ice cream scoop yet, that is.
What To Look For In A Cookie Scoop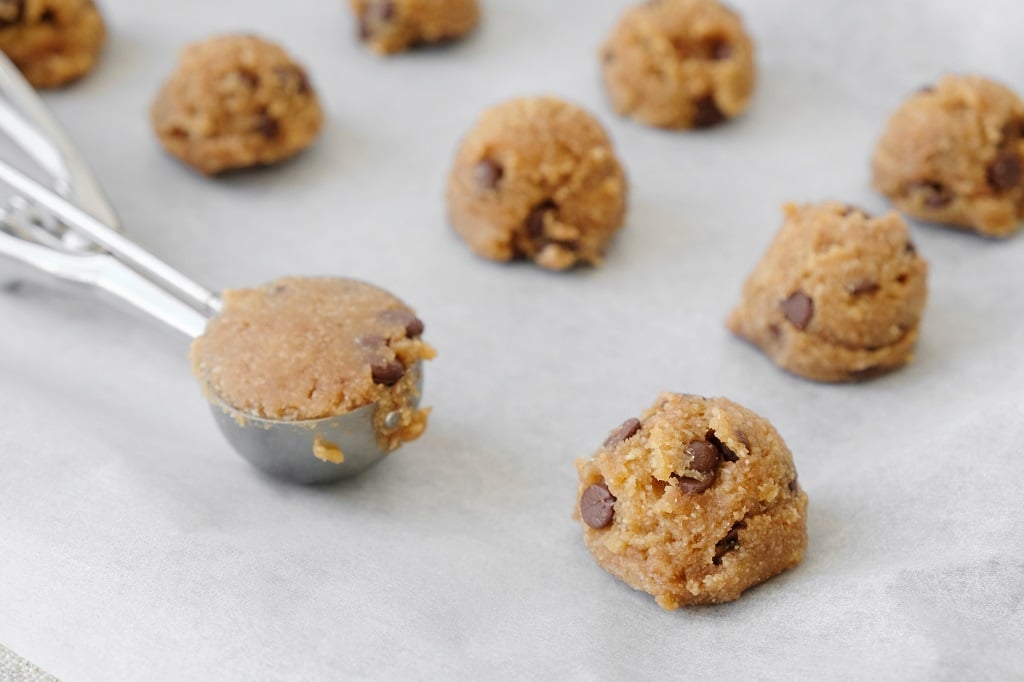 chocolate chip cookie dough with ice cream scoop
Yes, a cookie scoop looks like a very simple kitchen tool. But this doesn't mean that you will simply buy a cookie scoop based on price or the looks of the cookie scoop. There are different factors that you should weigh in when shopping for a cookie scoop:
1. Handle
This is perhaps one of the most important considerations in buying a cookie scoop. Handles can be made of aluminum, plastic, rubber or even ceramic.
Regardless of the material from which it is made of, you'd want a handle that's soft and comfortable to hold. I suggest you look for one with a spring-loaded handle as this can absorb pressure and allow you to dig deep into a bowl and get a full scoop.
2. Design
Cookie scoops come in different designs. Most cookie scoops have a semicircular shape with a long handle. There are also push-out cookie scoops with a button-shaped metal for pulling out the food.
3. Size of the scoop
The size of the scoop will affect the size of the baked goods. A small cookie scoop can yield a baked cookie that's about 2 inches in diameter. Meanwhile, a medium cookie scoop can make a 3-inch cookie while a large scoop can give you a 4-inch cookie.
4. Ease of cleaning
Like most kitchen tools like electric knife and salad shooter, a cookie scoop that's hard to clean can be a source of inconvenience. Getting a dishwasher-safe cookie scoop is thus a must if you don't like hand washing.
Top Cookie Scoops Available On The Market Today
1. Small Size
#1 OXO Small Cookie Scoop
https://www.amazon.com/OXO-Grips-Small-Cookie-Scoop/dp/B0000CCY1E/
OXO Small Cookie Scoop
This small cookie scoop can hold two teaspoons of cookie dough and yield a cookie with a 2 inch diameter. And good news if you hate cleaning cookie scoops as this one is dishwasher-safe. If you don't have a dishwasher at home, you can simply soak it in warm soapy water then squeeze it several times under water.
You will love the soft and spring-loaded handle of this cookie scoop. It absorbs pressure and will let you squeeze the handle to release the cookie dough. The handle is also padded which makes it comfortable to hold.
PROS
Spring-loaded handle makes it easy to release the cookie dough
The handle is also padded, so it is comfortable to hold
It is dishwasher safe and easy to clean
thumbs-o-upIt is well built and durable
CONS
Cookies tend to come out in ball-like shape
Struggles to scoop out firm dough
#2 Norpro 675 Scoop
https://www.amazon.com/Norpro-675-Stainless-7-5-Inch-Ounces/dp/B00004UE83/
Norpro 675 Scoop
Made of stainless steel, this Norpro scoop is well made, strong and durable. It feels very solid in hand. This scoop features a spring action which makes it very easy to use. You simply have to scoop the dough and squeeze the handle to release it. The dough is very easy to release when you squeeze the ball area. Once you are done with the scoop, you can simply pop it in the dishwasher.
With its size, this is the ideal cookie scoop for making cupcakes and muffins. However, while it is designed to be ambidextrous, many left-handed users say that it can be difficult for them to use it.
PROS
It is made of stainless steel which is strong and durable
It feels solid in hand
thumbs-o-upSpring action makes it easy to release the dough
It is dishwasher-safe
CONS
Left-handed people may have difficulty using it
Fragile for scooping ice cream
2. Medium Size
#3 OXO Medium Cookie Scoop
https://www.amazon.com/OXO-Grips-Medium-Cookie-Scoop/dp/B0000CDVD2/
OXO Medium Cookie Scoop
This is the medium sized version of the OXO Good Grips cookie scoop discussed above. This scoop can pick about 1 ½ tablespoon of dough that can make a cookie more than 2.5 inches in diameter. Due to its bigger size, this cookie scoop is a lot better than its smaller brother in scooping out tough dough. I've used this in scooping muffin butter and mini-cupcakes. I've also used this in scooping chunky cookie dough full of ingredients like chips, oatmeal, nuts and dried fruit. And guess what? It was able to keep its shape and release the dough easily.
I also like that there's a wiper that cleanly ejects sticky dough, so you would end up with uniform cookies that would bake evenly. You don't need to have strong or big hands to be able to use this scoop. The handles spread wide enough for small hands to handle it well.
PROS
Can scoop tough dough
It has a wiper that helps in cleanly ejecting dough
It is easy to clean
thumbs-o-upIt can be used by people with small hands
CONS
Not the most durable as some users report that their units come off after some time
#4 Mini Cupcake Scoop by Jenaluca
https://www.amazon.com/Jenaluca-Cookie-Scoop-Mini-Cupcake/dp/B00IM2GGD8/
Mini Cupcake Scoop by Jenaluca
Like the OXO Grips cookie scoop, this unit from Jenaluca can hold about 1 ½ tablespoons of cookie dough. You can also use this to create mini muffins, mini cupcakes, and meatballs. This is made of stainless steel. It's strong and durable enough to last for a long time. It also features a different way of releasing the dough (cog-and-ratchet). This is great for people who have wrist and hand problems. Since there is no spring, the scoop can glide easily. You also don't need to have a good hand strength to be able to release the dough when you use this scoop.
Aside from being easy to use, this scoop is also ambidextrous. You should be able to use it well even if you're left handed. As a bonus, this mini-cupcake scoop also comes in a nice bag and gift box. You can give this to a friend or loved one who's also a baking enthusiast.
PROS
No need to have good hand strength to use this scoop
It can be used by left handed people
It comes in a nice gift box and bag
thumbs-o-upIt is made of strong and durable stainless steel
CONS
Hard to get a proper angle on the handle when you are scooping dough
The stem of the scoop has a sharp spot that can cut your fingers
3. Large Size
#5 OXO Large Cookie Scoop
https://www.amazon.com/OXO-Grips-Large-Cookie-Scoop/dp/B0000CCY1C/
OXO Large Cookie Scoop
This OXO Good grips cookie scoop can hold up to 3 tablespoons of dough. You can make up to 3.5 inch cookie using this cookie scoop.I feel that this is the most versatile of the three cookie scoops from OXO. This is the type of scoop you need when baking oversized desserts. You can also use this in making muffins and pancakes. Plus, it can deal with firm ice cream. This unit is very well made just like the other OXO Good Grips cookie scoops. It has an excellent finish with a large handle. The spring mechanism also works well.
PROS
It can be used in baking oversized desserts
It is well made and durable
The handle is large and very easy to grip
thumbs-o-upThe spring mechanism works very well
CONS
Not the most durable, with many reports the large scoop falling off after some time
Large handle may be too wide for people with small hands
#6 Vollrath (47139) Stainless Steel Disher
https://www.amazon.com/Vollrath-47139-Stainless-Steel-Disher/dp/B0001MSEPU/
Vollrath (47139) Stainless Steel Disher
This stainless steel disher comes in numerous sizes. But I'm picking size 6 of this model as it can make a generous 10.6 tablespoons of dough. You can make oversized cookies using this disher. And yes, you can also use this for scooping ice cream!This unit has a molded one piece handle that makes cleaning a breeze. It also makes the disher stronger because the handle won't easily come apart. And the bowl and its components are corrosion- proof. The handle also feels solid in hand.
This is a dishwasher-safe disher that you can also hand wash under running water.
PROS
It is made of durable stainless steel
Its molded, one piece handle is strong and won't come apart
The unit is corrosion-proof
thumbs-o-upThe handle feels solid in hand
CONS
Some people may find it too large for their needs
Release mechanism may stop working after a few months
4. Set
#7 Jenaluca 3 Pc Set
https://www.amazon.com/Jenaluca-Cream-Scoop-Cookie-Baller/dp/B00IM6ZF90/
Jenaluca 3 Pc Set
This set features three scoops. The smallest scoop can hold about two teaspoons. It's the scoop you'll want when making mini cookies, candy, and melon balls. The standardly sized scoop can hold about 1 ½ tablespoons. You can rely on this scoop when making cookies, mini cupcakes, and mini muffins. The largest scoop holds about three tablespoons of dough. All these scoops are made of stainless steel. They're safe to use on your foods. The scoops ditch the spring and instead makes use of a system that relieves pressure on the hand and wrist.
These scoops are dishwasher-safe, too. Plus they come in a beautiful gift packaging, which is a nice bonus.
PROS
The set features three scoops of varying sizes
All scoops are made of durable stainless steel
Release system relieves pressure on wrist and hand
thumbs-o-upThe scoops are easy to clean
thumbs-o-upThe product comes in a nice gift packaging
CONS
The scoops will struggle in scooping out firm melons
The packaging adds too much to the price
Conclusion
Before I end, let me share with you my picks on this list. The OXO Good Grips Small Cookie Scoop at small size is comfortable to hold, well-built and easy to clean. The Jenaluca medium-size cookie scoop is slightly better than the OXO Grips cookie scoop because of the cog-and-ratchet system. It's ideal for seniors and those with poor hand strength. The Oxo Good Grips large cookie scoop, though, is my choice for large cookie scoops. It's well made and versatile. And then you have the Jenaluca scoop set just in case you want a set of a cookie scoop.