The Best Vegan Bread Pudding Recipes To Treat Yourself During Holidays
Simply Healthy Family may collect a share of sales or other compensation from the links on this page.
Winter holidays are at our doorstep, and we need to welcome them appropriately. There are many traditions connected to this period of the year, and eating the bread pudding is one of them. Whether it be for Thanksgiving day or Christmas, you have to make this delicious treat at least once during the holiday season.
Being vegan does not deliberate you from this important task, and your family and friends are sure to hold it against you too! Do not worry though, as we are always at your side! So, do continue reading and you will find numerous vegan bread pudding recipes which are sure to wow your guests and leave them asking for more!
What Is Bread Pudding?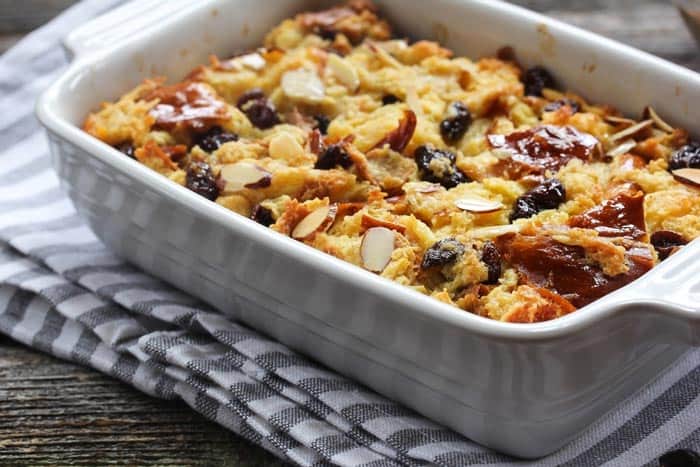 As its name suggests, a bread pudding is a bread-based dessert. It is very popular all over the globe but is thought to originate from Great Britain. Americans have made it a part of their tradition too and often serve it during the holidays.
Common ingredients needed to make this delicious treat are the stale bread of any type, milk, butter, and eggs. You can already assume that making a vegan version can be a bit challenging as most of these ingredients are a big No-No in the vegan world.
Preparation is more-less the same no matter which specific ingredients are being used- you need to soak the bread with some liquid, add the rest of the ingredients and bake it in the oven. It is usually a rather easy and quick process.
Should You Serve Your Vegan Bread Pudding Hot Or Cold?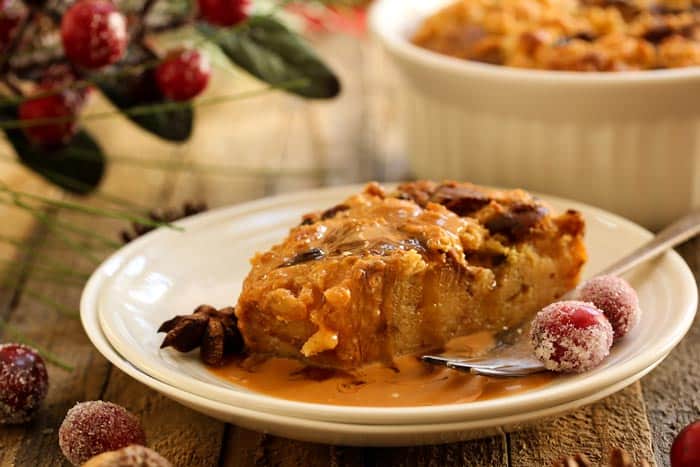 Bread pudding is sure to add cheer to your holiday party, but we all know that cooking for a large group of people is never an easy task. Sometimes it is easier to prepare things a bit ahead of the time as to be able to rest for a while and have enough energy to entertain your guests.
For this reason, many people wonder is it ok to serve the bread pudding cold? Moreover, is there a way to reheat it without spoiling its texture or taste? In our opinion bread pudding is best served warm. You can refrigerate the leftovers and have them later, but in that case, we recommend you heat them up.
So, how to do it properly? If you have a microwave, you can use it for this purpose, but you have to be careful to get the settings right. Namely, if you heat your bread pudding on the maximum power setting, it will change its texture and become kind of spongy and difficult to chew. You do not want that, do you?
Therefore, make sure that you set your microwave to the medium power and short time intervals. It is better to repeat the process twice than dry up your bread pudding too much. For this reason, you should also heat this dessert in a container with a cover or a lid that will keep the moist contained within.
If you do not own a microwave, you can use your oven. Once again you have to be careful as the oven can dry your bread pudding too. As a solution, we suggest making a water bath and placing all your portions in individual ceramic bowls in it. If you like your bread pudding top soft, you should cover it with aluminum foil, if you prefer it crusty leave it uncovered.
You can place them in the oven as soon as your guest arrive, set it on low, and take the perfectly warmed portions when the dinner is over, and it is time for dessert! Your guest will appreciate this warm treat, especially during the winter!
Bread pudding can be served with sauce or cream, or simply sprinkled with sugar. If you serve it with the sauce, you have three options: placing the sauce in a separate bowl, putting a slice of bread pudding on top of the sauce, or pouring some sauce over a piece of bread pudding. Bread pudding can also be topped with chilled fruits such as various berries, oranges or bananas. In this way, you will make it more healthy and nutritious.
If you serve your bread pudding as a part of a Christmas dinner, you can be a bit (or a lot) creative and play with Christmas decorations. For example, you can serve the pudding in a jar and tie a red ribbon around it with a little personalized Christmas card for every guest.
The Best Vegan Bread Pudding Recipes
Step by step, we have reached the most important section of our article. A good recipe is a guarantee of a tasty meal, and knowing this we have found four best vegan bread pudding recipes. Believe us, you and your family and friends are sure to enjoy every mouthful! Even if some of your guests are not vegan, they will be 100%satisfied!
Here are our suggestions for the best vegan bread pudding recipes:
Vegan Banana Bread Pudding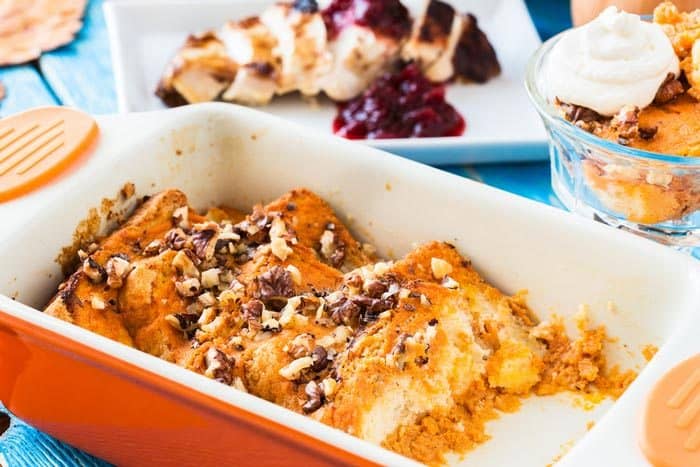 Vegan Banana Bread Pudding
Ingredients
7

ounces

of a whole grain bread

3/4

cup

almond milk

1

tbsp

real maple syrup

1

tsp

ground flax

2

slices

bananas

you can use strawberries or blueberries as well

2

tbsp

natural peanut butter

1/4

teaspoon

of cardamom

maple syrup
Instructions
Before you start, turn the oven on and set it to 400°F allowing it to preheat.

Next, mix all the ingredients in a large bowl.

Pour the mixture into individual ramekins and place them into the oven for 20 minutes.

The time can vary due to differences in the size of ramekins and oven strength, so you should also keep an eye on the bread pudding and take it out when the top crust becomes golden brown.
Notes
We suggest you serve it warm and with some maple syrup on top.
If you don't have cardamom, some cardamom substitutes would also provide a yummy flavor!
Neutral Vegan Bread Pudding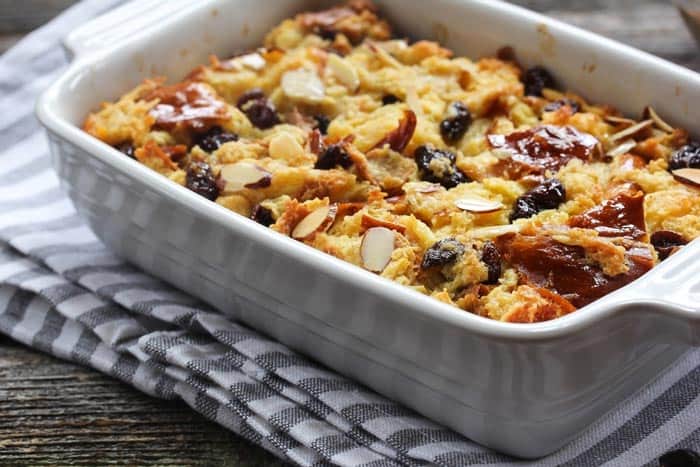 Neutral Vegan Bread Pudding
Ingredients
5

cups

of bread cut in cubes

2 1/4

cups

of soy milk

1/2

cup

of brown sugar

two tablespoons of maple syrup

one teaspoon of vanilla extract

1/4

cup

of raisins

ground cinnamon to your taste
Instructions
Whisk the soy milk, sugar, vanilla and maple syrup in a large bowl.

Gently mix in the bread cubes and leave the mixture to sit for 10 minutes, to allow the bread to absorb the soy milk and become soft.

Gently mix in the raisins and cinnamon and pour the mixture into the well greased 8×8 pan.

Place the pan in a preheated oven and bake for 30 to 45 minutes or until the pudding turns golden brown and there is no milk.
Tofu Bread Pudding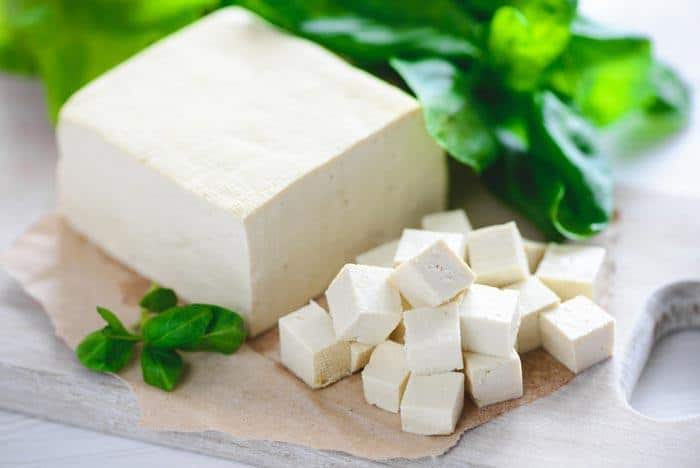 Tofu Bread Pudding
Ingredients
10

ounces

of tofu

nine slices of bread cut into cubes

approximately 1 inch each

one tablespoon of vanilla extract

1/2

cup

of raisins
Instructions
Before you start, set the oven to 350 F degrees and let it heat.

Mix tofu with bread, vanilla extract, and raisins making sure that all of the bread gets well coated.

Leave it to soak for ten minutes.

Grease a 9-inch casserole dish, pour the mixture into it and place it in the oven to bake for half an hour.
Pumpkin Bread Pudding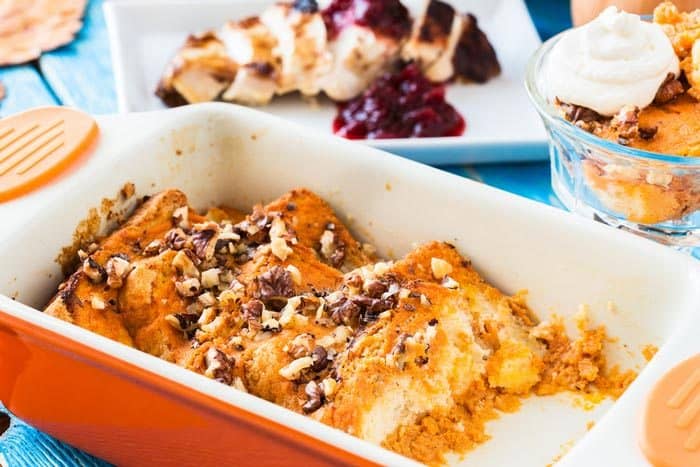 You do need some kind of starch to thicken the sauce for this recipe, so if you don't have cornstarch, try a cornstarch substitute.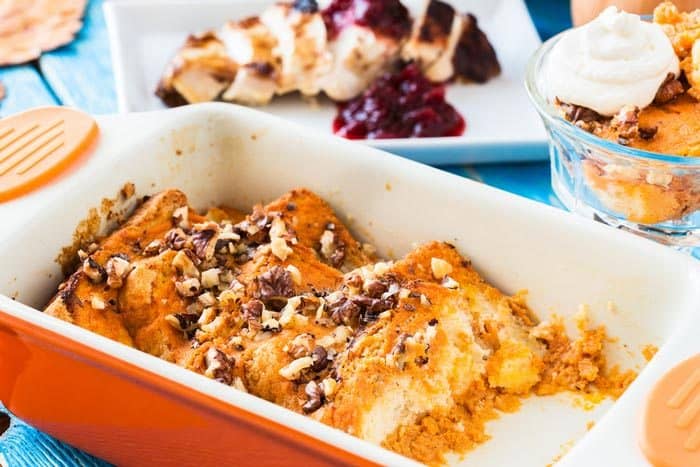 Pumpkin Bread Pudding
Ingredients
4

cups

of cubed bread

1/4

cup

of unsweetened almond milk

1

tbsp

melted coconut oil

1/4

cup

of coconut/brown sugar

1/4

cup

of maple syrup

1/3

cup

of crushed raw cashews

1

cup

of plain pumpkin purée

3

tbsp

cornstarch

2

tbsp

of rum

1/4

teaspoon

of sea salt

whiskey

liquor

1/2

tablespoon

of vanilla extract

1/4

teaspoon

of almond extract

1

teaspoon

ground cinnamon

1/4

teaspoon

of ground allspice

1/4

teaspoon

of ground nutmeg

1/4

teaspoon

of ground ginger

1/8

teaspoon

of ground cloves
Instructions
Start by preheating the oven to 350 F degrees.

Spread the bread on a baking sheet and bake it until it dries and becomes firm and crisp.

Do not turn the oven off.

Use a blender to blend the almond milk, maple syrup, coconut oil, cashews, sugar, and pumpkin puree into a smooth mixture.

Use a mesh sieve to pour the mixture into a large bowl.

Whisk the cornstarch with some almond milk to break all the lumps, and then add it to the bowl as well.

Add the liquor, vanilla and almond extracts, salt, and spice(s).

Grease the loaf pan and spread half of the bread cubes.

The other half should be joined with the mixture in the large bowl and then poured on top of the dry bread.

Place the loaf pan into the oven and bake for around half an hour.

When taken out, the bread pudding should be left to cool off for five minutes and then served hot with some vegan ice cream.
Conclusion
We hope that we have inspired you to make your life sweeter during the holiday season. Remember, this is the time of the year that you should spend with your loved ones! We are sure that they will appreciate your invitation, but they will love you even more after they taste the delicious bread pudding you have made especially for them.
So, try out our vegan bread pudding recipes, and do not forget to put the secret ingredient. (Shhhh! It is LOVE!)
Wife, Mom of 4 and so much more living in the Sonoran desert. I am passionate about making meals and snacks healthier without sacrificing flavor! I promise you that if you buy healthy foods and make healthy foods, YOUR KIDS WILL EAT HEALTHY FOODS! My motto: Live as naturally as you want to feel.