The Novice Buyer's Guide To Shopping For The Best Warming Tray
Simply Healthy Family may collect a share of sales or other compensation from the links on this page.
Have you ever experienced hosting a large party at home? Aside from having to entertain your guests, one challenge you'd likely have to deal with is keeping your dishes warm enough for them to appreciate it. I'll be the first to tell you how difficult is that, having hosted large parties in the past. There were a lot of instances when I'm done with my cooking, but my guests took forever to arrive. And it wasn't practical at all to keep on reheating the food. Thus I know very well the importance of having a warming tray. Warming trays are flat, portable surfaces that can keep your dishes piping hot throughout the day. Aside from keeping your dishes warm, it can also be used in heating plates and mugs. You may also defrost meat, cake, and bread in this appliance.
Benefits Of A Warming Tray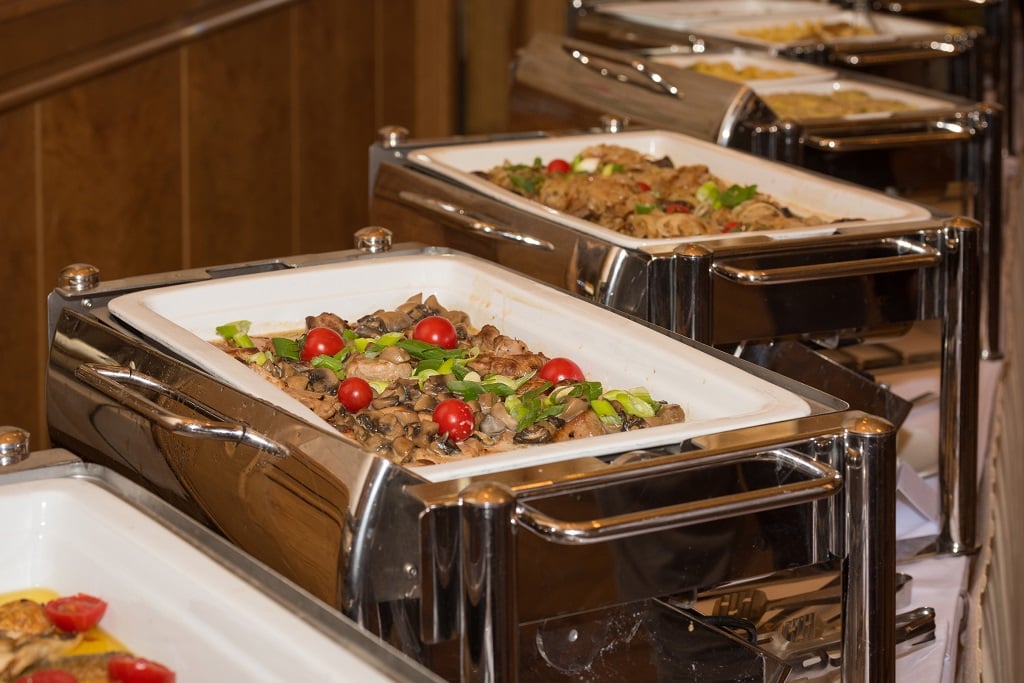 Warming Trays with food
Some skeptics may dismiss the purchase of a warming tray as unnecessary. But after years of using one, I can say that it's something you'd really want in your kitchen especially if you often find yourself serving food to many people. Having one can also cut down on your food spoilage. A warming tray can keep food from spoiling while it sets out, meaning leftovers will be safe to refrigerate. I can say we've reduced the amount of food thrown away ever since I bought a warming tray. Foods like potato salad are prone to spoilage especially when left at room temperature for more than two hours. It would be impractical to refrigerate the food salad only to warm it up again when another guest arrives, right? But if you have a warming tray, you can just leave the salad on it and attend to your guests! Then there's the health benefit of using a warming tray. You may know very well that the risk of airborne bacteria further increases as food sets out. By heating your dishes with a warming tray, you can minimize the risks of food poisoning.
Things To Consider In Buying An Electric Warming Tray
A Warming Tray, cups and plates on the table
Don't be overwhelmed by the number of warming trays you will find online. In choosing the right model for your kitchen, I suggest you look into the following considerations:
Material. Stainless steel is the material that's most commonly used in electric warming trays. It is durable and rust-resistant. There are other materials like aluminum used in this kitchen appliance, but I would suggest you pick one made of stainless steel if only for its durability.
Size. The dimensions of the warming tray will give you an idea on how many dishes you can keep warm on it. Basically, the bigger the warming tray is the more dishes that it can heat up. However, a bigger warming tray also means that you need a bigger countertop space for it. Storage may also be a problem.
Temperature Controls. The best warming trays are those that have adjustable temperature settings so that you can keep foods at the ideal temperature.
Cool Touch Handles. With cool touch handles, it would be easier to transport a warming tray from the kitchen to the dining table.
Ease Of Use. Some warming trays don't have an on/off switch. You simply plug the unit and a light indicator tells you that the warming tray is heating up. However, I am the type of person who usually forgets to unplug, so I prefer a warming tray with an on/off switch.
Top 5 Best Warming Trays Available On The Market Today
RANK
PRODUCT NAME
PRODUCT IMAGE

​

#1
Cuisinart CWT-100 
#2
Chefman Electric Warming Tray
#3
Oster CKSTB

​

​

STW00
#4
Elite Platinum Maxi-Matic 2.5 quart EWM-6171
#5
Oster DuraCeramic Griddle with Warming Tray (CKSTGRFM18W-ECO)
| RANK | PRODUCT NAME |
| --- | --- |
| #1 | |
| #2 | |
| #3 | |
| #4 | |
| #5 | Oster DuraCeramic Griddle with Warming Tray (CKSTGRFM18W-ECO) |
Electric Warming Tray
#1 Cuisinart CWT-100
https://www.amazon.com/Cuisinart-CWT-100-Warming-Stainless-Steel/dp/B01LHG4C5E/
Cuisinart CWT-100
This warming tray is made of an elegant and easy-to-clean brushed stainless steel. The stainless steel top blends in well with most kitchens.
The tray has a surface of 17 by 26.5 inches. You can place two hot casserole dishes on it. Be careful in transferring glass casserole dishes, though, because there's a risk that they can slip around.
This tray can quickly heat up dishes with its 400 watts of power. Moreover, it heats up pretty evenly. You can heat up the dishes up to 200 degrees F.
Another key feature of this warming tray is its adjustable heat setting, something that not all electric warming trays have. You can adjust the heat from low, medium to high.
Once you are done with this warming tray, you can easily place it on its side in a vertical space.
PROS
It can accommodate two hot casseroles at a time
It is easy to store
thumbs-o-upIt features an adjustable heat setting
It quickly heats up
CONS
It scratches easily
It tends to get hot on the underside
#2 Chefman Electric Warming Tray
https://www.amazon.com/Chefman-Electric-Warming-Thermostat-Prepared/dp/B01MUCB1DA/
Chefman Electric Warming Tray
This electric warming tray features a 21 x 16 inch surface. You should be able to place 3-4 side dishes on this warming tray. This is the type of warming tray that you want if you have a large party in your house.
It is made of stainless steel with its handles made of aluminum. The cooking surface is made of black tempered glass which is easy to clean. It also gives the warming tray a very elegant look. It's heavy (about 10 pounds) and well made.
There are side handles in this warming tray that makes it easier to move if the unit is still hot. You can look at the indicator light to determine if the unit is on/working.
PROS
Sturdy and well made
thumbs-o-upIts cooking surface is elegant and easy to clean
With side handles for easier transport
Indicator light that tells you the unit is on
CONS
No temperature control
The cord is short
Buffet Warming Trays
#3 Oster CKSTBSTW00
https://www.amazon.com/Oster-CKSTBSTW00-Buffet-Server-Stainless/dp/B002FWTOQM/
Oster CKSTBSTW00
This buffet heating server is made of stainless steel. It features three heating vessels with each one having a capacity of 2.5 quarts. With three heating vessels, you can keep three dishes warm in this unit.
The 20 by 13 inch heating surface can also be used as a standalone warming tray. This is such a versatile warming tray you would love to have at home.
This warming tray does an excellent job of keeping food warm. It heats up very quickly and evenly. The transparent lids of the heating vessels also trap moisture and heat. And once you are done with this heating server, cleaning up is such a breeze as the pans can be washed by hand or in the dishwasher.
PROS
It can warm three dishes at the same time
The heating surface can also be used as a standalone warming tray
It heats up quickly and evenly
thumbs-o-upThe pans are dishwasher safe
CONS
There's no on/off switch
There's no food server slot​
#4 Elite Platinum Maxi-Matic 2.5 quart EWM-6171
https://www.amazon.com/Elite-Platinum-EWM-6171-Maxi-Matic-Stainless/dp/B0015UUEFU/
Elite Platinum Maxi-Matic 2.5 quart EWM-6171
Similar to the item that precedes it, this Elite Platinum server features three steel buffet trays. All trays have non-stick enamel coating with a 2.5 quarts capacity. The trays have clear dome lids and spoon cutouts.
The adjustable temperature control arguably makes this tray a better choice than the Oster model. There are also spoon cutouts where you can place the food servers. You would know if the unit is operating by looking at the power indicator light.
The base of this warming tray can also be used as a standalone warming tray. The said base measures 25 by 14.5 by 6 inches.
PROS
The base can be utilized as a standalone warming tray
It has spoon cutouts where food servers can be placed
It has an adjustable heat control/setting
thumbs-o-upBuffet trays have non-stick enamel coating that makes clean-up quick and easy
CONS
Short cord means you have to place it in a nearby outlet
The lids are thin
2 In 1
#5 Oster DuraCeramic Griddle with Warming Tray (CKSTGRFM18W-ECO)
https://www.amazon.com/Oster-CKSTGRFM18W-ECO-DuraCeramic-Griddle-Warming/dp/B00FR6RCA8/
Oster DuraCeramic Griddle with Warming Tray (CKSTGRFM18W-ECO)
This is a two-in-one kitchen appliance that would not only let you warm foods but also prepare meals. It has a large 10 by 18 inch cooking surface, which is spacious enough for you to cook food such as pancakes, eggs, and hotdogs.
Then there's the warming tray underneath the cooking surface which you can use to keep your foods warm until these are ready to serve. You can adjust the temperature settings, too.
The cooking surface of the griddle is non-stick thus cleaning it up is easy. As far as cooking performance is concerned, the griddle works well. You can cook a pancake, two sausages and an egg on it in around five minutes.
PROS
It can cook food aside from keeping dishes warm
It has temperature adjustment/controls
thumbs-o-upIt is lightweight and easy to move around
Clean up is easy
CONS
The warming tray is slow to heat up
The warming tray is flimsy
Conclusion
Now, if I were made to choose between the Cuisinart and Chefman electric warming trays, I would pick the Cuisinart unit. The temperature control/adjustment of the Cuisinart electric warming tray makes it a better choice. It also has a surface area that's wide enough to accommodate some hot casserole dishes.
For the buffet warming trays, I feel that the Elite Platinum model is the better choice because it has temperature controls. The spoon cutouts are also a nice bonus.
The 2-in-1 warming tray and g​​riddle from Oster is ideal for couples and families who want to get a versatile kitchen appliance.
What do you think of these warming trays? Share us your thoughts by writing in the comments section below.
Wife, Mom of 4 and so much more living in the Sonoran desert. I am passionate about making meals and snacks healthier without sacrificing flavor! I promise you that if you buy healthy foods and make healthy foods, YOUR KIDS WILL EAT HEALTHY FOODS! My motto: Live as naturally as you want to feel.