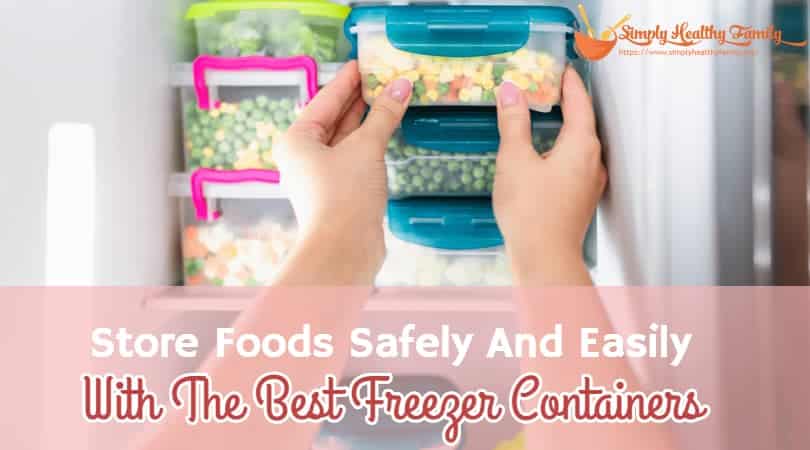 Simply Healthy Family may collect a share of sales or other compensation from the links on this page.
One of my pet peeves is spending a minute or so looking for a particular food stored in the freezer. It can really get frustrating search for say, chicken fillets in the freezer only to realize that you had cooked it the other night. Rummaging around in the freezer and refrigerator is not only a waste of precious time; it can also waste energy.
That's why I highly recommend that homemakers get a set of freezer containers.
I usually store foods bought from the grocery in the freezer container. Or when there's leftover food from last night's party.
Apart from preserving foods, a freezer container can also be used in storing make-ahead meals.
Don't just re-use ice cream tubs for this purpose. Freezer containers will ensure that frozen foods can retain the flavor without absorbing other odors.
Store Foods Safely And Easily With The Best Freezer Containers
Materials Used In Freezer Containers
Freezer containers can be made from any of these materials:
1. Glass
While glass obviously fragile, it has numerous benefits that make it such a good choice for a freezer container. For one, glass is a lot safer compared to plastic. Glass also doesn't absorb odors and flavor, which can affect the quality of the food stored in freezer containers. Moreover, glass performs safely at various temperatures. Thus, you can easily place a glass container in an oven after removing it from the freezer.
2. Polypropylene
Polypropylene is a material that is safe for use in both freezers and oven. It can withstand temperatures of as low as -40 degrees Fahrenheit to as high as 160 degrees Fahrenheit. Freezer containers made from this material have a translucent appearance.
3. Polycarbonate
Polycarbonate is crystal-clear and very durable. It can also withstand extreme temperatures, from a high of 210 degrees Fahrenheit to a low of -40 degrees F.
Other Things To Consider In Choosing A Freezer Container
Aside from the material used, you should take into account the following things when choosing for a freezer container:
1. Size
The size of the freezer container will determine how much food you can store in the receptacle. It can also affect how much space the container will take in the freezer.
2. Stackability
I recommend you look for containers which are stackable. These containers facilitate stable and safe stacking in the freezer and let you save precious freezer space.
3. Microwave Oven Safe
Freezer containers that can be used in the microwave oven are heaven-sent to busy people like me and you. With these containers, you can heat leftover food after freezing it and then letting it thaw in the fridge.
4. Ease Of Cleaning
Similar to shopping for an ice cream scoop, ease of cleaning will affect your buying decision. Look for freezer containers that are dishwasher safe.
5. Color coded
This is particularly beneficial to people who store a lot of food in the freezer. It would be easier to distinguish containers and the foods they contain if the lids are different in color.
Top Five Freezer Containers Available Today
I've made shopping for a freezer container easy as I pick five models which I feel would suit the busy homemaker like you.
#1 42 piece Rubbermaid Easy Find lids Food Storage Container Set
This 42-piece set consists of containers with lids that easily snap together. All containers are freezer, microwave and dishwasher-safe. These containers are made in the USA and have thick and durable walls designed for everyday use.
Rubbermaid is a popular brand that has been around for more than 80 years. I've had a good experience in using Rubbermaid products, so I can easily vouch for this container set if we are to talk of durability and build quality.
You will also love the innovative square shape of these containers. The shape of these containers allows you to easily stack them which means you can maximize the space in your freezer and even pantry or cooler.
These containers also seal well, so there should be no worries of leaking. And because the containers are clear, you can easily see what's in them.
#2 Vremi 18 Piece Glass Food Storage Containers
This is another good choice if you are looking for a set of freezer containers. This 18 piece set includes 9 food storage containers made of glass and 9 color accented matching lids. The containers come in small, medium and large sizes. These containers are rectangular-shaped. The lids, meanwhile, are BPA-free and have air vents designed for microwave heating.

Yes, this set of freezer containers is also microwave-safe. The containers are all dishwasher-safe for quick and easy cleaning.

The lids also lock so well that you can put liquids in the container, leave it upside down and not worry about any spills. The lids are also brightly colored which helps you distinguish the various foods you are storing.
#3 Freshware 15-Pack 3 Compartment Bento Lunch Boxes with Lids
These are stackable, reusable and microwave-safe containers made of polypropylene. This set of 15 smart lunch boxes comes in different sizes.

The manufacturer actually markets these as a lunch box for kids and adults who are into portion control. But these lunch boxes can also work well as freezer containers.

As you would want from a good freezer container, these lunch boxes seal well. The lids are clear so you can see what's inside the container. The containers also stack together nicely.
Cleaning the lunch boxes is also easy. And unlike other containers made of plastic, the lunch boxes don't affect the taste and smell of the food inside them.
This set is a really good choice although the usual issue that users have with the set is that the lids don't snap down quickly.
#4 Evolutionize BPA-Free Prep Containers with Lids
This seven-piece pack is made of BPA-free and CFC-free plastic. It can be used not only in the freezer but also in the microwave. It can also be popped into the dishwasher for quick and hassle-free washing.

One of the best qualities of this set is that the containers stack very well. With the way that the containers stack in the freezer, you can save a lot of space in the refrigerator.

These containers are also easy to clean. Although you can pop them in the dishwasher, you can also wash and rinse them under running water.
This is a good choice for freezing food although the main issue that users have with them is that the lids don't form an airtight seal, so there's the chance of leaks.
#5 Reditainer Extreme Freeze Deli Food Containers with Lids
If you're looking for a commercial-restaurant quality freezer container, then this should be on top of your list. This set of Reditainer food containers is made from polypropylene plastic with tight sealing lids. The containers are specially designed for freezer storage as it can withstand temperatures of as low as -40 degrees Fahrenheit.

Each container measures 3 inches tall and with a capacity of 16 ounces. There's also a set of containers with a bigger capacity of 32 ounces.
The 32oz containers can be used for storing foods like baby carrots, broccoli, celery sticks and cauliflower. The smaller containers, on the other hand, can be used in freezing mashed potatoes that you made with a potato masher.

Since all the containers have the same shape, stacking should be no issue at all. They stack nicely and take up little space.
Conclusion
The Rubbermaid 42-piece set is what I use right now. I feel that it's the best in this list. Not only does it come from a reputable brand, but the containers are also easy to clean and microwave and dishwasher-safe. I also love that the lids easily snap together.

How about you? What do you think is the best freezer container in this list? Share us your thoughts by writing in the comments section below.