What Temperature To Cook Pancakes? How To Cook The Best Pancakes?
We love pancakes in this home. We all look forward to having Sunday pancakes together. I have made mistakes making pancakes over the years and wanted to share my learnings with all of you. Shrove Tuesday, known as Pancake Day, falls on the day before the start of Lent, and its traditionally a time to use up rich ingredients such as butter, eggs, and sugar before the fasting period of Lent begins.
The ideal temperature for cooking pancakes
Let me be clear about this—I didn't master cooking pancakes overnight. I had my share of struggles. Back in the day, I would wait for the pan to get hot, put in the cooking oil, and then wait until the pancake started to burn before flipping it over. More often than not, I would serve pancakes that are burnt on one side or deal with slightly undercooked pancakes. While my kids would still eat those, it was pretty embarrassing on my part.
I didn't realize there's an ideal temperature for cooking pancakes— about 350-375 degrees Fahrenheit or 175-190 degrees Celcius. I assure you that this temperature setting lets you get nice, golden brown, and well-cooked pancakes.
All stoves and ovens are different, and it can be challenging to understand if your stovetop is at the correct temperature for making pancakes.
How can you tell if your stovetop is at the right temperature for making pancakes?
Below are a few ways you can tell if the stovetop is at the right temperature for making pancakes:
Test the cast-iron skillet with drops of water:

Sprinkle the pan with a few drops of water and see if it sizzles and evaporates immediately. This means your pan is pancake ready!

Check the pan's heat:

Place your hand 2-3 inches or 6-8 cm above the pan, and if you can feel the heat radiating from the pan, it's hot enough for pancakes.
Of course, don't touch the pan, as it could be hot enough to burn you

Use an infrared thermometer:

You can measure the pan temperature using the thermometer

Try a pancake:

Test run a pancake by adding a small amount of pancake mixture to the pan and see if it cooks for about 1-2 minutes per side or until golden brown
Four Pancake Cooking Mistakes
As it turns out, setting your stove's temperature to the correct setting isn't just the only hack to coming up with fluffy pancakes. I've listed some other mistakes I've made when I have prepared pancakes in the past:
1. Overmixing
Again, this might be a force of habit. You overbeat the batter, thinking you have to get rid of the lumps. You mix continuously until you see the batter completely smooth. But did you know that you need to leave small lumps in the pancake batter?
Overmixing the pancake batter can cause a build-up of gluten. This leads to an overworked batter and results in chewy pancakes.
I usually do this; I stop mixing the batter once all the ingredients have been integrated. Then I let the batter rest for 5 minutes before I put it in the pan.
Isn't 5 minutes too long? No! That's actually enough time for the activated gluten to relax. Moreover, the flour's starch should absorb the liquid in the batter and make the latter thicker.
2. Pouring cooking oil into the pan right away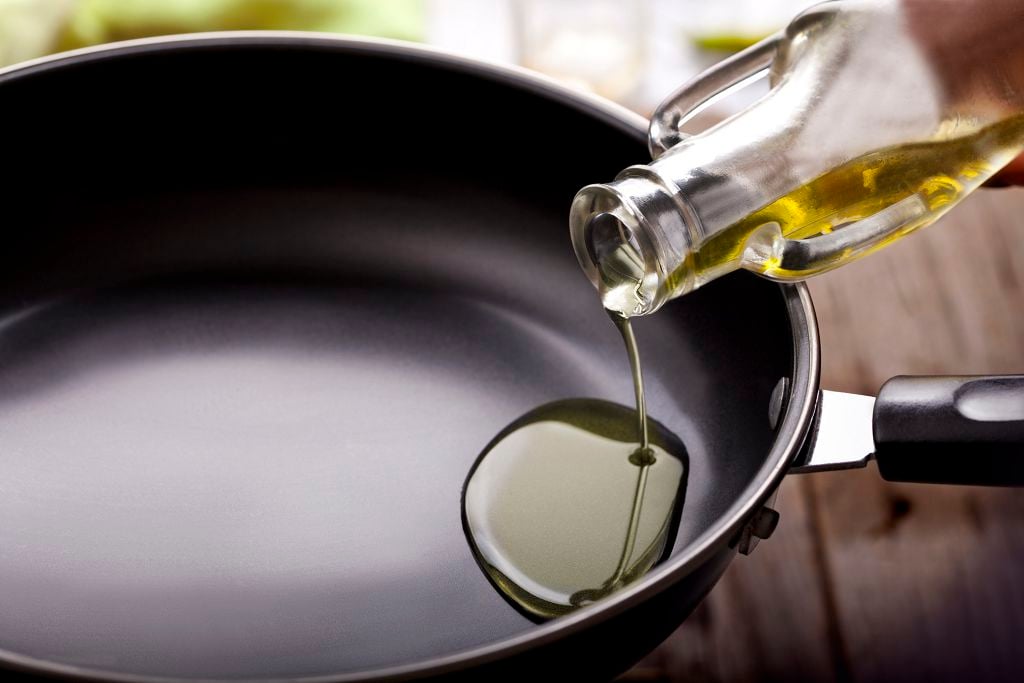 Sure, you are in a hurry in the morning. There may be many things to do in the office, Or you still have to drop your kids at school, so you pour the oil into the pan immediately.
Unfortunately, impatience can hinder you from getting the perfect pancakes. When you set the burner to high heat, you will end up with pancakes that are overcooked on the edges but undercooked in the middle.
So what should you do? Well, be more patient. I would usually set the burner to medium heat and allow the pan to heat up to 350-375 degrees Fahrenheit for 3-5 minutes.
3. Using Butter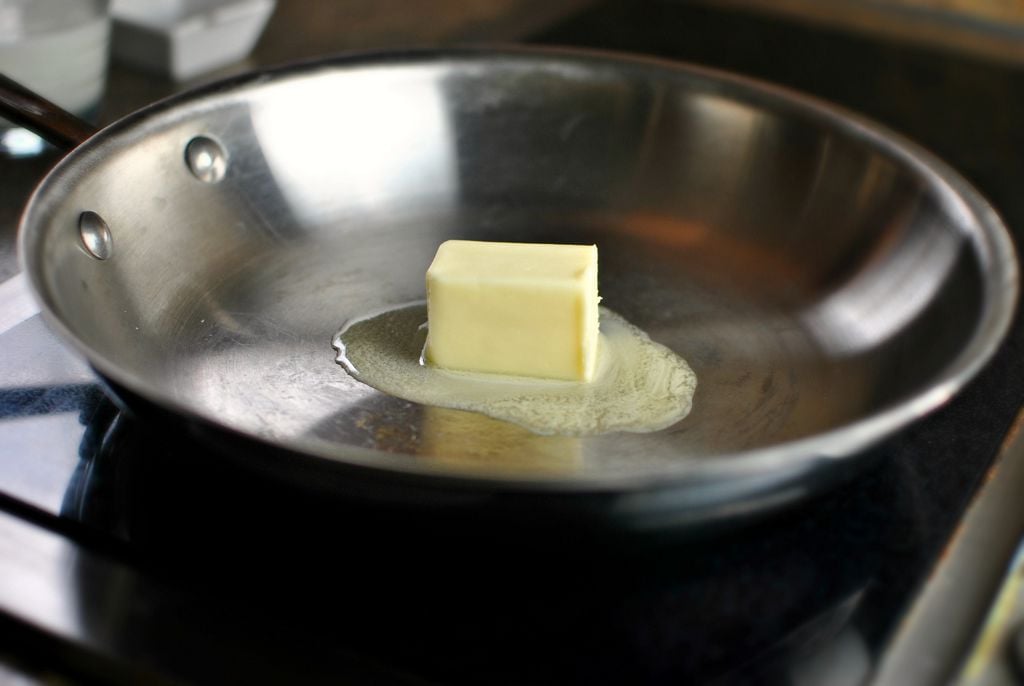 Maybe you don't have cooking oil in the kitchen. Or perhaps you have been used to it. But butter for pancakes isn't really recommended.
Butter has a low smoking point, no thanks to its milk solids. This means it burns pretty quickly. You'll have to put more butter into the pan or risk overcooking the pancakes.
We would suggest a pancake with a higher smoke point which means it can take more heat from the pan. Some options, as alternatives to butter, to cook the pancakes include:
4. Flipping more than once
Another key to making soft and fluffy pancakes is just one flip on the griddle. Flipping pancakes more than once would 'deflate' them, meaning you would serve not-so-fluffy pancakes. And how would you know when to flip the pancake? Look for those bubbles!
The Best Pancake recipe! 
Buttermilk Pancakes, including some substitutions, are shown in the recipe below. I prefer to use vanilla extract and melted versus whipped butter in my pancakes:
The Best Pancake Recipe!
Buttermilk Pancakes includes some substitutions!
Equipment
1 Non-stick or Cast-iron pan

1 Mixing bowl

1 Measuring cup

1 Tablespoon Measure

1 Teaspoon Measure

1 1/2 Teaspoon Measure
Ingredients
2

cups

all-purpose flour

2

tbsp

sugar

1/2

tsp

salt

1/2

tsp

baking soda

1/2

tsp

baking powder*

2

cups

buttermilk*

2

eggs

3

tbsp

melted unsalted butter

1

tsp

vanilla
Instructions
Add dry ingredients together and whisk with a fork to combine

2 cups all-purpose flour,

2 tbsp sugar,

1/2 tsp salt,

1/2 tsp baking powder*,

1/2 tsp baking soda

In the measuring cup, whisk together the wet ingredients

2 eggs,

3 tbsp melted unsalted butter,

1 tsp vanilla,

2 cups buttermilk*

Create a well with the dry ingredients, and add the wet ingredients to the bowl. Combine until just mixed.

Preheat griddle or non-stick frying pan over medium to medium-high heat

Grease the griddle or non-stick frying pan with butter or cooking spray

Use a ladle/spoon or a measure to pour the pancake batter onto the pan or griddle

Cook for 1-2 minutes on each side; remember to flip the pancake once you see bubbles form on the surface of the pancake

Use a spatula and flip the pancake to allow it to cook for another 1-2 minutes

Repeat steps 6-8 for the remaining batter

Serve pancakes with maple syrup, whipped cream, fruit - whatever you like!
Substitutions:
If you don't have baking powder – do not fret! You can substitute baking powder with baking soda and an acid like lemon juice or vinegar (2 teaspoons lemon juice or vinegar)
If you don't have buttermilk, you can make buttermilk by adding 1 tablespoon of lemon juice and enough milk to measure 1 cup; and let it stand for 5 minutes at room temperature.
If you don't have milk or are lactose intolerant, you can make non-dairy buttermilk by using either soy or pea milk by adding one tablespoon of apple cider vinegar and enough soy or pea milk to measure 1 cup and let stand 5 minutes at room temperature. Almond milk isn't suitable because it doesn't have the same level of protein required to create vegan buttermilk.
Feel free to jazz up the pancakes using blueberries, bananas, raspberries, honey, or even cinnamon or nutmeg.
Conclusion
Pancakes may be a straightforward meal to prepare for breakfast, but many of us still don't realize that the ideal temperature for cooking is 350-375 degrees Fahrenheit or 175-190 degrees Celcius. And I am sure many homemakers commit the four pancake-cooking mistakes mentioned above.
Are you one of those people who commit pancake-cooking mistakes? Well, at least you know how to make a perfect, fluffy pancake, right?
Related Content: Red Copper Chef, is it great for cooking pancakes?