Top 5 Best Iced Tea Makers Commercially Available
Simply Healthy Family may collect a share of sales or other compensation from the links on this page.
A cold and refreshing pitcher of iced tea is one of the best things that you can have after a good meal or a light snack. It's undeniable that it's one of the most popular drinks out there whether it's hot outside or not. The kids love it. We love it. Everyone loves it.
But do you know that you can take your iced tea experience to another level by making your own?
​Tea Drinking
Tea drinking has grown popular in the recent years. In many countries, it is popularly served in restaurants and cafes and distributed widely in cans or in bottles. It is regarded as a good alternative to drinking coffee due to its low caffeine contents.
Tea can be served hot or cold, the latter commonly referred to as iced tea. Drinking iced tea does not only quench your thirst but also gives you plenty of positive health benefits such as the following:
It helps keep your body hydrated.
It helps lower your stress hormone levels.
It helps lower your LDL cholesterol levels.
It can help reduce the risk of heart attack.
This healthy drink can be enjoyed in many ways. Iced tea can be made by brewing tea leaves and herbal tea. It can also be infused with a variety of flavors such as lemon, pomegranate, lime wedges, passion fruit, peach, mint, orange and strawberry. It can be sweetened or unsweetened, depending on your own preference. You can also look up different recipes to spice up your iced tea.
Iced Tea Maker Advantages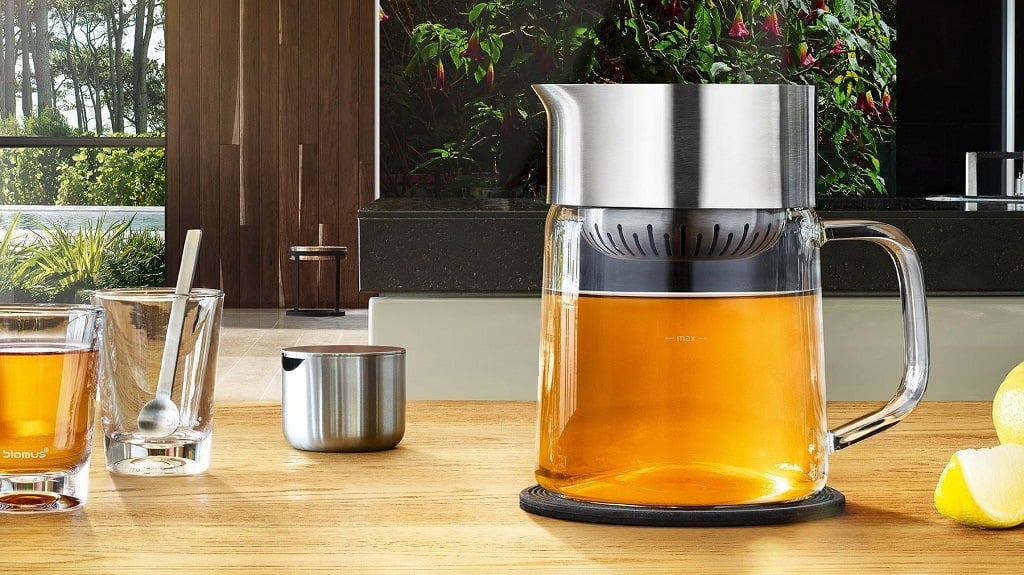 Iced Tea Maker, cups, a spoon and sliced lemon on the table
Traditionally, one can make iced tea by brewing tea manually on a pot of boiling water. The brewed tea is then left to cool before adding ice cubes or placing it inside a refrigerator to chill. This method usually takes hours before the iced tea is served.
Just like brewing your own coffee in a coffee maker, making your very own iced tea has turned into a quick and easy task with the help of modern iced tea makers. From brewing tea in a pot for hours to reducing it in just minutes, iced tea makers can let you enjoy iced tea in a short span of time. Iced tea makers nowadays offer different features for convenient iced tea-making.
A standard iced tea maker usually has the following features:
Brewing capacity level.
Steep control where you can adjust the brewing time of your tea.
Pitcher with water and ice level indicators to show the required amount of water and ice.
Thermal pitcher to keep your tea cold.
Brew baskets which holds your tea bags for brewing.
On and off button.
Owning an iced tea maker can help reduce the time you spend making an iced tea. If you are fond of teas, you might consider getting one. You can control the brewing time of your tea to suit your preference. You can make sure that the strength of the tea is up to par with your taste. You can also decide on whether you'll go with teabags or loose tea. The uncomplicated and easy to learn features are what makes it a useful home appliance.
Iced Tea Making Demo
Here is an example of making an iced tea by using an iced tea maker.
The basic steps when using a standard iced tea maker are:
Fill pitcher with ice cubes.
Choose your tea of choice (either loose or bagged tea).
Place tea in filter.
Select mild, medium, or strong for brewing strength and add water to the heating unit, then press the power button.
Allow the hot water to flow through the tea filter into the pitcher of ice.
Turn off the machine's power button.
Reviews: Top 5 Best Iced Tea Makers Commercially Available
Here is a table of our top 5 best iced tea makers commercially available.
Iced tea is a great beverage to serve on ordinary days and special occasions. To help you make iced tea in a quick and easy way, check out these top rated iced tea makers and our review of each product.
This iced tea maker by Takeya with a BPA-Free Tritan pitcher makes 8 servings of iced tea (2 Quarts or 1.9 liters). Making fresh brewed iced tea can be accomplished in minutes through this stylish iced tea maker. You can use Takeya's loose leaf Iced Tea or any loose leaf tea/tea bags that you desire. This iced tea maker also features an airtight lid that keeps iced tea fresh while storing. You can store it on the side of the fridge or the fridge door.
Takeya Flash Chill Iced Tea Maker (2 Quarts, Raspberry)
PROS
Its large brew cup gives lots of options.
Easy to store.
Flash Chill preparation option.
Easy to clean filter.
Filters loose tea efficiently in the strainer.
CONS
Pitcher is not stain proof.
Issues with plastic brewing pitcher.
This 3-quart (2.8 liters) iced tea maker works with loose or bagged tea. Its features include a water window in reservoir, removable brew basket and an adjustable brew strength. It also has a simple on/off button with power indicator light and an auto shut-off for safety. Its pitcher is dishwasher-safe with ice-level marking and non-drip spout. This iced tea maker measures 8-1/2 by 15-1/2 by 12-1/2 inches. A 1-year limited warranty is also offered to its buyers.
Mr. Coffee TM70 3-Quart Iced Tea Maker
PROS
Brewing tea takes only 5-10 minutes.
Convenient auto shut off button.
Its directions are clear and easy to follow.
Tea strength can be personalized and adjusted.
CONS
Its size can take up counter space.
Issues with its off button malfunctioning.
This iced tea maker that measures 17-1/2 by 11-1/2 by 4-1/2-inch offers a slim, washable by hand, 2-quart (1.9 liters) pitcher that fits easily in a refrigerator door. It can brew tea in just 10 minutes. Its features include an indicator light and automatic shutoff. It also has an adjustable brew-strength selector. This product is built according to North American Electrical Standards.
Hamilton Beach 40911 2-Quart Electric Iced Tea Maker, White
PROS
Its size prevents it from taking up too much counter space.
Easy to use.
It sweetens tea while brewing.
Its slim designed pitcher is easy to store and clean up.
CONS
Issues with switch button malfunctioning.
Issues with brewing cycle leaks after months of use.
This is a uniquely designed, innovative iced tea maker that offers a variable tea brew strength. With this iced tea maker, you can brew tea with or without sweetener. This can be used with bagged or loose tea. It includes an attractive 2.5 quarts (2.4 liters) glass pitcher to serve in style.
Back to Basics Iced Tea Maker
PROS
It has a glass pitcher.
It has an adjustable brew strength feature.
It has an auto turn off safety feature.
Easy to clean.
CONS
Issues with steeping.
Height can be a storage issue when not in use.
Condensation inside the top lid runs down on the on/off switch if not opened.
Inconvenient sugar compartment design.
This iced tea maker which measures approximately 10-1/5 by 7-2/3 by 15-1/5 inches, offers timed brewing and steeping settings. It has a reusable stainless-steel filter that works with both bagged and loose tea, a brew-strength selector, a removable sweetener chamber and a 2-3/4-quart (2.6 liters) plastic pitcher. The other features are the auto shut-off, an "on" indicator light, and a drip tray for quick cleanup.
West Bend 68303 2-3/4-Quart Iced-Tea Maker
PROS
It can make iced tea with cold water instead of putting ice.
It is lightweight and easy to store in the refrigerator.
Easy to clean up.
Convenient auto shut-off setting.
It takes up less space.
Quick tea brewing.
CONS
Produces weak tea brew.
Lack of water indicator level.
Issues with tea sweetener absorption.
Top Pick
After examining the top 5 iced tea makers on our list, we have decided to pick the Mr. Coffee TM70 3-Quart Iced Tea Maker as the best among the rest. This iced tea maker offers a lot more than a great-tasting, freshly brewed iced tea such as convenient and time-saving options. Consider getting an iced tea maker today and enjoy your very own iced tea.