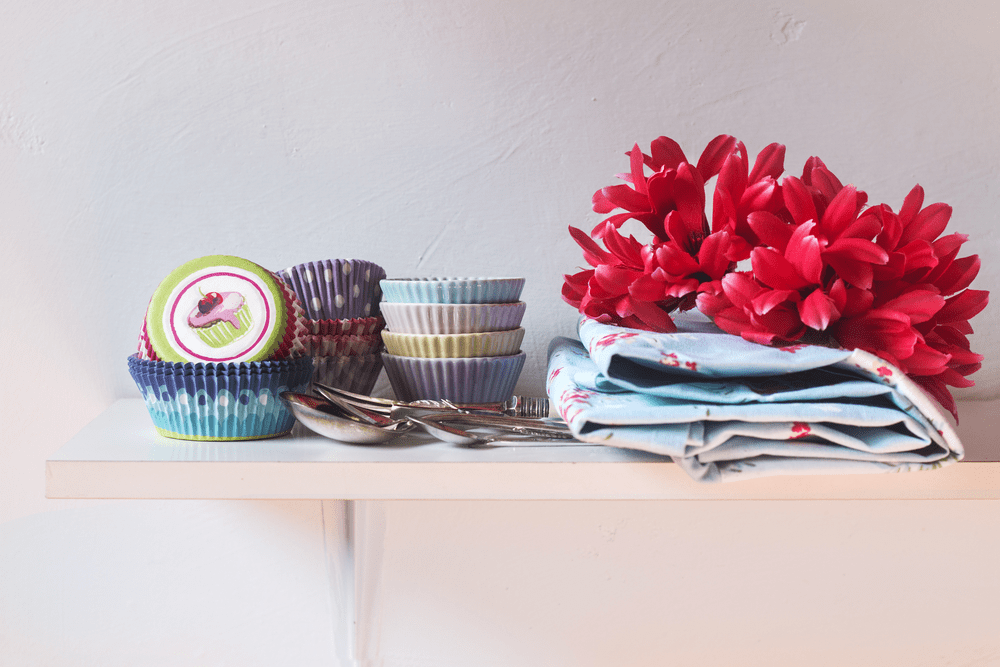 Simply Healthy Family may collect a share of sales or other compensation from the links on this page.
What's the most practical way to change the look of your kitchen when you think that things have started to feel stale?
Obviously, having a kitchen renovation is out of the equation because we all know that it would take a lot of money. Perhaps you may think that changing the position of your appliances like the ref, oven or even the coffee maker?
For me, the most cost-effective way of making a kitchen makeover is to install shelf liners. These are rolls of contact paper that can be placed on the surface of cabinets, drawers, and closets. There are plenty of patterns available, so you can choose one that suits your taste. Whether you are looking for a more modern or traditional look for your kitchen, there should be a shelf liner out there for you!
Shelf liners aren't only useful in the kitchen. You can also use them in incorporating a design in any room of your house, as long as you have drawers, closets or cabinets in it like bathroom and even your bedroom.
Read Article: Better Performance, Less Stress: The Best Chef Shoes Reviewed
Have a Kitchen Makeover without Spending Too Much with the Best Shelf Liner
Types Of Shelf Liner
There are two kinds of shelf liners--- the adhesive and non-adhesive types.
Adhesive shelf liner is the kind of product that most people think of when they hear of shelf liners. It usually has sticky, glue-like material that keeps the liner in place. However, the liner can still be removed or repositioned without leftover residue.
There's also the non-adhesive liner. It usually has a grip bottom that prevents the liner from moving. It is also more durable and easier to clean than the adhesive type. This is the kind of shelf liner where you want to place in areas where you might have to remove it eventually.
Uses Of A Shelf Liner
Obviously, a shelf liner is primarily used for aesthetic purposes. Shelf liners come in different colors and prints. You can apply them to your shelves or cabinets to give your kitchen a new look. It is perhaps the cheapest way to add fresh colors or design to an otherwise drab kitchen.
It can also serve as a protective barrier between the original drawer surface and your utensils. Let's say that you bought a carving knife to add to your cutlery collection, which you keep in a drawer. But the carving knife is so sharp that it can scratch up the surface of the drawer. Placing a shelf liner in the drawer will protect the drawer and your knives, too, as it can keep them sharp.
Shelf liners are very much ideal if you are a renter and you cannot make major changes in the house you're living in. I've rented one before, and I do know that you can't paint the walls, change the floor tiles or even cabinets without the consent of the owner.
You can still change the look of your kitchen by adding colorful shelf liners in your drawers or cabinets.
How To Choose A Shelf Liner
In choosing a shelf liner, you would likely consider the design as the most important factor. That's true in the case of most homemakers as they usually place a shelf liner to add a touch of elegance or simply change the look and feel in their kitchens.
You should also look for a shelf liner that is easy to cut. Most shelf liners have a pattern that you can follow if you are to cut them. The material should also be easy to cut with a pair of scissors.
I would also recommend that you get a shelf liner that's easy to clean and reposition in case you have to place it in another part of the kitchen.
Five Top Shelf Liners Available On The Market Today
#1 Duck Brand 736411 Select Grip Easy Liner Non-Adhesive Shelf Liner
This shelf liner features a non-adhesive grip bottom and top to prevent items from sliding or shifting. The grip is made from a material that is food-safe and PVC-free. The shelf liner is also very lightweight.
Placing it is also very simple, as the shelf liner is easy to cut with a scissor. There's a pattern in the shelf liner that you can follow. And cleaning it up is simple and easy, too.
You can use this in the kitchen, especially in the drawer of cooking tools so they won't slide around every time you open the drawer. You can also use it in the medicine cabinet and prevent items like cosmetics and dental supplies from sliding around.
#2 Seville Classics Fitted Shelf Liners (Smoked Gray)
These shelf liners are designed to fit steel wire shelves of the manufacturer. But you can also use this in your cabinets, drawers, closets and even under the sink.
It is made of flexible polypropylene which is about 0.2 inches thick. It is colored translucent smoke gray. It creates a cushioned surface for small items in your kitchen like olive oil bottle and other condiments. It can also be used to store bigger items like pots, pans, and even a toaster oven.
It's also pretty simple to affix these liners. Cutting and fitting them should also be a breeze.
#3 Duck Brand 855145 Smooth Top Easy Liner Non-Adhesive Shelf Liner
On the surface, this is very much like the Duck Brand shelf liner I discussed earlier. But there's one major difference between the two shelf liners—this liner has a grip bottom that prevents it from moving. The smooth top, on the other hand, lets items like spoon and fork to easily slide in and out of cabinets and drawers.
I've used these liners to make my old countertops look like new, and believe me; they made my old stuff look a lot better. These are very easy to install. After cutting, simply place them down on the surface. The grip works well, too.
These are water-proof liners. You can easily wipe off liquid spills on these liners. This is one of the best shelf liners you can find on the market.
#4 The Macbeth Collection Self Adhesive Shelf Liner
These liners are attractive, removal and easy to work with. These liners come in eight different designs, so you have plenty of options in decorating your cabinets.
There is a grid pattern at the back of the shelf liner, which you can follow to cut it to your desired size. The self-adhesive liner sticks to most surfaces well, although you can also add water to ensure that the liner would stick to the surface.
While it is slightly thinner compared to traditional wallpaper, this liner can hold up pretty well. It won't peel any paint off.
#5 Con-Tact Brand Creative Covering Self-Adhesive Shelf and Drawer Liner
Aside from the numerous designs to choose from, this shelf liner features a very user-friendly measure and cut grid located on the back. This grid can guide users in cutting the liner.
This is the ideal shelf liner if you have lots of drawers and cabinets doors to accessorize. It is not only easy to cut but also easy to apply.
Unlike most self-adhesive liners, this product isn't that sticky. That's a good thing, though, as you can reposition the liner if needed. It also doesn't have bubbles or wrinkles that can ruin the look you're trying to achieve in the kitchen.
Finally, this shelf liner is easily washable. This is one of the best shelf liners you can find.
Conclusion
Don't get me wrong. These are all excellent shelf liners that you can use to spruce up your kitchen. But if you asked which one I'd pick from this list, I would go with the Con-Tact Brand Creative Covering Self-Adhesive Shelf and Drawer Liner.
Not only does this product have the most number of designs to choose from but also offers you the best of both worlds--- an adhesive back that adheres to most surfaces, but isn't as sticky as other adhesive liners. For those reasons, I name this the best shelf liner today.