How To Shop For The Best Tea Press
Simply Healthy Family may collect a share of sales or other compensation from the links on this page.
Starting the day with a cup of tea is a ritual that many people in the world have. Are you one of them? If so, I would highly recommend that you get your tea press. Why? I'll tell you this—nothing can match up with the flavor of tea produced from a tea press. Since tea leaves are fully immersed in the water and no essential oils are eliminated, you can expect a rich and flavorful beverage that you can't get from any other brewing method. Before the advent of tea bags in the 19th century, steeping dried tea leaves was the only way to enjoy a cup of tea. The old way of brewing tea has gone a renaissance of sorts. There are now lots of tea press (which is also interchangeable with a French press) models that you can turn to in brewing tea and even coffee. A tea press can also be used for brewing coffee. It's a must-have for any serious lover of these caffeine-rich beverages.
Related Reading: Learn How to Shop for the Best Tea Kettles for Use in Gas Stoves
How It Works
There's no complicated process involved in operating a tea press. You simply have to place the tea leaves in the pot then add hot water. Place the lid on the top and let the leaves steep. The amount of time that the leaves are steeped, and the water temperature can affect the strength of the brew. Tea will need less time for steeping than coffee. Thus, you can keep the leaves in the pot for about 1-2 minutes. After that, pour out the tea by pushing on the press button. This would utilize the filter as a sieve of sorts and separate the tea leaves from the liquid. A word of caution, though— be gentle in squeezing the tea with a press as it could release bitter compounds into the beverage. It's also basically the same process in brewing coffee. Add several coarse ground coffee into the pot then pour hot water. Let it brew for a few minutes. Hold the handle of the pot and press it down gently. You can then enjoy a cup of brewed coffee.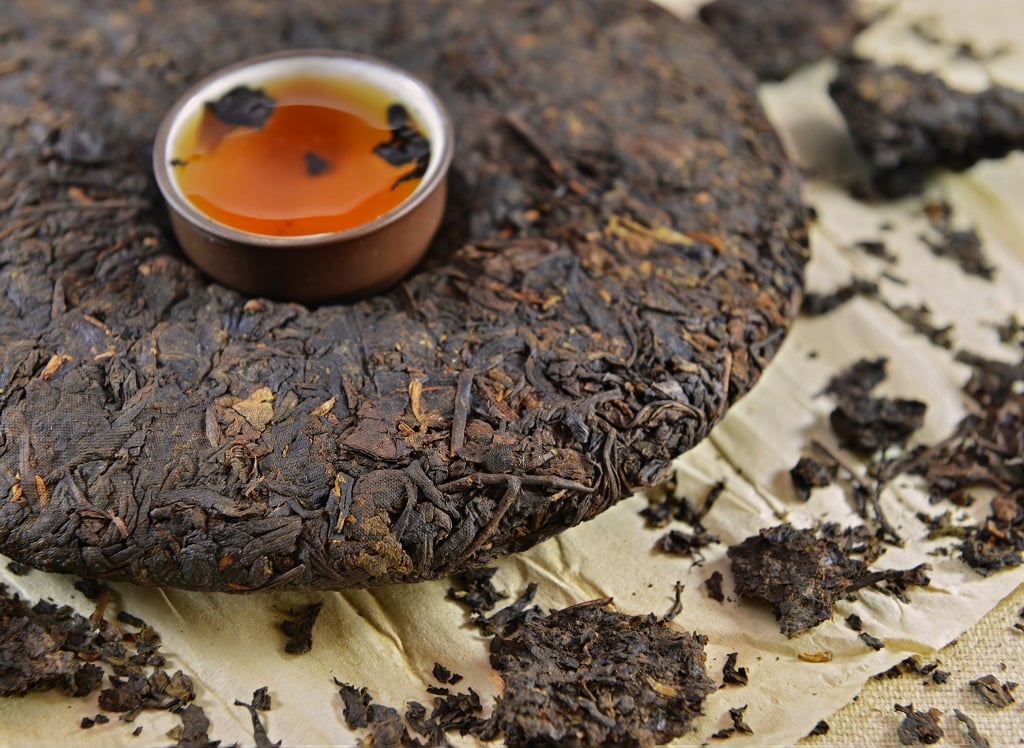 a cup of tea and tea residue
How To Choose A Tea Press
In choosing a tea press, look into the following factors:
1. Material
Stainless steel tea press can last for a long time. Glass, too, is a good material as it is easy to clean. It also won't retain flavor, unlike plastic. But plastic is the best material for tea presses designed for travel.
2. Ease Of Cleaning
Tea presses with a few parts and dishwasher-safe are your best bet here.
3. Size
This depends on your needs. Are you the only one in your house that enjoys tea and coffee? Then a personally sized tea press is what you need. If you have 3 or more individuals in your household who love said beverages, then get a bigger tea press.
Best Tea Presses Available On The Market Today
Now I will take a look at five of the best tea presses today. I have sorted these tea presses according to use—at the office, at home, and for travelling.
| RANK | PRODUCT NAME |
| --- | --- |
| #1 | Use At The Office |
| #2 | Use At Home |
| #3 | Use At Home |
| #4 | Use At Home |
| #5 | For Travel |
1. Use At The Office
#1 X-Chef Stainless Steel French Press
https://www.amazon.com/X-Chef-Stainless-Insulated-Thermal-Camping/dp/B012FRA8UC/
X-Chef Stainless Steel French Press
If you're the tea or coffee purist who likes to have a cup or two of any of the caffeine-infused beverages at work, then I would suggest you get this French press.
This X-Chef stainless steel French Press can brew a liter of the best tasting coffee or tea. The capacity is good enough for one to two individual coffee drinkers.
It has a double wall constructionand can thus keep coffee or tea warm for a long period— around one hour. However, its exterior stays cool so you can touch it and pour coffee or tea anytime.
I also love how this French Press is made. It has a very nice mirror finish outside so it can make any kitchen countertop look more stylish. Moreover, all the components of this French Press are dishwasher-safe thus you won't need to spend a lot of time and effort in cleaning it.
PROS
Double wall construction can keep the beverage warm for a long period
It is made of durable stainless steel
It is ideal for an office with 1 to 2 coffee or tea drinkers
It has a very stylish exterior
CONS
Can only keep the beverage warm for less than an hour
The lid doesn't close tight
2. Use At Home
#2 Cafe Du Chateau 34oz French Press Coffee Maker
https://www.amazon.com/Cafe-Du-Chateau-Filtration-Borosilicate/dp/B01J4O0T4E/
Cafe Du Chateau 34oz French Press Coffee Maker
Do you want to enjoy great tasting coffee or tea at home? Check out this French press from Café Du Chateau. It has a four-level infiltration system that can be relied upon to make perfectly brewed coffee, tea, and espresso.This unit is made only from the finest quality materials. Every single metal in this unit is of superior quality and won't rust. The carafe, meanwhile, is made of borosilicate glass. Despite being made of high-quality materials, this tea press is surprisingly lightweight. It weighs less than 2 pounds. It is also portable enough to fit in a backpack, then you can bring this on your next camping trip.
Maintaining it won't be a concern, too, as it is very easy to clean. The glass container, for one, easily slides out from the metal handle. The glass also feels solid so you won't feel like it will break from a bit of scrubbing.
PROS
It has a four-level of infiltration system that can make perfectly brewed coffee or tea
It is made of high quality materials
It is compact lightweight
The unit is very easy to clean
CONS
Metal part of the unit has sharp edges so be careful in handling it
Glass carafe tends to slide out of the metal holder
#3 Hiware Good Glass Teapot with Stainless Steel Infuser & Lid
https://www.amazon.com/Hiware-Stainless-Infuser-Borosilicate-Stovetop/dp/B00ZOLU1VI/
Hiware Good Glass Teapot with Stainless Steel Infuser & Lid
This is another tea press that you would love to have at home. It's not only reliable in making great tasting tea but also has that very distinctive look that can lend a touch of elegance to any kitchen. It has a 7 ounce clear glass teapot and a stainless steel infuser. It is both oven and stovetop-safe.This glass teapot can make tea for one to two individuals. It is also very lightweight so you can bring this from the countertop to the table. And because it is made of clear glass, it is possible for you to see the beautiful colors of your favorite teas with this teapot.
It's also easy to use. You simply have to drop the loose leaves into the infuser. Then pour boiled water through the infuser and into the teapot. You'll see the tea gain color and expand. You can then pour the tea into a cup without any mess thanks to its non-dripping spout.
PROS
It is made of heat-resistant glass
It looks very good
It is lightweight
It is easy to use and can be used both on the stovetop or oven
CONS
The handle gets hot very quickly
Lack of packaging in the box to protect the glass teapot
#4 Black Teavana Perfectea Maker
https://www.amazon.com/Black-Teavana-Perfectea-Maker-16oz/dp/B004X7DIHI/
Black Teavana Perfectea Maker
This is highly recommended for loose leaf tea drinkers. It is compact, solidly built and easy to use.This tea maker measures 6.4 inches by 6 inches by 4.3 inches. It provides a very efficient and easy way to steep tea. Simply fill the tea maker with hot water and tea. Once the tea steeps, put the tea maker on top of the mug and drain it. You may even stop the unit from draining halfway. This is a four-piece unit that is easy to disassemble and reassemble for cleaning. While it is made of plastic, the tea maker is well-constructed. The material is also solidly built and doesn't feel flimsy at all.
PROS
It is extremely easy to use
It is well-designed and constructed
It only has four pieces which makes it very easy to assemble/disassemble for cleaning
It includes a drip tray so there should be less mess using this tea press
CONS
It is made of plastic which isn't the most durable material
The unit will eventually be stained by tea
3. For Travel
#5 Idylic Homes Kona French press Coffee Maker
https://www.amazon.com/Bodum-Travel-Coffee-Plastic-Insulated/dp/B0093EPL8A/
Idylic Homes Kona French press Coffee Maker
This is the tea press that I would recommend if you want to enjoy freshly brewed coffee or tea while away from home. Measuring 10 inches long, 6 inches wide and 5.5 inches tall, this coffee maker can easily be placed in your backpack. It also won't take up a lot of space in your suitcase.
Aside from being very compact, it has a well-designed body. The outer shell is not only attractive but also insulated. It is strong and durable, too, and can protect the coffee maker from chips and cracks. The handle, on the other hand, is durable and sturdy.
This coffee maker is also very easy to clean as it is dishwasher-safe. It won't also disturb you wherever you may be as it is quiet when in operation.
PROS
Compact and lightweight; can easily be placed in most bags
Its outer shell is attractive and sturdy
It has a strong and well-designed handle
It is dishwasher-safe and easy to clean
It is quiet when in operation
CONS
The lid doesn't close tightly
Lack of instructions on how to use
Conclusion
Before I wrap up, I would like to point out that the Black Teavana Perfectea Maker is my pick for home use. It is compact, solidly built, well designed and very easy to use. There you have it—five of the best tea presses that you can choose from. So what are you waiting for? Start shopping for a tea press now and enjoy perfectly brewed tea or coffee anytime you wish.
Wife, Mom of 4 and so much more living in the Sonoran desert. I am passionate about making meals and snacks healthier without sacrificing flavor! I promise you that if you buy healthy foods and make healthy foods, YOUR KIDS WILL EAT HEALTHY FOODS! My motto: Live as naturally as you want to feel.