Finding the Best 30-Inch Gas Range for You
Simply Healthy Family may collect a share of sales or other compensation from the links on this page.
Now that you have decided on getting a 30-inch gas range for your kitchen, it's time to narrow down your choices. It sounds easy, but with an awful lot to choose from, selecting the best one for you becomes a challenge. Add the fact that a mistake means a thousand bucks going down the drain. But don't worry, that is why we're here. I'm going to help you decide on the best 30-inch gas range for you.
The first thing you have to understand is that unlike any other kitchen appliance, a gas range unit is important because this is where most of your food will be made. At the same time, it is one of the centerpieces of your kitchen, so it also has to look good in the sense that it shouldn't look out of place in your kitchen.
Planning and preparation
modern space of a kitchen
Before you splurge your hard-earned money on a unit, you have to understand that there are preparations to be made. Choosing the gas range is the last thing to do.
Existence of a gas line
You have to be sure that you have an existing gas line and the proper hook-up. If you don't have one yet, you can have one set up by an expert for hundreds of dollars.
Space
Your kitchen should have an adequate space to place your gas range in. It should fit perfectly where it can function properly in the space provided. Also be conscious of ventilation and additional allowance space for people to move around to.
Location
This is an aesthetic and ergonomic decision at the same time. Are you planning to set it up permanently to a specific location or do you want to be able to mix it up every once in a while?
Slide-in gas range units are the ones that are installed with the same dimension of kitchen countertops and inserted in between those so they appear as though they are part of the counter. This would be the more permanent type of gas range units and best to match with counter depth refrigerators.
A freestanding gas range is more flexible in terms of location because it is designed to stand free as its name connotes. It doesn't have to fit countertops of fit into a specific space. As long as it is accessible to a hook-up then it is good to go.
Things to consider in looking for a 30-inch gas range.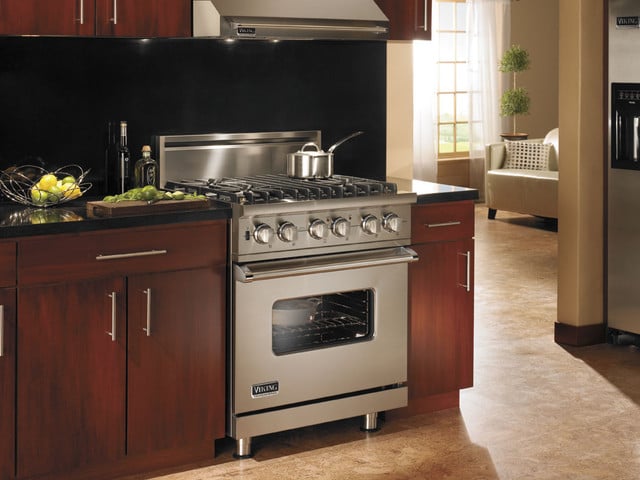 modern space of a kitchen
1
The BTU
This is the unit of measurement used to determine how hot a stove can be. The BTU range for regular home-cooked meals is around 5,000 to 12,000 BTU. Gas range units available today have burners that have up to 22,000 BTU. Unless you are into searing or broiling food, you won't be needing that much firepower. But since most of the today's units have burners with different BTU output, having such option won't hurt as long as doesn't cost more.
2
Oven Capacity
Basically, it is choosing between single or double oven. Having a double oven gas range will be great if you often have guests come over or if you have a big family that loves baked goodies all the time. The set-up of that type of oven is usually one big oven and one small oven which is good if you just want to reheat some leftovers without wasting too much gas.
If you prefer a single oven unit select a 3-cubit foot to have room in baking large items such as turkey or large slabs of meat. Even if you think you won't be needing it, it is better to have this allowance just in case. But of course, only if space allows.
3
Aesthetics
Since it is going to be the centerpiece of your kitchen, your gas range unit should look good. It should blend in your kitchen's theme. The best way to go is to get chrome or stainless steel. This way it will look good regardless of your kitchen's motif. Make sure to get a smudge-free unit so that you don't have to wipe it after every time you touch it. You can also get a kitchen mat to put underneath, which will not only help your feet be more comfortable, it will also help finish the look of your kitchen!
4
Additional features
Since you will be shelling out a great deal of money, you might want to get a unit that can provide added value to your money. Choose a gas range unit that has extra features that fit your cooking style and function. The most popular feature of gas range units right now is the having a convection oven. This feature circulates the hot air through a fan inside the oven to allow faster and more even cooking compared to a regular oven.
Another great feature is the self-clean. This feature makes the oven clean itself for around an hour or so. There is no need to suffer cleaning those hard to reach places. You can use the time saved from cleaning to do other things.
Safety features like child lock on buttons is also a great help especially when children have access to the kitchen. You can leave what you are cooking and rest assured that no freak accident will happen to your children.
The best 30-inch gas range units available today
I have selected some of the best 30-inch gas range units available today. Take a look at our reviews.
#1. Thor Kitchen HRG3080U 30″ Freestanding Professional-Style Gas Range with 4.2 cubit-foot Oven
https://www.amazon.com/Thor-Kitchen-Freestanding-Professional-Convection/dp/B0100A3H54/
This unit will definitely look good in any kitchen. It has a very neutral yet striking stainless steel finish that can complement any kitchen theme. Bake anything no matter how big or varied the food is with its 4.2 Cu. ft. oven.
Wife, Mom of 4 and so much more living in the Sonoran desert. I am passionate about making meals and snacks healthier without sacrificing flavor! I promise you that if you buy healthy foods and make healthy foods, YOUR KIDS WILL EAT HEALTHY FOODS! My motto: Live as naturally as you want to feel.