A Recipe for A One-of-a-Kind Sweet Vegetable Cake
Simply Healthy Family may collect a share of sales or other compensation from the links on this page.
Sweet vegetable cake sounds like an interesting dessert to say the least. Carrot cake is made out of carrots and vegetable oil and is an oh-so-popular dessert worldwide, so why can't we make a cake using other veggies too? 
There are hundreds of cake and dessert recipes online for carrot or rhubarb cake, and because of this, I want to share something completely different with you. This vegetable cake uses courgettes, ripe avocado, and lime as its star ingredients, which certainly is unique!
Does indulging in a slice of this cake count as one of your five a day? Who knows, but one thing is for sure, once you make this cake for friends and family, they will be calling you with recipe requests. 
Follow the recipe, tips, and tricks in this article to make the best sweet vegetable cake in town. Don't be afraid to alter the recipe to suit you; that's what's great about this recipe! Add a thick icing or use a whipped cream dispenser to cover it in light whipped cream, use different vegetables, or change the presentation the way you like.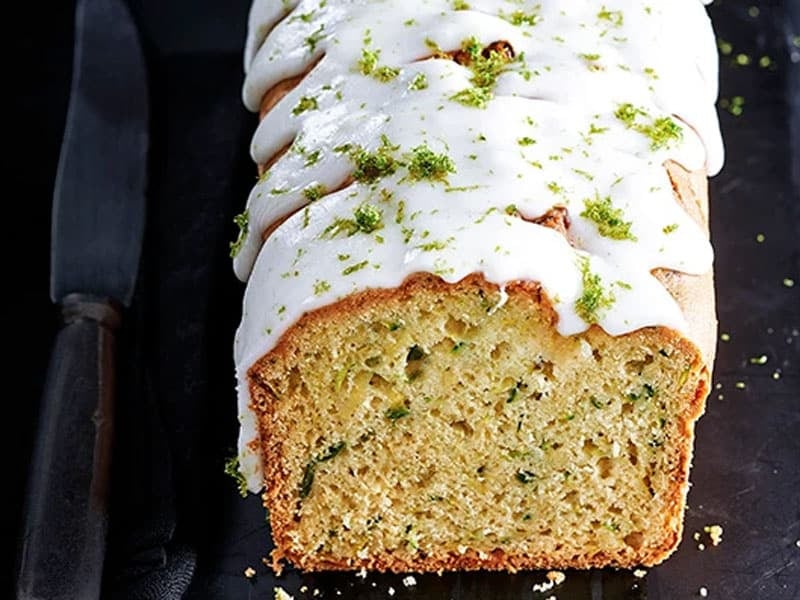 Sweet Vegetable Cake
Does indulging in a slice of this cake count as one of your five a day? Who knows, but one thing is for sure, once you make this cake for friends and family, they will be calling you with recipe requests. 
Ingredients
300

g

grated courgettes

75

g

avocado

75

ml

sunflower oil

2

limes

zested and juiced

175

g

golden caster sugar

3

large beaten eggs

1

tsp

vanilla extract

350

g

self-raising flour

1

tsp

baking powder
Icing
140

g

icing sugar

1

lime

zested and juiced
Instructions
Step 1: Preheat the Oven and Prep the Tin
Preheat the oven to 180 degrees and prepare your 900g loaf tin. You should line the tin with baking paper that covers the whole of the inside of the tin including the sides.
Step 2: Grate the Courgettes
Grate the courgettes and strain the excess liquid from them using a clean tea towel. If you don't strain the courgettes they all of the water will leak out of the cake as it bakes, and your cake will not set.
Step 3: Blend the Avocado and Add the Grated Courgette
Throw the avocado and oil into a food processor and blend until smooth. Once the avocado and oil mixture is smooth and lump-free, you can mix in the grated strained courgettes.
Step 4: Add the Oil, Lime Zest, Sugar, Vanilla, and Eggs
Now is the time to add the vanilla, beaten eggs, sugar, lime zest, and oil. Make sure that the cake mix is well combined before moving onto the next step, as once the flour and baking powder are added, it is hard to get the mixture even.
Step 5: Fold in the Baking Powder and Flour
Carefully fold in the baking powder and flour. Keep folding the mixture until you get a thick and even cake batter.
Step 6: Bake for an Hour
Next, pour the batter into your lined cake tin and bake for an hour. You can check up on your cake after 45 minutes to make sure none of it is burning.

Once the hour is up prick the cake with a long skewer to see if the cake is cooked all the way through. If the skewer comes out wet, leave the cake in the oven for a further 15 minutes.

Note: Every oven is different, and some bake and cook food faster than others, which is why checking up on your cake during the cooking process is important.
Step 7: Leave the Cake to Cool
Set the cake aside for 20 minutes to allow it to cool completely. Proceeding to the next steps while the cake is still hot could change its texture and consistency, so being patient here is key.
Step 8: Prick the Cake and Drizzle with Lime
Poke plenty of holes in the cake and drizzle with lime juice. This will make your cake extra zesty and delicious!
Step 9: Make the Icing
The icing sugar is very easy to make. All you need to do is to sift the icing sugar into a bowl and smash in the lime to make a thick icing sugar paste. Pour the paste all over your cake.
Step 10: Leave it to Set
Set the cake aside until the icing sugar has set completely, then slice and serve! Easy!
Vegetable Cake Tips & Ideas
Once you have mastered the vegetable cake recipe above, there is no reason why you can't mix things up a little and change the vegetables in the cake recipe to make different variations of this cake. Here are some tips, tricks, and suggestions that you can look through next time you want to make this vegetable cake. 
Alternative Ingredients 
Pumpkin and cinnamon 
If you don't like courgettes, or you have had enough of making courgette cake, swap out the courgette and lime for pumpkin and cinnamon. Keep the rest of the recipe exactly the same; you can even use the courgette and lime measurement for pumpkin and cinnamon. 
Carrot 
Either use a 1:1 ratio of courgette and carrot or swap out the courgette for carrot all together! There are plenty of flavorful carrot substitutes you can use, too. Carrot and avocado cake is delicious, and if you add some crushed pecans to the icing, this dessert is guaranteed to be a winner! 
Rhubarb and Ginger 
Use grated ginger instead of lime zest and crushed, cooked rhubarb instead of courgettes if you want to make a special winter vegetable cake. Keep the avocado in the recipe the same as this is an important fat element that is vital for the cake's taste and texture. 
Presentation Ideas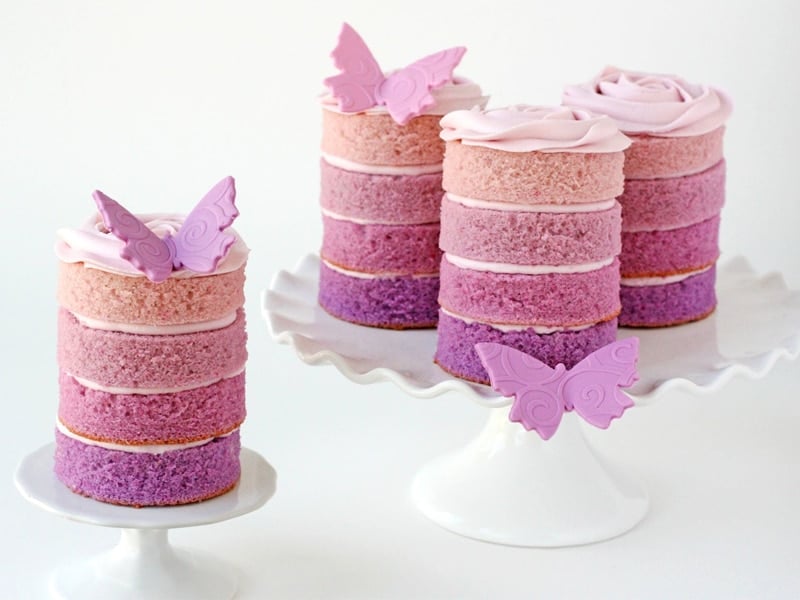 Cake slices are fun and easy to eat, but if you want to turn the presentation up a notch, you can use one of the below presentation ideas instead. Think about how you want to serve your cake before you start baking it so that you can use the correct cake tins. 
Mini Cakes 
Making individual mini vegetable cakes is such a cute way to present the cake to guests. It makes the cake and presentation feel very personalized and special. The only thing I would say is to make more than you think you will need as most people will want more than one portion. 
Traditional Round Layered Cake 
Rather than using a rectangular cake tin, opt for a round cake tin instead. That way you can turn it into a traditional-looking sponge cake with a twist. Cut the cake through the middle and spread some coconut cream between the layers to make it extra moist before stacking. 
Sides and Accompaniments 
Clotted Cream 
Clotted cream is always delicious with cake and muffins. Make sure you serve the clotted cream at room temperature with this cake for an extra creamy texture.
Custard
If you opt for serving this cake with custard, heat the cake up in the microwave for four or five seconds. Let me know what you think once you try it! 
Vanilla Ice cream 
Plain shop-bought vanilla ice cream is so yummy with this cake. I sometimes add some crushed nuts to the bowl for texture. Pecans and almonds are great with this vegetable cake and ice cream, but you can have it with whatever nuts and seeds you like. 
Top Tip: Why don't you add 50 grams of pumpkin seeds to the cake batter for added texture? I personally love nuts and seeds inside cakes, and I'm sure you will love it too once you try it! 
I hope you enjoy baking this sweet vegetable cake. Whether you are making it for friends and family or you plan on having it all to yourself, I would love to know how your cake turns out! 
Wife, Mom of 4 and so much more living in the Sonoran desert. I am passionate about making meals and snacks healthier without sacrificing flavor! I promise you that if you buy healthy foods and make healthy foods, YOUR KIDS WILL EAT HEALTHY FOODS! My motto: Live as naturally as you want to feel.