Icing Too Thin? How to Make Icing Thicker
For those with a sweet tooth and a knack for baking or working with confectionery, getting the icing right is so imperative. It is the decoration and the presentation of the cake that is possible with the right consistency of the icing. Be it cakes for anniversaries, birthdays or any other celebrations, anything with beautiful frosting.
Of course, nobody likes runny frosting or icing on their favorite cakes. This is a nightmare that every baking master or home baker will want to avoid experiencing, especially when you have guests or family over for dinner.
While each cake or pie requires a different kind and texture of frosting, having a thin or runny frosting, will ruin your dish. So here are some good ways to whip up that icing and make it thicker.
While there are several methods to do this one of the most common ways is using powdered sugar. Unlike other ingredients, this comes cheap and is also readily available in every kitchen. Even if you do not own ready-made powdered sugar, then you can just take some granular sugar and quickly dry grind it in your food processor.
You have to be careful about the sweetness, though. Unless you're making something like vegetable cake which already uses less sugar, pay attention to how much sugar you're adding. If your frosting is already fairly sweet, or you do not prefer adding more sugar, there are still other options for you. The sugar adds much more volume. Also, being a dry ingredient enables it to absorb the extra liquid.
Here are some tips to keep in mind before you begin:
The ingredient should be selected based on the texture and the compatibility with the icing.
Pick the correct one so that the original taste of frosting is not compromised. Some examples could be cited here.
>When using butter, add it to the frosting of buttercream, heavy cream, and gelatin to balance the frosting of whipped cream or cream cheese.
When you use flour to thicken the frosting, keep a check on the consistency of the flour. It mainly works as a thickening agent so when you add it to hot frosting it may taste funny if it's not cooked properly.
Before you exhaust any other strategy you can try the basics. Place the icing in the refrigerator, in an airtight container
When you start to thicken the frosting then make sure you apply a little first and then gradually add as much as you need is that you do not thicken it too much.
Requirements:
A bowl
An electric or hand whisk/ mixer
Flour or cornstarch
Butter, heavy cream
Gelatin
Methods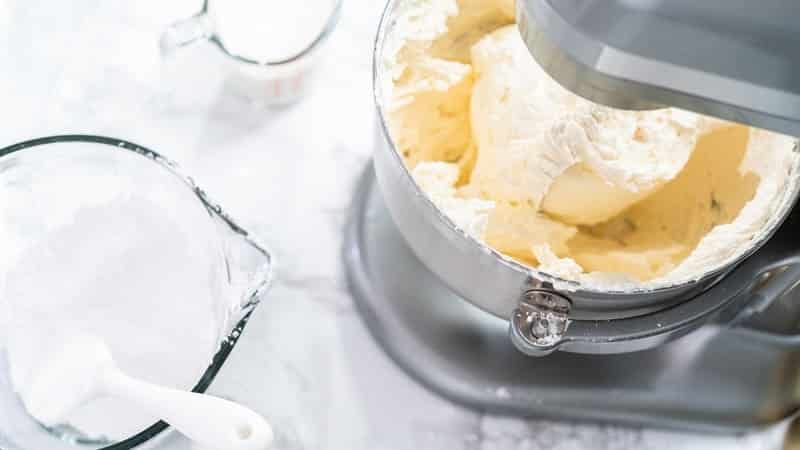 How to thicken frosting with cornstarch
If your mixture is too runny add 0.5 tsp. of cornstarch into the bowl. Whisk it by hand or by an electric mixer. Check the consistency if it reaches your desire, if not, you can add more than half a teaspoon of cornstarch until the mixture achieves perfect thickness. The best results are achieved when you use 100% pure cornstarch, but other cornstarch replacements will work too.
How to thicken by adding flour
Flour is one of the most ingredients found in any kitchen. As much as it is the main ingredient flour also can be added in case of an emergency or when nothing else is available. So you can begin by adding 1 to 2 tsp. of flour into the warm pot of frosting. Place the pot or container on the stovetop over the low heat and gradually keep stirring. As soon as it begins to thicken and has the desired consistency remove the pot from the heat and let it cool.
How to thicken by adding butter
Another commonly used ingredient that just makes any food more flavorful is butter. You need to add 1 tbsp. of softened butter or vegan butter to a bowl of icing. If you like peanuts, you can even use whipped peanut butter. Whisk it or use an electric mixer until the mixture begins to thicken. Your icing is ready to use.
How to thicken by adding cream
Whipped cream is often used as the final garnish on the tops of pies, cakes, waffles, and whatnot. It is also the perfect ingredient for icing. So you need to add around 3 to 4 tbsp. of cream to a bowl of icing. Again you can either whisk it by hand or use the electric mixer.  You must check the consistency in between to see if it has reached your desired requirement. If not you can add more, maybe 1 tbsp. per increment until the mixture achieves perfect thickness as you want.
When refrigerated cream cheese icing typically thickens. If it is still too thick, add a tablespoon or two at a time of softened cream cheese, taking care not to over-whip the frosting. Check to see if the icing has thickened, and place it in the fridge to continue to harden. You can also thicken Buttercream frosting or icing with butter in the same manner.
How to thicken by adding gelatin
While gelatin is not commonly found in kitchens, it is quite a common ingredient used by bakers and confectioners. Having some at hand can change the way your icing taste or appears. Gelatin is commonly used to stabilize or thicken buttercream, whipped cream, and cream cheese frostings.
Prepare some unflavored gelatin and let it completely cool. Once it is cool enough add 2 tbsp. of gelatin while simultaneously whisking the frosting together. Following this chill the mixture in the fridge for about 10 minutes. You now have your perfect icing
How to thicken by adding tapioca or arrowroot
Tapioca and arrowroot also make it to the list of thickening agents. You can begin by adding two teaspoons of the powder into a grinder, like a coffee bean grinder or a small food processor. Once the powder is extra fine, add half a teaspoon at a time to the frosting, stirring well between each addition, until the frosting is thick.
How to thicken by adding powdered sugar
The most common of ingredients powdered sugar has to be delicately used. Add too much and you have an icing too thick or too sweet. Then you will need to add more liquid into the icing which defeats the purpose of adding the thickening agent in the first place. Adding half a cup of powdered sugar per batch is a decent measurement. Make sure to mix the frosting well. You can either use a hand whisk or an electric mixer until the frosting sticks to the whisk instead of falling off.
To balance out the sweetness of the powdered sugar you can add meringue powder as it does not have its taste and can make the icing thicker. To begin with add 1 to 2 teaspoons of meringue powder for every ½ cup of powdered sugar. In case you happen to use less than half a cup of sugar, you can just leave out the meringue powder altogether.
Read Related Topic: How to Make Gravy Less Salty
Conclusion
With the given techniques and measurements you can now achieve that perfect consistency in your icing. Most of the ingredients mentioned here are available in everyone's kitchen or at the nearest supermarket. So you can use any of them depending on the kind of cake, pie, or cookie you've baked and experiment without worrying about a runny icing.
The steps are simple and so is the equipment. Unlike other preparations, all you need for icing is a hand whisk or an electric one. With the right measurements, and bearing in mind the kind of textures each ingredient is compatible with you can whip up some nice fluffy icing.