French-Style Cheesecake Recipe
Cheesecakes can be very heavy and rich, but not French-style cheesecakes! What is so special about French cheesecakes? These cheesecakes have an exceptionally light and fluffy filling with a slightly tangy flavor, and the base is thin and buttery, which melts in your mouth. 
French-style cheesecakes are also known as "fromage blanc" or "cheesecake à la française" in French. Fromage blanc is a fresh tangy type of cheese that is similar to ricotta or cottage cheese. It's been around for centuries!
The traditional French-style cheesecake is believed to have originated from the Alsace-Lorrain region of northeast France. They have a long history of producing fromage blanc, often used in local recipes.
How does French-Style Cheesecake compare to New York-Style Cheesecake?
Both are very distinct and have different characteristics.
French-style cheesecakes are often flavored with either vanilla or lemon. The base is generally made with crushed cookies or biscotti, rather than the traditional graham cracker crust found in a New York-Style Cheesecake.
New York cheesecakes are much denser and use cream cheese, which gives them a rich and indulgent flavor.
Sounds good, right? What's better is that the recipe I will share with you in this article tastes better than it sounds! If you want to WOW your friends with a fresh and delicious dessert or want to make yourself a cheeky treat, then this recipe is just what you need.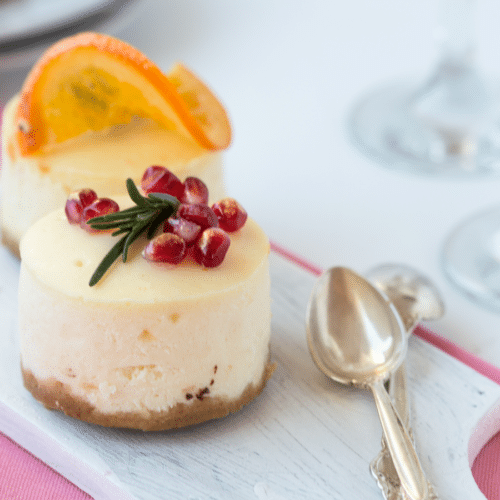 French-Style Cheesecake
If you want to WOW your friends with a fresh and delicious dessert, or make yourself a delicious treat, then this recipe is just what you need.  
Ingredients
Crust Ingredients:
1

packet

8.8 oz / 250 g Biscoff cookies or Amaretto cookies

8

Tbsps

salted butter

melted
Cheesecake Filling:
1.1

lb

fromage blanc (500 g)

1

tablespoon

flour (7.8 g)

1/2

cup

sugar (100 g)

3

egg yolks

separated (make sure you keep both the yolks and the whites)

3

egg whites

1/2

zest of a lemon

pinch

salt
Instructions
Step 1: Preheat your oven to 350 deg F or 180 deg C (Thermostat 6)
Step 2: Add Parchment to the base of a 9" Springform Cake Pan.
You can do this by unlocking the pan and adding even a square piece to the base before clipping the pan back together
Step 3: Crush Biscuits by Hand or Using a Food Processor
Either crush biscuits by placing biscuits in a plastic bag and using a rolling pin to crush them or by placing the biscuits and blitzing them in a food processor.

1 packet 8.8 oz / 250 g Biscoff cookies or Amaretto cookies
Step 4: Melt Butter in a Large Microwaveable Bowl
Take salted butter and melt the butter by using the microwave on high for 10-15 seconds. Stir, then heat for another 10-15 seconds. Repeat until the butter is melted.
Step 5: Combine with Biscuits
Add biscuits to the bowl with the melted butter; mix until combined.
Step 6: Add Biscuits to the Springform Pan and Bake for 5 min
Press the biscuits to the base of the springform pan to create an excellent base for the cheesecake. Bake for 5 minutes!
Filling Instructions - Step 1: Separate the Eggs
Separate the egg whites from the yolks and put them both to one side. Do not dispose of the yolk or the whites, as you will need them both later.
Step 2: Mix the Sugar and Cream Cheese and Add the Flour and Egg Yolks
Mix the sugar and fromage blanc together until smooth. This is much easier to do in the food mixer than by hand. Add the flour, salt, and egg yolks once the sugar and cheese are completely blended.

1.1 lb fromage blanc (500 g),

1 tablespoon flour (7.8 g),

1/2 cup sugar (100 g),

pinch salt
Step 3: Add Lemon Zest
Add the lemon zest to the completely blended mixture. More lemon zest will have a more lemony flavor.
Step 4: Beat Egg Whites Separately
Beat the egg whites in a separate bowl until they are firm and hold their shape (stiff peaks). Recommend using a mixer for this step.
Step 5: Combine the Two Mixtures Together
Add the egg whites gently to the other mixture, using a figure 8 motion. Drawing a figure 8 motion is the most efficient way to mix. We don't want to lose all the air we have created!
Step 6: Bake
Bake your cake for 30-45 minutes. Keep an eye on it as you don't want the cheesecake filling to burn. The cake is done once the top of the cake is brown, and the filling feels firm and bouncy.
Step 7: Allow to Cool to Room Temperature
Once cooled to room temperature, allow the cake to chill in the refrigerator for at least 2 hours before serving
Step 8: To Serve
Run a knife around the edge of the cheesecake to loosen it from the pan, then remove the springform ring. Cut the cheesecake into slices and serve with fresh berries, whipped cream - anything you like really! Enjoy!!!
French Cheesecake Tips & Ideas
We all need to learn a few tips and tricks to help us follow new recipes. Here are some valuable tips, tricks, and hacks that I discovered over time that have helped me make this cake delicious and exciting every time.
Recipe Tips 
Yes, following a recipe is essential and has a better success rate than going freestyle, but that doesn't mean following the recipe down to the last letter will work for you. Keep the following things in mind as you follow the recipe in this article, and don't be afraid to make alterations if you feel it's necessary. 
Every Oven is Different 
Every oven will take a different amount of time to heat up to the desired temperature. You know how your oven works the best, so keep this in mind when you think about where the cake should go and how long to wait for the oven to preheat. 
Texture and Consistency are Important 
Getting a smooth texture and even consistency is almost as important as following the measurements correctly. If the mixture is bumpy or grainy, it will not be appealing, and you will struggle to get an even bake on the cake. 
Don't Stick to Baking Times too Rigidly. 
Baking times are there for you to use as a rough guide. What is more important is how to cake looks and feels. Let's say your cake has been baking for 35 minutes, but the top is brown, and the cake is firm and bouncy to strenuous; then it is done. Leaving it in the oven for that extra 10 minutes would burn it. 
Alternative Ingredients 
You can use vegan or dairy-free butter and cream cheese on a lactose-free diet. There is no reason why you can't use gluten-free flour in your recipe, either. Just remember that changing the ingredients will alter the baking time slightly. 
Toppings and Presentation Ideas 
Mini Cakes 
Are you hosting a gathering? Making mini cakes rather than one large cake can look striking and prompt your guests to request your cheesecake recipe. Is the recipe in this article as usual, but instead of making one big cake, make several little cakes. 
Fruit Topping 
Fruit toppings and cheesecake are a match made in heaven. Fruit with a tangy aftertaste is a better option for cheesecake toppings as they complement the cream cheese's richness perfectly; however, feel free to go for whatever fruit you like the most. 
Top Idea: Why don't you make a homemade fruity jam for your cheesecake topping? 
Whipped Cream Side 
Whipped cream or clotted cream is excellent for cheesecake sides. This will make your cheesecake taste extra rich and creamy!
Tangy Lime Sorbet
Make a tangy lime sorbet to refresh your tastebuds after a few decadent cheesecake bites. A slightly sour flavor after a creamy cheesecake will make you eager to take the next bite of cake. 
Ice Cream 
Ice cream and cake are perfect partners. If you want to be fancy, you could make the ice cream yourself! I always go for shop-bought ice cream as there are more flavors to choose from, and no matter what you go for, it will probably taste amazing. 
Melted Chocolate 
If you are a hardcore dessert fan, you may feel like you aren't digging into a cake if there isn't any chocolate. I love this cheesecake recipe with some melted chocolate drizzled on top. 
I find that melting and drizzling the chocolate on every slice as and when you dig into it is much better than adding a top layer of chocolate to the cake. This is because the top layer is likely to harden faster than you and your guests will eat the cake, and it can get a little messy to eat.