What Rhubarb Tastes Like & How to Cook It
Rhubarb tastes like crispy Granny Smith apples combined with fresh celery. The fruit is 95% water, yet has a distinct and intense sour flavor that leaves your taste buds with a lingering, refreshingly clean tartness.
What is Rhubarb?
Rhubarb is a perennial from the Polygonaceae or buckwheat family, with broad leaves and edible, fleshy stalks and leaf ribs. Rhubarb originated in Asia, where the plant was used for medicinal purposes 4,600 years ago. Rhubarb is still traditionally used for digestive issues.
Rhubarb stalks are typically yellow-green or red-purple, and range in size. The size of the stalk determines its flavor better than the stalk's color does. Larger stalks of 10 inches or longer are packed with more distinctive flavors than short stalks are.
Rhubarb leaves aren't edible, as they contain high amounts of oxalic acid, which is toxic to humans in certain quantities. For example, the leaves are toxic to someone who weighs 145 pounds and eats 11 pounds of Rhubarb leaves.
Rhubarb is also popularly considered a superfood that contains numerous health benefits. Superfoods contain high amounts of valuable nutrients, and can promote better health or encourage weight loss as part of a weight reduction program.
The Nutritional Benefits of 1 Cup of Rhubarb Include:
| Calories | Fat | Carbohydrates | Sugar | Sodium |
| --- | --- | --- | --- | --- |
| 26 | 0.2 grams | 5.5 grams | 1.3 grams | 4.9 grams |
| Calcium | Iron | Fiber | Potassium | Protein |
| 105 milligrams | 0.3 milligrams | 2.2 grams | 351 milligrams | 1.1 grams |
Different Types of Rhubarb
A few different types of rhubarb exist. Rhubarb is typically categorized into green or red stalks. Light pink stalks or those with yellow speckles and tinges further categorize varieties of green-stalk rhubarb.
Popular Red-Stalk Rhubarb Varieties Include:
Canadian red rhubarb has deep magenta stalks with lime-green or green leaves. The Canadian rhubarb has a sweet and juicy flavor and is a popular choice for pies, jams, sauces, and cakes
Cherry red rhubarb has deep magenta stalks with green to red-green leaves. Cherry red rhubarb has a subtly sweet yet sour flavor, and works best with baked pies, trifles, and pork
Colorado red rhubarb is also known as hardy tarty rhubarb. Its stalks are typically red on the inside and out. Colorado red rhubarb has an overpowering tartness and tastes magnificent in sweet and sour sauces and salads
German wine rhubarb has thick, dark red stalks with green tinges or speckles, and grass-green leaves. German rhubarb is sweeter than other varieties, and is ideal with compotes, pies, sauces, and as a raw snack
Holstein blood red rhubarb has thin, blood-red stalks and grass-green leaves. The Holstein rhubarb has a subtly sour and juicy flavor and pairs well with pies, stews, and sauces
Kangarhu rhubarb has a profoundly crimson stalk with a head of dark green leaves. Kangarhu rhubarb maintains its color after cooking, and tastes subtly sweet and tart. It works best with pies, cakes, muffins, purėes, compotes, and salads
Maincrop rhubarb has thick, deep red stalks with yellow tinges, and vibrantly green leaves. Maincrop rhubarb has an intense tart flavor that works well with salsa, relish, roasted meat, and salads
Popular Green-Stalk Rhubarb Varieties Include:
Forced rhubarb has light pink stalks with lime-green or green leaves. Forced rhubarb has a slightly sweet and sour flavor and tastes phenomenal in pies, compotes, sauces, and stews
Prince Albert rhubarb typically has large rose-pink and green stalks with lime-green leaves. Prince Albert rhubarb has a perfect balance of sour and sweet and tastes incredible as a pie filling, compote, or jam
Turkish rhubarb is a green variety with colorless stalks and bright green leaves similar to celery. Turkish rhubarb has a robust sour taste and is ideal for smoothies, salads, sauces, and roasted snacks
Sunrise rhubarb has rose-pink stalks with yellow tinges and lime-green leaves. Sunrise rhubarb tastes profoundly sour with sweet hints, and freezes well for winter-use in stews and roasted meat dishes
Victoria rhubarb has broad light pink and yellow stalks with dark green leaves. Victoria rhubarb has strong sour notes and tastes fabulous in jams, compotes, and pies without the need for too much added sugar
How to Cook With Rhubarb
Prepare rhubarb before using it in a dish by cutting away all the leaves, and chop away one inch from both ends of the stalk. Peel away the stringy, outer fibers before rinsing the stalks under cold water. Cut the stalks in 1- to 2-inch pieces across, depending on the recipe used.
Rhubarb Sauce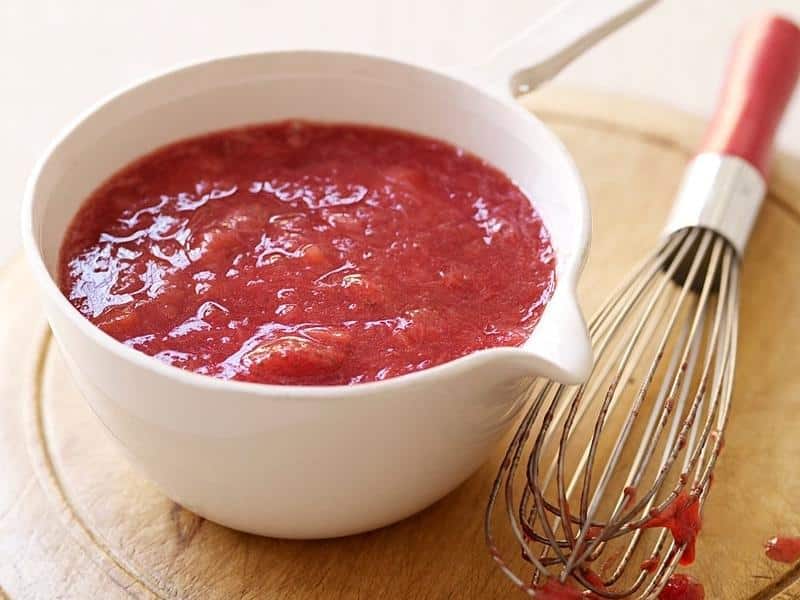 Rhubarb sauce is tart and sweet simultaneously. Rhubarb sauce tastes excellent on its own, or used to top ice cream or pancakes, or as a dip or basting for roast meat.
Rhubarb Sauce Ingredients:
4 cups of diced rhubarb stalks

1/2 cup of water

1/2 teaspoon of salt

1 teaspoon of vanilla extract

3/4 cup of refined sugar
Method:
Pour the diced rhubarb, water, vanilla extract, salt, and sugar in a heavy-based saucepan. Caramelize the ingredients over high heat for five to 10 minutes while stirring. Remove the rhubarb sauce from the heat and let it cool before storing it in an airtight container in the fridge.
Rhubarb Pie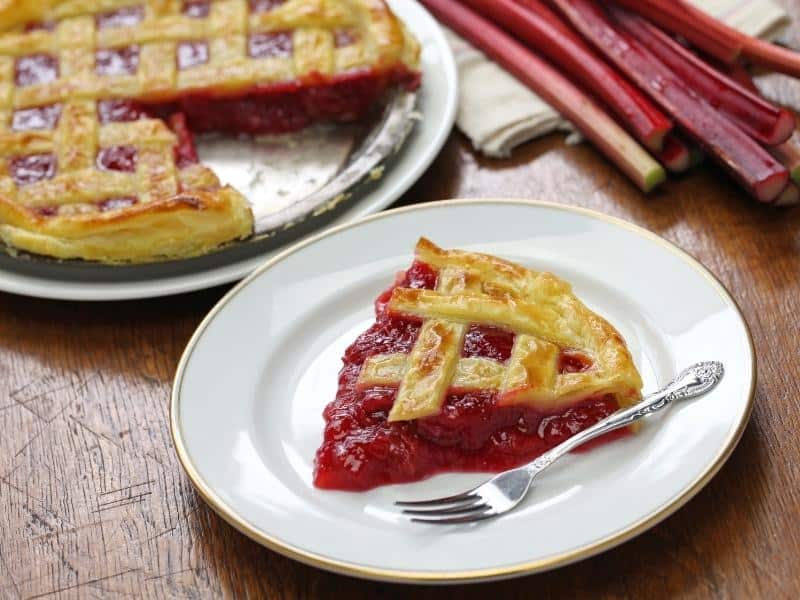 Rhubarb pie tastes as tantalizingly sweet and sour as apple crumble. It isn't complicated to make. Use one of the sweeter rhubarb variants to make the pie unless a tangy, tart flavor is desirable.
Rhubarb Pie Ingredients:
4 cups of chopped deep crimson rhubarb stalks

1 1/3 cup of refined sugar

1 tablespoon of unsalted butter

6 tablespoons of all-purpose flour

One roll of 9-inch double-crust pie pastry
Method:
Preheat an oven to 450°F before combining the sugar and flour in a bowl. Place half the pastry in a pie plate and sprinkle a quarter of the flour blend over the pastry. Heap the mixed rhubarb and sugar over the pie plate before sprinkling the rest of the flour mixture over the pie.
Top the pie with the crust and bake for 15 minutes on the lowest oven rack. Reduce the oven temperature to 350°F and bake the pie for another 45 minutes. Serve the pie warm or cold.
Rhubarb Salad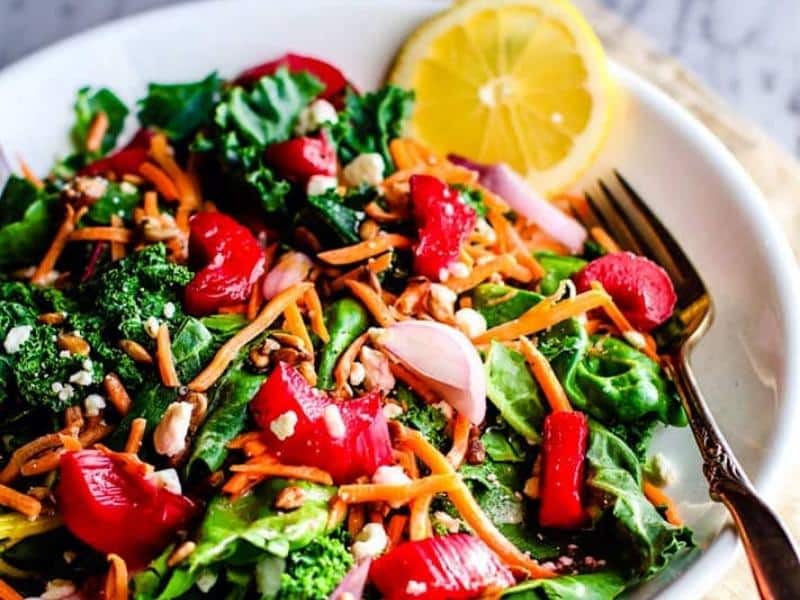 Rhubarb salad is a tasty and colorful alternative to apple salad. Rhubarb brings the same tart flavors as Granny Smith apples while adding a bright crimson color to the bowl. A honey-roasted salad is ideal with not-too-sweet rhubarb stalks.
Honey Roasted Rhubarb Salad Ingredients:
2 cups of chopped rhubarb

4 tablespoons of honey

1 tablespoon of balsamic vinegar

4 cups of freshly chopped spinach leaves

One small, chopped onion

1/2 cup of shredded carrots

4 tablespoons of roasted sunflower seeds

1/2 cup of dry curd cottage cheese

2 tablespoons of dried cranberries

Salt and pepper to taste

One slice of fresh lemon

Greek salad dressing

Parchment paper

Baking tray
Method:
Preheat an oven to 450°F before lining a baking tray with parchment paper. Toss the chopped rhubarb in a bowl with honey and balsamic vinegar. Roast the coated rhubarb in the oven for 10 minutes. Rinse your spinach or kale before mixing it with the onion and carrots.
Add the roasted rhubarb to the mixed veggies and combine well in a serving bowl. Top the salad with dried cranberries, cottage cheese, sunflower seeds, salt, and pepper before adding salad dressing.
Rhubarb Smoothie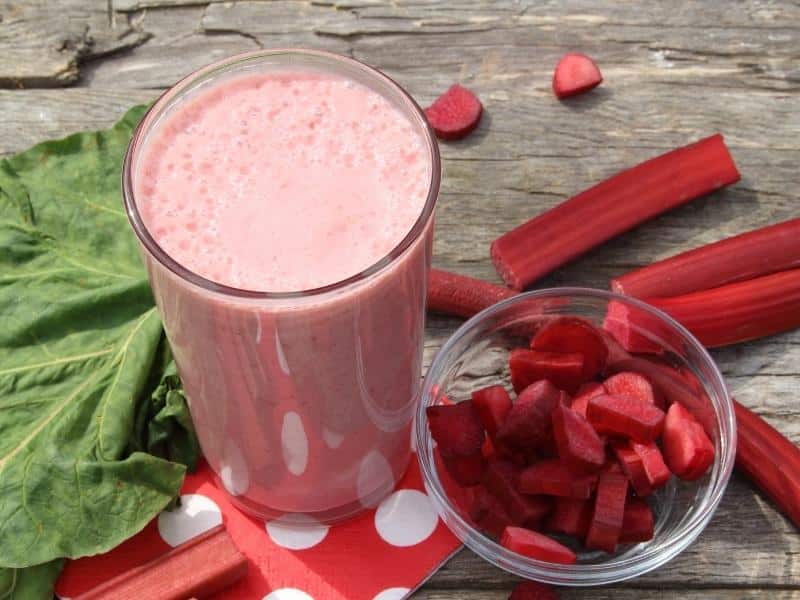 Rhubarb's unusual taste makes this herby vegetable an exotic addition to smoothies, and serves as a great substitute for Granny Smith apples, cranberries, or other sour fruits in tart smoothies. Blueberry rhubarb smoothies are ideal for exotic styles with homey flavors.
Blueberry Rhubarb Smoothie Ingredients:
1 cup of finely-chopped rhubarb stalks

1/3 cup of blueberries

1/3 cup of strawberries

1/2 cup of plain yogurt

3 tablespoons of maple syrup
Method:
Blend the rhubarb, blueberries, yogurt, maple syrup, and strawberries in a smoothie maker until the fruit becomes a deep purple-red smoothie. Add one tablespoon of maple syrup if the smoothie is too sweet, or remove one tablespoon next time you make it.
Substitute the yogurt with coconut milk for an exotic twist.
Rhubarb Snack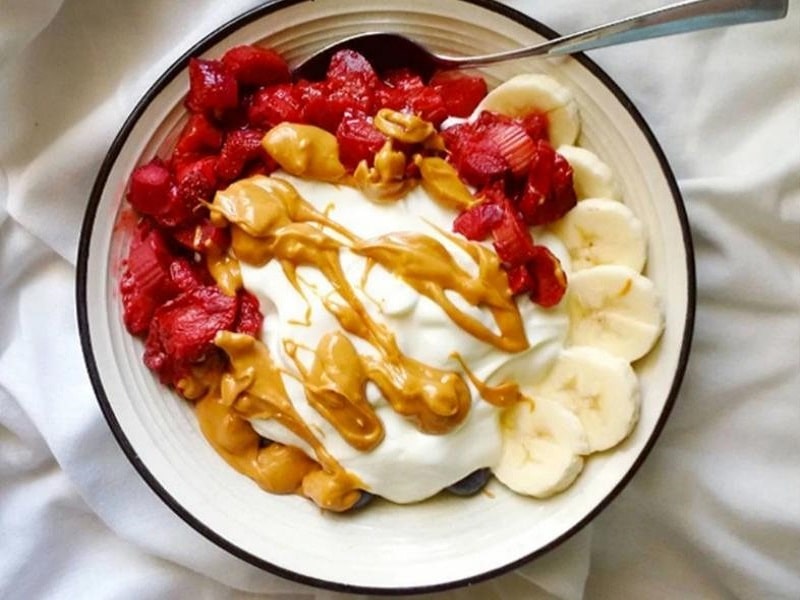 Rhubarb is a crunchy, tart snack that pairs well with sweet sauces and dips. Dipping rhubarb in honey or maple syrup makes for a healthy, crunchy snack. Rhubarb and peanut butter are a surprisingly amazing combo.
Rhubarb Snack Ingredients:
Eight fresh rhubarb stalks cut in half

4 tablespoons of natural yogurt

4 tablespoons of organic peanut butter (check to see if your organic peanut butter has gone bad before eating!)

3 tablespoons of honey
Method:
Combine the honey, yogurt, and peanut butter in a bowl. Blend the ingredients together until a dipping paste forms. Place the dip in a serving bowl with the stalks circling around it. Dunk the stalks in the peanut butter dip for a glorious snack.
Rhubarb Stew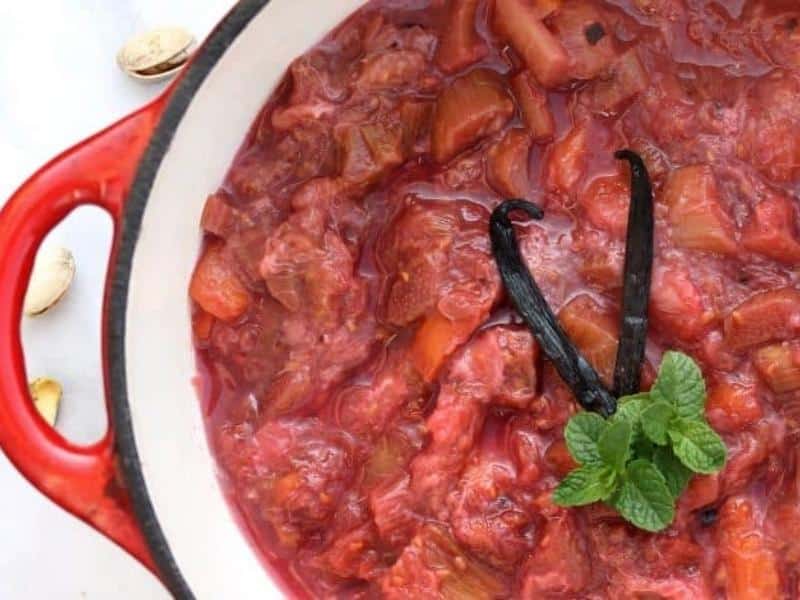 Rhubarb stews taste pleasantly comforting with a tart and subtly sweet flavor. Stewed rhubarb tastes phenomenal over ice cream, cake, pavlova, baked oatmeal, and layered in a trifle, Eton mess, or custard-based dessert.
Rhubarb Stew Ingredients:
6 cups of freshly-chopped rhubarb stalks

2 tablespoons of water

1 cup of refined sugar

1/2 teaspoon of cinnamon (optional)
Method:
Combine the chopped rhubarb, water, optional cinnamon, and sugar in a heavy-based saucepan over a low to medium heat. Simmer the rhubarb for 15 minutes until the sugar dissolves and the fruit breaks down. Remove the rhubarb from the heat and let it cool.
Serve over your choice of sweet food, or eat as-is.
Buying and Storing Rhubarb
Always buy healthy-looking rhubarb stalks without wilted leaves. The best are found in spring and early summer, because the fruit changes flavor by the end of summer.
Save rhubarb for two to four weeks in the fridge by cutting the leaves away and loosely wrapping the rhubarb stalks in tin foil, lightly crimped closed. Or, chop rhubarb stalks and freeze them in a ziploc bag to keep them fresh for three months.