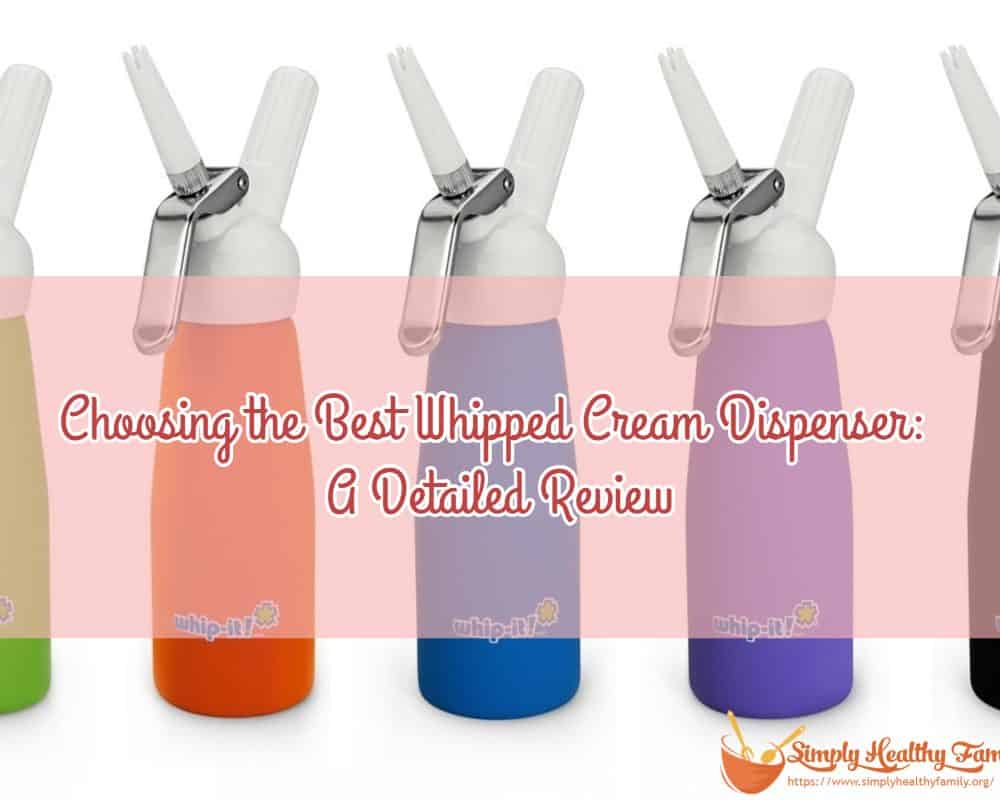 Simply Healthy Family may collect a share of sales or other compensation from the links on this page.
There are some coffees such as cappuccino needs a milk frother to be perfect. It is same to our favorite desserts, cakes, pastries, and even smoothies and iced drinks which are incomplete without this fluff of heaven we call whipped cream.
It comes in various shapes and designs, and we often love watching our bakers and baristas do their magic with it. For us that knows how to bake, we all know that whipped cream that everyone has access to. We can just go to the nearest store and get us a can of Cool Whip or Reddi-Wip, or we can just do a better version of this magic with the best whipped-cream dispenser.
Yes, you read it right. You can make a better whipped-cream than what you can buy in stores. How exactly is homemade whipped-cream better than the canned ones?
Related Reading: Make Chopping Veggies a Breeze with the Best Vegetable Chopper
Choosing the Best Whipped Cream Dispenser:
A Detailed Review
Why make your own whipped cream?
Artificial flavors can be eliminated
Although we all love cakes and desserts we are still somehow conscious of our health and well-being. We all know that artificial flavors affect our health negatively. So by making our own whipped cream, we can choose to use all natural flavors and ingredients, giving our body a break from all the artificial food we eat on a daily basis.
Calories can be controlled
By substituting sugar with sugar-free sweeteners, a number of calories we intake is substantially lowered. And this is just the beginning. You can replace any of the ingredients with its low-calorie counterparts.
Design can be customized
You can use food color, change tips whenever you deem necessary, and make more creative designs. The best part about it is that your homemade whipped cream won't be filled with air just like in store bought whipped cream, so it stays up longer and won't melt down quickly.
---
Stays fresher longer
The homemade whipped cream can stay fresh for up to two weeks if refrigerated. You don't have to finish the entire batch right away. You will have more pancakes, waffles, crunchy chocolate cookies if you want, and cold desserts to enjoy it with.
And last but not the least, it definitely tastes better. It is much creamier, thicker, and with all the healthy options, you can have as much as you want guilt-free.
Now that I have convinced you to stay away from the canned variety and start making your own, you are going to need the services of the best whipped-cream dispenser. Maybe you are asking what exactly is a whipped cream dispenser and how to spot the best one.
---
Whipped cream dispenser: In a nutshell
A whipped cream dispenser is what you use to create, store, and dispense whipped cream to your favorite desserts. It uses N2O (Nitrous Oxide) chargers. The charger is infused to the dispenser by inserting it into a special slot where the charger cartridge is pierced by an inbuilt pin and the gasses are released inside. The contents react to the texture inside and make it fluffy. The container becomes pressurized and that is how the whipped cream is dispensed. The tips can be modified to create patterns and design.
---
Things to consider in choosing the best whipped-cream dispenser
Materials
The way to go is aluminum or stainless steel. Aluminum is sturdy and light and is good to look at. There are dispensers that have aluminum or stainless steel bodies but have plastic heads. There is nothing wrong with that, but a dispenser with both the head and the body in aluminum is the best deal.
Size
Size is a matter of preference and need. There is no such thing as the best size. The most common size though is the 1-pint size. If you are just a beginner or you are not quite sure how often will you be using whipped cream, then the 1 pint can is perfect. It can make a 500ml of cream into 2 liters of whipped cream. But if you are intending to do some heavy-duty baking or going to use it commercially, you can always opt for a bigger one.
N2O Cartridge
You have to select a dispenser that is compatible with any brand of standard N2O chargers to ensure continuity of use even of the specific brands run out of stock of cartridges in your local store. And make sure that it won't have any issues in using even the cheapest N2O charges available.
Nozzle or Tip
This is one of the most important considerations. You have to select the dispenser that has multiple tips available so you wouldn't have to buy separate tips or improvise. Typically, a dispenser should include at least two assorted tips.
Warranty
A brand should always have their back on their product. A one-year or two-year warranty is good. But a lifetime warranty is the best, provided that you don't have to pay extra for that.
---
The Best whipped-cream dispensers available today
To make the search easier for you, we have come up with the details of each of the best whipped-cream dispenser available. Let' check it out.
the iSi brand is recommended by professional and home chef worldwide. This particular dispenser is not just for whipped cream. It can be used for both hot and cold creams, sauces, soups, and desserts. This dispenser is versatile and durable at the same time.
Both bottle and body are made stainless steel which is very durable and dishwasher safe.
It includes three SS tips, straight and tulip, cleaning brush, and cartridge holder.
It is NFS and HACCP qualified.
It doesn't have any warranty.
This whipped cream dispenser is built to last, and the company is confident enough to back it up with a 2-year warranty. Made with TUV certified aluminum, this dispenser can convert your cream to whipped cream within 30 seconds. The best part is you can use any brand of N20 cartridge without any problem.
Its body is made of 100% TUV certified aluminum with 2 years warranty.
It includes 3 decorative tips, a charger holder, and an instruction manual.
It is compatible with any brand of N2O cartridge.
The cartridge holder is not that sturdy and might break if used improperly.
This dispenser is not just made to last, it is also built to make it easier for us. It has an aluminum body and head that ensures that this dispenser will be with you for a long time. It is also easy to clean. Just clean with soap and water and use the brush included in the pack to clean those small and hard to reach pieces. It also includes three assorted decorative tips for more fun and enjoyment in the kitchen.
It has an all-aluminum body and head, designed to be durable, lightweight, and easy to grip and use.
It includes three decorative tips for fun and more designs, an instruction manual and a recipe book for your kitchen.
It is compatible with any brand of N2O cartridges.
It is easy to clean and maintain.
There are some issues with leaking gas if not used properly or as directed.
This whipped cream is built to withstand the pressure if commercial food service but is gentle enough to be used at home. It is made of high-grade stainless steel, durable and light. It is also easy to clean. Just wash with soap and water, and use the cleaning brush to clean the hard-to-reach places.
Fully 304/18-8 food grade stainless steel construction is durable, light, and safe.
It includes three decorative tips for a more creative baking.
It is easy to clean and includes a cleaning brush to clean the tips with.
It has a one-year warranty on the bottle and head.
You cannot find anything wrong with this product.
The best thing about this dispenser is that it has a full 100% lifetime money back guarantee that makes it risk-free to buy this. If you don't like it, then just return it. But you will surely like its aluminum body and three decorative tips. It makes it easier to use whipped cream anytime.
The high-quality aluminum design makes the dispenser is more durable, beautiful, and easy to clean.
​The dispenser is accompany with three decorative tips and electric book of desserts recipes.
It works with N2O chargers.
A lifetime warranty guarantees the quality.
There is nothing to dislike about this product.
Conclusion
The clear winner here is the Otis Classic Whipped Cream Dispenser Stainless Steel. It has the qualities that anyone would like on their whipped cream dispenser. It has a durable stainless steel, three decorative nozzles, and a one year warranty that assure buyers that this dispenser will last.