How to Prepare Kale: Five Simple Recipes
Simply Healthy Family may collect a share of sales or other compensation from the links on this page.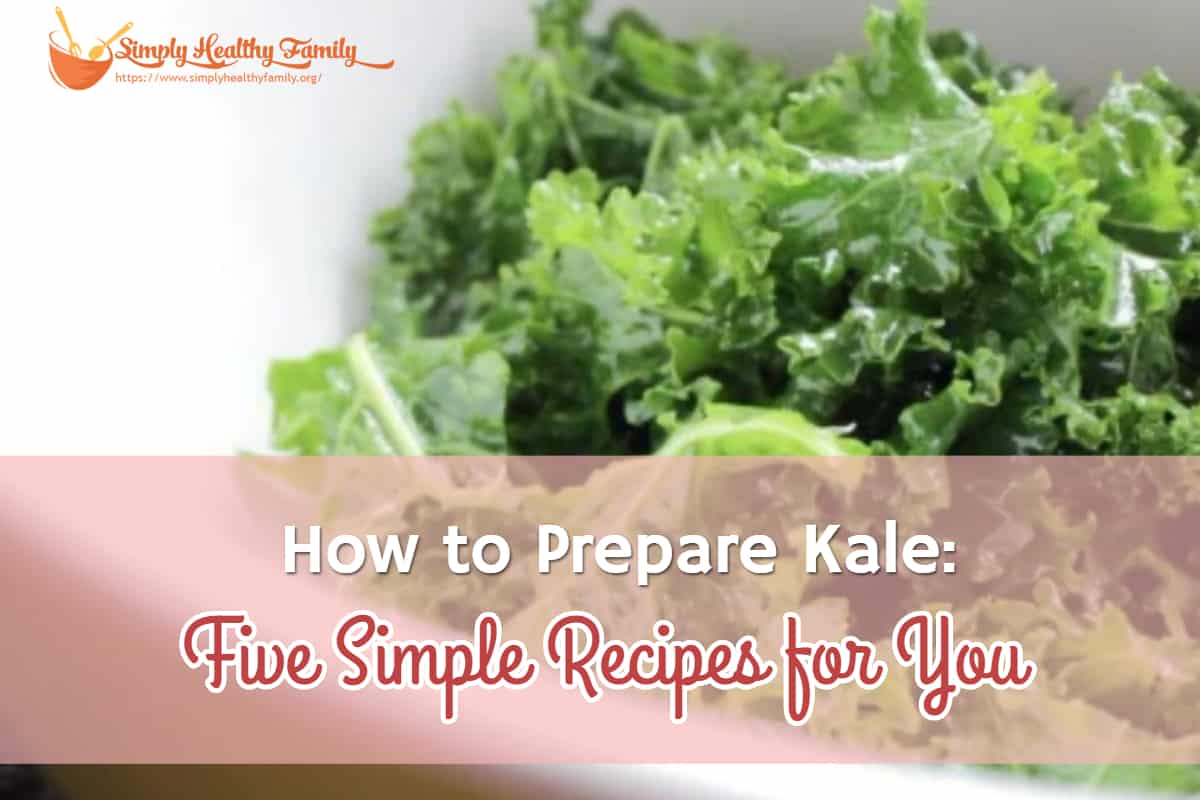 Kale will have to be one of my top five vegetables of all time. Of course, we know how nutritious this superfood is. It is rich in cancer-fighting antioxidants, aside from having lots of vitamins and minerals. And do you know that it promotes weight loss, too?
While it may taste bitter to some, I find it very flavorful. Perhaps it's more of an acquired taste, as I have learned how to appreciate its flavor through the years.
In this post, I will share with you some of the simplest kale recipes. It is my hope that by following any (or all, if you can) of these recipes, you will eventually develop a liking for this super food.
Kale Chips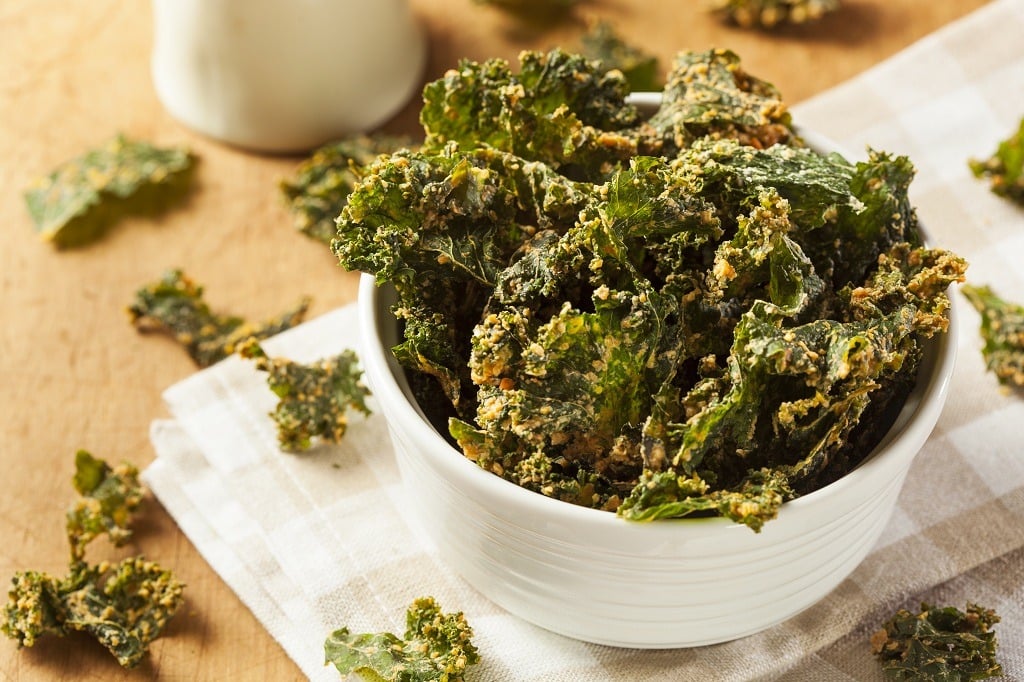 A bowl of Kale Chips
Let's start with a very simple snack that you can serve to your friends and kids. It's crispy and salty, just like your favorite potato chips. But it is definitely a lot more nutritious.
The ingredients are :
A bunch of kale
Seasoned salt
Olive oil
Follow these steps :
checkPreheat the oven to a temperature of 350 degrees Fahrenheit.
checkLine a cookie sheet with parchment paper.
checkCarefully remove the leaves of the kale using a knife. Cut it into bite size pieces.
checkWash the kale thoroughly and dry it with a salad spinner.
checkSprinkle with salt and olive oil.
checkBake the kale for 15 minutes or until the edges are colored brown. This snack should serve 2-3 people.
Wash the kale thoroughly and dry it with a salad spinner.
Sprinkle with salt and olive oil.
Bake the kale for 15 minutes or until the edges are colored brown.
Kale pesto
A bottle of A bowl of Kale Pesto, a bowl of Kale Pesto and a spoon of Kale Pesto
This is another simple recipe that should not take you more than 5 minutes to finish. I am not kidding– that's how easy to prepare this dish is!
You will need the following Ingredients:
check
Olive oil (about ½ cup)
check2-3 cups of torn kale and parsley
check1 medium clove of garlic
check½ cup of raw almonds
check¼ teaspoon of salt
checkJuice of one lemon
Prepare the kale pesto by following these steps:
Add the kale, salt, olive oil, garlic, and lemon juice in a blender or a food processor. Blend until the mixture is smooth.
Add the almonds to the mixture. Grind until it reaches desired consistency.
That's it! You can now spread this pesto to a sandwich, or top it to pasta or pizza. A cup of this pesto should make around 7 to 8 servings.
You might wonder why there's no basil in this recipe. I tried to use basil once but I just didn't like how it blended with the rest of the ingredients. But this doesn't mean you can't try it.
See Related Topic: Best Healthy Snacks For Watching Outdoor Movies
Kale soup
A bowl of Kale Soup and a spoon
This dish isn't the quickest to prepare or cook in this list. It also doesn't have the shortest list of ingredients. But I can assure you that it will make you feel satisfied. It's also a great comfort food to have during those frosty winter mornings.
You'll need the following ingredients:
A bunch of kale with its leaves chopped and stems removed
1-2 tablespoons of olive oil
1 onion, chopped
6-8 cups of water
2 tablespoons of chopped garlic
6 cubes of vegetable bouillon
5 white potatoes, cubed
2 tablespoons of dried parsley
1 tablespoon of Italian seasoning
2 cans of cannellini beans
1 can of diced tomatoes
2 tablespoons of dried parsley
Follow these steps to prepare kale soup:
In a large soup pot, cook the onion and garlic with olive oil until the two becomes soft.
Stir in the kale and cook for about two minutes.
Add water, then stir in the vegetable bouillon, potatoes, beans, and tomatoes. Add Italian seasoning and parsley.
Simmer soup on medium heat for 30 minutes, or until the potatoes are cooked.
Add salt and pepper.
Serve and enjoy.
This soup should be ready to serve after an hour or so.
Kale juice
bottles of Kale Juice, slices of lemon and slices of apple
This kale juice is refreshingly delicious and nutritious. Your kids will be surprised to learn that this yummy treat has kale that they may not be exactly fond of! It can serve 1-2 people.
Ingredients:
5 kale leaves
2 large cucumbers
1 peeled lemon
1 peeled ginger
1 apple
1-2 ribs celery
You can make this juice by following these simple steps:
Wash all the produce then put them in a blender.
Blend until the mixture becomes smooth.
Serve immediately over ice.
Braised kale
Braised kale on the plate and a spoon
This is a side dish that should add a lot of fiber in your next lunch or dinner. It can serve 2-3 people.
Ingredients:
A large bunch of kale
2 tablespoons of olive oil
8 garlic cloves, chopped
½ teaspoon of salt
¼ teaspoon of black pepper
⅕ ounce grated Parmesan cheese
½ cup of chicken broth
Here's how to prepare it:
Remove the leaves from the kale stems. Chop the leaves and rinse well.
Heat the olive oil in a large skillet over low heat. Then add the garlic, stir until it becomes golden brown in color. Transfer the garlic to a dish.
Reheat the oil then add the kale and broth.
Add salt and pepper to taste.
Top with garlic and parmesan. Put in a separate plate ,serve and enjoy.
Conclusion
Who said that kale is a boring vegetable to eat? It may be bitter in taste, but it definitely can be prepared in many different ways.
Wife, Mom of 4 and so much more living in the Sonoran desert. I am passionate about making meals and snacks healthier without sacrificing flavor! I promise you that if you buy healthy foods and make healthy foods, YOUR KIDS WILL EAT HEALTHY FOODS! My motto: Live as naturally as you want to feel.