Where Is Calphalon Cookware Made? How To Take Care Of Calphalon Cookware?
Simply Healthy Family may collect a share of sales or other compensation from the links on this page.
Are you expanding your collection of pots and pans? Is Calphalon one of those brands that you are eyeing? Maybe you are wondering where this cookware is made. I will give you the 411 on the origin of Calphalon and why it is so popular.
What is Calphalon?
Calphalon Cookware and vegetables
Calphalon cookware is a brand of cookware products owned by Newell Rubbermaide. The company is more than 50 years old, having started operations in 1963 as the Commercial Aluminum Cookware Company.
It was founded by Ronald Kasperzak, who bought a small metal spinning firm based in Perrysburg, Ohio. Five years after its birth, the company became the first ever to apply the electrochemical process of treating raw aluminum for the production of a new line of cookware which we now know as Calphalon.
It was in 1976 when the company went into retail. This meant that consumers like homemakers and aspiring chefs were able to buy and use their cookware that only pro chefs previously had access to.
In 1998, the firm was acquired by Newell. It joined other popular brands like Levolor and Sharpie. The next year, Newell was merged with Rubbermaid which led to the formation of Newell Rubbermaid.
Where is Calphalon made?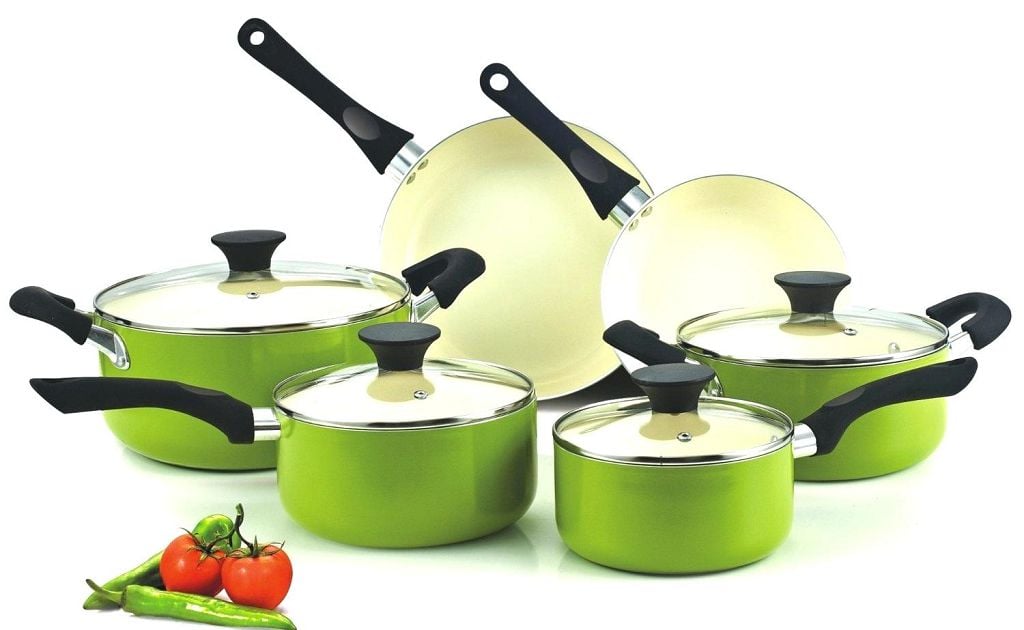 Calphalon Cookware and vegetables
Calphalon cookware is manufactured in Toledo, Ohio in the United States.
There are four major lines in the Calphalon cookware brand. These are Calphalon One, Calphalon Essentials, Contemporary and Everyday.
The company maintains four outlet stores in the US, where their cookware are available. Two of the stores are in Texas while the two others are located in Massachusetts and California.
What are the advantages of using Calphalon cookware?
Calphalon Cookware on the table
The aluminum used in Calphalon cookware is far different from ordinary aluminum used in other pots and pans. It is hardened by chemicals and electric pulses, making it corrosion and abrasion resistant. Simply put, Calphalon cookware is so durable you can make use of it for many, many years.
The anodized surface of Calphalon cookware is also scratch and discoloration resistant.
Aside from being ultra durable, Calphalon cookware offers superior heat induction. This can result to more even cooking, something that every chef pro and amateur alike would want.
Calphalon cookware has a shinier surface compared to other cookware made of aluminum. This quality makes Calphalon pots and pans stand out in the kitchen.
Calphalon cookware is also non-reactive, unlike other metallic pans. There's no possibility of aluminum leaching or the absorption of the element into the body when you are to cook acidic food on Calphalon cookware like tomato sauces and lemon juices.
Finally, Calphalon cookware is very easy to clean. I simply wash it with a liquid dishwashing detergent and a soft bristle brush. You should not use abrasive cleaners like liquid household cleaners, though, in cleaning Calphalon pots and pans.
What are the disadvantages of Calphalon cookware?
Calphalon Cookware
No cookware is perfect, and pots and pans from Calphalon are no exceptions.
Calphalon cookware is not dishwasher-safe, too. Putting it in the dishwasher will lead to the discoloration of its exterior.
It is also more expensive compared to traditional cookware. It even commands a higher price than nonstick pans. But I can assure you that Calphalon cookware is a good buy because you can use them for a long time.
Tips for using Calphalon cookware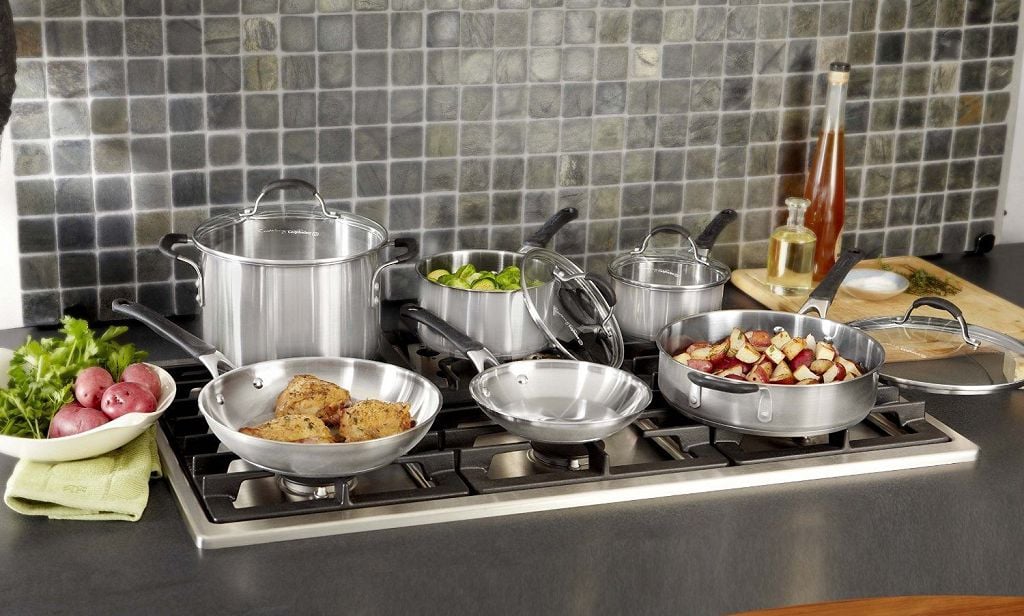 Calphalon Cookware and vegetables on gas stove
While Calphalon cookware is widely regarded as one of the most durable in the market, there are still some general pointers to remember in using pots and pans from this Ohio-based firm.
It's alright to use spatulas, spoons and other non-sharp metal utensils on Calphalon cookware as these won't harm the hard-anodized surface. But you should not be using sharp tools like an electric mixer to cut or chop foods in a Calphalon pan. Doing so can scratch a heated pan.
You should also make it a habit of preheating the pans over medium heat just like what you are used to doing in preheating ovens. This is particularly true when you are to make an omelet. You should also do this when sautéing and stir frying.
It is not recommended that you preheat the pan over high heat. Aluminum is a very good conductor of heat so placing an aluminum pan over high heat can make the cookware too hot. I usually give my Calphalon cookware 2 minutes for pre-heating.
If you notice that foods start sticking to the surface of the pan, even after you preheat the cookware, then this could be due to the build up of grease and residue on the pan. You should thus clean the cookware thoroughly to address this problem.
Conclusion
Proper use and cleaning of Calphalon pots and pans can ensure that you will be able to use the cookware for many years. Think of it as like protecting your investment.
After all, you have to or will spend a lot on Calphalon cookware. But then again, Calphalon cookware is durable that you will likely be using it for decades and not just years.
Wife, Mom of 4 and so much more living in the Sonoran desert. I am passionate about making meals and snacks healthier without sacrificing flavor! I promise you that if you buy healthy foods and make healthy foods, YOUR KIDS WILL EAT HEALTHY FOODS! My motto: Live as naturally as you want to feel.