Choose the Best Sausage Stuffer Money Can Buy
Simply Healthy Family may collect a share of sales or other compensation from the links on this page.
You can never know for sure with sausages bought in the store or on the market. Do they contain some unhealthy additives? Are they produced with meat scraps instead of real meat? Is their flavor something you would like?
Fortunately, you can avoid all of these doubts and enjoy the blend of meats and seasoning by stuffing your own sausage, no need to buy a quiet blender. This is not as difficult as it may sound. All you need to do is to select the meat and spices and get the best sausage stuffer on the market.
Before you go online for some quality shopping or take a stroll to a retail store, you should get to know different types of sausage stuffers and what you should look for in a sausage stuffer. We'll save you the hours of googling because you'll find everything you need in this buying guide.
| Rank | Product Name |
| --- | --- |
| #1 | |
| #2 | |
| #3 | LEM Products 5 Pound Stainless Steel Vertical Sausage Stuffer |
| #4 | |
| #5 | |
**Below, you'll find our more detailed reviews, but you can also click the links above to see current prices or read customer reviews on Amazon.
Different Types of Sausage Stuffers
A Sausage Stuffers on the table
1
Horn Sausage Stuffers
If this is your first time in stuffing sausage at home and you are not preparing large amounts, horn sausage might just be perfect for you. Their capacities range from 3 to 5 lbs of sausage, and they are pretty easy to use. However, horn fillers are sold only as manual models, so if you are not willing for manual labor, they are not right for you. This type of sausage stuffer is most commonly made of cast iron plated with chrome or tin, but lately, it is also possible to find some stainless steel models.
2
Horizontal Sausage Stuffers
Unlike the horn stuffers, horizontal ones are sold as both manual and electric units. They are equipped with a big piston-shaped cylinder in charge of holding the ground meat which is fixed horizontally. The filler ejects the meat from the tube at the end of the cylinder when you turn on the electric motor or the crank at the opposite end of the cylinder. The manual version of the horizontal filler has one slight drawback: the unit must be placed close to the edge of the counter or the table so that the hand crank can hang over the side and give it enough room to turn. The capacity of horizontal fillers ranges between 5 and 20 lbs.
3
Vertical Sausage Fillers
Vertical sausage stuffers are the most sought after types of sausage fillers. Because there are many different models, it is possible to find vertical stuffers both for amateurs and professionals. There are also manual and electric units, with the electric models being typically larger and commercial units. Like the horizontal units, vertical sausage fillers have a big piston-resembling cylinder that holds the ground meat, only here the stuffing cylinder is fixed vertically. The stuffer squeezes out the meat from the tube at the base of the cylinder when you turn on the electric motor or turn the hand crank. The capacities of vertical models are between 5 and 15 lbs.
Manual vs. Electric Sausage Stuffers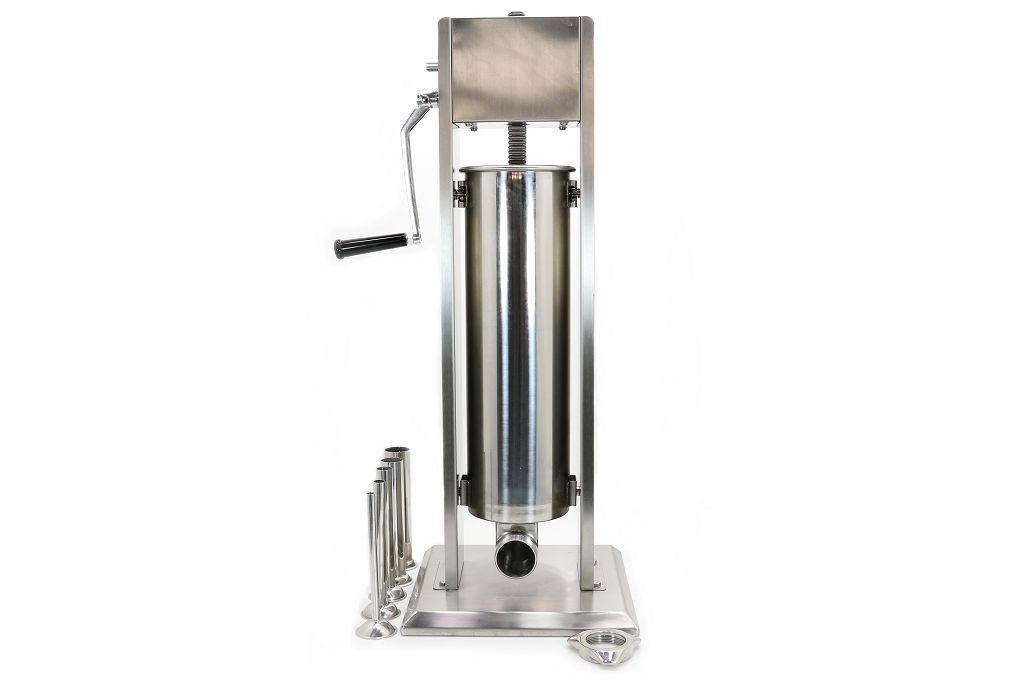 A Manual Sausage Stuffers
There are many pros and cons of both manual and electric stuffers. If money is your primary criteria, you won't be pleased to learn that heavy duty electric stuffers are often very expensive. However, there are some electric stuffers adapted to an average at-home user that won't make you break the bank.
They usually come in the form of multi-purpose tools. Although they are not necessarily a bad thing, such appliances often come with smaller capacity, especially if the price is under several hundred dollars. On the other hand, quality manual stuffers have a larger capacity built in for a good price.
Also, there are some electric and hydraulic models that can replace the mechanics of manual stuffers, essentially giving you an electric filler with the capacity of a manual stuffer. However, these are usually found in commercial use, and cost several hundreds of bucks.
What to look for in a Sausage Stuffer?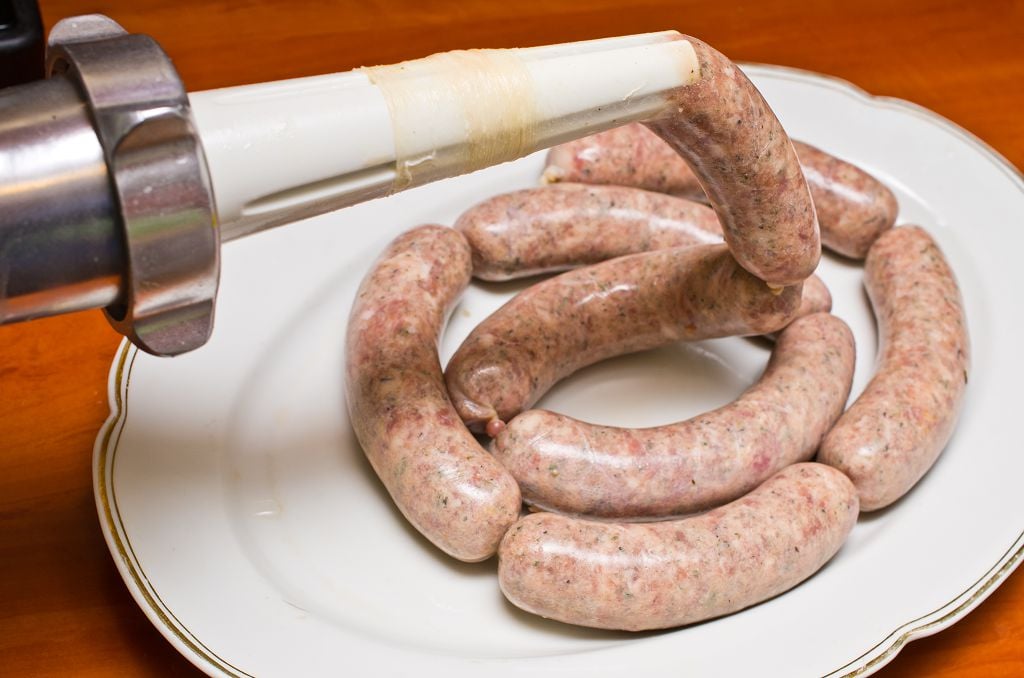 A Sausage Stuffer and Sausage on the plate
Now that you can differentiate various models of sausage stuffer, it is time to find out what makes a quality stuffer and which factors should be decisive in choosing the right one for you.
Construction & Durability
Buying a sausage stuffer should be a long-term investment, that is why the best units are built with stainless steel or similar quality metal components. This is imperative for handle levers and the gears, but it is not necessary for the handles themselves. The main body and moving parts must be built with strong materials that can withstand the torque of forcing the meat into casings.
Speed
Speed is a crucial factor in choosing the sausage stuffer. It is very useful for the fillers to have two-speed options. The two-speed design allows you to move the piston quickly to fill the cylinder with meat. The low-speed option is designed for stuffing casings. This option is usually found in larger capacity fillers (generally above 10 lbs), but it's definitely an option worth checking out, especially if you're working through a large batch.
Capacity
Some units only have a tray or small opening that can be filled with meat. This is usually the case with old school manual stuffers, budget electric stuffers, and stuffer attachments for mixing or grinding machines. When using them, you have to put the meat through a tiny tube and press the meat down which seriously limits the possibility of filling the casings quickly and efficiently.
Some manual stuffers that can be afforded by an average user can be found with capacities ranging from 7 to 25 lbs which are more than adequate for most users.
Cleaning & Maintaining
If you are unable to clean the stuffer properly and some pieces of meat get stuck in an inaccessible part, this can result in unpleasant odor and development of various bacteria. It is crucial that any piece of the unit that touches the meat is thoroughly cleaned. For most stuffers, this means the tray or body cylinder, stuffing tubes and pistons. Usually, these parts are hand wash only, although some add-ons are dishwasher safe. The sausage stuffer you choose should be easy to take apart for cleaning and maintenance.
The Top 5 Best Sausage Stuffer Available Today
Now let us see how the products we have chosen for you live up to the high standards we set above.
#1. Hakka 7 Lb/3 L Sausage Stuffer – Smooth, but Messy Operator
https://www.amazon.com/Sausage-Stainless-Vertical-HAKKA-BROTHER/dp/B011RN5QN4/
Although it can't brag about sleek design, Hakka has some pretty neat features which put it at the very top of its league. It has the two-speed design for more efficient and easier use, and the entire process of stuffing runs very smoothly.
The build quality is extraordinary since all parts are made of stainless steel, including the cylinder, base plates, stuffing tubes and canister and piston, which also includes an air release. This, however, makes it a very heavy unit (19.8 pounds), so it is not very easy to move it around.
Hakka 7 Lb/3 L Sausage Stuffer 2 Speed Stainless Steel Vertical 5-7 Lb Sausage Maker by HAKKA BROTHER
A great thing about this stuffer is that the unit tilts back to make the filling more convenient. Hakka stuffer is also equipped with a metal piston that has an air release valve which allows air to escape out of the top instead of into the casing. With the capacity of 7 lbs, it is a perfect household unit.
However, Hakka sausage stuffer does have several drawbacks, including the handle that doesn't fit very securely and the case of a metal residue on the shaft after several cycles.
PROS
The unit is obviously built to last
It offers good value for the money
The tilting of the unit enables easier filling
The air release valve is a useful addition
The two-speeds design makes the cycles run more smoothly
CONS
The handle built is not of the same quality as the rest of the unit
It leaves a lot of meat in the bottom of the canister
After several rounds of using, you can notice metal residue on the shaft
It could use specialized blades for grinding though nuts and seeds
It can be difficult to clean
#2. New VIVO Sausage Stuffer – Great Performance with Some Minor Issues
https://www.amazon.com/VIVO-Sausage-Vertical-Stainless-STUFR-V003/dp/B00OBXZ9EY/
New VIVO Sausage Stuffer Vertical Stainless Steel 3L/7LB 5-7 Pound Meat Filler ~ by VIVO (STUFR-V003)
Performance-wise, the New VIVO stuffer is quite similar to the Hakka unit. It also tilts back for convenient filling, and it is built mostly out of stainless steel. The area where it really stands out is the outstanding design.
The machine looks very well, and it can fit in with the rest of your kitchen appliances. It also weighs about five pounds less than Hakka unit, but it is still not light enough to be comfortably moved. One more area where this product has the upper hand is the cleaning and maintenance since it can truly be disassembled in seconds.
The air valve enables the air to escape and prevents the stuffer from overheating. The gears are pretty smooth, so cranking meat through the unit is a breeze, and the seal on the plunger is near perfect.
So, what could be wrong with this unit? Not much. One very unfortunate design flaw is the dead space in the bottom elbow where the meat is pushed out. At the end of the stuffing, there is no efficient way to push out the remaining sausage mixture, and you are left with about a 6″ link's worth of meat in that space.
PROS
It can handle both small and large batches
The casings are filled in very short time
The meat doesn't come up or around the canister
It is easy to clean
The capacity is satisfactory
Comes with different nozzle sizes
CONS
It is pretty heavy
The lack of base holes means there is no way to keep the product permanently in place
The dead space in the bottom elbow is a waste of meat
The dimensions of 20.4 x 12.7 x 10 inches are not standard for the kitchen countertop, so you will not be able to store it there
#3. LEM Products 5 Pound Stainless Steel Vertical Sausage Stuffer – Light for Using, Heavy on Your Pocket
https://www.amazon.com/LEM-Products-Stainless-Vertical-Sausage/dp/B000SQDTRC/
This unit is significantly lighter than the previous two reviewed products, weighing only 9.8 pounds which makes it much more convenient for moving and carrying. Two clamps allow you to secure the stuffer during use.
It is a very well-built machine since all the gears are made of metal. Furthermore, it is equipped with air release valve and cylinder which can be removed when you want to clean it. Also, various stuffing tubes allow custom stuffing.
LEM Products 5 Pound Stainless Steel Vertical Sausage Stuffer
LEM unit, however, is not without its problems. First of all, the metal that is surrounding the gears is cheaply plated and prone to rust. Although the cylinder is easy to remove and clean, the gasket ring comes of difficultly. The filling process would have been much easier if the stand is higher so that you can put a tray under the tube.
PROS
Well built unit, designed to last
Compared to other similar products, very lightweight
It is easy to secure it while using it
There is an option of custom stuffing
CONS
It takes long to crank up the piston
The gasket ring is difficult to remove
The stand could be somewhat higher
The metal around the gears is cheaply plated
The price is not for everyone's pocket
#4. Weston Manual Vertical Sausage Stuffer – Stable, yet Heavy
https://www.amazon.com/Weston-Vertical-Sausage-Stuffer-Capacity/dp/B009KKL2BM
Weston Manual Vertical Sausage Stuffer, 7-Pound Capacity
This unit is perfect for both commercial and domestic use if you are handling large quantities of meat. The upright canister enables easier filling, but it doesn't compromise stability since the steel housing has a rubber feet that enable the machine to stand firmly and stable.
Since it is a heavy-duty machine, Weston Stuffer is also equipped with dual speed gears, but it is fairly easy to clean, since it disassembles in a couple of minutes. However the unit weighs 16.8 pounds, so you might find it difficult to move and clean without help.
The package also contains four stainless steel funnels able to produce different types of sausages (13 mm for snacking, 20 mm for pepperoni and bratwurst, 30 mm for summer sausage and 40 mm for luncheon meats).
Although a fairly decent unit, Weston Stuffer has several issues. The pressure release spring is fastened with a slip washer and it is really a pain to get on and off, which is a necessity for good cleaning. Furthermore, some meat will always remain in the stuffing tube, no matter how hard you try to push it out.
PROS
Quality build materials
The rubber feet make the machine very stable
Two-speed option
Diverse funnels
Handles large quantities of meat
CONS
It is very heavy
The pressure release spring comes off difficultly
There is always some meat left in the stuffing tube
The price is above average
#5. ZENY Sausage Stuffer – You Pay a Lot, You Get Even More
https://www.amazon.com/ZENY-Commercial-Vertical-Stainless-Stuffing/dp/B01GZRC4CI/
So far the unit with the largest capacity (11lbs), Zeny Sausage Stuffer is made of stainless steel. Its capacity makes it ideal for restaurants, supermarkets, butcher shops, but also larger household who prefer preparing their own sausage.
Like the previously reviewed product, it has the dual speed option which makes the entire stuffing process much easier. The base plate is pretty steady so good stability is guaranteed, and the machine is suitable for both left-handed and right-handed users.
ZENY Sausage Stuffer Commercial Vertical 5L 11LB Stainless Steel 2-Speed Sausage Filler Maker, w/4 Stuffing Tubes (#01)
One great thing about this package is that it also contains a locking nut in charge of preventing the meat from leaking, and when mounted to the table, the filling is a breeze.
There are two slight drawbacks when it comes to this product, it is slightly above an average budget, and you still don't own one.
PROS
Great capacity
The dual speed makes the stuffing process more streamlined
The base plate is pretty stable
The machine works very fast
The locking nut is a useful addition
It is easy to clean and maintain
CONS
The price isn't for everyone's pocket
It falls into the category of heavy duty stuffers, and it is hard to move it on your own
Conclusion
ZENY Sausage Stuffer Commercial Vertical 5L 11LB Stainless Steel 2-Speed Sausage Filler Maker, w/4 Stuffing Tubes (#01)
With all things said, it is obvious that each of these machines has its own advantages that could be more or less important to you, depending on your needs and preferences. If we would to observe it logically, we would say that Zeny Sausage Stuffer is the best product on the list, since it has more pros than cons. However, if budget shopping is your priority than this one flaw will outweigh all the advantages of this unit. In that case, New Vevo or Hakka are also good choices.
From now, with the help of a sausage stuffer, you and your family can enjoy healthy and safety breakfasts at home​. No more worry about food safety anymore.
Wife, Mom of 4 and so much more living in the Sonoran desert. I am passionate about making meals and snacks healthier without sacrificing flavor! I promise you that if you buy healthy foods and make healthy foods, YOUR KIDS WILL EAT HEALTHY FOODS! My motto: Live as naturally as you want to feel.