What Does Yuzu Taste Like? A Guide to This Japanese Citrus
Yuzu is a citrus fruit from Japan. It's said to come from central China, a hybrid of mandarin orange and another Chinese citrus, Ichang papeda.
The flavor of yuzu is similar to a lemon crossed with a mandarin orange although some taste very much like grapefruit. It is sharp and acidic, with a strong floral scent.
The fruit resembles a small grapefruit with rough skin and big seeds. It can be yellow or green, depending on how ripe.
Fragrant yuzu fruits generally grow between 2.16" – 3" big, but can grow as large as a good-sized orange.
Too sharp to eat as a fruit, yuzu still contributes citrusy fragrance to many foods and beverages. In Japan, the zest is used much as lemon zest is used in the West.
Yuzu, combined with honey, makes an aromatic syrup used to flavor tea or the yuzu sour, a cocktail. A spicy sauce made with yuzu zest, chili peppers, and salt is made to dress seafood, like eel or fugu.
The slivered rind of yuzu fruit is also used to flavor miso soup and as a garnish for savory egg custard called chawanmushi.
Yuzu is also well-known and appreciated in Korea, where candied yuzu peels are a popular snack, and are also used to make tea. Korean salads sometimes feature slivered yuzu.
Like lemons or lemon juice, yuzu is versatile, flavoring savory and sweet foods. Marmalade is made from the rinds, and yuzu often flavors cake, much as vanilla is used in Western cakes.
The strong citrus flavor of yuzu is successfully used in salad dressings, glaze for fish recipes, jellies, and jams. Pushed into a jar of vinegar, thin slices of yuzu rind make a delicious base for a vinaigrette.
Western chefs have discovered the uses of yuzu. However, it's hard to get it fresh, which in the USA is grown only in California.
Californian yuzu first appeared in home gardens established by Japanese-Americans in the 1880s. It was unknown in markets until the 1990s when chefs became aware of the fruit and began to search for it.
The Department of Agriculture banned importing fresh yuzu fruit and trees, out of concern for possible agricultural diseases. Even with recent American-raised crops, the fruit remains scarce.
Farmers began growing yuzu commercially in 1998 when the director of California's Citrus Clonal Protection Program released certified bud wood to nurseries. However, Yuzu trees take up to 10 years to bear fruit.
Yuzu may cost $8 to $20 a pound wholesale, with retail prices rising 100%. With healthy and abundant new crops predicted in the future, the sky-high prices will hopefully drop.
It's hard to locate fresh yuzu, but you can find bottled yuzu juice at Asian markets and specialty sections of supermarkets. Look for products labeled "100% pure yuzu juice."
You may also find the frozen fruit or the dried peel.
You need very little of the strongly aromatic yuzu juice to flavor or season food. But after the bottle is opened, it should be used up within four weeks.
What can you substitute for yuzu juice if it's not available?
Mix 3 tablespoons of fresh lime juice with 1/2 tablespoon of fresh orange juice. Or zest limes, lemons, and grapefruit, then infuse these zests into sugar or salt.
Here are some Japanese yuzu food products that you may, with luck, find.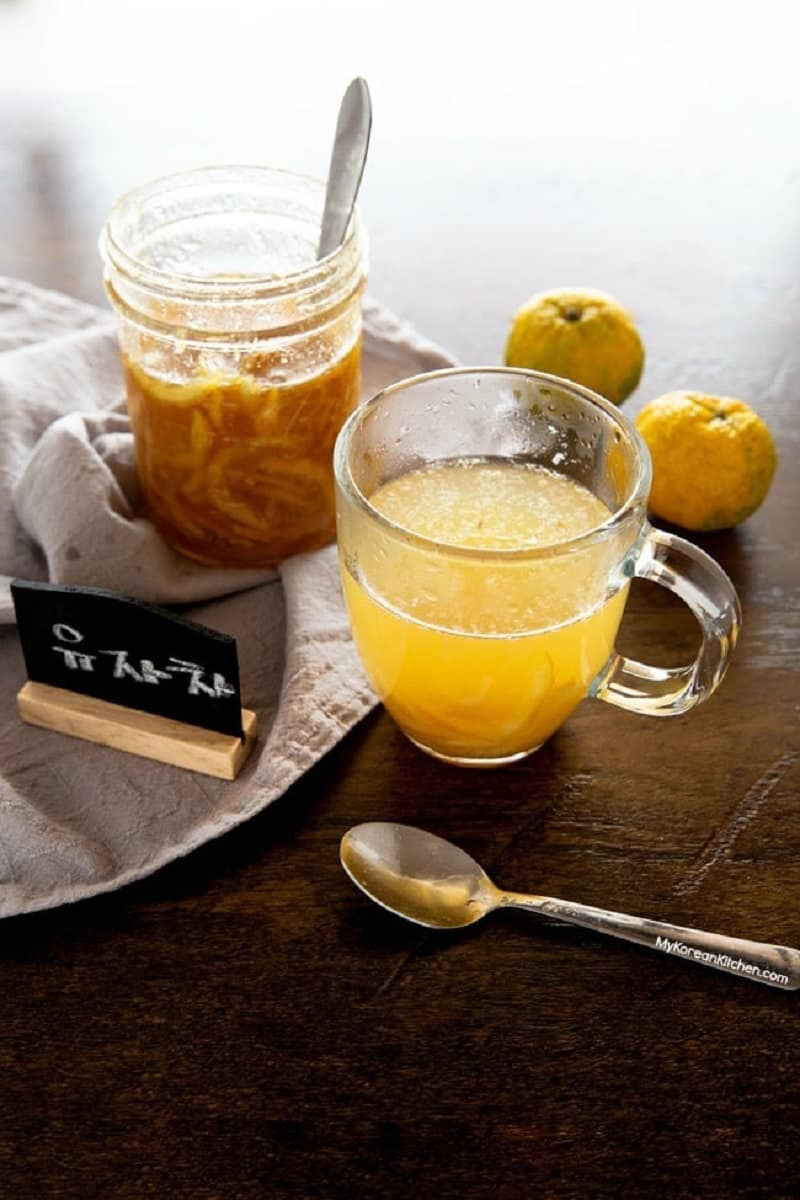 Powdered yuzu rind. Mix some into table salt and season just about anything that a flair of citrus improves. Tempura (foods dipped in batter and fried) is delicious with a pop of yuzu.
Yuzu Ponzu. This is a popular Japanese sauce based on yuzu. Recommended drizzling over grilled fish, grilled meat, and Japanese hot pot.
Yuzu tea. Called yuzu-cha, this tea is made of hot water infused with yuzu peel and mixed with a sweetener. Sometimes the tea is made with powdered yuzu peel.
For a summer refreshing drink, steep yuzu powder or rinds in hot water till cool, then strain and chill it. Serve over ice and garnish with mint.
Yuzu tea is especially appreciated in winter.
Yuzu liqueur, or yuzushu. A yuzu-based liqueur that's not too sweet, but delicious with soda, or plain over ice.
Yuzu Sour. Yuzu HachiMitsu is a cocktail made with yuzu and honey.
Yuzu Drops. In Japan, yuzu drops serve the same purpose as lemon drops in the West. They are said to relieve a sore throat and are inexpensive.
Yuzu Kosho Chips. The Japanese produce a number of snacks flavored with yuzu. Yuzu Kosho chips have a lemony, spicy taste from yuzu and chili peppers.
Yuzu is used in cosmetics, too. During the winter solstice, Japanese public baths and hot spring spas offer baths filled with whole yuzu fruits. The Japanese can also buy yuzu bath salts to soak in at home.
But if you can get your hands on a fresh yuzu fruit, you can treat yourself to a luxurious yuzu bath. Simply float a halved yuzu fruit in your hot bath water before you step in.
The Japanese say that a yuzu bath improves circulation, prevents colds, and smooths rough skin. Studies show that inhaling yuzu fragrance relieves stress and anxiety, so a yuzu bath sounds perfect.
See Related Topic: What Does Fugu Taste Like?
Here a few recipes:
Yuzu/Lime Sherbet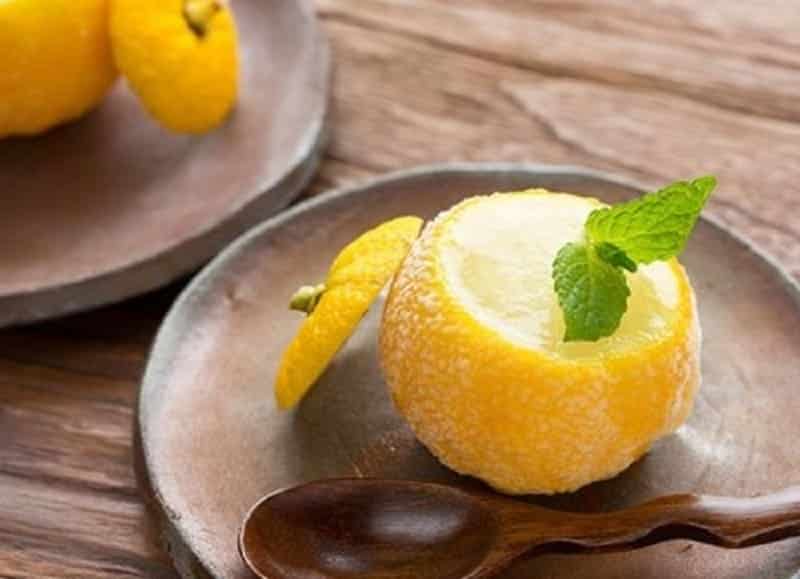 Makes about 1 quart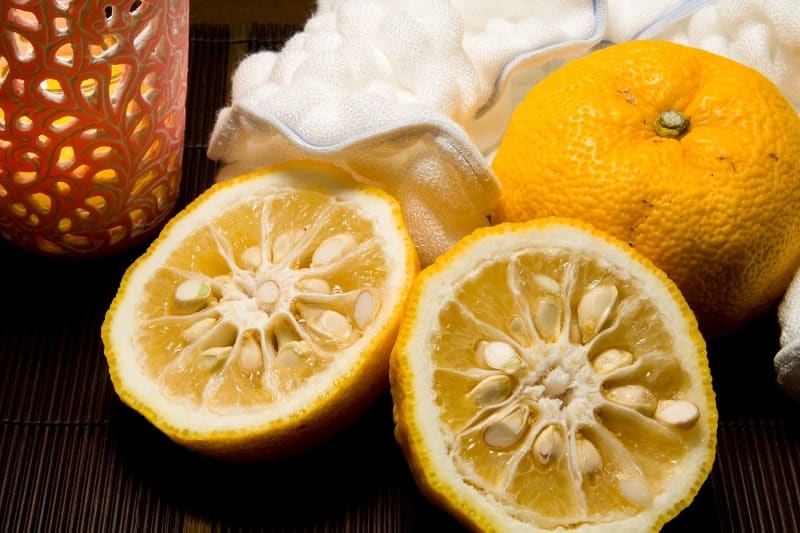 Yuzu/Lime Sherbet
Ingredients
3/4

cup

sugar

Zest of 1 yuzu

Juice of 1

about 1 tablespoon

1/4

cup

fresh lime juice

Pinch

of salt

1

cup

milk

1/2

cup

heavy cream
Instructions
Blend the sugar, yuzu juice and zest, lime juice and salt in a blender.

Add the milk and cream. Blend thoroughly.

Refrigerate the mixture for at least 1 hour and up to overnight. Put the container to store the sherbet in the freezer meantime.

Make the sherbet in an ice-cream maker. Store the sherbet in the pre-chilled container.

Alternately, freeze the sherbet in a tightly sealed container. Remove it from the freezer when it has reached a half-frozen state.

Whisk the half-frozen sherbet thoroughly and return it to the freezer until solid.
Check Also: What Do Ostrich Eggs Taste Like?
Yuzu Cocktail
Servings: 1 Cocktail
Yuzu Cocktail
Ingredients
1

whole Yuzu or 1- 1/2 tablespoons yuzu juice

2

ounces

gin

1/8

teaspoon

vanilla extract

1/2

ounce

simple syrup

or to taste

A dash of orange bitters

2

ounces

club soda
Instructions
Slice the yuzu fruit in half.

Place it in a cocktail shaker and press it with a wooden spoon to extract the oils and juice (this is muddling the fruit).

Add the gin, vanilla extract, simple syrup, and bitters. Add ice and shake for 15-20 seconds.

Strain the cocktail over fresh ice in an Old-Fashioned glass. Add club soda and stir. Drink!
Read Related Article: What Does Sea Bass Taste Like?
Roast Yuzu Chicken
Roast Yuzu Chicken
Ingredients
2

crushed garlic cloves

2

teaspoons

grated ginger

2

tablespoons

melted unsalted butter

2

tablespoons

yuzu juice

1

tablespoon

light soy sauce

4

chicken thighs with drumsticks attached

Black sesame seeds to garnish

Lemon wedges
Instructions
Combine garlic, ginger, butter, 2 tablespoons of yuzu juice, and 1 tablespoon soy sauce in a bowl.

Marinate the chicken in the above mixture, turning it to coat all over. Refrigerate to marinate for 20 minutes.

Turn the oven on to 375°F.

Drain the chicken but reserve the marinade. Pat the chicken dry with paper towels.

Line a baking sheet with baking parchment. Place the chicken pieces on it and roast for 1 hour.

Baste the chicken with the reserved marinade every 15 minutes. Cover it loosely with foil if it's browning too quickly.

Sprinkle sesame seeds over the chicken, and serve with lemon to squeeze over.