How Long to Cook Frozen Fish Sticks in Air Fryer?
Simply Healthy Family may collect a share of sales or other compensation from the links on this page.
"Mom, I'm hungry! What is there to eat?" How many times have you heard this plaintive wail, and wondered what you can give the kids to eat that is not junk food, but doesn't take ages to prepare?
Fish sticks are my go-to default answer to that question. I always have a box of frozen fish sticks in my freezer for those days. And now that I know how to cook frozen fish sticks in an air fryer, it has made my life so much simpler.
The air fryer is a fairly new invention. The first air fryers came on to the market about 10 years ago, but they were very basic. Since then, modern technology has made these appliances much more advanced.
There are lots of different brands and models available. They come in two styles, either a toaster-oven type with racks or a basket type, which is usually round. Which one you buy depends on your personal preference, and how much counter space you have available to accommodate it.
Both types work on the same principle. Instead of immersing food in oil to fry it, the air fryer blows hot air, circulating it around the food. The hot air cooks the food, and browns it beautifully, using either very little oil just sprayed on the surface or even no oil at all.
I have experimented with both types, and I prefer the basket design. I find it a lot more user-friendly. It is less finicky, and a lot easier to clean. It also takes up a lot less counter space.
I love having my air fryer out on my kitchen counter permanently. If it were neatly stored away in a cabinet under the counter, I know that I would not use it as often, because it would be too much effort to get it out.
Having the air fryer out on the counter means that it is absolutely effortless to plug it in and switch it on, whenever you need it. Even something as quick and easy as reheating leftovers becomes a simple task that takes no time.
Frozen fish sticks always come out absolutely perfectly when cooked in the air fryer. Traditional frying in oil means that they absorb a lot of oil. Firstly, all that oil is not good for you. It clogs up your arteries, and it can also contribute to unhealthy weight gain.
In addition, the fish sticks taste so much better without oil. The oil seeps right into the fish, altering the flavor of the fish and giving it a distinctly oily taste. Without the oil, you are able to enjoy the natural flavor of the fish.
Of course, for many years, some people avoided all the oil by cooking their frozen fish sticks in a regular oven. While this does work, they do not taste nearly as good as fish sticks cooked in an air fryer, and it takes a lot longer.
How Long Does It Take To Cook Frozen Fish Sticks In An Air Fryer?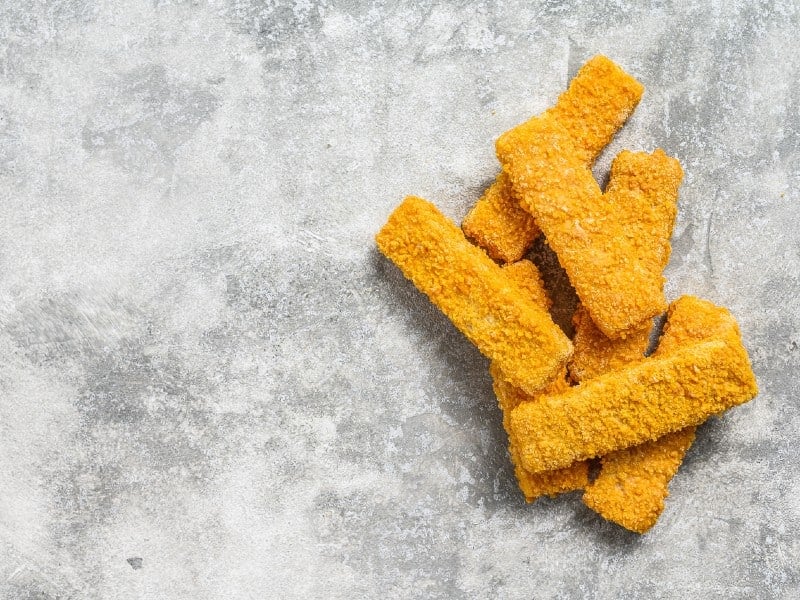 Because the air fryer is smaller than a regular oven, and the heat in the air fryer is more contained and circulates around the food, it cooks more quickly than in a traditional oven. 
The precise cooking time will depend upon how many fish sticks you cook at a time, as well as your particular model of air fryer. It is usually a good idea to experiment with your air fryer and determine what temperature and time setting give the best results. 
Is It Necessary To Preheat The Air Fryer?
This is a question that is often asked. It really depends upon what you are cooking. To cook frozen fish sticks in an air fryer, it is not essential to preheat the air fryer, however, if you do, it will speed up the cooking time slightly.
In the end, it does not make much difference. Either way, you will have to wait the same length of time before the first batch of fish sticks is ready. 
However, if you are cooking more than one batch, the second and subsequent batches will need a little less cooking time, because the air fryer will be hot already. As you get used to using it, you will know how to adjust the cooking times.
In our step-by-step guide below, we will give you more specific instructions related to temperatures, as well as how long to cook frozen fish sticks in an air fryer.
How To Cook Frozen Fish Sticks In An Air Fryer: A Step-By-Step Guide
Cooking your frozen fish sticks in the air fryer is the simplest, easiest process. There is no need to thaw your fish sticks beforehand. They can go straight from the freezer into the air fryer. 
If you like your fish sticks to be really brown and crispy, you can spray them with a very light spritz of olive oil before placing them in the air fryer. However, this is not essential. If you want to avoid any extra oil, it is safe to skip this step.
Just follow the straightforward steps below, and you cannot go wrong.
Lightly spray the frozen fish sticks with pure virgin olive oil. We recommend using an oil mist sprayer.

Place the frozen fish sticks in the basket of the air fryer. Position them in a single layer, with a little bit of space between each one, so that air can circulate around each individual fish stick. They will then cook evenly, and this will give a better result than if they are packed close together or stacked on top of each other. If they touch each other, the crumbed coating might also come off, ruining the appearance and taste of the fish stick.

Set the temperature at 400° Fahrenheit and set the timer for 6 minutes.
After 6 minutes, turn the fish sticks over carefully, using silicone tongs.
Set the timer for another 4 minutes.
Remove the fish sticks from the air fryer and serve immediately. They are best when eaten piping hot and crispy.
What Can You Serve With Fish Sticks?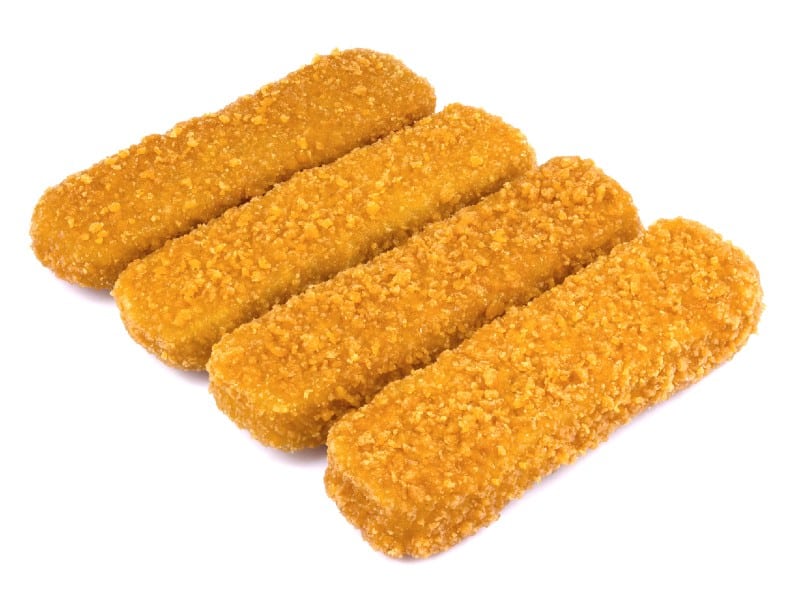 While I think that most people will agree that frozen fish sticks cooked in an air fryer are utterly scrumptious all on their own, there is no denying that certain accompaniments do take this quick convenience food to a whole new level.
Try a few of the following to spice things up a bit, or to complement your fish sticks.
Want to look all sophisticated and turn your fish sticks into a gourmet meal? Simply serve them on an elegant-looking platter, with a little bowl of tartar sauce alongside them. See our special recipe for tartar sauce, later on in this article.
A quick squeeze of fresh lemon will instantly change your meal from frozen fish sticks to real fish. Lemon juice has long been known to enhance the flavor of fish and is one of the most common tricks used by cordon bleu chefs to give their fish dishes that special flavor.
Kids in the house? If the answer is yes, then you can actually forget about everything else. (Except for french fries – see the next point) All you need is ketchup – lots of it! No child can resist squeezing that bottle until they get a giant squirt of ketchup that often shoots straight across their plate. 
French fries (also known as chips)
Fish and chips are an iconic meal. The two go together, just like an old married couple. Many people believe that you can't have one without the other. And fish sticks are just an extension of this. They are totally delicious when eaten with hot, crispy fries.
Most of us associate french fries with lashings of oil, but If you want your fries to be super delicious and healthy too, you can cook those in the air fryer as well. It is the best way of cooking fries without oil. See our method for cooking french fries in the air fryer, later in this article.
Like french fries, onion rings are an excellent side dish to eat with fish sticks. If you really have the energy, you can stand and make them from scratch, but these can also be bought frozen and just popped into your air fryer for a few minutes to heat and crisp them up.
If you prefer to introduce more vegetables, roasted sweet peppers are so easy to make and quite delectable. If you use a mixture of red, green, orange, and yellow peppers, the assorted colors look fantastically appetizing on the plate, too. No child will be able to resist them, even if they are vegetables!
If you are looking for a really healthy accompaniment to your fish sticks, pairing them up with a fresh green salad is the way to go. Drizzle a few drops of vinaigrette dressing over your salad, squeeze a spurt of fresh lemon juice over your fish sticks, and lunch is served.
How To Make Tartar Sauce
Tartar sauce seems sophisticated – even fancy – accompaniment to certain foods. Many people resort to buying it ready-made, believing it to be far too complicated and difficult to make at home. 
This recipe is so simple and straightforward that anyone can make it. It is not only completely flop-proof, but it tastes so delicious that you will never want to eat store-bought bottled tartar sauce again. And the proverbial cherry on the top, it works out much more economically when you make it yourself.
INGREDIENTS
1 cup good quality mayonnaise

2-3 dill pickles, chopped very finely

1 teaspoon fresh lemon juice

1 teaspoon sugar

Salt and freshly ground black pepper to taste

1 teaspoon finely chopped fresh dill
DIRECTIONS
This cannot be any easier.
Place the mayonnaise in a bowl.

Add all the other ingredients.

Mix well with a spatula until well-blended.

Transfer to an elegant little serving bowl, and serve with freshly cooked fish sticks.
TIP: If you want to give your tartar sauce more of a kick, you can add one or two teaspoons of finely chopped fresh onion. 
How To Cook French Fries In An Air Fryer
For years, everyone thought that frozen oven chips were the next best thing to sliced bread. Well, now that the air fryer has entered the game, the regular oven has become somewhat obsolete when it comes to the best way to cook french fries.
If you are a lover of hot chips or french fries, you will never look back after learning how to make them in the air fryer. It cooks them to absolute perfection, golden brown and crispy on the outside, and soft and fluffy on the inside.
Place the french fries in the basket of the air fryer. It does not matter if they are piled on top of each other, because you are going to shake them up and they will be rotated.

Switch on the air fryer to 360° Fahrenheit. The cooking time will depend on the number of fries that you are cooking, so you might have to check them and experiment with cooking times. As a rough guide, for 300g of frozen french fries (about 3 average servings), set the timer to 8 minutes.

After 8 minutes, open the air fryer and remove the basket. Give it a good shake, tossing all the fries so that they are rotated.

Put them back in the air fryer for another 6 minutes and then check them. If they are not golden brown yet, put them back for another 2-3 minutes. If they look good, take them out and serve piping hot.
Once you know how to cook frozen fish sticks in an air fryer, and you can also make the most scrumptious accompaniments to your fish sticks, you will never again be at a loss as to what to conjure up for a quick meal.
[eh_optimize_youtube_embed video="https://www.youtube.com/watch?v=AyECj81BrD4″ banner="https://www.simplyhealthyfamily.org/wp-content/uploads/2021/06/Screen-Shot-2021-06-22-at-11.37.03-AM-min.jpg"]
Wife, Mom of 4 and so much more living in the Sonoran desert. I am passionate about making meals and snacks healthier without sacrificing flavor! I promise you that if you buy healthy foods and make healthy foods, YOUR KIDS WILL EAT HEALTHY FOODS! My motto: Live as naturally as you want to feel.