What Does Sea Bass Taste Like?
Simply Healthy Family may collect a share of sales or other compensation from the links on this page.
The flavor of sea bass is delicate and mild. People who dislike strong fish flavors often find sea bass to be acceptable. 
Sea bass's flavor can be compared to haddock, halibut, grouper, and cod. 
When cooked properly, the flesh of sea bass is firm, moist, tender and buttery, with medium-sized flakes.
Many varieties of fish are called sea bass, including white sea bass, Chilean sea bass, Blue-spotted sea bass, Black Sea bass, Peruvian sea bass, and others.
Some of the fish named above aren't related to the bass family of fish but are called bass because they are similar in taste and texture to true sea bass. 
The black sea bass and striped bass are true sea bass. The so-called white sea bass is actually a drum fish, and the famous Chilean sea bass is a Patagonian toothfish. 
Black Sea Bass are small fish that live in the western Atlantic between Florida and Cape Cod. They are fleshy, with grayish-black backs and a white underside. 
As the name indicates, sea bass isn't a river fish but is found in the ocean. It's also known as black sea bass and blackfish.
Other local names for black sea bass are chub, black bass, black perch, and tallywag.
European Sea Bass is fished out of the Mediterranean and the Black Sea. It has a mild flavor and flaky flesh.
Giant Sea Bass is a grouper. It lives in the Pacific and is plentiful around the Northern Channel Islands. Giant sea bass has a slightly fishier flavor than other popular bass varieties and has meaty flesh with big flakes.
Hapu. This Hawaiian grouper is similar to Hawaiian snapper, with a delicate taste and white flaky meat.
Chilean Sea Bass comes from South America. Because of overfishing, there are quotas on it, so it's worth checking if it was caught sustainably. Chilean sea bass is a fatter fish than black sea bass.  This makes it less fragile in cooking.
Blue Spotted Sea Bass is another grouper. Some claim that although blue-spotted sea bass and Chilean sea bass are good to eat, they can't be sustainably fished. 
Shopping for fresh sea bass
You'll find sea bass sold live at ethnic markets. They generally weigh 1 ½-2 lb. 
Look for fish with a deep color, bright, unclouded eyes, and red gills. If the gills look brownish, assume it's not fresh.
If you can, touch one of the eyes to see if it yields, which indicates that it's been sitting around for some time, or bounces back, which shows that it's very fresh. 
There should be no strong fish smell around the sea bass. If there is, it's not fresh. Don't buy it.
How to Cook Sea Bass?
Pan-Sear
Well-prepared sea bass has a moist, flaky texture. The simplest way to cook it is to pan-sear fillets.
Pat the fillets dry. Season with salt and pepper. 
Sear in olive oil and cook each side for 3-4 minutes over medium heat. 
Wrapped
Whole sea bass is delicious when seasoned, wrapped in parchment paper, foil, or fresh grape leaves, and baked. 
Broil
You can also broil sea bass. As it's a delicate fish, you have to watch it while it cooks, and remove it from the broiler the minute you see it's done, to avoid overcooking.
If the fish has been stored in the refrigerator, take it out 20 minutes before you plan to cook, to let it approach room temperature. 
This prevents the fish from overcooking on top while staying undercooked inside.
To test if the fish is cooked through, gently poke a fork into the thickest part of it, then twist slightly to see if it flakes without resistance. If the flesh resists, cook it for another 4-5 minutes. 
It's not always necessary to turn a fish over in the skillet, especially when sautéing fillets. Test for doneness before deciding to put a spatula to delicate fish.
Seasonings that compliment sea bass are dill, lemon, thyme, lemongrass, parsley, cilantro, fresh garlic, fennel, and naturally, salt and pepper. You can also use these substitutes for thyme and substitutes for fennel if you don't have them on hand. Also, check that your seasonings are fresh for the best flavor! If your garlic has gone bad, use onion instead.
Side dishes we suggest – rice, polenta, steamed potatoes, quinoa, couscous.
Serve a big, leafy salad with fish. A simple cucumber, tomato, and lettuce salad tossed with a vinaigrette dressing makes a perfect accompaniment.
To drink with fish: crisp, dry white or rosé wines. Icy-cold beer. Lemonade.  
Fast Fish Fillets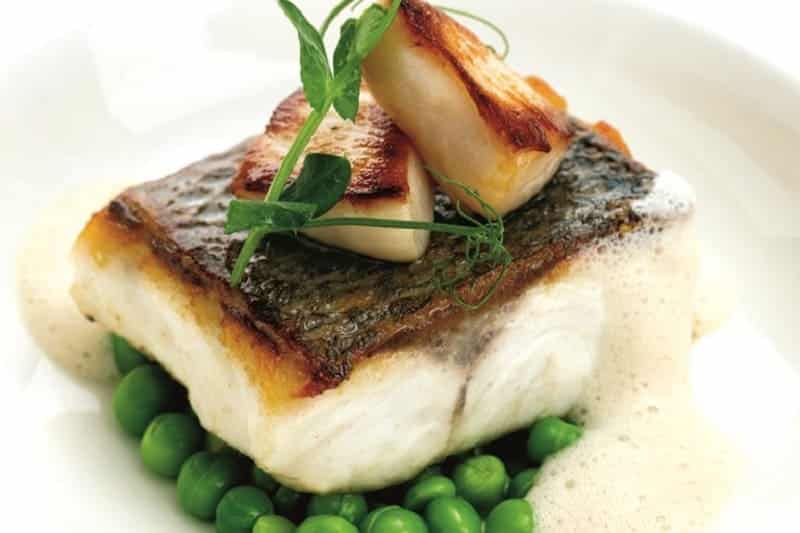 This recipe proves that good fish doesn't need lots of seasonings or an elaborate recipe to taste wonderful.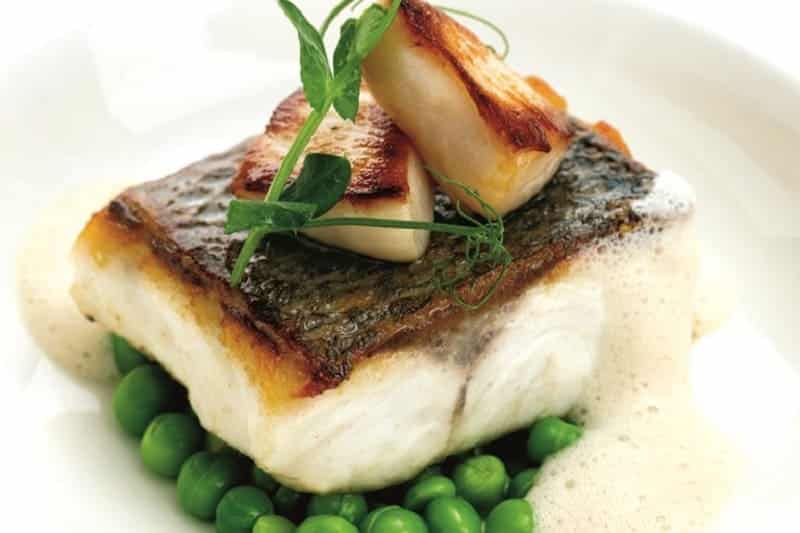 Fish Fillet
This recipe proves that good fish doesn't need lots of seasonings or an elaborate recipe to taste wonderful.
Ingredients
1-1/4

pounds

fish fillets

1

teaspoon

seasoned salt

Pepper to taste

Paprika

optional

3

tablespoons

butter

melted
Instructions
1-1/4 pounds fish fillets

1 teaspoon seasoned salt

Pepper to taste

Paprika, optional

3 tablespoons butter, melted
Fried Sea Bass with Lemon Garlic Sauce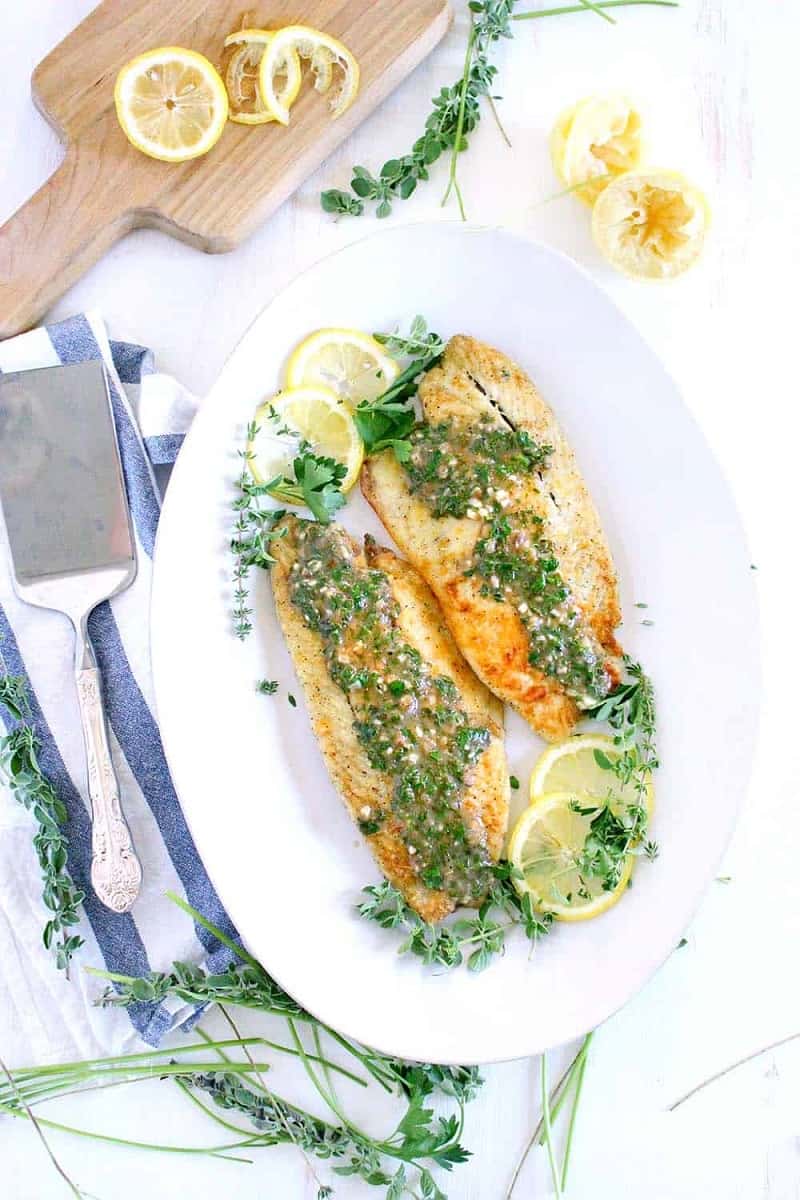 The fresh herbs and garlic make this mild fish a bit more assertive, but recognizably bass all the same.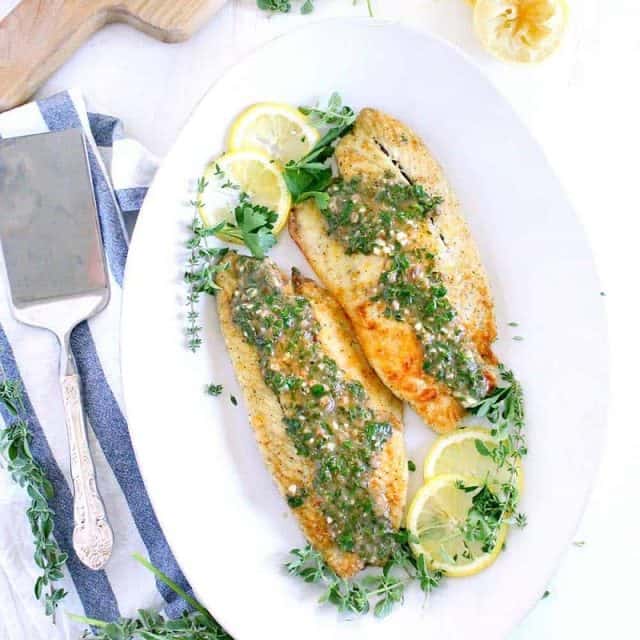 Fried Sea Bass with Lemon Garlic Sauce
The fresh herbs and garlic make this mild fish a bit more assertive, but recognizably bass all the same.
Ingredients
3

tablespoons

butter divided

1

tablespoon

olive oil

1.5

lbs.

sea bass fillets

1/4

cup

all-purpose flour

1

teaspoon

kosher salt and more if needed

1/2

teaspoon

black pepper and more if needed

2

cloves

garlic

crushed

1/4

cup

dry white wine

1/2

cup

vegetable stock or water

2

tablespoons

lemon juice

1

tablespoon

fresh basil leaves

roughly chopped

1

tablespoon

fresh thyme leaves stripped off the stem

roughly chopped

1

tablespoon

fresh parsley

roughly chopped

Lemon wedges for squeezing over the fish at the table.
Instructions
Pat the fillets dry with a paper towel.

Mix the flour, salt, and black pepper.

Coat each fillet in the seasoned flour. Shake off excess flour.

Using a large skillet, melt 1 tablespoon of the butter over medium-high heat and add the olive oil (1 tablespoon).

Cook the fish for 3-4 minutes on each side, until golden brown and fully cooked. The cooking time may vary, depending on the thickness of the fillets.

Try not to move the fish much, as it tends to stick if disturbed too often. Once cooked, remove it to a platter and keep it warm.

Reduce the heat to low. Pour the white wine into the skillet stirring up any browned bits. Cook and stir until almost all the wine has evaporated.

Melt one more tablespoon of butter in the skillet. Add the garlic, basil, thyme and parsley to the skillet, and cook for about 30 seconds.

Add the vegetable stock or water. Bring to a simmer.

Turn heat off. Stir the remaining tablespoon of butter and lemon juice into the hot skillet.

Taste and adjust salt and pepper if necessary.

Spoon sauce on top of fish and serve.
Here we offer two easily-made sauces to accompany sea bream. You can spoon some sauce on each plate and place the fish portion on top, or lay the fish on the plates and spoon sauce over them.
Chopped chives make an attractive garnish, but you can add more color with one small, finely chopped tomato or a few stuffed olives, also chopped, to scatter over the dish. 
Use your judgment and don't make the garnish so fancy that it overpowers the mild flavor of the sea bream. 
Read Related Topic: What Does Yuzu Taste Like?
Hollandaise Sauce For Fish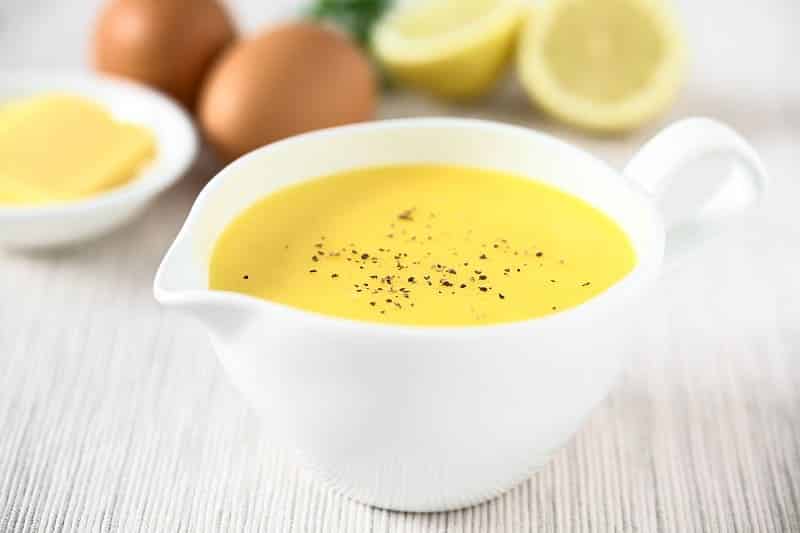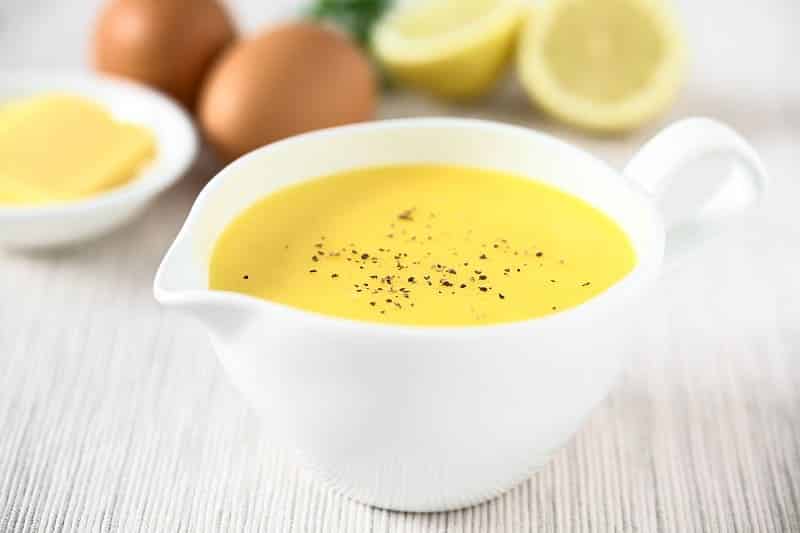 Hollandaise Sauce
This classic, creamy sauce is made easy with a blender. Use it to dress fish, eggs, and other simple dishes.
Equipment
4 egg yolks

1 tablespoon lemon juice

1 teaspoon Dijon mustard

1/4 teaspoon salt

Optional: a pinch of cayenne pepper

1 cup unsalted butter, melted and hot

For garnish: 3 tablespoons chopped chives
Instructions
Melt the butter on the stove or for 1 minute in the microwave.

Blend the egg yolks, lemon juice, Dijon mustard, salt, and optional cayenne pepper for 5 seconds until combined.

Have the blender running on medium-high. Slowly pour in the hot butter until you have a sauce.

Spoon warm sauce over each fish portion and garnish with chopped chives.
Dijon mustard gives a tasty tang, but you can use substitutes for Dijon if you prefer.
Cucumber Sauce For Grilled Fish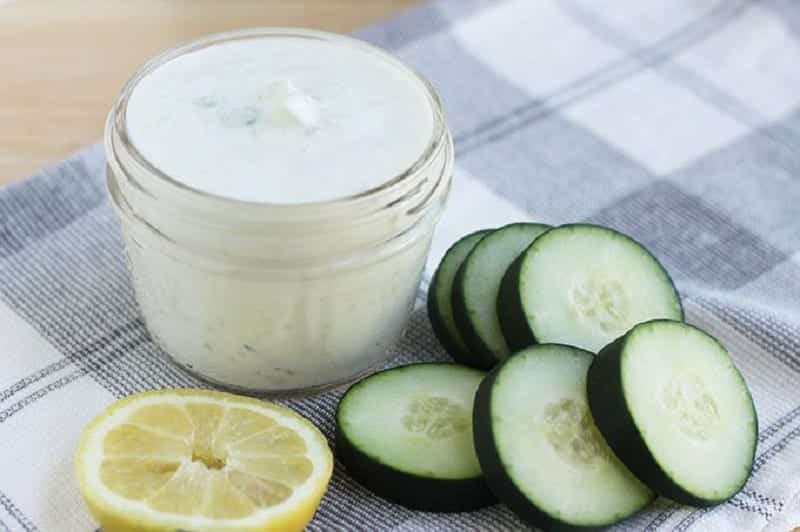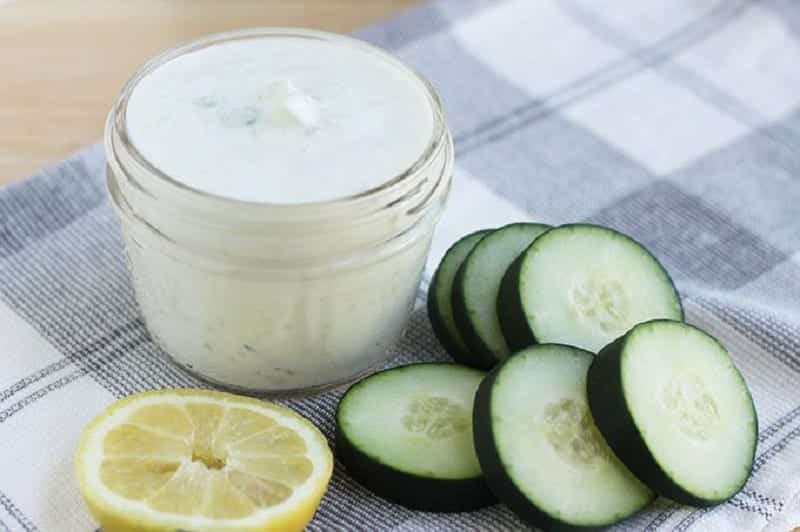 Cucumber Sauce
This is a refreshing sauce that adds richness to plain grilled fish or to fish baked simply with a little olive oil and lemon juice. Perfect for a summertime meal.
Ingredients
1 1/2

pounds

cucumbers

2 large, peeled, halved lengthwise, and seeded

Kosher or sea salt

1/4

cup

minced red onion

1

cup

sour cream

3

tablespoons

minced fresh chives

1

tablespoon

fresh lemon juice

or more to taste

Freshly ground black pepper
Instructions
Dice the cucumbers finely or grate them. Scrape them into a strainer or colander.

Sprinkle the cucumbers with 1 teaspoon salt, gently mix, and let them drain for 30 minutes.

Cover the minced onion in a small bowl and cover with cold water. Let it soak for 30 minutes.

Squeeze excess juices from the cucumbers with your hands and put them in a large bowl. Drain the onion and mix with the cucumbers.

Add the sour cream and chives to the cucumber/onion mix. Stir, and add the lemon juice. Season with black pepper.

Taste and adjust salt, lemon juice, and pepper as needed. Refrigerate for at least 1 hour before serving.