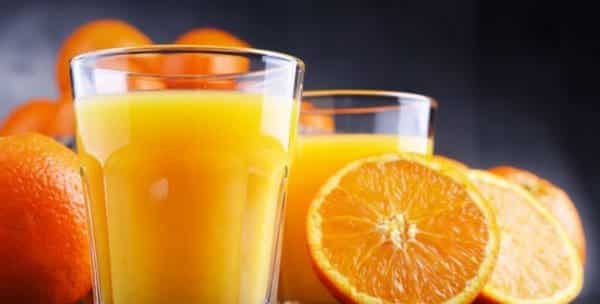 Simply Healthy Family may collect a share of sales or other compensation from the links on this page.
A recipe that you're cooking calls for orange juice, but you don't have any at hand. Or you're allergic to oranges, or to citrus in general. 
So what can you use instead of orange juice? It's going to depend on the role orange juice plays in your recipe. 
A recipe that needs acidity so as not to taste flat can easily take a lemon, lime, or pomegranate juice. There are other, surprising options for baking that we'll discuss below. 
If you need orange juice as the main flavor – say, in a sponge cake – reach for orange concentrate, orange extract, or lemon juice. Other fruit juices with a sweet/sharp flavor work well too, and you'll see more about them here. 
Or let's say you're cooking a chicken or meat recipe that calls for some orange juice. In these types of foods, orange juice is called for to bring fresh, zingy flavor to an otherwise heavy-tasting sauce.
There are many good alternatives in that case.
In baking: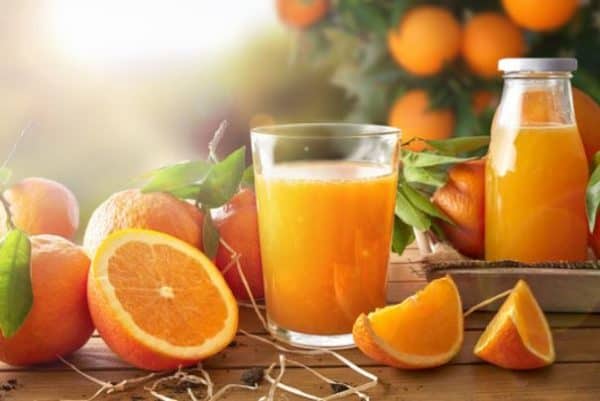 Bubbles of carbon dioxide in the batter are what make cakes to rise. To obtain that leavening and bake up that high, fluffy cake, you must provide an exact proportion of acidic and base ingredients. 
Baking requires more attention and exact measurements than cooking. There isn't much room for intuition in baking, although, with experience, you'll be able to judge what will work and can make suitable changes. 
So your batter calls for orange juice, which provides acid, but you must leave it out. Take one of the following suggestions.
Add lemon juice or vinegar to water or alternative kinds of milk like almond, soy, rice, and oat milk. This will help your cake batter to rise and produce a light cake.
Try orange juice concentrate diluted with water. Here's a handy chart showing how much water you need to dilute orange concentrate, per measurement.
Orange Juice Orange Concentrate Water
¼ cup               1 tablespoon               3 tablespoons
½ cup               2 tablespoons               1/3 cup
1 cup               ¼ cup                             ¾ cup
2 cups               ½ cup                             1 ½ cups
Orange extract It is made with water, alcohol, and oil from orange peels. Its flavor is stronger than fresh orange juice and contributes a fresh citrus taste. 
Combine the extract with some water to compensate for the volume of orange juice required in the recipe. If you're baking food that required acidity, like a tart or pie, add the juice of a quarter or half lemon too.
Orange zest This has a strong, true orange flavor. Again, you will need to add as much water as orange juice called for, to make a batter with the right consistency.
Tangerine juice You can substitute tangerine juice for orange juice, cup for cup. Naturally, the flavor will be different from orange juice. 
If the orange flavor is really not what you're looking for, there are other options. Here are some substitutes for orange juice that work well.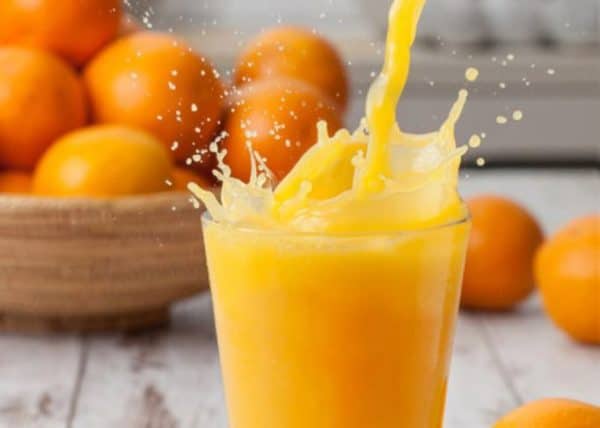 Lemonade not very strong. 
Meyer lemon juice Meyer lemons are sweeter than regular lemons. You'll still need to dilute the juice with water.
Try putting a tablespoon of lemon juice in a cup measurement and filling the cup with water. Some prefer using as much as half lemon juice and half water.
Sweetened red or pink grapefruit It's a little risky to substitute grapefruit juice for orange juice in baked goods, but if you like the flavor, go ahead. Grapefruits are somewhat bitter, so take that into consideration. You may want to substitute half grapefruit juice and half water.
If you're allergic to citrus fruits or have another reason for avoiding them, try one of the following juices instead:
Pineapple juice While not as sweet as orange juice, pineapple works well in baked goods. 
Grape juice Fresh, bottled, or diluted concentrate, grape juice is a surprisingly good swap for orange juice in baked goods.
Apple juice is an easy substitute for orange juice in baked goods. You may need to ramp up the acidity with a little lemon juice or citric acid.
Vegan buttermilk substitute Swap out for orange juice – combine 1 cup almond milk with 1 teaspoon of lemon juice or vinegar. 
Here's an interesting swap for orange juice: Coke This beverage makes cakes fluffy and cookies light. Keep in mind how sweet Coke is, so reduce the amount of sugar in your recipe. 
Another substitute for orange flavor in baking – or fruit salad – is orange flower water. You need only a few drops in any recipe for a lovely, floral aroma.
Orange flower water is available in ethnic stores, particularly Middle Eastern. A little goes a long way, and it lasts almost forever in the fridge.
The best way to know if you're going in the right direction is by adding the substitute a little at a time then tasting the batter.  This is true of all recipes where you're swapping ingredients, not only in baking.
In cooking: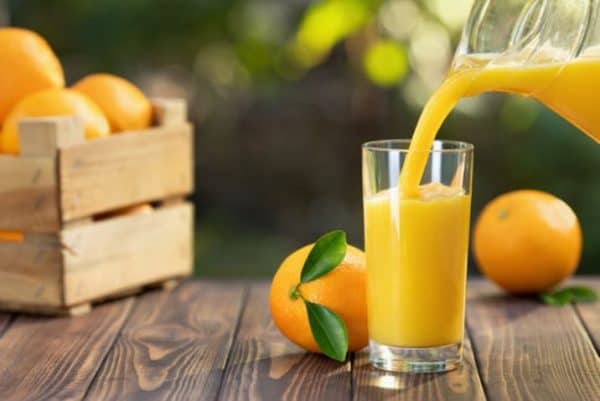 Citric acid Although its flavor can't be detected, a little bit of citric acid adds tang to cooked dishes like cooked fruit, vegetables, or meat stews. In baking, citric acid also helps heavy batters like banana bread to rise.
Lemon juice Small amounts of lemon juice brighten and freshen gravies and sauces. It's not sweet like orange juice, so you'll need to add it in small amounts and taste as you go along to check the flavor. 
Lime juice Use lime juice in small amounts, as with lemon juice. You may wish to sweeten it slightly; lemon juice too.
Vinegar Surprise! A half-teaspoon of good vinegar can really brighten up an otherwise heavy-tasting dish, especially slow-cooked stews. 
Pineapple juice combines with some cooked dishes as well as in baking. So does tangerine juice.
Orange peel can be used fresh, dried, or candied. Cut away the peel of a clean, healthy orange and add some of it to meat or poultry dishes. 
The essential oils of the orange are in the peel and taste strong, so don't use a whole orange peel at once; just a quarter or third of one. 
Take a tip from Asian home cooks and air-dry the peel of the orange for future stews. 
Tangerine peels can also be used dried. 
Candied orange peel contributes good, orangey, sweet/tart flavor to cooked dishes. You won't need much.
In cooking, as in baking, you can flavor a recipe with orange-flavored liquor like Grand Marnier. Other suitable liquors are Triple Sec, Kirsch or Cointreau.
Or try a tablespoon or two of Limoncello as a swap for orange juice in seasoning cooked foods.
Substitute tart fruit like plums and apricots for orange juice in cooked recipes. Tart berries like cranberries are good too. 
Pomegranate juice brings that sweet/tart flavor that some recipes call for. Another exotic fruit you can use for acidity and sweetness is guavas – if you like the strong flavor. 
If you have access to fresh kiwis, peel and slice some into a salad, to provide mild acidity. They also add a pretty color to salads.
White wine is good in recipes that call for only a little orange juice. Substitute it tablespoon for tablespoon. 
With cooking, wine's distinctive flavor becomes submerged in the flavors of the other ingredients, but its welcome acidity remains.
Buttermilk, sour cream, and plain white yogurt contribute mild acidity to cooked foods.  Of course, any of those will change your cooked dish entirely, but if you don't mind missing the citrus flavor, it can be very tasty. 
Orange essential oil is too powerful to use in cooking or baking unless it's guaranteed edible, food-grade, and pure. If you choose to use essential oil in your recipe, make sure it's organic and cold-pressed. 
One or two drops of orange essential oil will be plenty to flavor a cake or cooked dish. Note that orange essential oil is strong enough to be part of furniture polish and other cleaning materials, so go very easy with it, even if it's excellent quality.
Orange extract isn't only for baking. It's suitable for flavoring marinades and sauces, too. Try a drop in a salad dressing.
If you're out of orange juice and you're working with a marinade or sauce that requires it, try orange marmalade. Chop up a tablespoon or two, and mix it with the other marinade ingredients.
But you'll need to add vinegar or lemon juice to marmalade marinade, to balance out the sweetness. Start with a teaspoon, stir it in, taste the marinade, and go from there.
Vinegar is useful for acidity in cooked dishes. Use a good quality vinegar; apple cider or balsamic. Note that balsamic vinegar is dark and will color your dish. 
Use vinegar gently. Add only a teaspoon at a time to your dish, stir, and see if you want more. A quarter or half-teaspoon of added sugar will balance vinegar's sourness. 
If you have access to tamarind paste, mix it half-and-half with water. Add a little bit of sugar. This tamarind liquor is not recommended for baking but will contribute a good sweet/sour flavor to cooked dishes, especially curries and stews.