How To Store Grapefruit In Three Simple Ways
Simply Healthy Family may collect a share of sales or other compensation from the links on this page.
I know that grapefruit season is several months away. But if you happen to buy a dozen or so of the citrus fruit, how would you store it knowing that you can't consume all of them in one sitting?
There's no need to force yourself to eat all the grapefruits that you have bought. Or even give all the grapefruits to your neighbor. I will share with you several effective ways to extend the shelf life of this popular citrus fruit.
What is grapefruit?
Slices of Grapefruit on the plate, Grapefruit and a towel
Grapefruit comes from a subtropical citrus tree. It is known for having a semi-sweet and at times bitter flavor. Its color can range from yellow, white, pink and red. While grapefruits are generally available throughout the year, grapefruit season usually runs from November through June.
How nutritious is grapefruit?
Slices of Grapefruit and bottles of Grapefruit
Like most fruits such as watermelon, grapefruit is highly nutritious. Incorporating grapefruit in your diet can help you lose weight because it is low in calories. It can also lower risks of stroke and heart diseases.
Grapefruit, like other citrus fruits, is an excellent source of vitamin C. And this vitamin isn't just for preventing or treating coughs and colds, as it is also a very potent antioxidant.
It can also make you regular since grapefruit is rich in dietary fiber. Plus, it is good for the skin.
Refrigerating grapefruit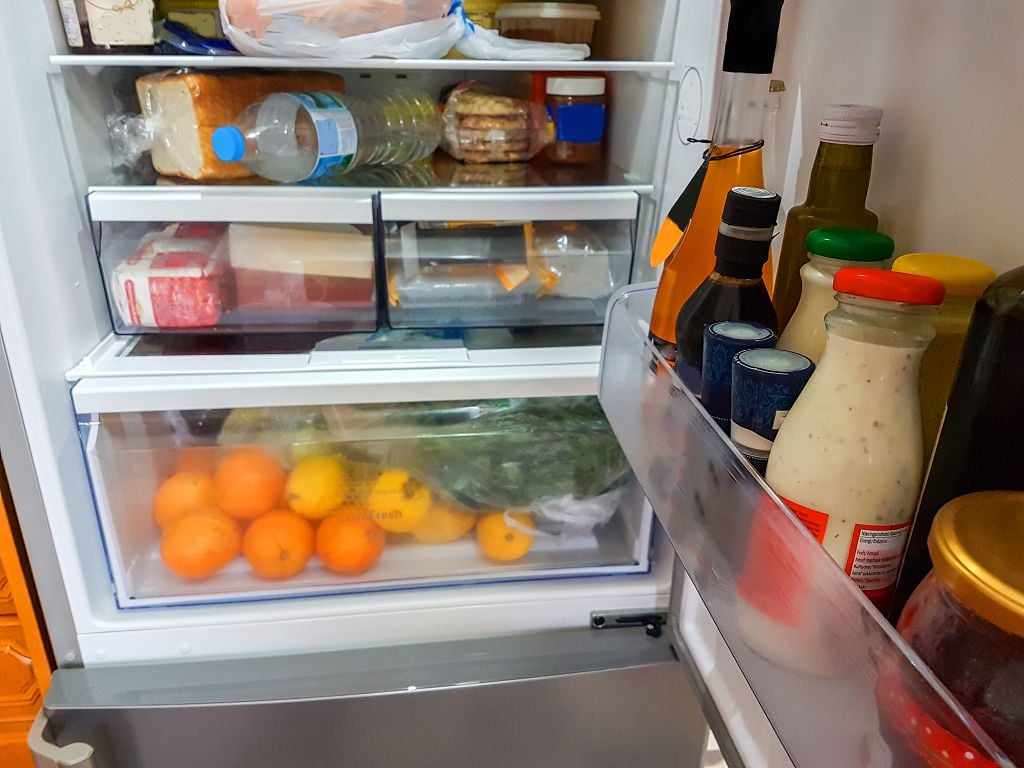 Refrigerating Grapefruit
As far as storage is concerned, you can refrigerate grapefruit for 2 weeks. I usually store grapefruit in the vegetable drawer.
Before refrigerating the fruit, wash it well. You can wash it under running water. Once the grapefruit is completely dry, wipe it with a clean paper towel. Avoid storing wet grapefruit as moisture could make bacteria thrive on it, spoiling it in the process.
You can then put the grapefruit right into the vegetable drawer. There is no need to keep it in a plastic bag or airtight container. Doing so would only hasten its spoilage. You may, however, keep them in mesh bags.
I suggest that you check grapefruits stored in the vegetable drawer regularly. Immediately use or consume those that are starting to get soft.
Freezing grapefruits
Slices of Grapefruits on the bowl and vegetables
If you are unsure when you will be using grapefruits, then it is best to freeze it. When frozen, grapefruits can be used up to 12 months.
But don't just put the fruit in the freezer. Peel it first and remove the white pith. This is the soft and spongy part of the fruit. You can then freeze the grapefruit in whole or cut it into sections.
Gather the sections and place it into a bowl. There's a possibility that some juice would come out. I recommend you drain it. After arranging the sections on a tray lined with wax paper and covering it with plastic wrap, place the tray in the freezer.
Storing it in a cabinet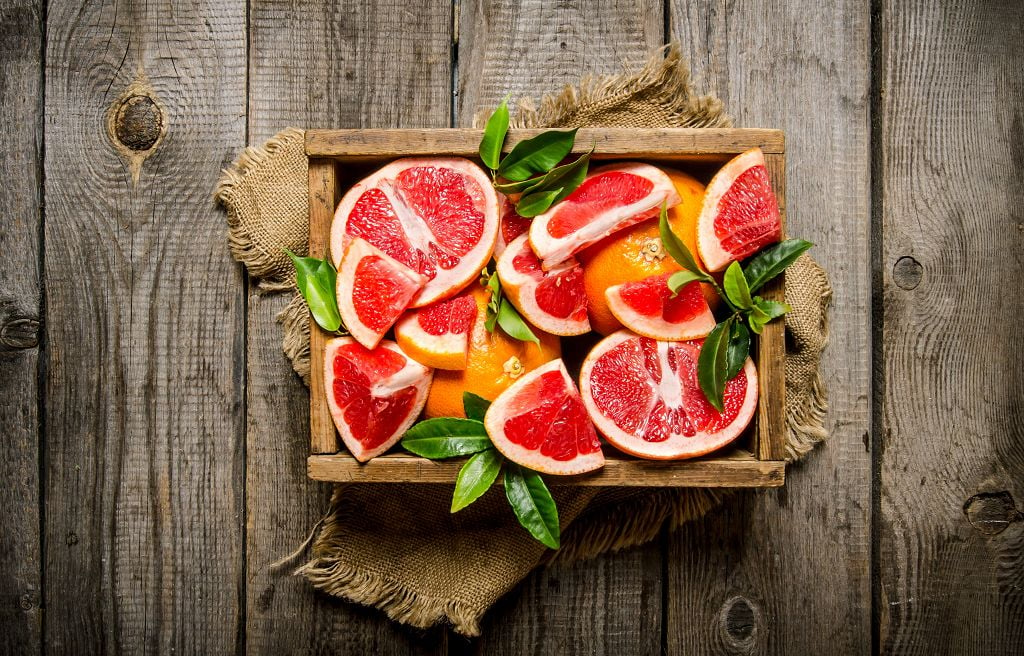 Slices of Grapefruits In A Cabinet
Grapefruit won't spoil easily when you leave it at room temperature. Thus if you plan to consume it in 2-3 days, it would not hurt to leave it in the pantry or cabinet. In fact, grapefruit is still safe to eat up to a week when left at room temperature.
You can simply place the grapefruit in a bowl, rack or even the chicken counter. Just arrange the fruits carefully, in a manner in which none of them will get bruised. I usually don't stack the fruits closely together as one of them could get crushed, affecting its taste in the process.
What to do with grapefruits?
But let's say that you have too many grapefruits and you no longer have room in the vegetable drawer or cabinet. What can you do with them?
You don't have to force yourself to eat all those grapefruits. There are plenty of recipes involving grapefruits that you can try.
For instance, you can bake your own grapefruit cake.
The recipe below can make 12 servings. It would take you around an hour or so to complete it, but I assure you that it would be worth the wait.
Ingredients
butter, eggs, white sugar, vanilla extract, grated grapefruit zest, cups of milk, cake flour, baking powder,salt, fresh grapefruit juice
Two-third cup of butter
Two eggs
2 cups of white sugar
One and a half teaspoon of vanilla extract
One teaspoon of grated grapefruit zest
Three-fourths cup of milk
Three cups of sifted cake flour
Two teaspoons of baking powder
Half teaspoon of salt
Half cup of fresh grapefruit juice
Tip: To get juice from grapefruit, cut the fruit half crosswise. Hold the fruit half in one hand and get a fork. Squeeze the fruit and then twist the fork around the inside so that more juice will come out easily.
Step by step guide
Grease and flour a couple of 9-inch pans.
Start by preheating the oven to about 350 degrees Fahrenheit.
Grease and flour a couple of 9-inch pans.
Sift the salt, baking powder and flour together. Set the mixture aside.
Cream together the sugar and butter in a large bowl or until it has turned light and fluffy
Cream together the sugar and butter in a large bowl or until it has turned light and fluffy. Beat in the eggs before you stir in vanilla and grapefruit zest. Then beat in the flour mixture alternately with the milk and grapefruit juice.
Pour the batter into the pans. Bake in the oven for 30 minutes.
Let the pan cool for 10 minutes before serving.
Now that you know how to store grapefruit, you should be able to buy a lot of it without fearing spoilage.
Any thoughts on this article? Let me hear it from you. Please write in the comments section below.