How to Make Perfect Fluffy Pancakes in a Rice Cooker
Simply Healthy Family may collect a share of sales or other compensation from the links on this page.
Pancakes have got to be one of the most versatile treats in the whole world. You can eat them for breakfast, for afternoon tea, or even a late-night snack. I don't think I even know anyone who doesn't like pancakes.
Actually, I don't like pancakes. I LOVE pancakes! They are my all-time favorite food. I also LOVE my rice cooker, so I figured that there has to be a way to combine my two passions. That's why I was determined to figure out how to make pancakes in a rice cooker.
Pancakes in a rice cooker? You probably think I'm crazy. After all, isn't a rice cooker for, well… cooking rice? Of course, it is! But rice is not the only thing a rice cooker can do. 
The rice cooker is probably the most misunderstood and under-estimated appliance in your kitchen. Because of its name, RICE cooker, so many people think that it is only for cooking rice. They are afraid to experiment with it and try to cook anything else in it.
I am not one of those nervous individuals. The adventurous spirit in me, cou[pled with my love for cooking, has encouraged me to play around and experiment with all my kitchen appliances.
My rice cooker has been a magical journey of discovery for me. I have learned how to make so many wonderful and interesting things in it, like how to make pancakes in a rice cooker, as well as many other dishes.
Are Pancakes In A Rice Cooker Like Regular Pancakes?
Most people know regular pancakes to be small, round and flattish, about 4 – 5 inches in diameter, and approximately ½ an inch thick. But pancakes cooked in the rice cooker are very different.
Think of it in terms of Bigger is better. When you cook pancakes in a rice cooker, you will get 1 giant pancake, almost the size and shape of a regular cake, but with the same taste, texture, and fluffiness of a pancake.
The type of pancake that you cook in a rice cooker is known as a Japanese Pancake. It is basically the same size in diameter as the pan of your rice cooker and will be about 2 – 3 inches thick.
Obviously, one person cannot eat it all. I like to cut it up into wedge-shaped slices, much like a regular cake. Each person gets a slice on a plate. Many people, of course, will hold out their empty plates and ask for seconds. That's how good it is!
Related Reading: How to Cook Barley in a Rice Cooker
Is It Difficult To Make Pancakes In A Rice Cooker?
Even though I adore pancakes, I never used to make them very often, because I didn't like to stand over the hot stove, flipping pancakes in a pan. It took too much time and required too much effort.
Making pancakes in a rice cooker is a completely different ballgame. Preparation takes only a few minutes, and as for the actual cooking, well, the rice cooker does all the work for you. While the pancake is cooking, you are free to go off and do something else.
A little further on in this article I will share my recipe with you. The ingredients are ordinary, everyday items that most people always have in their pantries. The actual preparation, assembling the ingredients, will not take more than 5 minutes. It couldn't get any easier.
Oh, no, actually that is not true. It can get easier, but Shhhh… I will whisper this part. If you really don't feel inclined to make any effort, you can even do this with a boxed pancake mix. It will work just as well.
How To Make Pancakes In A Rice Cooker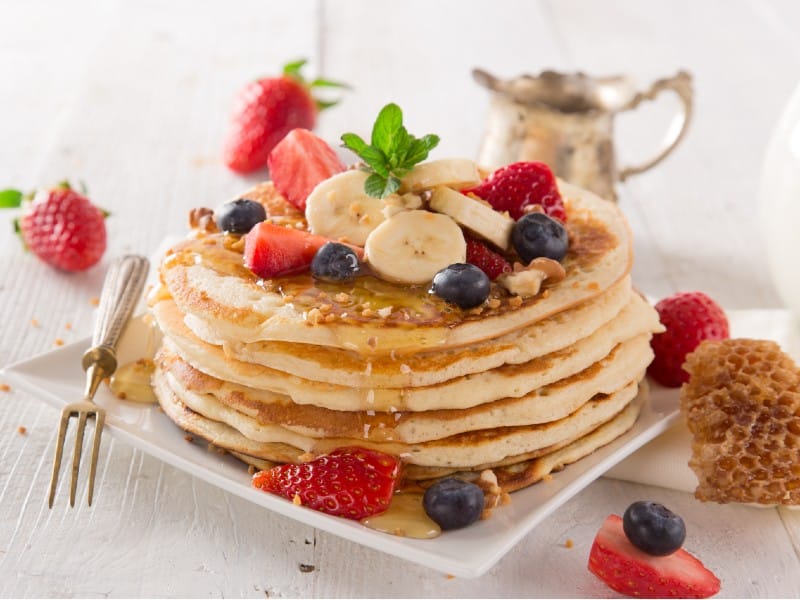 Pancakes In A Rice Cooker
Making pancakes in a rice cooker is a completely different ballgame. Preparation takes only a few minutes, and as for the actual cooking, well, the rice cooker does all the work for you.
Equipment
Rice cooker

Mixing bowl

Spatula

Wire whisk

Measuring cup

Jug

Measuring spoons
Ingredients
2

eggs

1 ½

cups

milk

2

cups

flour

¼

teaspoon

salt

2

tablespoons

sugar

2

tablespoons

sunflower or canola oil

3

teaspoons

baking powder.
Instructions
Spray the rice cooker pan lightly with non-stick cooking spray, or grease lightly with melted butter. This will help you to remove the pancake easily once it is cooked.

Place all the dry ingredients in a bowl, and mix them together.

Measure out the milk and pour it into a jug.

Add the eggs and oil to the milk, and whisk lightly.

Pour the liquid mixture onto the dry ingredients, and mix gently with a spatula. Take care not to overdo it, as heavy mixing will prevent the pancake from rising nicely.

Pour the batter into the pan of the rice cooker.

Many rice cookers have a 'Cake' setting. Select this setting. If your rice cooker does not have this, select Cook.

Cook for 45 minutes.

To test if the pancake is done, prick gently with a toothpick. It should come out clean. If not, continue cooking for another few minutes.

Using oven gloves so that you do not burn your hands, remove the pan from the rice cooker and invert it onto a plate. The pancake should plop out easily.

Top with your favorite toppings and serve piping hot.

Slice into wedges. Tuck in and enjoy.
Notes
You will also need a dab of butter or some non-stick spray to grease the pan of the rice cooker.
Black Bear Diner pancakes are another delicious recipe for pancakes that you could cook in a rice cooker. They'll come out a big fluffier than if you cook them on a pan, but they still keep the same great taste!
The Most Delectable Pancake Toppings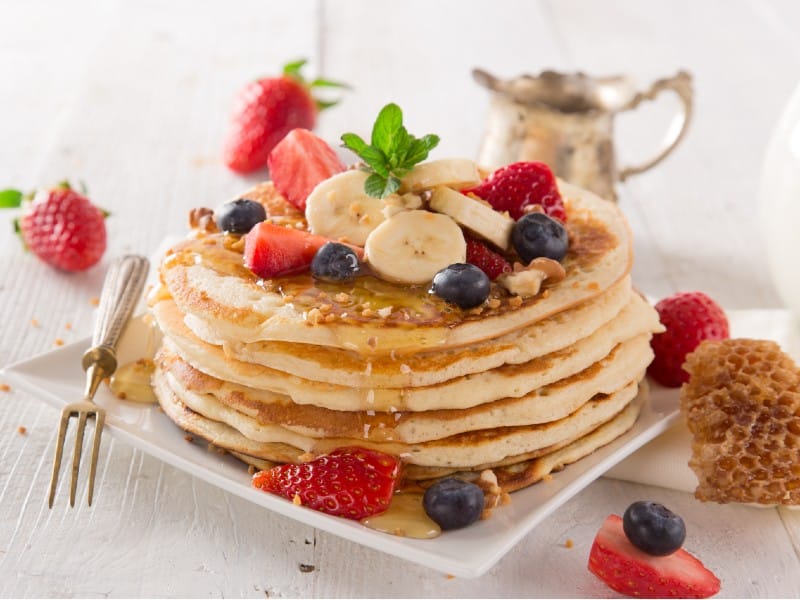 There are so many options for pancake toppings that the list is literally endless, but these are a few of my favorites:
Golden syrup or maple syrup drizzled over the pancake, with a huge dollop of fresh cream.

Cinnamon and sugar, sprinkled generously over the whole pancake.

Hazelnut-flavored chocolate spread warmed slightly and drizzled over the pancake.

Fresh berries with a dollop of whipped cream

Strawberry jam, or jelly, slightly warmed and spread over the pancake, topped with whipped cream.
After all this, my mouth is watering, and it's nearly tea-time, so I am off to the kitchen to make pancakes in a rice cooker. Yum!
You May Also Like: Cook Lentils in a Rice Cooker
[eh_optimize_youtube_embed video="https://www.youtube.com/watch?v=QvRwXLb3bUE" banner="https://www.simplyhealthyfamily.org/wp-content/uploads/2021/07/AdobeStock_265273833-1.jpg"]