Rattlesnake pasta has a very interesting and enticing name, doesn't it? Although it may be called rattlesnake pasta, there isn't a rattlesnake to be seen in the recipe, which will probably make you all sigh a sigh of relief. 
This pasta dish is creamy and bursting with flavors. It contains garlic two ways, peppers, onions, and chicken; certainly not your regular boring pasta dish that is for sure. Use your freshest garlic for this recipe! If your garlic has gone bad or is even just too old, the pasta won't be as delicious.
You could call rattlesnake pasta creamy alfredo pasta if you prefer, as it is essentially chicken alfredo; however, I'm going to stick to rattlesnake pasta as it sounds more fun. Follow the instructions in this article if you want to recreate my rattlesnake pasta dish. Have fun!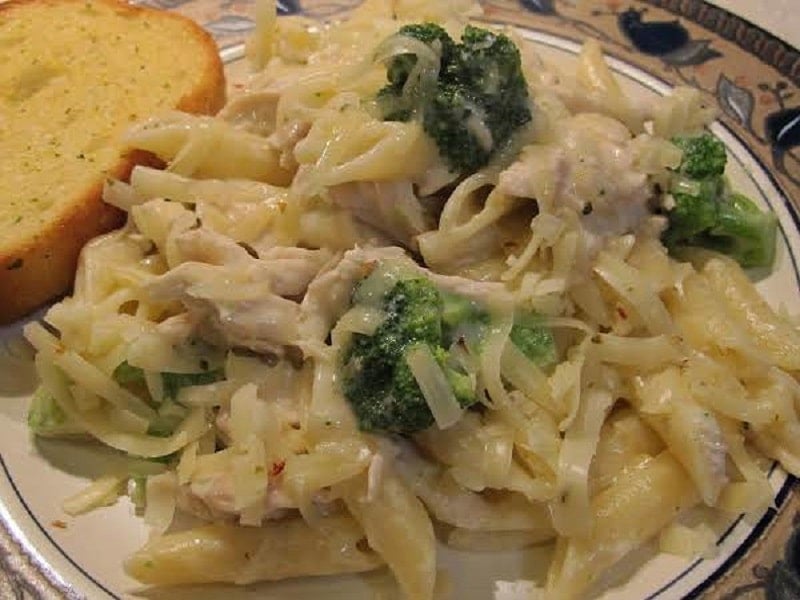 Rattlesnake Pasta
This pasta dish is creamy and bursting with flavors. It contains garlic two ways, peppers, onions, and chicken; certainly not your regular boring pasta dish that is for sure. 
Ingredients
For the Chicken
16

oz.

boneless skinless chicken breast

cut into cubes

1½

tsp

Cajun seasoning

1

Tbsp

unsalted butter
For the Sauce
4

Tbsp

unsalted butter

1

Tbsp

olive oil

1

red bell pepper sliced into strips

1

green bell pepper sliced into strips

½

large red onion sliced into strips

1½

tsp

minced garlic

1

tsp

Cajun seasoning

½

cup

all-purpose flour

2

cups

low-sodium chicken stock

¾

cup

whole milk

1

head 10-12 clove roasted garlic

chopped

½

tsp

salt

½

tsp

black pepper

1

cup

grated Parmesan cheese

¾

cup

heavy cream

Green onions chopped
Instructions
Step 1: Cook The Pasta
Cook the pasta as you usually would, but do so for less than two minutes than the packet instructs. This is because you are going to cook the pasta in the sauce with all of the other ingredients at the end. Make sure you drain the pasta and set it aside, ready for later.
Step 2: Chop and Season the Chicken
Chop the chicken into small cubes and toss them in the Cajun seasoning. Make sure that the chicken is well coated in seasoning without any lumps.
Step 3: Cook the Chicken
Using a wok or a large skillet, melt two cubes of butter over high heat. Once the butter has melted, add the chicken and cook for approximately eight minutes. Once the chicken is fully cooked, remove it from the wok and put it to one side.
Step 4: Fry the Peppers, Garlic, and Onions
Add two tablespoons of olive oil and two cubes of butter to the pan or wok, and add the peppers, onions, garlic, and Cajun seasoning (for the sauce). Do this in the same pan as the chicken so that all of the flavors melt together. Fry them off for up to five minutes, or until you notice the onion becoming transparent and soft.
Step 5: Add Flour
Remove the vegetables from the wok and melt the remaining butter in the same pan. Once the butter has melted, add the flour and keep stirring the mixture for about three minutes. Do not forget to keep stirring, as the flour will burn if you fail to do so.
Step 6: Add the Chicken Stock, Milk, Chopped Roasted Garlic, Salt, and Pepper
Now it is time to add the chicken stock, milk, roasted garlic, and seasoning to the butter and flour mixture. Cook until the mixture simmers.
Step 7: Add the Cheese and Heavy Cream
Once the sauce is simmering but not boiling, you can add the cheese and heavy cream. Make sure you stir the sauce well to prevent lumps and burnt cheese.
Step 8: Cook all of the Ingredients Together For a Few Minutes
This is the fun part! Add the cooked chicken, vegetables, and pasta to the sauce and cook them all together for a further two or three minutes. Doing this will bring all of the flavors together and marry the ingredients beautifully.
Step 9: Serve
You can garnish the dish with chopped spring onions, or you can grate some more parmesan cheese on top and enjoy!
Rattlesnake Pasta Tips & Ideas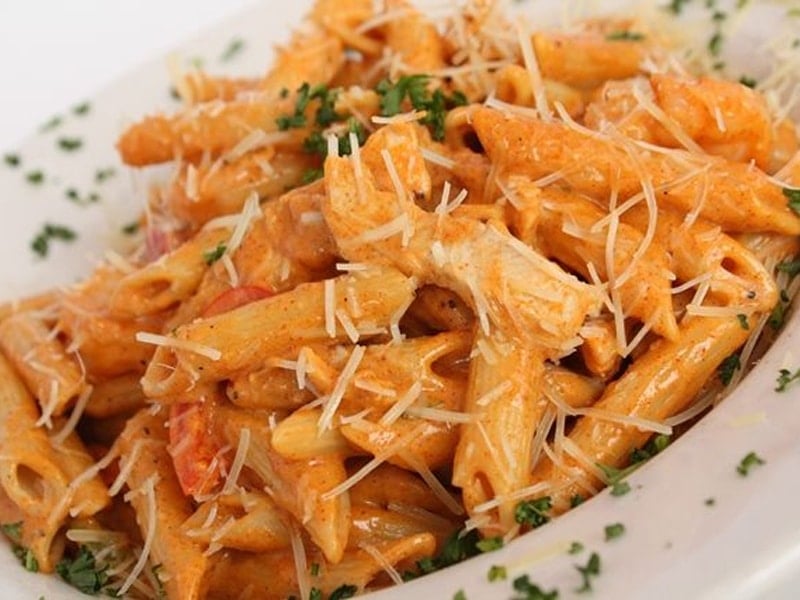 You might have mastered this recipe and feel like you want to mix it up a bit by revamping the recipe. Well, guess what? You can! Whether you want to change how you present it or swap and change ingredients, these suggestions will give you some inspiration. 
Alternative Ingredients 
Prawns 
Chicken can get a little boring. Maybe that is because it can be incorporated into almost any dish, but nonetheless, it is fun to change up the protein element of your meal now and then. Prawns and creamy cheese sauce are a match made in heaven. Pair that with garlic and veggie slices, and you have yourself a winning dish!
Note: You can follow the recipe in this post as usual and simply swap out the chicken for prawns. 
Squash and Potatoes 
Butternut squash and potatoes are great with almost anything. These veggies are great in this recipe during winter, and you can even leave out the chicken altogether if you don't want to have lots of components in the dish. 
Jalapeños
If you like jalapeños, then you will agree with me that they go with almost anything. Rattlesnake pasta is no exception!  
Side Dish Ideas 
I love rattlesnake pasta on its own because it has everything you need all in one dish. It has chicken, vegetables, cheese, and anything else you want to add to the sauce already, but if you plan on serving it to friends and family, you will want to make some side dishes. Here are some suggestions for you:
Leafy Green Salad 
Adding a side of leafy greens with a tangy vinaigrette sauce keeps the dish light and refreshing. The best part about this side dish is that it takes less than five minutes to throw together!
Fries 
French fries are my number one favorite side dish of all time. This might be because they are devoured in minutes any time I make some, so I never feel like food has gone to waste. You can make your own fries at home very easily by deep-frying sliced sweet potato and potatoes, or you can purchase frozen fries and oven bake or air fry them.  
Roasted Vegetables
Roasted vegetables are another brilliant side dish with rattlesnake pasta. It doesn't really matter what veggies you decide to make as everything goes well with this dish, so make something else every time! 
Presentation
Ok, so it is super hard to present pasta in new and interesting ways, I have to admit. I actually like turning this dish into a pasta bake when I am feeling like something extra indulgent. 
All you need to do is to change what you do ever so slightly during the eighth step of the instructions. Instead of throwing all of the ingredients into a wok, put them into an oven-safe baking dish or individual dishes, cover them with cheese, and bake in the oven on high heat for four minutes. 
What do you think of this recipe? I would love to know how you got on with it! Please share your personal tips and suggestions in the comments section below.