Simply Healthy Family may collect a share of sales or other compensation from the links on this page.
Hennessy punch, also known as Hennessy sunset punch is an alcoholic beverage with caramel tones that are perfect for your summer barbeque get-togethers. Cocktail and punch making at home sounds far more complicated than it is. In order to get your beverage just right, you will need to follow a reliable recipe and detailed method. 
Here is the hub of all-things Hennessy punch. From a bit about its background to the best at-home recipes, this is the place to look if you want to learn about the delicious drink. Enjoy! 
Hennessy Punch Ingredients:

 
Let's get stuck into making Hennessy punch. Gather the ingredients in this list if you want to make punch like the professionals. 
350 ml Hennessy Very Special

500 ml Of Water

150 ml Gin

60 ml Of Grand Marnier

2 cups of simple syrup or 3 cups of sugar

260 ml Of lemon juice

120 ml Of Hibiscus Grenadine

1 Grapefruit cut into ½ wheels

1 Orange sliced into wheels

2 Lemons Cut into Wheels

2 Limes Cut into Wheels

20 Dashes Orange bitters (or other citrus bitters)
Note: You might want to invest in a punch bowl or large carafe for your punch. I always find that the punch tastes better when it is stored in something beautiful as it certainly will make your guests drink it faster, that is for sure. 
Method:
The most complicated part of this recipe is the preparation. Getting your punch spot on is more than just getting the flavors right. You want the punch to look beautiful and appealing, but you also want the bowl or jug to be big enough for the amount you are making. 
There isn't much room for error when it comes to making this punch recipe. You can even make it after you have had a few drinks yourself; it is that easy! 
Combine all of the ingredients in a bowl.

 

Stir the punch thoroughly so that all of the sugars dissolve properly. In order to get the best flavor combination, leave the flavors to combine for an hour or so and stir regularly before serving.

 

Add ice to the punch bowl and serve. If you don't think that you and your guests will drink all of the punch, then it is best to put ice into each cup rather than into the bowl so that the remaining drink isn't diluted with water once the ice has melted.

 
Alternative Hennessy Punch Recipe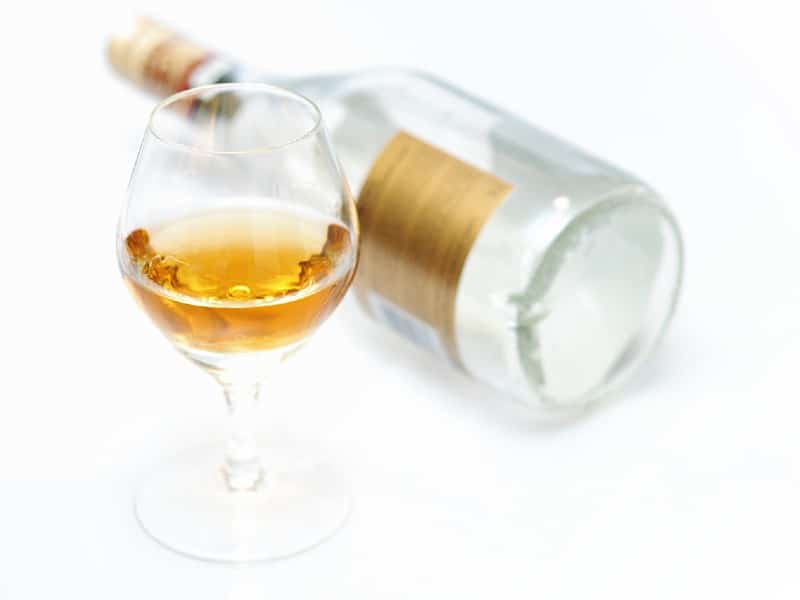 There are many modern Hennessy punch recipes with a twist that you can try, and one of my favorite takes on Hennessy punch is this strawberry Hennessy punch recipe. 
I always opt for this punch recipe if I am making up individual glasses rather than catering for several guests. Follow the recipe below if you want to give this cheeky glass of punch a go.
Ingredients:
Strawberry slices

 

Lemon slices

 

Sparkling white wine

 

Strawberry syrup (you can make your own, or you can use shop-bought syrup)
Method:
If you want to make the strawberry syrup yourself, you should slice strawberries and add them to a pan with water and sugar and bring to boil. Once the mixture has begun to bubble, you will need to turn the heat down for 15 minutes and leave it to simmer. Blend the syrup thoroughly once it is cooked. 
1.Prepare Your Glass

 
A well-chilled cocktail glass filled with ice is perfect for this drink. You will want the drink to be as cold as possible in order to make the drink refreshing and light. 
2. Pour in a Shot of Hennessy Cognac

 
Don't overdo it with Hennessy! Hennessy Cognac can really overpower your punch, so keep the amount you add to the drink to a minimum and refrain from adding more than a shot glass worth. 
3. Add Two Teaspoons of Syrup

 
If your homemade syrup isn't very sweet, then you can add more than two teaspoons of syrup to your drink. The shop-bought syrup is far sweeter than homemade syrup, so feel free to add less than the recommended amount in the recipe if you don't want your drink to be overly sweet. 
4. Fill the Glass up with Sparkling Wine

 
Pour your favorite sparkling wine into the glass. Champagne is particularly indulgent and compliments the flavors beautifully, but you can use sparkling wine or prosecco if you prefer. 
5. Add Strawberry Slices and a Slice of Lemon
Add as many strawberry slices to the mixture as you like. Once you finish your drink, the strawberries are bursting with Hennessy flavors, and I love eating them after I finish my glass. 
History of Hennessy Cognac

 
Hennessy Cognac is made in Cognac, France. Although this is a French beverage, the Hennessy cognac distillery was founded by an Irishman called Richard Hennessy in 1765. Richard Hennessy was an Irish soldier that served in the army of Louis XV. 
What is Hennessy Cognac Made From?
There are many rules and regulations regarding alcoholic drinks and their names. For example, Champagne can only be called Champagne if it is made within a 100-mile radius of Paris. On the other hand, Cognac can only be named Cognac if it is made using grapes grown in the Charente region of France. 
The grapes used to make Hennessy Cognac are left to ferment for about three weeks in order to get them to a satisfactory alcohol percentage. The wine is distilled multiple times and goes through a long aging process to get the mixture to its end result. 
What is your favorite Hennessy punch recipe? There are many variations on the traditional punch recipe that choosing what to make for your guests can be hard. I hope that the individual strawberry punch recipe and large Hennessy punch bowl recipe helped give you an idea of how you can enjoy punch for every occasion. Please feel free to share your Hennessy punch suggestions in the comments section below!