Simply Healthy Family may collect a share of sales or other compensation from the links on this page.
The rice cooker is truly a wonder of the modern kitchen. It has undoubtedly become one of my favorite and most frequently used appliances. And since learning how to cook chicken in a rice cooker, I have been using it even more.
The great thing about a rice cooker is that it is not only a wonder of the modern kitchen, but this incredible invention can actually become a mini kitchen in and of itself.
If you find yourself in a situation where you do not have access to a kitchen and all you have is a rice cooker, you can still turn out a full home-cooked meal that is well-balanced and nourishing, and utterly delicious at the same time.
A rice cooker is probably one of the best gifts to give to a student going off to college. The name Rice Cooker sounds so limiting, but it is really not an accurate name for this magical little piece of equipment.
Because of its name, you could be forgiven for thinking that a Rice Cooker is only for cooking rice. Nothing could be further from the truth. You can use this gadget to cook rice – naturally! – and pasta, vegetables, fish, meat, and even chicken.
What Does Chicken Look Like When Cooked In A Rice Cooker?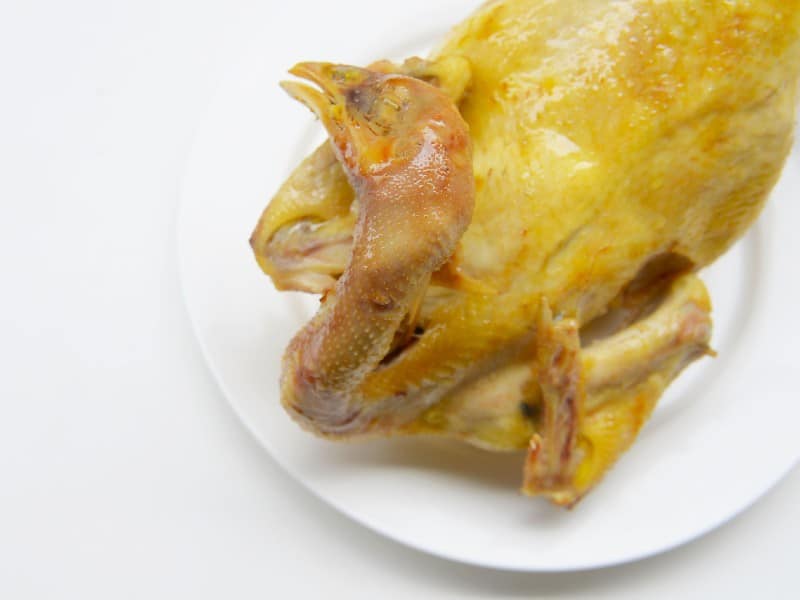 The only problem with chicken that is cooked in a rice cooker, is that it looks somewhat pale. I love my chicken to have a golden brown glow. It makes it look so much more appetizing and appealing.
If you want your chicken to be nicely browned, there are ways to improve its appearance. Towards the end of this article, I will share my special tip with you to get the best-looking chicken out of your rice cooker. 
Can You Cook A Whole Chicken In A Rice Cooker?
The answer to this question really depends on two things: the size of the chicken, and the size of the rice cooker. But generally speaking, the answer is yes. You can definitely cook a whole chicken in a rice cooker, and I will give you an easy and delicious recipe for one.
Most of the readily available rice cookers can accommodate an average-sized whole chicken. If your chicken is exceptionally large, you may have to cut off the drumsticks and cook them separately.
Are Chicken Portions Suitable For Cooking In A Rice Cooker?
If you do not need a whole chicken, it is convenient and easy to cook a few chicken portions in your rice cooker. Towards the end of this article, you will find my favorite recipe for chicken portions in a mouth-watering sauce, cooked in the rice cooker.
How To Cook Chicken In A Rice Cooker
As promised, I have two recipes to share with you, both ridiculously simple and easy, and each one so yummy that you will have difficulty deciding which one to use. 
Let's start with the recipe for cooking a whole chicken in a rice cooker. When I go shopping for raw chicken, I usually look for a chicken that weighs between 3 – 4 pounds.
I prefer to buy fresh chicken, rather than frozen, and I always buy my chicken from a reputable butcher. I know that it sometimes costs a little more than a supermarket chicken, but this way I am assured that the chicken is completely fresh, and it has been properly cleaned.
INGREDIENTS
One medium-sized fresh chicken

1 teaspoon sweet paprika

1 teaspoon barbecue chicken spice

½ a teaspoon powdered garlic

1 teaspoon dried rosemary

1 teaspoon dried parsley

1 lemon cut into wedges

3 – 4 cloves of fresh garlic

Salt and freshly ground black pepper

¼ cup of water
METHOD
Mix the herbs and spices together in a cup.

Rub this mixture into the chicken, coating it thoroughly all over.

Try to lift the skin and insert some of the spice mixtures under the skin of the chicken.

Place the lemon wedges and garlic cloves inside the chicken's cavity.

Pour the water into the rice cooker.

Place the chicken in the rice cooker and select the regular rice setting. 

This setting usually takes 30 minutes. When it stops, set it for another 30 minutes. 
The chicken should now be cooked through. If it is a particularly large chicken, you may need to do one more 30 minute round.
How To Cook Chicken Portions In A Rice Cooker
This recipe is fantastic because you can cook your rice together with the chicken, making it a one-pot meal. A scrumptious family dinner, with minimal effort.
INGREDIENTS
4-6 chicken portions. I like to use thighs and drumsticks for this recipe.

¼ cup soya sauce

3 tablespoons honey

2 tablespoons apple cider vinegar

½ teaspoon garlic powder

½ teaspoon ground ginger

½  cup chicken stock

2 cups rice

1 cup of water
METHOD
Mix all the ingredients together, except for the chicken, the rice, and the water. 

Place the chicken in a dish and pour the sauce over it.

Leave it to stand for 15-20 minutes. (This can also be prepared in advance and left to marinate in the fridge overnight.)

Wash the rice and place it in the rice cooker.

Pour a cup of water over the rice.

Arrange the chicken pieces on top of the rice.

Pour the remains of the sauce over the chicken.

Cook for 30-40 minutes.
The chicken should be tender and succulent, and the rice perfectly fluffy. 
How To Get Golden Brown Chicken
As all great chefs know, the taste of the food that they prepare is only a small part of the overall success of the dish. The appearance and presentation of our culinary delights can make all the difference. 
A certain dish may taste spectacular, but if it looks plain and uninteresting, no one will enjoy eating it. A good cook should always remember that what comes out, depends entirely on what goes in.
Because the rice cooker essentially cooks by steaming, it is not possible to brown the chicken in the rice cooker. When you put the raw chicken into the rice cooker, it is going to emerge with that same pale, insipid color.
However, there is a simple way around this problem, and it only takes a few minutes extra. Earlier in this article, I promised you a tip for the most appetizing-looking chicken. 
As long as you don't mind one extra pan to wash, your chicken can both taste sensational, and look like a gourmet dish should look – a veritable feast for the eyes!
The trick is to brown the chicken first, before placing it in the rice cooker. For a whole chicken, heat a few drops of oil in a skillet on the stove. Place the whole chicken in the skillet, breast side up.
After 2-3 minutes, turn it over and leave for another for 2 – 3 minutes. The skin should now be nicely browned, and you can proceed with the rest of the steps.
For the chicken portion recipe, do the same thing. Brown the pieces in a skillet on the stove for a couple of minutes, before putting them into the marinating sauce. Then proceed with the rest of the recipe's steps.
When the chicken is cooked, and you remove it from the rice cooker, it will still have that lovely golden brown glow. If you serve this chicken to guests, they will have a hard time believing that it was cooked in a rice cooker.