How to Cook Frozen Crab Cakes?
Simply Healthy Family may collect a share of sales or other compensation from the links on this page.
Crab Cakes are everyone's favorite. Who doesn't love them? The fresh sweetness, flaky texture, and slightly crisp goodness are only achieved when you prepare them with the fresh crabmeat. Another alternative would be prepared and frozen crab cakes. Since they are typically flash-frozen in their freshest state they can be used with the same level and consistency and be turned into some amazing dishes. If you properly reheat the crabcakes, either in a pan or on the stove, you can be assured to get some good quality crab cakes that taste as good as the fresh ones.
The essence of preparing them is not limited either. There are several ways of preparing crab cakes. You can choose whether you want to saute them on a pan or bake them to your liking in the oven or deep fry them for that perfect crispy adventure. With the methods given below, you can choose how to deliver those perfect little crab cakes.
So how does one begin to Cook Frozen Crab Cakes? If you are just a starter cook then it is best to go with the sauteing option. Sautéing crab cakes is the easiest of the three methods.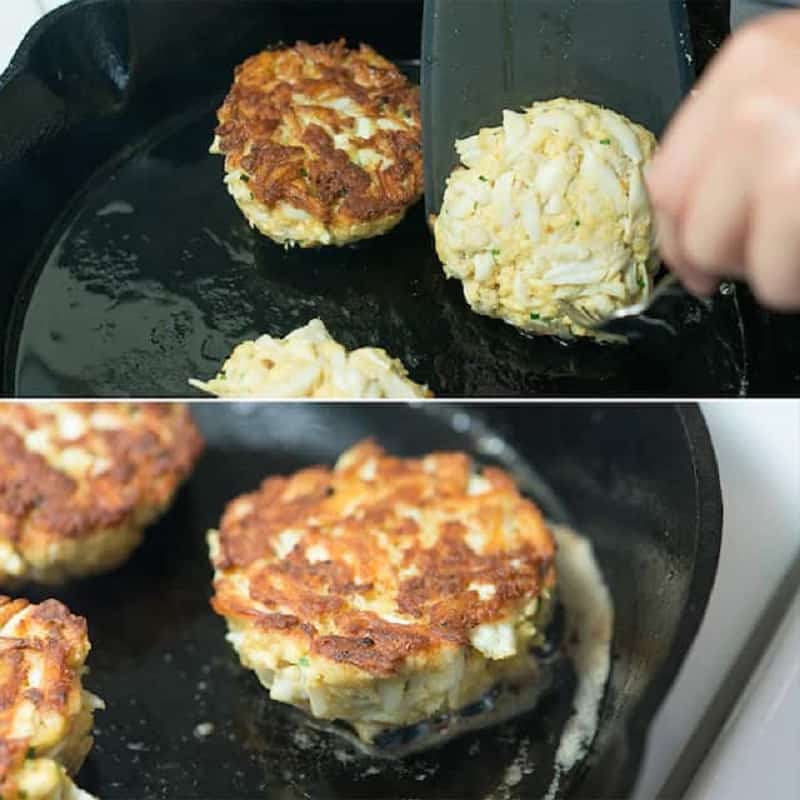 One of the most common methods used to cook frozen crab cakes, sautéing requires less oil than deep-frying. This method requires less oil which makes it a healthier option. Also, you will end up with crispier crab cakes compared to the baked ones. To begin with, get your ingredients ready.
Ingredients:
Frozen crab cakes
A nonstick skillet or pan
Vegetable oil or butter
Digital thermometer to measure the temperature
Napkins
Plate
Preparation:
Place a few tablespoons of vegetable oil or butter in a nonstick pan for 2 to 3 ounces of crab cake and turn the temperature to medium-high.
Place the crab cakes in the pan. Do this, one at a time. Leave some space between the crabcakes so that they do not stick to each other.
Sear them on one side for about 3 minutes. Once you are done turn them over and sear them on the other side only for a minute and not more.
Slowly turn the heat down to medium.
Cook for around another 2 minutes on either side.
Once they have turned a perfect golden brown, check their internal temperature with the digital thermometer.
When the temperature is around 165 degrees you will know that they have been sautéed and cooked thoroughly.
When baked, take the crab cake out of the pan and put it on a plate lined with a paper towel. Gently pat the top of the cake with a paper towel. The towel is going to soak the extra oil.
Tip: Crab Cakes come in various thicknesses. Once you take them out of the freezer you will need to check the size and thickness as this determines how long it will take to cook. Ideally, it should take 6 to 8 minutes to get cooked properly. If you want you can defrost them in the refrigerator before sautéing. Then this will take only 3 to 4 minutes to cook. If you do fry defrosted crab cakes, be careful when flipping them as they are prone to crumble.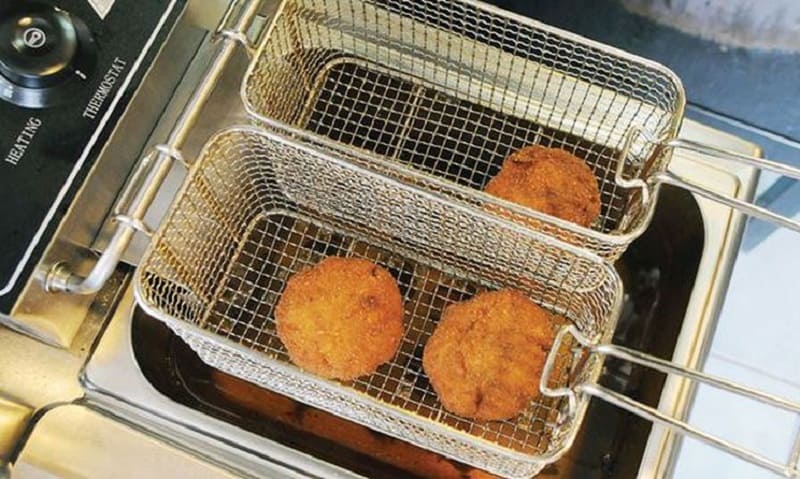 If you are not that health-conscious or healthy enough to indulge then you can go for the deep-frying option. So follow this method to deep fry frozen crab cakes.
Ingredients:
Frozen crab cakes
Heavy-bottomed pan
Slotted spoon
Spatula
Napkin
Wide plate or platter
Digital thermometer
Preparation:
Place a heavy-bottomed pan over medium heat.
Add cooking oil till about 1⁄2 inch.
Check the temperature and keep it at 350-375 degrees F.
Once you get the crab cakes, use a slotted spoon, and carefully lower each cake into the pan.
Cook crab cakes on either side for about 2 minutes.
Tip it over using the spatula.
Once they are deep-fried, the crab cakes can float on top of the liquid.
Use the digital thermometer to check the internal temperature which should be 165 degrees.
Gently place them on a plate lined with a paper towel. Also, pat them on the top with another napkin to extract the extra grease. They are now ready to serve.
Tip: For deep-frying, always use frozen crab cakes instead of thawed ones to keep the shape intact.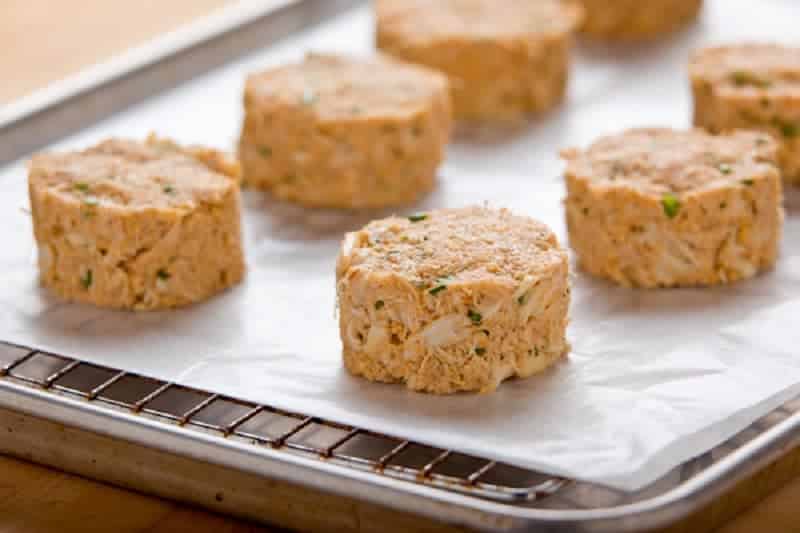 If you like to take your time and want to use minimal effort, then baking is the ideal method for you.
See Related Article: How to Reheat Chicken Pot Pie?
Ingredients:
Frozen crab cakes
A baking sheet
Melted butter
Digital thermometer
A basting Brush
Preparation:
Thaw the crab cakes for a minimum of 3 hours before baking them, as this will significantly reduce the cooking time.
Preheat the oven to 375 degrees.
Take some melted butter and lightly grease a baking tray.
Place the thawed crab cake on the baking sheet.
Lightly brush the top of each cake with some melted butter.
Place the baking sheet in your oven on the middle rack.
Check for the crab cakes baking until they are golden brown and heated through.
If you like your crab cakes crispier, broil them for a minute or two after baking them.
While these are some simple crab cake recipes, they can definitely add to your cuisine in more ways than one. Often considered a delicacy these simple crab cakes are easy to make and even more luxurious to eat. Whether you want to serve them as appetizers or include them with some colorful, crunchy salad or even some garlic bread for a meal, these crab cakes are versatile and tasty.
With just enough seasoning and enough resting period, you should be able to get the perfect recipe for celebration. Just make sure to rest them for 30 minutes or some hours as this helps to make them firm and closes in all the flavors.
Wife, Mom of 4 and so much more living in the Sonoran desert. I am passionate about making meals and snacks healthier without sacrificing flavor! I promise you that if you buy healthy foods and make healthy foods, YOUR KIDS WILL EAT HEALTHY FOODS! My motto: Live as naturally as you want to feel.