Copper Chef vs. Red Copper: Which Is The Better Cookware 2023?
Simply Healthy Family may collect a share of sales or other compensation from the links on this page.
I don't know if experienced chefs would agree with me, but I have always thought that having the right kitchen tools is one of the key ingredients to kitchen success.
Simply put, having the right utensils can make or break your cooking. For instance, having non-stick cookware can help you come out with great tasting meals.
Now I am sure you've seen those commercials on Copper Chef pan and Red Copper. Those well-made TV ads may have had such an effect on you that you're now contemplating on buying either non-stick cookware.
But you may be wondering: What's the difference between Copper Chef and Red Copper? Are they the same? And what's the better pick?
What is Red Copper Pan?
Red Copper Pan is a strong yet lightweight ceramic copper pan. It integrates copper with non-stick ceramic.
This is the kind of cookware you would want to have if you are tired of peeling or chipping your food.
Endorsed by author Cathy Mitchell, the Red Copper Pan has a measure of 5.8 inches in length, 9.5 inches width and 1.6 inches deep. It weighs about 1.4 pounds.
You can use it for cooking at temperatures of up to 500 degrees. From caramelizing sugar to baking chicken Parmesan to mixing eggs in the pan, you can do a lot of things with the Red Copper Pan.
Some Best Red Copper Pans Are Available In Market​
IMAGE
PRODUCT
EDITOR'S CHOICE
1. Red Copper 10pc Ceramic Cookware Set by Bulbhead

Tough-grade copper-infused ceramic cookware set
Non-stick and scratch-resistant cooking surface
Oven safe up to 500-degrees Fahrenheit
PFOA and PFTE free for your safety

Check Price
RUNNER UP
2. BulbHead Red Copper Non-Stick Square Ceramic 5 piece Cookware Set

Copper-infused ceramic cookware has nonstick and scratch-resistant cooking surface
Oven safe up to 500-degrees Fahrenheit, PFOA & PFTE-Free
10-inch square pan has helper handle and cooks 8 different ways: broil, bake, sauté, fry, steam, braise, deep fry, and roast
4-inch high sides prevent splatters

Check Price
3. Red Copper 12 Inch Pan By BulbHead Ceramic Copper

Copper-infused fry pan includes a high-heat-resistant, PFOA and PTFE-free, scratch-resistant ceramic coating that will not peel, chip, or flake
Naturally Non-Stick Ceramic Surface Allows You Fry Up Your Favorite Breakfast Meats, Eggs, Veggies, And More Without Oils, Sprays, Or Butter
Aluminum cooking rings ensure even heat for no hot spots

Check Price
What is Copper Chef?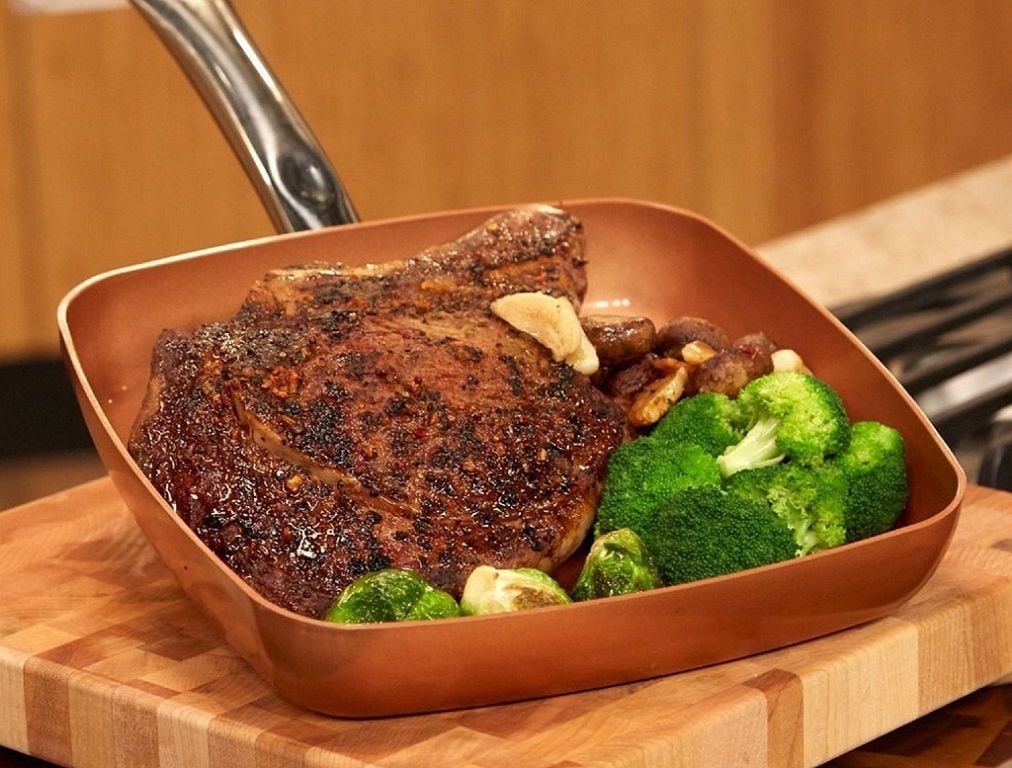 Copper Chef is a 6-in-1 non-stick coating pan. It works as a baking dish, a wok, a stockpot, a steamer, a roasting pan, and a rice cooker.
It's a definite workhorse in the kitchen that is endorsed by chef Eric Theiss.
Its copper infused coating is heat resistant up to 850 degrees. You can use this on a stovetop and in an oven.
It also features induction plate channels that can heat up in instant and riveted handles and helper handle that makes it easy to move around.
Some Best Copper Chef Pans Are Available In Market​
| # | Images |
| --- | --- |
| 1 | |
| 2 | |
| 3 | |
Wife, Mom of 4 and so much more living in the Sonoran desert. I am passionate about making meals and snacks healthier without sacrificing flavor! I promise you that if you buy healthy foods and make healthy foods, YOUR KIDS WILL EAT HEALTHY FOODS! My motto: Live as naturally as you want to feel.