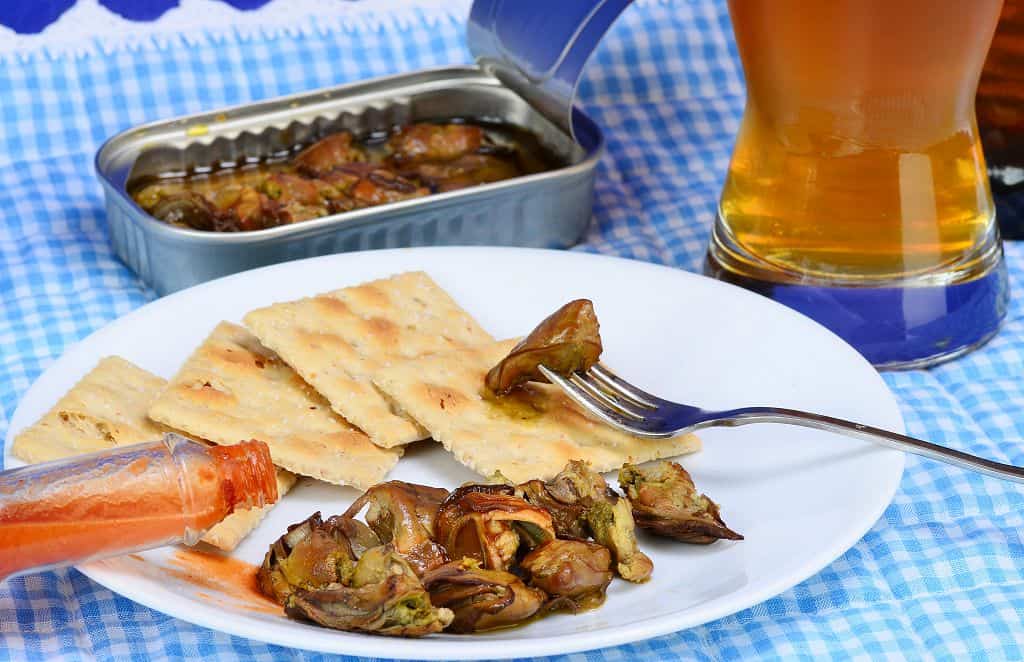 Simply Healthy Family may collect a share of sales or other compensation from the links on this page.
If you want to eat oysters but you can't find fresh ones in the area where you live in, buying canned oysters may be the only option for you. How do you cook canned oysters? I will teach you how in this article.
Canned oysters aren't a bad alternative to fresh oysters. These are fresh or smoked oysters. Either way, these are fit for human consumption right out of the can.
How to cook canned oysters:
Three easy ways to enjoy canned oysters
What are canned oysters?
The oysters in this type of canned product are submerged in oil or water. Don't worry as the oil typically used in canned oysters are healthy, being a form of monounsaturated fat.
Canned smoked oysters may also come in olive oil, which has lots of antioxidants that can reduce low-density lipoprotein or LDL levels. As you may know, LDL is the bad kind of cholesterol associated with high risks of heart disease.
---
How long can you use canned oysters?
You can store canned oysters for up to a year from the date of purchase. Once the canned product has been opened, you should refrigerate unused portion and use this within two days. I usually store unused oysters in a glass or plastic container. Don't just store them in the opened metal can.
You can also freeze canned oysters just like freezing raw oysters. This can keep the food safe for use for an indefinite period.
​

Related Reading: Best Canned Chili
---
Three ways to cook canned oysters
There are many ways to cook canned oysters. I usually use it for stuffing a turkey. Here's one recipe that you may want to follow. This recipe makes six servings. It should be done in 1 hour and 20 minutes.
8 cups of cornbread cubes
1 ½ cups of chopped celery
¼ cup of chopped onions
2 cans of oyster with liquid
½ cup of melted butter
2 teaspoons of salt
1 teaspoon of ground pepper
1 teaspoon of ground sage
1 teaspoon of poultry seasoning
½ teaspoon of thyme
½ cup of evaporated milk
---
Heat the oyster liquid, milk, and butter in a small pan.
Combine the cornbread cubes with celery, onion, oysters and other spices. You can cut the oysters if you find it too large.
Add liquid. Stir.
Stuff the poultry.
Bake for one hour at 350 degrees Fahrenheit or until the poultry is cooked.
---
Canned oyster stew
This is a stew that you can do in 20 minutes. It can make 4 servings.
3 tablespoons of butter
1 clove garlic
½ teaspoon of salt
1/8 teaspoon ground white pepper
2 cans of oyster
½ cup half and half cream
2 tablespoons of chopped fresh parsley
1 pinch cayenne pepper
1/cup sherry wine
---
Melt the butter in a saucepan placed over medium heat. Add the salt and pepper and garlic, cook until the garlic is fragrant or for about 5 minutes.
Stir in the milk and cream then transfer to a double boiler. You can also just set the pan of soup over a pan containing simmering water.
Once the milk is hot, add the oysters. Heat this until the oysters are opaque. Don't let the water boil as this can overcook the oysters. Finally, season the mixture with parsley, pepper, and sherry.
---
Canned oysters soup
Like the canned oyster stew, this recipe can be accomplished in less than 20 minutes. It can serve 4 people.
Two cans of oyster
Three teaspoons of butter
Worcestershire sauce
One quart of milk
One tablespoon of chopped celery
One tablespoon of chopped onions
Salt and pepper
---
Put butter in a saucepan placed over medium heat.
Add oysters. Heat until the edges start to curl.
Add the rest of the ingredients.
Once the mixture comes to a boil, add asparagus.
Turn to low heat and simmer for around 10 minutes.
---
What are the health benefits of eating oysters?
Oysters are an excellent source of the B-12 vitamin or colabamin, riboflavin, and niacin. These B-vitamins are known for their ability to convert carbohydrates for energy. These are easily eliminated from the body owing to their water solubility.
As a matter of fact, a cup of oysters already contains more than 300 percent of the recommended daily intake of the B-12 vitamin.
Oysters are also a good source of protein. A cup of oysters has around 14 grams of the muscle-building nutrient. Proteins not only support muscle building and repair, it also strengthens the integumentary system including our nails, hair, and skin.
---
Conclusion
There's no denying that nothing beat fresh oysters. Yet canned oysters aren't that of a bad alternative. Canned oysters are rich in antioxidants that can lower cholesterol and reduce risks of heart-related ailments.
There are many ways to enjoy canned oysters. I've shared with you three easy ways to cook it. You may also want to share the information with your friends and family members. I am sure they will appreciate it.