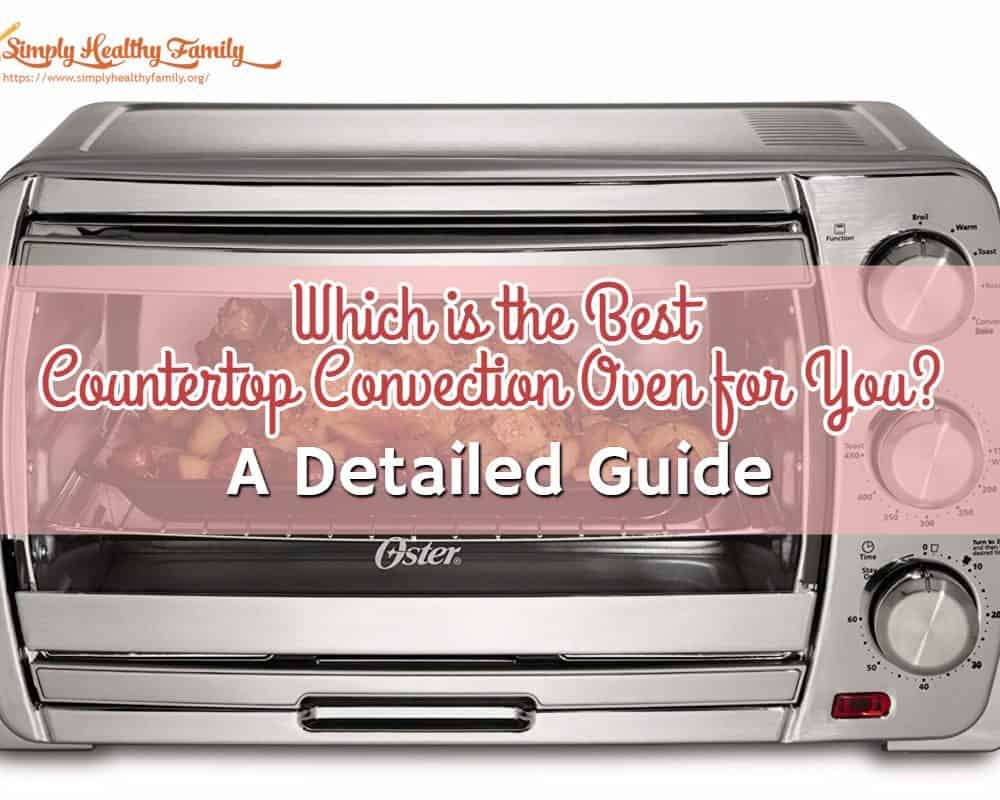 You might be wondering why should there be a need for a countertop convection oven when an actual oven like a halogen convection oven or a microwave oven is available? It may seem that having a countertop convection oven is just a mere luxury and enhancement of the beauty of your kitchen and nothing more. But chefs and cooking enthusiasts will say otherwise. The best countertop convection oven is a legitimate necessity for perfectly baked meals and more.
Best 5 Countertop Convention Oven Today
Here is a detailed look at the best countertop convection oven available today.
| | | | | |
| --- | --- | --- | --- | --- |
| | Breville BOV800XL Smart Oven 1800-Watt Convection | | | |
| | Oster Large Capacity Countertop 6-Slice Digital Convection Toaster Oven | | | |
| | Hamilton Beach 31104 Countertop Oven with Convection and Rotisserie | | | |
| | KitchenAid KCO273SS 12" Convection Bake Digital Countertop Oven | | | |
| | Wisco Wisco-620 Commercial Convection Counter Top Oven | | | |
#1. Breville BOV800XL Smart Oven 1800-Watt Convection Toaster Oven with Element IQ, Silver
The impressive thing about this oven is that it has Element IQ system, which enables its 5 quartz heating elements not just to turn on and off, but to adjust the power it emits depending on the cooking requirements. It has nine presets to choose from that ranges from toast to roast. It ensures that the food is being cooked at the right temperature all the time.
The Element IQ system provides the right amount of heat at the right time, making sure that the food is cooked according to your liking.
It has 5 quartz of heating element backed up by 1800 watts of power.
There are nine preset functions to select. It is Toast, Bagel, Bake, Roast, Broil, Pizza, Chocolate Cookies, Reheat and Warm.
A well-lit LCD changes backlight during cooking.
A reinforced steel exterior adds beauty to your kitchen.
It has convenience features such a nonstick interior,
grease and crumb bin, and an auto-eject magnetic door.
It has a limited one year warranty.
The built in thermometer has the tendency to give inaccurate readings
#2. Oster Large Capacity Countertop 6-Slice Digital Convection Toaster Oven, Black/Polished Stainless, TSSTTVMNDG
Tagged as one of the best products of 2011 by a known consumer research magazine, this oven boasts of features that provide convenience to users such as an indoor lamp and a see-through window which allows easy monitoring of food. It also has a two-rack spacious interior that can fit a large pizza or a chicken. Setting up to your desired temperature and time is made easy with a user-friendly control panel with eight preset options to choose from. It comes with a beautiful exterior that will enhance the look of your kitchen.
A roomy interior can easily fit the standard 9×13 inch baking pan.
A non-stick interior with a grease and crumb tray is easy to clean.
It has a user-friendly control panel.
It comes with a sturdy baking pan.
The door handle has the tendency to get hot to the touch when cooking with high temperature.
#3. Hamilton Beach 31104 Countertop Oven with Convection and Rotisserie, Silver
The enticing thing about this oven is aside from its spacious interior that is capable of accommodating two 9x13 inches of baking pans or two 12-inch pizzas, it also has a rotisserie option. It is nice to see a rotating chicken inside a compact oven. It comes with the rotisserie accessories, 2 cooking racks, 2 baking pans, and a broiler kit to have you cooking in no time.
It has a spacious interior, capable of baking two 12-inch pizzas or two 9x13 inches baking trays.
It has the rotisserie function for tasty and evenly cooked meat.
It already includes 2 baking pans, 2 cooking racks, a broiler kit, and the rotisserie accessories.
You have to handle the adjustment knobs with care as it is made of not-so-sturdy materials that might break if handled improperly.
#4. KitchenAid KCO273SS 12" Convection Bake Digital Countertop Oven - Stainless Steel
This oven will not just upgrade your kitchen's looks but also upgrade your cooking options. It has a large interior capable of cooking two 12-inch pizzas. It also has nine pre-programmed functions for you to choose from that includes Bake, Pizza, Asado Roast, Toast, Broil, Cookie, Bagel, Keep Warm and Reheat. Be assured that no harmful chemicals will be absorbed by your food with its PTFE/PFOA-free non-stick interior. Have perfect roasts anytime with its even-heat technology that cooks with balance and without hot spots.
It has the even-heat technology that helps food cook thoroughly.
It has a 12-inch interior wide enough for large pizzas and casseroles.
It has 9 pre-programmed functions that ensure perfect cooking, whether it be toast or bake.
It has a non-stick interior for easy cleaning.
It includes a multipurpose pan, a broiling rack, a cooling rack, and a non-stick drip tray.
This could have been better if the interior is a little bit bigger.
#5. Wisco Wisco-620 Commercial Convection Counter Top Oven, Silver
This oven is functionality and beauty in one. It has a stainless steel exterior that can make any kitchen look sophisticated and elegant. Its interior is also built to last with its double wall construction and its stay-cool tempered glass door. You don't have to worry about cleaning with its slide-out racks and removable door. It includes 3 custom made aluminum baking trays for you to start cooking right away.
The temperature adjuster ranges from 100°-450°F.
It has an insulated double wall interior and a stainless steel exterior.
A removable door and slide-out racks is easier to clean.
An accurate temperature control and reader help ensuring perfect cooking all the time.
It could be better with preset or pre-programmed functions for a more user-friendly and beginner-friendly experience.
Convection Oven VS Conventional Oven and Microwave Oven
It can be acceptable to say that convection ovens are compact versions of the conventional oven for you to roast chicken or just bake brownies, but there are significant differences in how they work. Although most dishes cooked in conventional ovens can be cooked in convection ovens, there are dishes that are best done on just one.
Conventional oven cook food by through the heat inside it. The hot air caused by the heating elements surrounds the food. The air is stagnant and stays in one place. Typically, the parts of the food nearest to the sources of heats experiences more heat than the rest of the food. This causes uneven cooking and hot spots that burn the food. It is often solved by turning the food once in awhile which can prove to be a hassle and a hazard.
Convection ovens eliminate the need for such tactics. The thing that makes convection ovens more effective and efficient is aside from putting multiple heating elements on the top, bottom, and the back, there are also fans installed to it that circulates the heat throughout the food thus cooking it evenly. This process also cooks the food faster and with less heat required.
Comparing a convection oven to a microwave oven can be simply put as that they are two entirely different things. A microwave oven uses a singular source of heat, microwaves, that causes particles of food to rub together, causing friction and thus heat. A microwave oven cannot function as a conventional oven, more so a convection type. It cannot brown or sear or cause milliard effect on food. It just simply heats it, often making the food lose its flavor and texture in the process.
The benefits of getting a convection oven
Although you may already have a conventional oven or a microwave oven or both, you may want to acquire a countertop convection oven due to the reasons below.
It improves the overall look of your kitchen.
Whether you have a small studio apartment or a large fully furnished kitchen, the sleek design and compact size of the oven will always match your kitchen. Its modern and sophisticated look will make you seem to be a chef or a food enthusiast that loves to cook. Imagine putting it together with a counter-depth fridge and a glass-top stove, the effects will be amazing.
It saves space.
Aside from its small structure, a convection oven doesn't need to be connected to a gas tank, eliminating the need for boring holes on counters for the hose to go through. It makes the oven be versatile enough to be placed anywhere as long as it has access to a power outlet or extension wire.
It is energy-efficient.
Since convection ovens use the circulation of heat, it cooks food faster and with less energy required than with regular ovens. In fact, recipes originally intended to be cooked in a conventional oven can be cooked in a convection oven 25 degrees lower. It also helps that these ovens come in small sizes, having less space for heat to saturate.
It saves time.
The primary feature of convection ovens is its ability to cook faster. Meals cooked in ovens can be cooked within 30% to 35% less time with convection ovens. Not only that, since convection ovens, like oven toasters, have hot surfaces during cooking, its top surface can be used to heat other food. There are some variants that have built in heating plates on top, perfect to cook or heat something else while waiting for the meal to be done.
Things to consider in choosing your countertop convection oven
The dimensions
Although the size of countertop convection ovens is small, you would still have to know the measurements especially if you intending to put it in a specific countertop. There is nothing more frustrating than buying something only to realize later that it doesn't fit.
The option for rotisserie
You have to check if the oven has an option for the rotisserie. It is good if the oven will allow you to roast your chicken through it, allow it to rotate and self-baste, aside from just the usual food you bake. You have to be aware of how it will be able to handle your cooking habits. Are you the one that plans to stuff large items in there like pizza or chicken? Make sure that you have the right size. Are the racks removable or fixed? If the racks are fixed, make sure that it has enough space to put your preferred food on. It is best if you can get the one with adjustable racks so you can have total control of the space.
Ease of cleaning
Cleaning is one of the most important parts of owning any appliance. Make sure that the materials used can be easily cleaned. There are ovens that have removable doors and racks. Check if you can get nonstick and dishwasher safe parts.
Energy efficiency
Make sure to check the wattage of the oven compared to the maximum temperature that it can give. It should require lesser power than conventional ovens without compromising the power.
Conclusion
The best countertop convection oven is the KitchenAid KCO273SS 12" Convection Bake Digital Countertop Oven - Stainless Steel. I almost have gone with the one with the rotisserie option, but this is the most versatile and durable among all the selection. The only issue, which is about the size, is not that big of a deal as long as it cooks properly, has user-friendly features, and last long in the kitchen.