What is the Best Wine Aerator Today?
Simply Healthy Family may collect a share of sales or other compensation from the links on this page.
My father was a hardcore wine lover, but I cannot remember him using a wine aerator. Back in the day, he would only need a corkscrew to open a bottle of wine and enjoy its contents. But we live in a day where gadgets can make things easier and in the case of wine, taste better. So you guess it right—we now have devices to "open up wines."
It's easy to dismiss wine aerators as gimmicky, but once you understand how they work, you will realize that these devices can actually change the way you enjoy wine.
Related Reading: What Is The Best Port Wine Substitute?
| Rank | Product Name |
| --- | --- |
| #1 | |
| #2 | |
| #3 | |
| #4 | |
| #5 | |
**Below, you'll find our more detailed reviews, but you can also click the links above to see current prices or read customer reviews on Amazon.
Top 5 Best Wine Aerators Reviews (2019 Updated)
Now let's go to the meat of this article. I will be picking the top five wine aerators today and tackle their advantages and disadvantages.
This electric wine aerator looks like a soda dispenser from afar. It features a push-button kind of operation that makes it fast and easy to use. You won't also have to worry about spills when you have this aerator with you. The package comes with two tubes and six AAA batteries on top of the unit itself.
Aside from the ease of using this wine aerator, you will love how it is designed. It has a very elegant look. It also doesn't take up a lot of space in your cabinet. With its size, you can even put this in your bag and bring it to a beach party that you are attending.
I should also commend the manufacturer for the nice construction of this wine aerator. It looks very classy. Plus it gives a clean and tight seal on most bottles so you can expect your wine to stay fresh for days. It is also easy to pour wine while using this aerator.
PROS
It is very easy to use with its one-button operation
It is compact and lightweight and thus perfect for out-of-town parties
It is easy to clean as you only need to run water through it
Fits snugly into a bottle of wine
CONS
Some reviews online indicate that it breaks down rather easily
It does not have tubes for bigger bottles
You won't have to get embarrassed in front of your guests again with this wine aerator from Zazzol. It has a hassle-free design that prevents leaks or drips that usually happens when you pour too wine too quickly.
This aerator features a multiple-stage design. There's a cone shaped like an umbrella which disperses the wine, which then goes through a plate punctured with 30-plus holes. Air is injected through a cylindrical opening just before the wine goes through the bottom of the aerator and into the glass.
Along with the unit, the package comes with a classy and easy-fit stand and travel pouch. There's also an elegant looking gift box that you can use in case you plan to give this aerator as a present.
PROS
The packaging is so elegant that it makes for a great present
It can improve wine flavor almost instantly
Every piece of the aerator comes off and goes back on easily, which makes it easy to clean
The company is known for its excellent customer support
CONS
The included pouch is a bit small for the aerator
The top diffusing piece is easy to lose
This handheld wine aerator is also getting a lot of positive reviews from wine aficionados. Not only is this device easy to use, but it is also packaged quite nicely. Moreover, it performs well just as what you want from a wine aerator.
When I first used this wine aerator, I was really impressed with the packaging. It was so beautiful! Every detail of the device suggests that it is of good quality.
But I was more surprised how quickly it improves the taste of wine with its three-step aeration process. Simply pour wine through the Vinluxe, and you'll get a great tasting wine after a few seconds.
The holder that comes along with it is also a nice accessory to have. It prevents the unit from dripping on the counter.
PROS
It lets you enjoy great tasting wine within seconds
Elegant outlook makes the dinner/party complete
It has several accessories like holder and travel pouch
It can make for a nice present
CONS
There's a tendency for wine to drip out of the spout long after you are done pouring
It has a chemical smell which is noticeable when you first use it. But the smell goes away after some time
This is an absolutely top-rated wine aerator that can prevent wine stains from ruining your tablecloth. It has a tapered and ribbed rubber stopper that seals wine bottles of different sizes. You can also easily disassemble the aerator and run it under water for easy cleaning.
Like most of the aerators in this list, the Vintorio wine aerator looks very classy. It is made of superior and FDA-approved plastic material. The company also backs it up with a lifetime guarantee, meaning you can get your money back in case you are not satisfied with this product.
PROS
Small and easy to store
It doesn't leak thanks to a rubber topper that seals very well
It is very easy to disassemble and assemble for cleaning
The unit can improve the taste of wine within seconds
The company backs up this aerator with a lifetime guarantee
CONS
Since it is made of plastic, it may not be the most durable product out there
The plastic tube is also a bit fragile
For most people, the Vinturi is the standard by which all wine aerators are measured up against. And I can't blame them because it really performs well.
I have owned one before and let me tell you this– it really changes the taste of wine. I remember that it changed the flavor of the cabernet sauvignon that I was about to discard because of its bad taste.
This aerator measures six inches high and 2 inches wide. It looks like a funnel from afar. You can easily clean this device as it is dishwasher safe.
Using it should be a breeze if you have had some experience in using aerators. You simply pour wine through it into your glass. It then speeds up the aerating process through its patent-pending design.
This aerator is made of acrylic and comes with a no-drip stand that you can use for storing the Vinturi.
PROS
It can improve the taste of most wines
It is easy to clean and it is dishwasher safe
It can save your tablecloth from wine stains– no more dripping and leaking
It is compact enough to be brought outside the house
CONS
Expect some learning curve in using the aerator, especially in pouring wine into it
Some durability issues like cracks running up from side vent holes
What is a wine aerator?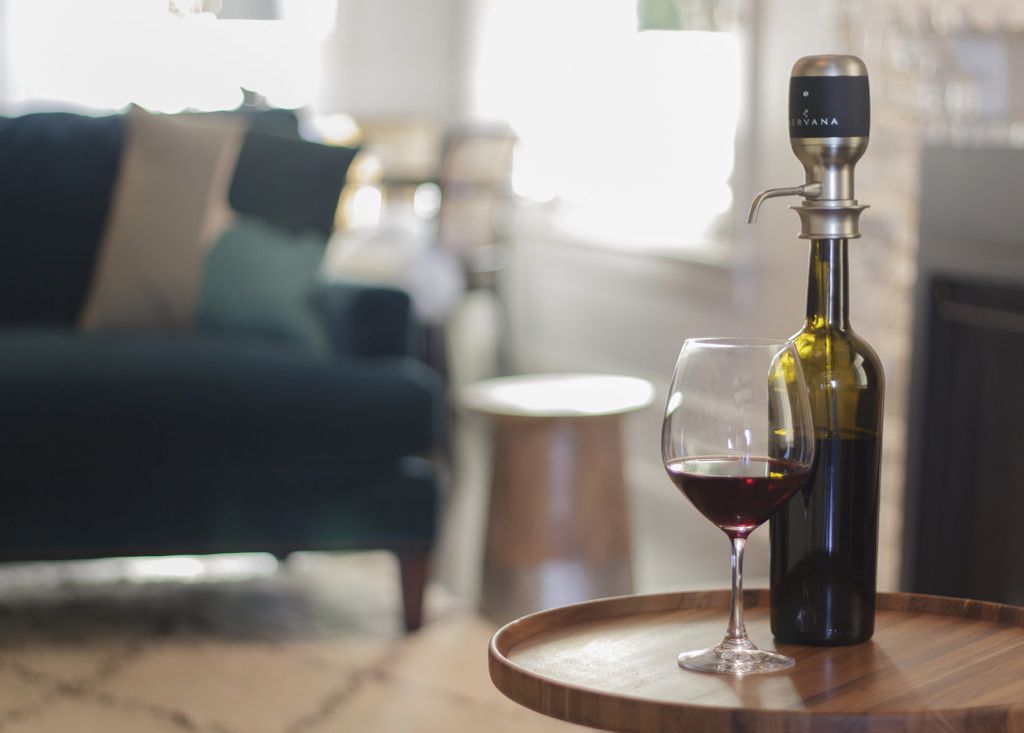 Wine aerators are devices that add oxygen to wine for the purpose of expanding the beverage and letting it 'breathe.' Doing so can change the flavor of the wine due to the reaction of the wine and the gases in the air.
This process is actually something that's not new. In fact, aerating wine has been done for centuries. Here's a good page to visit if you want to know more about aerating wine.
It's possible to aerate wine simply by opening the bottle of wine. However, it would take a long time for the wine to be aerated no thanks to the narrow opening of the bottle. And really, who wants to wait for that long, right?
Before wine aerators became popular, there were decanters that wine lovers used to aerate wine. Decanters are devices that basically do what aerators can do but for a longer period– usually an hour or so.
Aside from the time element, practicality is another reason why you'd use an aerator instead of a decanter. You would likely need to pour the entire wine bottle into a decanter when you use one, which you may not end up finishing at all.
However, keep in mind that not all wine types will benefit from the use of an aerator. Cheap and expensive wines may not have any change at all in flavor and aroma when you use an aerator in them. That's because these wines don't really have complexities that you can unravel even when you expose them to air.
With a wine aerator, you can enjoy wine better regardless of the food you are serving with it like French onion soup and Fontina cheese.
That's why wine aerators have become very much hip. It can release wine and its potential flavor and aromas within a few minutes; something that decanters can do in an hour or so.
Different types of wine aerators
When you shop for a wine aerator, you will realize that there are various kinds of aerators available in the market:
1
Handheld
As you can deduce from the name, this is the kind of aerator that you hold over a glass and then pour the wine through. It is ideal for a bar. This type of aerator typically features a screen and a base to place the aerator when it is not in use.
2
Stopper
This is the most convenient type of aerator as it directly fits in the bottle. It can also serve as a stopper. While it won't maximize the amount of aeration like a handheld one, it is compact enough to be brought to the next dinner party.
3
In-glass
This type of aerator sits right in a glass. While it is very similar to a handheld aerator, this is slightly easier to use.
Battery-operated–this kind of aerator works like a pump. You'll place a tube into the bottle then seal it with the aerator. You would then place a glass under the spout, press a button and voila! The wine is oxygenated as it flows into the aerator.
Other things to look for in a wine aerator
Aside from the styles, the following are some of the factors you need to consider in shopping for a wine aerator:
Style
Aerators are available in different sizes and shapes. You can buy a simple acrylic aerator, or go for one made of stainless steel. It's really up to you to decide what style you would want, although the make of the aerator will likely affect the price
Extra accessories
Items like storage cases, stands and cleaning brushes may also be considered as deal breakers if you are to choose between two aerators.
Warranties
Look for wine aerators with long-term warranties so you will have peace of mind knowing that you can return or have the item replaced in case it breaks down.
Ease of cleaning
Consider wine aerators that can be easily disassembled and cleaned by putting them under running water
Conclusion
These are all excellent aerators that you can get so you can better enjoy your wine.
However, I can honestly say that the Zazzol Wine aerator is the best in this list. It compact and lightweight. Plus it is so easy to use that there's no learning curve needed.
This is the type of wine aerator that you would want to bring out during parties.
How about you? What's your favorite in this list?
Wife, Mom of 4 and so much more living in the Sonoran desert. I am passionate about making meals and snacks healthier without sacrificing flavor! I promise you that if you buy healthy foods and make healthy foods, YOUR KIDS WILL EAT HEALTHY FOODS! My motto: Live as naturally as you want to feel.