Best Soda Maker Review and Buying Guide
Simply Healthy Family may collect a share of sales or other compensation from the links on this page.
Are you contemplating on buying a soda maker? It can really be overwhelming what with the many models available in the market. Read on as I discuss what you should be looking for in a soda maker, and the top soda makers available right now.
| Rank | Product Name |
| --- | --- |
| #1 | |
| #2 | |
| #3 | |
| #4 | |
| #5 | |
**Below, you'll find our more detailed reviews, but you can also click the links above to see current prices or read customer reviews on Amazon.
What are soda makers and its benefits?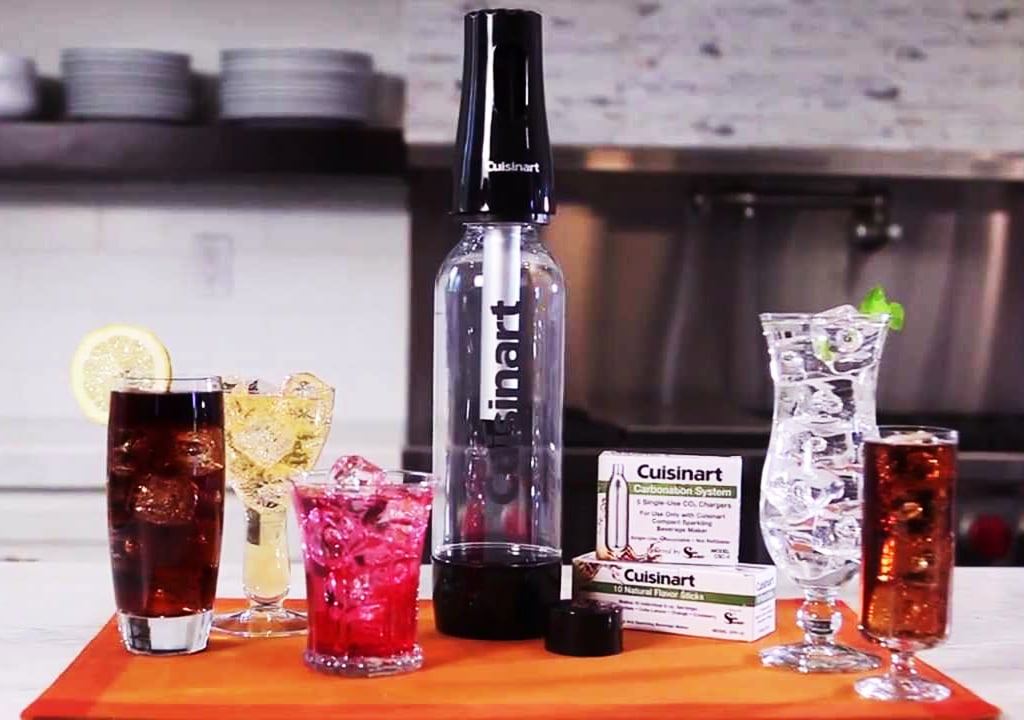 soda makers and cups of soda on the table
Soda makers are one of the more awe-inspiring appliances you will ever come across. After all, it lets you turn tap water into carbonated sodas and sparkling water in a matter of seconds.
With a soda maker, you can enjoy carbonated water that goes well with just about any food like baklava and slow cooked pork.
Soda makers may appear to be very sophisticated devices at first, but they're pretty easy to use. Moreover, they only require a few things like carbon dioxide or gas canisters, reusable plastic or glass bottles to hold the carbonated drink and packaged flavorings.
A soda maker can provide plenty of benefits to the typical homemaker. One is that it can produce sodas that are far healthier than commercially-sold ones. Did you know that a typical can of soda has more than 40 grams of sugar and 150 calories? But by making your own soda at home, you can enjoy refreshing drinks without necessarily compromising your health.
Another benefit of having a soda maker at home is that you can help the environment. Do you know that in 2006, the Container Recycling Institute reported that more than 2 million tons of plastic drink bottles were wasted? By making your own soda, you can contribute to efforts to reduce the use of plastic bottles.
Of course, there's the convenience that you will enjoy when you get to produce your own soda. You can make one anytime you desire. And you won't have to carry bulky packs of sodas from the grocery to your home.
What to look for in soda makers?
A soda makers on the table
In buying a soda maker, you should be considering the following factors:
1
Carbonation style
This is perhaps the most crucial factor to mull over in choosing the best soda maker. Most soda makers today use carbon dioxide canisters in carbonating the water. This is essentially the same kind of gas used in commercially available sodas. However, it does have safety risk because it can cause harm if case it is not used correctly. Then there are the electric soda makers with chargers for carbonating the drink. Instead of CO2 canisters, these soda makers use of internal motors containing a small amount of carbon dioxide. The main downside of this style is that there's a risk of getting inaccurate levels of carbonation.
2
Carafe material
Reusable plastic carafes are usually included in soda makers. These carafes can be inserted directly into the body of the device. You'd want the carafe to be BPA-free, so you won't be ingesting any harmful chemicals. These plastic bottles are not for lifetime use, however. These need to be replaced typically after two years.
There are also soda makers that come with glass carafes. Unlike plastic bottles, there is no expiration date on the use of glass carafes. It's a good choice, too, if you are environment-conscious as glass doesn't break down like plastic. Hence there's less waste overall from these glass carafes.
3
Components
Aside from the bottle, you should look for additional accessories like caps for the bottle as well as stirring spoons. Some models even have a sample of various flavor mixes, which comes in handy as there is no need to buy anything to start enjoying your beverages.
4
The method of operation
You should look for a unit that makes use of a push-button system as it is simpler and easier to operate. But if you want to have more control over your drinks, you can consider models that can be manually operated.
5
Other factors-issues
The size and flavor options can also be considered as well in shopping for a soda makers.
Top 5 Best Soda Makers Today
Let's check top 5 Soda Makers that available for purchase today
#1. SodaStream Jet Sparkling Water Maker Starter Kit
https://www.amazon.com/SodaStream-Sparkling-Water-Starter-Silver/dp/B00EPEALEM/
SodaStream is the undisputed leader in the soda maker industry. In fact, three out of the five items listed in this article are from the said company. You can understand why the brand is so well-respected just by checking out this sparkling water maker starter kit.
SodaStream Jet Sparkling Water Maker Starter Kit, Black and Silver
The kit includes one unit of sparkling water maker, a mini carbon dioxide carbonator that can make up to 9 liters of sparkling water and a unit of BPA-free plastic bottle. This soda maker stands about 17 inches tall and should fit under most kitchen cabinets.
It's easy to use this soda maker. Simply screw the supplied bottle on it so that the former will appear hanging from the unit. Press the large gray button to release gas from the carbonator cartridge. Once you hear a pop, press the button two more times.
PROS
It is very easy to operate with its push-button system
It can carbonate a liter of water in just a few seconds
It has a small footprint and fits easily under the counter
The CO2 tank is very durable and can last for a long time
CONS
The bottle that comes with it cannot be cleaned in a dishwasher
Very limited information on how to use it which can be a downer for first-time users
#2. Innovee Soda Siphon
https://www.amazon.com/Innovee-Soda-Siphon-Ultimate-Aluminum/dp/B01E3OJ7U2/
Innovee Soda Siphon – Ultimate Soda Maker – Aluminum – 1 Liter – With Free Cocktail Recipes (e-book)
This soda maker is that it doesn't come with a proprietary plastic bottle. Instead, it lets you create soda water from your cup.
You'll need a CO2 charger to make this one work. However, there is no charger included in the package, so you'll have to buy one. It's not a big problem at all since the unit can work with any standard charger.
Once you have the charger, simply slip it into a tube that also serves as the handle of the unit. Turn the handle to tighten. Fill the siphon with up to 4 cups of cold water then screw on the cap and the charger holder. Release the gas, and you'll have sparkling water pouring right into a glass or cup.
Aside from being easy to use, you will love that this unit is very compact and lightweight. In fact, you can easily place this inside the fridge.
PROS
There is no need to use plastic bottle
It comes with a free cocktail recipe book so you can create more beverages
The unit is so small that you can place it in the fridge
The unit is well-made and sturdy
CONS
You'll have to buy your own CO2 charger
It will take about 15 minutes for the water to fully carbonate
#3. SodaStream Source Sparkling Water Maker Starter Kit, Black
https://www.amazon.com/SodaStream-Source-Sparkling-Water-Starter/dp/B00EPEALGU/
Most of the soda maker owners that I know own this model—the SodaStream Source. And it is quite easy to understand why this model is very popular. I once tasted carbonated water produced from this model, and it was very good! In fact, I can say that it produces the best-tasting soda.
SodaStream Source Sparkling Water Maker Starter Kit, Black
Aside from producing the fizziest water, this model is also very easy to use. Its bottle, for one, is very easy to attach to the machine. It also has a very simple but classic design. This soda maker is also easy to clean and refill.
This starter kit includes one unit of sparkling water maker, one mini CO2 carbonator that can make up to 9 liters of sparkling water, a BPA-free reusable carbonating bottle and a 60-liter mail-in rebate which you can use get you have fully consumed the starter carbonator.
While SodaStream has been getting a lot of flak for its proprietary CO2 cartridges which are a bit expensive, no one can question the durability and good quality of said products.
PROS
It produces great tasting carbonated drinks
The directions to use the machine are printed on top of the machine, so you should have no problem operating it
You can control the amount of carbonation depending on how long you press down the button
It is very easy to clean and refill
It has a very classic and attractive design
CONS
The CO2 canisters of SodaStream are quite expensive
The machine is a bit tall for most kitchens
#4. SodaStream Dynamo Homemaker Deluxe
https://www.amazon.com/Sodastream-Dynamo-Home-Maker-Deluxe/dp/B009RGRE7A/
Sodastream Dynamo LX Home Soda Maker Deluxe Mega Pack
While SodaStream is highly regarded, some of its old models weren't exactly flawless. One usual problem is that the bottles that come with the soda makers are difficult to lock in place. But the company corrected that flaw with this model
The Dynamo Deluxe features bottles that automatically lock in place. This not only provides convenience to owners but also avoids wear and tear on the machine and the bottles.
It also features a simple button on top of the machine, which makes it easy to operate. You can also control how much fizzle you want in your drinks with the frequency of your presses.
Another noteworthy feature of this soda maker is its large CO2 canister capable of carbonating up to 133 liters of soda.
PROS
It is very easy to operate with a simple button set-up
The bottles that come with the unit easily lock in place
Its large CO2 canister is capable of producing up to 133 liters of soda, which is more than what you can get from other SodaStream models
Assembling the unit is easy
CONS
The unit is made of plastic which appears to be flimsy for most users
The flavor packets that come with the unit does not taste that well
#5. Hamilton Beach Fizzini Hand-Held Carbonated Soda Maker
https://www.amazon.com/Hamilton-Beach-Fizzini-Hand-Held-Carbonated/dp/B00EUAH58G/
As you can deduce from the name of this product, the Hamilton Beach Fizzini is a handheld carbonated soda maker that is perfect for those who don't have a lot of space in their kitchens.
Hamilton Beach Fizzini Hand-Held Carbonated Soda Maker
This soda maker is small with dimensions of 6.5 x 6.7 x 13. 4 inches. It can easily fit inside the fridge. It weighs just a pound. It comes with 10 recyclable CO2 cartridges and a one-liter bottle.
It is also very easy to use as you only need to insert the CO2 cartridge and then connect the unit to the bottle with a twist. Once the unit is connected to the bottle, turn the carbon dioxide release knob and wait for 10 seconds.
Shake the bottle then press the release button. That's it—you can now enjoy sparkling water!
PROS
It is compact that it can fit right inside the fridge
It is easy to use; you can enjoy sparkling water within seconds
It is very easy to assemble
CONS
You cannot control the level of carbonation
The bottle can't be cleaned in the dishwasher
Conclusion
SodaStream Source Sparkling Water Maker Starter Kit, Black
These are all excellent choices, but if I were to pick just one, I would go with the SodaStream Source Sparkling Water Maker. Aside from the fact that it produces the best tasting carbonated water I've ever tasted, it is easy to use and clean.
How about you? What do you think is the best in this list? Let me know by writing in the comments section below.