Store Your Bread Properly and Keep Them Fresh With the Best Bread Box
Simply Healthy Family may collect a share of sales or other compensation from the links on this page.
How do you store bread? If you put it in the fridge, then you would know that it dries out and becomes stale very quickly. Freezing it may be a better option, but it can take some time and effort to defrost. Cabinets aren't also a great option especially if it is already teeming with food and other items.
That's why good old bread boxes have remained valuable all these years. There's no denying that it remains the best place to store bread and other baked goods. Aside from keeping bread fresh, a bread box can also serve as an excellent kitchen accent just like a countertop oven or even a rice cooker.
A bread box is something you should have at home especially if you've learned how to bake. And now that many bakers are producing bread with the moist interior and an excellent crust, it's even more compelling to get a good bread box.
Top 5 Best Bread Boxes Available On The Market Today
| RANK | PRODUCT NAME |
| --- | --- |
| #1 | |
| #2 | |
| #3 | |
| #4 | |
| #5 | |
#1 Home-it Stainless Steel Bread Box
https://www.amazon.com/Home-Stainless-kitchen-storage-16-5x10x8/dp/B00O5AHWDO/
Home-it Stainless Steel Bread Box
This bread box made of stainless steel measures 16 inches long, 10 inches wide and 7 inches tall. With its compact size, this unit should fit well in most countertops. It can accommodate two to three bread loafs with plenty of room for other baked goods like muffins.
The bread box has a cool and dark interior designed to keep bread fresh for a long time. The door, on the other hand, slides up and down. You can easily slide the door with one hand. The unit isn't that heavy, too, weighing 2.4 pounds.
You will also love its stainless steel design that can complement the rest of your stainless steel kitchenware.
PROS
The bread box is compact and doesn't take up a lot of space
thumbs-o-upYou can store 2-3 bread loafs inside it ​
thumbs-o-upIts cool and dark interior is designed to keep bread fresh for long
thumbs-o-upIt is lightweight at 2.4 pounds, makes it easy to move around
It has an attractive stainless steel finish
CONS
The metal is thin and not the most durable
It tends to collect a lot of fingerprints
#2 Rubbermaid Red Bread Keeper
https://www.amazon.com/Rubbermaid-Specialty-Storage-Containers-1832489/dp/B0000E1VV4/
Rubbermaid Red Bread Keeper
This is a more compact bread box compared to the preceding item. It measures 14.4 inches long, 6.3 inches wide and 5.9 inches tall. This is the kind of bread box that you would want if you have a small kitchen.
This bread box is made of plastic. The unit is made of heavy duty plastic, something which Rubbermaid is known for. It's also very lightweight at 1.2 pounds. Because of its weight, you can easily bring this for picnics.
The lid of this bread keeper also closes easily and tightly, keeping your bread fresh for days. It can accommodate one large loaf of bread.
Although there's the noticeable plastic smell in the box especially when first used, the smell would go away eventually.
PROS
It is made of heavy duty plastic
It is lightweight and easy to move around
Its lid closes easily
thumbs-o-upCompact and space-saving​
CONS
It has a noticeable plastic smell especially when first used
It can only accommodate one loaf of bread
#3 Juvale Bread Box For Kitchen
https://www.amazon.com/Bread-Box-Kitchen-Container-Pastries/dp/B00S7CR524/
Juvale Bread Box For Kitchen
This unit measures 6.5 inches long, 9 inches wide and 16 inches tall. It has a nice light teal color with the word 'bread' painted up front.
This has got to be one of the most attractive bread bins you'll ever come across. With its bold and vibrant looks, it can make your kitchen or countertop appear more stylish.
But this bread box isn't just about looks. It is also well designed. I like how its hinged lid opens and closes easily. It swings up and down well that you would only need one hand to open the lid.
Moreover, there are small holes found at the back of the unit allowing air to circulate and keep your bread fresh for a longer period. It can accommodate two loaves of bread simultaneously.
You should have no problems cleaning this bread box as you can just wipe it with mild soap and water.
PROS
Easy to clean​
Made of durable stainless steel
It has a very attractive look
thumbs-o-upIt has small holes that let air circulate
CONS
It is susceptible to fingerprints
No rubber feet; tends to scratch the countertop
#4 Prep Solutions by Progressive Adjustable Bread Keeper
https://www.amazon.com/Solutions-Progressive-Adjustable-Bread-Keeper/dp/B001BB2LMM/
Prep Solutions by Progressive Adjustable Bread Keeper
As you can deduce from the name of this product, this bread keeper can expand its size. It is expandable up to 11 inches thus you can store longer loafs of bread as the need arises.
There are air vents in the bread box to let air circulate inside the bread box. This is designed to keep the bread and other baked goods fresh for a long time. It also has a bread board which is designed for easy slicing.
This bread keeper is made of polyethylene plastic. Another thing I liked about this bread box is that it is easy to clean because it is dishwasher safe.
It measures 7 inches long, 11 inches wide and 6.75 inches tall. And because the box is clear, you will be able to see what's inside it.
PROS
The box is clear so you can see what is inside of it
thumbs-o-upIt is expandable up to 11 inches
thumbs-o-upIts air vents allow air to circulate inside
Includes a bread board for easy slicing
It is easy to clean because it is dishwasher-safe
CONS
There are no handles to grab/hold onto
Plastic material is not the most durable
#5 Brabantia Roll Top Bread Box
https://www.amazon.com/Brabantia-Roll-Top-Bread-Box/dp/B000BPM908/?tag=shf046-20
Brabantia Roll Top Bread Box
This is another stylish and functional top bread that you would want in your kitchen.
It has a height of 7 inches, a width of 17.5 inches and depth of 10.6 inches. It is spacious enough to hold 1-2 loaves of bread. Air circulation is assured with the box base which can help in keeping your baked goods fresh for a longer period.
One of the main selling points of this product is the long 10-year warranty. Brabantia is known for its long warranty, and this only gives you the peace of mind knowing your investment will be secured.
Homeowners will also love that the surface of this bread box is designed to resist fingerprints. The finger-proof stainless steel from which this bread box is made of is also very strong and durable.
PROS
Air circulates inside and ensures baked goods stay fresh
It has a long warranty
The bread box can resist fingerprints
thumbs-o-upIt is strong and durable
CONS
It is not the most compact bread box
The door is not that sturdy
Bread Box History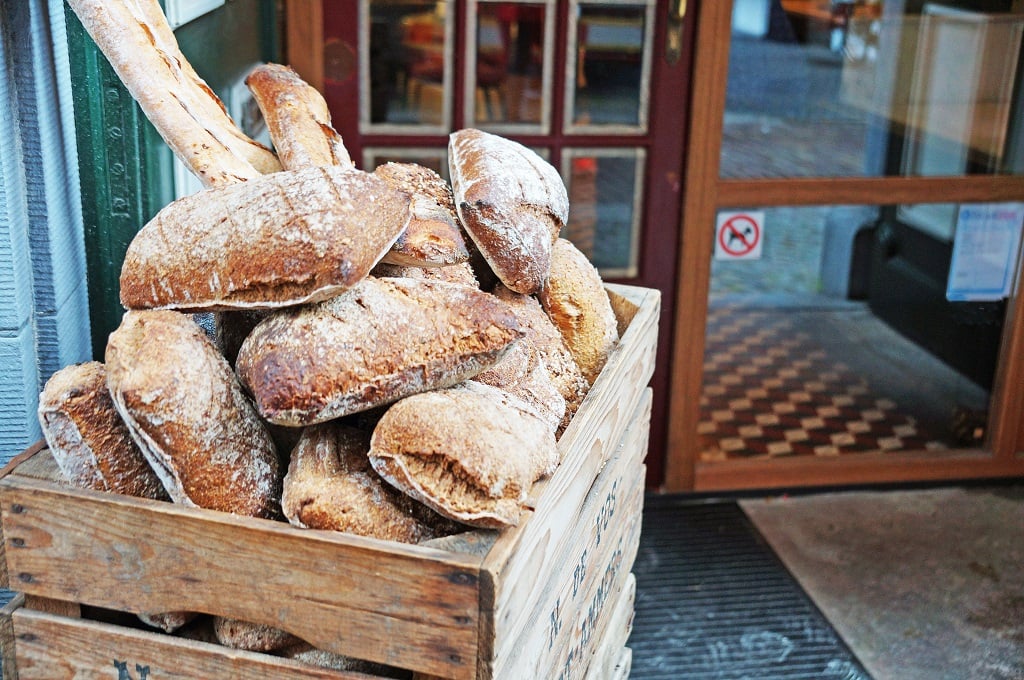 A huge Bread Box
Since humans have been baking bread for an estimated 30,000 years, we can assume that bread boxes have been around for some time now.
One of the oldest bread boxes in the United States is displayed online. The wooden box is believed to have been made before the turn of the 20th century. It was used in transporting bread loaves by train or wagon from Meinburg's Bakery of Washington D.C. to the stores in the city and nearby counties.
The earliest bread boxes were made of wood. Wooden bread boxes can keep bread fresh for a week during the summer months and up to two weeks during the winter season.
Eventually, different materials were used in the construction of bread boxes. Metal was one of those materials. It is more durable than wood. Eventually, bread boxes made of plastic and acrylic emerged. These boxes can keep bread fresh for a longer period aside from reducing mold growth.
Bread Box Benefits
Black bread in the Bread Box
Bread boxes can keep loaves of bread moist and chewy aside from safe from household pests. It can trap moisture and allow some airflow inside to maintain the taste, appearance, and consistency of bread for at least three days.
Bread boxes can also add a touch of elegance to your kitchen, especially if you choose one that complements existing kitchenware.
In choosing a bread box, you need to consider the dimensions of the unit and if it would fit on your countertop.
If you don't have enough space in the kitchen, I would suggest you get a bread box with a flat top. This would let you put other things on top of the bread box. You may also opt for an expandable breadbox.
Aside from the size, bread boxes differ in the way they open. Some have hinged openings; others have roll-tops. There are also bread boxes with lids that lift off and drop down. It's really up to you to determine what you like.
The material from which the bread box is made may also affect your buying decision. Bread bin made of stainless steel is durable, but it is not recommended in warm climate areas as it conducts heat. And bread tends to get stale fast when it is warm. Plastic or wood may not be as durable as metal, but these materials are more suited for warm climate areas.
Conclusion
These five bread boxes would all make for an excellent storage for your bread and baked goods. My pick, though, is the Prep Solutions by Progressive Adjustable Bread Keeper. Its adjustable feature makes it different from the other bread boxes I've listed.
Aside from being adjustable, I like that this bread box is easy to clean. The clear box also features a bread board which can help in slicing the bread.
But that's just me. You may have other choices in this list. Which is it? Share us your thoughts by writing in the comments section below.
Wife, Mom of 4 and so much more living in the Sonoran desert. I am passionate about making meals and snacks healthier without sacrificing flavor! I promise you that if you buy healthy foods and make healthy foods, YOUR KIDS WILL EAT HEALTHY FOODS! My motto: Live as naturally as you want to feel.