What Does Snapper Taste Like and How to Make It Fabulous
Simply Healthy Family may collect a share of sales or other compensation from the links on this page.
Experimenting with food is a risky business.
Don't get me wrong; I love trying out new food and exploring the variety of different flavors.
But, have you ever been in those situations where you order a tropical, funny-looking new kitchen's specialty because you feel adventurous? Afterward, when you try it, you regret ordering it and end up leaving the restaurant with an empty stomach and a slight feeling of embarrassment.
Oh, yeah, we've all been there. After you come home to your comfort zone and order that good old pizza, the situation in the restaurant becomes a funny story. But no, I am not so excited about going through that experience again. I'm grumpy when I'm hungry.
Now, I still try out new food, but I always ask someone to describe me the taste of it before I eat it.
Trying out so many different kinds of dishes, I got to know my taste in food so well. If you describe me the taste and structure of the meal, I can predict whether I would like it or not in most cases.
The number of empty stomach accidents decreased noticeably.
So, if you are up for ordering snapper, let me tell you what it tastes like!
Snapper TasteAnd Texture
slices of Snapper, chopsticks and vegetables on a plate
Snapper is a reef fish that is harvested in the Gulf of Mexico, Caribbean and South Atlantic waters. It's a strange looking fish, with a bulgy look, big teeth, and mouth. Commonly, it inhabits waters from 30 to 200 feet, but you can find it as deep as 300 feet sometimes.
You can find so many varieties of snappers. Seventeen types, to be exact. But, the most common ones to find in seafood restaurants and absolute favorites of the guests are red and yellowtail snapper.
Snapper has a lean, firm texture. The flesh is white, delicate and mild and it's tinted pink from its red skin. It is moisty, and it has a mildly sweet and fresh taste.
Few Tricks to Tell IfSnapper Is Fresh
Fresh Snapper, slices of lemon and scallions
If you are buying the fish in the market, it would be useful to learn how to recognize a fresh snapper.Here are a few tricks!
As I mentioned before, snapper has big eyes, so pay attention to them. Are they big, bright and vivid? This is a sign that a snapper is fresh. Don't buy it if its eyes look dehydrated.
Another way to recognize a fresh snapper is by checking the backbone. If its bloodline is bright in color, this snapper is worth your money.
The smell of it should be fresh, mild, and pleasant, just like the salty ocean.
When you purchase fillets, look for firm, elastic flesh that is not separating. Poke it and if it bounces back up, it is a good sign. The meat should appear translucent and moist, with no browning.
Preparing and Cooking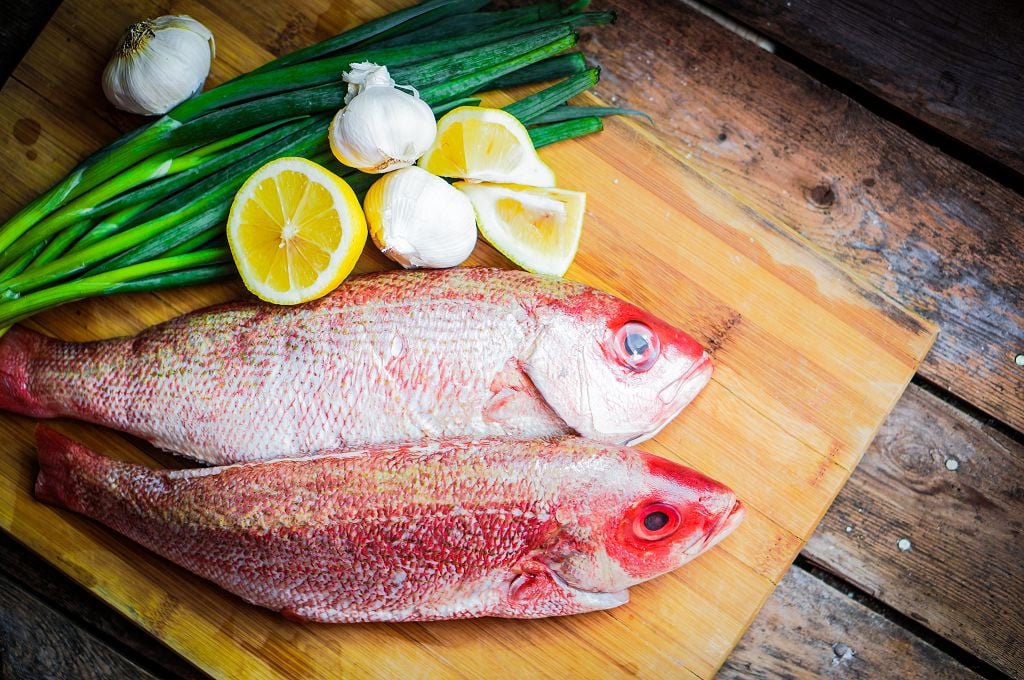 Fresh Snapper, slices of lemon and scallions on the chopping board
Snapper is one of the most desirable deep sea food delicacies because it responds well to most of the cooking methods. It can be baked, fried, steamed, broiled, poached and grilled.
When it comes to seasoning, lemon, vegan butter, and fresh chili peppers like guajillos are snapper's best friends.
What's so great about it is that it's so good for your health. It contains calcium, iron and it is full of protein. Snapper is also low in cholesterol and saturated fats, plus, four ounces of it contain only 110 calories. You can eat it without a single regret!
Before cooking, you should prepare it by removing some parts, such as the head, backbone, small pin bones, the fins and the tail. Now, you are good to go. Here are some awesome recipes you could try out!
The BestSnapperRecipes
Here are some ideas worth trying. Pick one and start your first snapper dish!
1
Eggplant and vegetables on the table
This one is really easy to make, even if it may not seem like it. It does consume 2 hours of your time, though, but it is totally worth it!
Fish in a salt crust is just delicious, and it goes perfectly with the bitterness of the Eggplant puree.
This dish will make you feel like you are eating right by the ocean.
2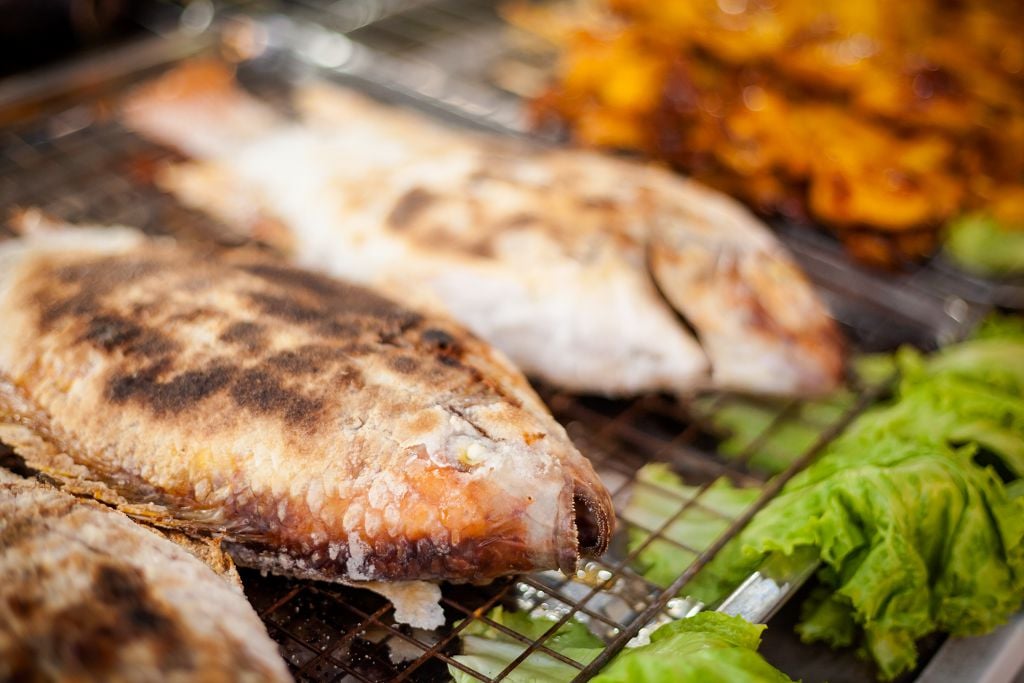 BBQ Snapper and vegetables
Any BBQ meal is a win for me. It just never lets you down. Plus, it is just so easy to make and has a great blend of spice. It would be an advantage if you grilled the whole fish because it keeps it moist, tender and flavorful.
Purchasing a grilled fish is available everywhere, any supermarket or department store. I would recommend adding Easy Tomato Sauce, and your BBQ party can begin!
3
Snapper with Garlic, Ginger and chopsticks on the plate
I just love the way Chinese prepare their dishes, so this one is my absolute favorite. You can never go wrong with the combination of garlic, soy sauce, ginger, rice wine, and sesame oil. Plus, they complement the snapper just perfectly.
For this wonderful recipe, you will need a whole snapper, with a head and a tail.
4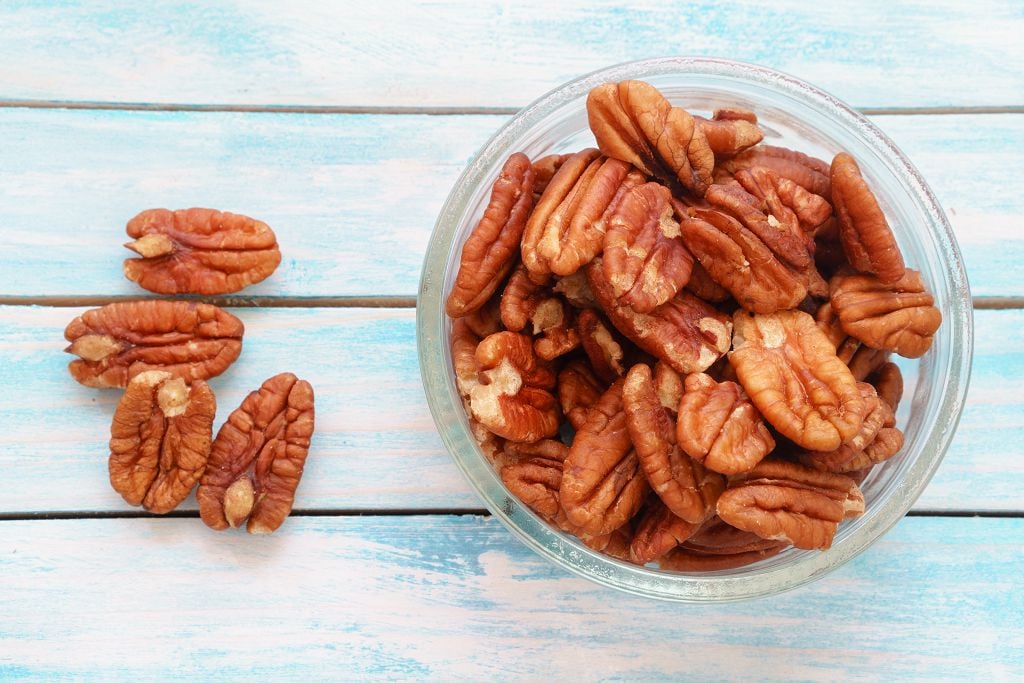 walnuts and a bowl of walnuts on the table
The perfect combination of crusty surface and a mild core is the reason why this recipe is at the top of this list. It's just super delicious! Pecans add the nutty crunch, and the herbs and seasonings fulfill this experience entirely. You can also add some mustard and enjoy your multi-flavored, fabulous dinner!
5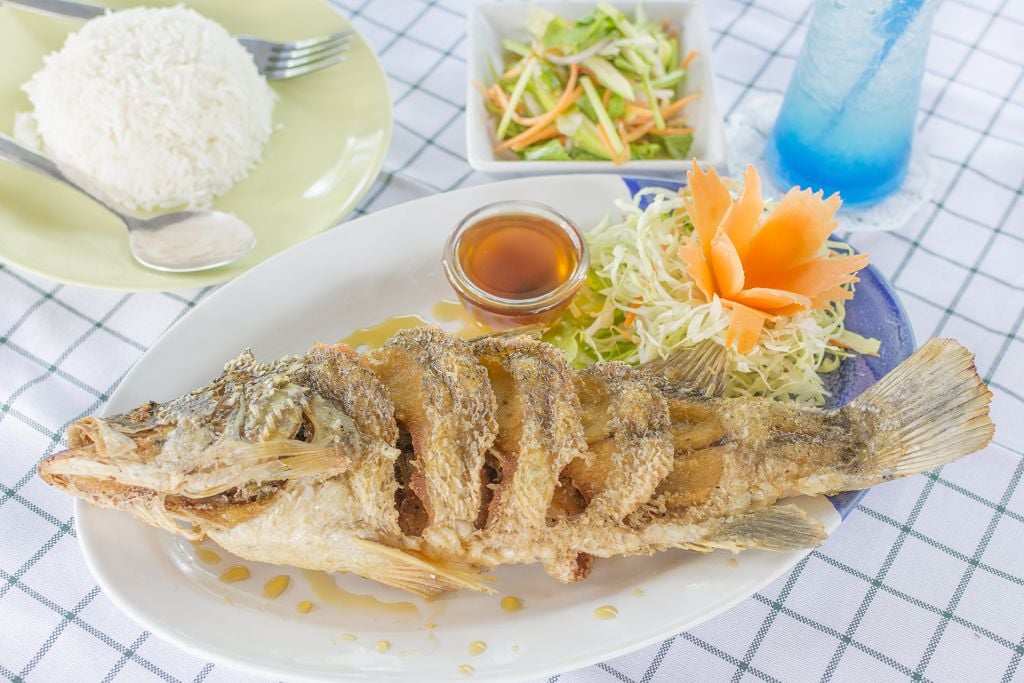 Lightly-Fried Snapper, fish sauce and vegetables on the plate, rice, a spoon and a fork
And finally, a fried fish!
Snapper tastes heavenly when it's fried. But what doesn't? When prepared this way, the snapper is juicer and flakier. Serve it with some rice and add lemon and you are good to go! Just be careful not to burn yourself when you make it, frying can be tricky.
Tasty, healthy and versatile
Fresh snapper, knife, slices of lemon on a cutting board and spices
Snapper is an exotic fish that tastes so sweet, mild and juicy. The best thing about it is that it is so versatile that you can use any cooking method to prepare it.
In addition to all of that, it is healthy and blissful for your diet!
I can't wait for you to try it, I just know that it will open a whole new world of flavors for you. Just like it did for me!
Today, I am feeling up for a BBQ Snapper, and I am curious to know which recipe will you try out first!
Wife, Mom of 4 and so much more living in the Sonoran desert. I am passionate about making meals and snacks healthier without sacrificing flavor! I promise you that if you buy healthy foods and make healthy foods, YOUR KIDS WILL EAT HEALTHY FOODS! My motto: Live as naturally as you want to feel.