Simply Healthy Family may collect a share of sales or other compensation from the links on this page.
Not everyone has a conventional oven in their home. If you are living in a small apartment, you might not have room for one either! Whether you have a toaster oven at home in the meantime as a solution for the meanwhile or your toaster oven is your permanent cooking solution, it is always handy to learn how to make your favorite meals with the tools you have.
I have some tips and tricks to share with you that will help you cook a steak to perfection in a toaster oven. You will also learn some more general cooking information regarding cooking meat in a toaster oven. Enjoy!
About Cooking Steak in a Toaster Oven
Why cook steak in a toaster oven? After all, we usually cook steak on a frying pan or very occasionally in a conventional oven, so it is only natural that cooking steak in a toaster oven sounds strange to you.
Although unconventional and somewhat strange, cooking steak in a toaster oven is totally doable, and moreover, you might not even taste the difference! Thick, meaty cuts of steak are ideal for cooking in a toaster oven as you can get a lot of heat into the meat without burning the outside of the steak.
Before cooking, be sure to clean your toaster oven so that the steak cooks properly and tastes delicious.
Choosing a Cut of Steak
Steak can be any slice of cow cut from its carcass. As you can imagine, every part of the carcass will have a different flavor and texture, which is why it is important to understand what steak you are purchasing. Here are some examples of steak for you to look at that are easy to cook in a toaster oven.
1. Filet Mignon
Filet mignon is one of the finest, most tender cuts of steak. Some say it is the creme de la creme of all steaks. If you are a steak lover, then you have probably ordered filet mignon at a fancy restaurant, but who says you can't cook it just as well at home?
2. T-Bone
T-bone steak is packed with succulent meaty flavors that speak for themselves. Most people like to lightly season this cut of meat to complement the steak's natural flavors instead of making them with heavy sauces.
3. Bone-in Strip Steak
Bone-in strip steak still has the bone in the meat, which makes it extra tender and juicy. I particularly like to cook this type of steak in a toaster oven as the bone makes the meat taste exceptional.
4. Bone-in Rib Eye Steak
This is another piece of meat that has the bone still intact. Packed full of juicy flavor, this is another perfect slice of meat for cooking in a toaster oven. The only thing you need to be careful of is getting the cooking times right as this is a very big piece of meat that needs to be cooked with care.
How to Cook Steak in a Toaster Oven
The following instructions can be followed for cooking most medium cuts of steak. Smaller or larger cuts will have a varying cooking time.
1. Prepare the Steak
Remove the steak from the refrigerator and let it rest at room temperature. It is important that the steak is cooked at room temperature and not when it is cold as this will change its texture and cooking times.
Season the steak to taste. You can do this by rubbing oil and rosemary on the steak and leaving it to rest for an hour, or you can season it with more potent flavors; the choice is yours! Make sure you rub the seasoning all over the steak, not forgetting the underside and sides.
2. Prepare the Oven
You will need a baking tray and three pieces of aluminum foil for this part. Take two pieces of foil and place them one on top of the other onto the baking tray. Next, you will need to shape the third piece of foil into a boat or a bowl. The steak should be placed into the boat-shaped foil on the tray.
Preheat the oven and wait for it to reach the right temperature before proceeding. You will need to set the toaster oven to 'broiling' or a similar setting.
Top Tip: Do not underestimate the importance of making a bowl or boat out of foil to sit the steak in. It will catch all of the juices and keep them near the steak which will not only prevent it from drying out but will stop the juices from spilling over and making a mess.
3. Broil
Melt butter into the aluminum foil bowl and put the steak on top. Rub butter onto the top side of the steak so that it is covered in butter on all sides.
Season the steak and cook it for five to seven minutes on either side. I suggest removing the steak from the toaster oven just before it is ready as it will continue cooking out of the oven.
4. Rest
You should let your steak rest for five minutes before cutting into it. This will allow the juices and flavors to soak back into the meat.
You May Also Like: How to Cook Toaster Strudel in the Microwave
Is it Safe to Cook Raw Meat in a Toaster Oven?
Cooking raw meat in a toaster oven is completely fine! Think of it as cooking in a very small conventional oven. The most important thing to remember when cooking raw meat is to clean the oven well before and after cooking to keep everything sterile and hygienic.
What Goes Well With Steak?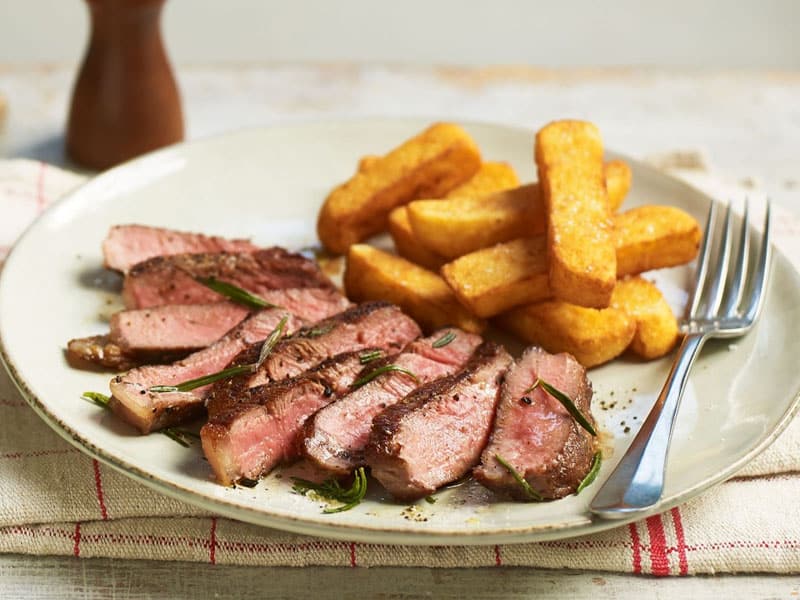 There are plenty of side dishes that go brilliantly with steak, but if you are in a rush or lacking inspiration, the following suggestions should help you. Here are my favorite side dishes to serve with succulent steak.
1. Mashed Potatoes
Mashed potatoes are a quick, easy, and very filling side dish with steak. I like to make the mashed potatoes extra buttery to compliment the steak and serve it with a gravy or light sauce. If you are watching your calorie intake, I suggest adding a splash of milk in the mash instead of butter.
2. Thick Fries
They aren't called 'steak cut' fries for nothing! Thick, crispy fries are a juicy steak best friend. If you don't have much time to prepare your dish, you can simply buy frozen fries that are just as good. Deep fry them in a medium pan if you want to replicate a restaurant meal. This might not be the healthiest option, but this certainly is the side to go for if you need a little comfort food.
3. Al Dente Vegetables
Soft and tender cuts of steak go well with al dente vegetables. The contrast in textures is very refreshing, especially if you don't want the meal to be too heavy.
4. Asparagus
Steamed asparagus with butter and salt is one of the simplest sides for steak, and it just works! It takes less than five minutes to make, it is super healthy, and it is very hard to get wrong. Perfect!
You May Also Like: How to Cook Toaster Strudel in the Oven
Steak Temperature Guide
Set the temperature to 125 degrees Fahrenheit if you want your steak to be cooked to juicy rare. For a medium cook on your steak, set the temperature to 135, and for well-done, set the oven to 145 degrees. Simple right?
Using a meat thermometer will help you get the steak cooked perfectly. Simply insert the meat thermometer into the steak and assess the temperature. Use this as a guide:
Rare 140°F
Medium rare 149°F
Medium 153°F
Medium well-done 158°F
Well-done 167°F