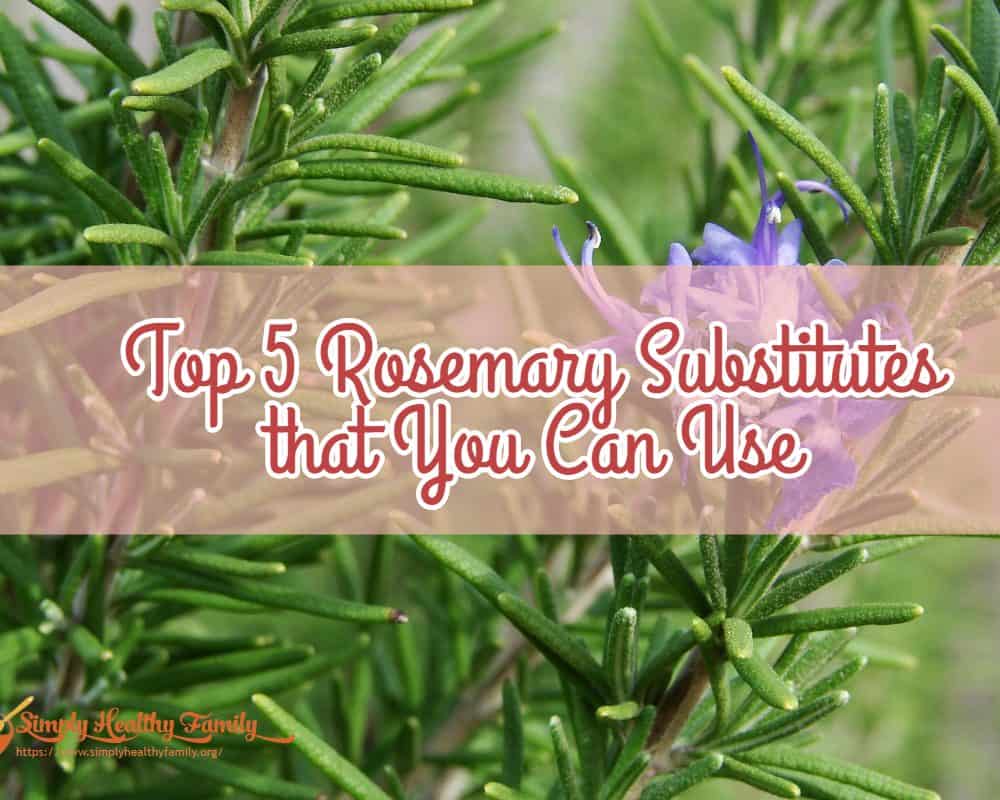 Simply Healthy Family may collect a share of sales or other compensation from the links on this page.
From crispy roasted chicken to turkey meatloaf to the simple rosemary bread, there are a lot of recipes that require rosemary. However, there will always be instances when you don't have rosemary in your cupboard. Is there any rosemary substitute that you can use in lieu of the aromatic herb?
Top 5 Rosemary Subtitutes that You Can Use
What is rosemary?
Rosemary is one of the most versatile herbs known to man. It has been called by several names like "Old Man" and "Dew of the Sea." It is a member of the mint family.
Its green leaves appear like pine needles. The leaves may sometimes be dark green in color. This evergreen shrub is native to the Mediterranean. Its leaves are freshly available all year round.
How does it taste like?
Rosemary is a very powerful herb. The taste is often described as pungy. Its flavor is so powerful that it can be too noticeable in some dishes, especially when you put too much of it. The same goes if you pair it with the wrong flavors.
Because of that characteristic of rosemary I recommend using a very minimal amount of it. You should also know that the flavor of this herb gains strength the longer that a dish is cooked.
What are the uses of rosemary?
Rosemary is traditionally used to flavor meat dishes, like meat, poultry and lamb. It can also add flavor to vegetables, sauces, soups, salads, and salad dressings.
I like to dress up plain pasta and bread with rosemary oil. It just makes those foods a lot more flavorful.
You can also add rosemary to detox water or sparkling rosemary limeade.
What are the best rosemary substitutes?
Let's go to the question I raised earlier —what can you use in lieu of rosemary?
Here are five ingredients that can replace rosemary in certain recipes:
Thyme
Like rosemary, thyme is part of the mint family. It has an aroma that is similar to that of eucalyptus and lemon. Its flowers come in various colors—lilac, white, and pink.
Thyme can be used to flavor beefsteak, fish, and vegetables. It is widely available in groceries and specialty herb stores.
You can use thyme for a recipe that calls for dried rosemary. You don't need to be a math wizard to determine the amount of thyme for the recipe. Just add thyme in the same amount of rosemary that your recipe requires.​
Tarragon
This is a herb that is native to the North American region. It is also found in parts of Europe and Asia.
It is part of the sunflower family, and widely known for having a very intense flavor. Because of that trait, tarragon can be a great substitute to rosemary for a recipe that needs some spice.​
Tarragon is a common ingredient in French recipes that include eggs, chicken, fish, and cheese.​
It can be used for flavoring chicken, fish, and poultry. I also like to incorporate it in soup.​
Similar to thyme, you simply put tarragon in the same amount of rosemary as stated in the recipe you are following.​
Dried savory
Dried savory is also very similar to thyme. This similarity in taste and flavor makes dried savory another ideal substitute to rosemary.
Dried savory belongs to the mint family, just like rosemary. This is a herb that complements egg dishes very well. It can also enhance the flavor of herbs, peas, and lentils.​
Dried savory has a robust flavor that can hold up well when it is added to dishes like soups and stews. I also know that it can be combined with breadcrumbs.​
Sage
Sage is an ingredient that's very much in demand during Thanksgiving. It is widely used to enhance the flavor of roasted turkey and kitchen. It can also be used as a seasoning in stuffing meat and poultry.
It is available in fresh, dried, and ground forms. Aside from its strong, aromatic flavor, it is also known for its slightly bitter taste.​
Its taste may be different from rosemary, but sage can still complement most of the foods that rosemary is known to spice up.​
In particular, you can use sage as a substitute for rosemary in egg and meat dishes. Simply replace it measure for measure.​
Basil
Last but not the least is, basil will also make an excellent substitute for rosemary.
You could be familiar with basil. After all, it's another popular herb just like rosemary. Its pointed leaves make it similar to peppermint. It is also the main ingredient in pesto, which I absolutely love.​
Basil would work well with Italian dishes. You can use it in lieu of basil if the recipe you're doing has tomato.​
Conclusion
Before I end, let me remind you to slowly add the herbs you are using to substitute for rosemary. Taste as you work so that you can come up with the best tasting dish possible.
Also, I discourage you from replacing more than one ingredient at a time. This way, you would know what the culprit is in case the dish turns out to be a dud.
I hope you learned something from reading this article. If you like it, please do share it with your friends.