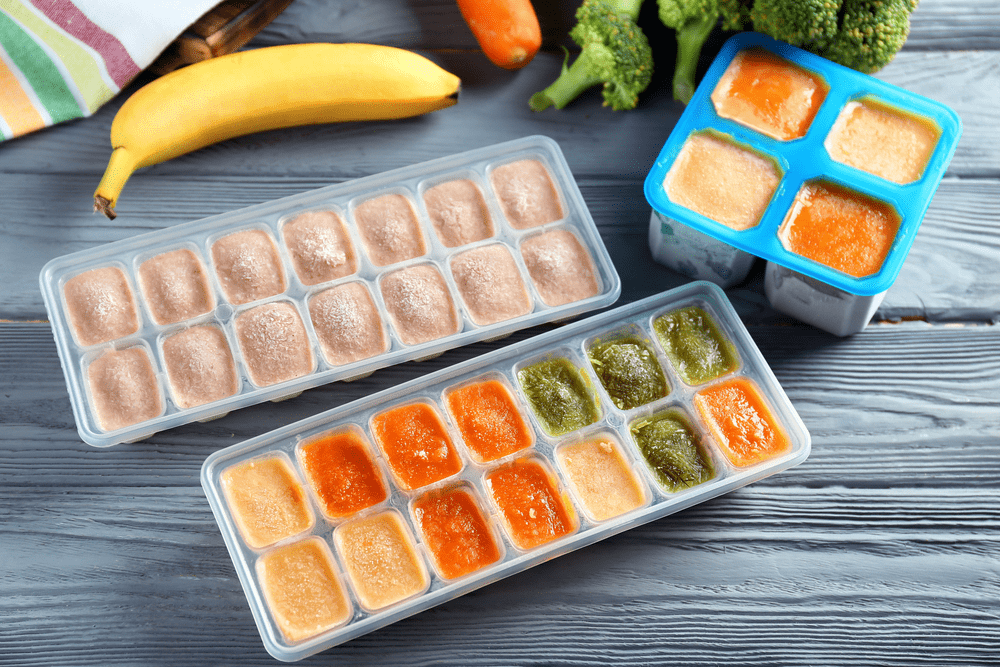 Simply Healthy Family may collect a share of sales or other compensation from the links on this page.
Do you always have to bring the food processor or a personal blender out of the cabinet every time you feed your baby? I can imagine how tiring that could get. Why don't you just invest in an ice cube tray for baby food? There are numerous ice cube trays specially designed to store and freeze food purees you've prepared in bulk for your precious one.
Now you may wonder--- why not use an ordinary ice cube tray instead? Wouldn't that suffice?
Well, there are several good reasons why you shouldn't use ice cube trays for this purpose. One is that most ice cube trays aren't free of the chemical Bisphenol A (BPA) which can be toxic. This chemical can seep into the baby food that you store in the ice cube tray. Another reason is that ice cube trays don't have a cover, and this could lead to freezer burn that can affect the quality of food.
And lastly, why would you put food in your ice cube trays? Doesn't that sound disgusting?
With a baby food ice cube tray, you can store as much baby food as you want. You can also use this tray for making small ice cubes. A baby food ice cube tray is definitely worth getting, right?
Anyway, I've listed down several ice cube trays that are designed for baby food. But before you read their reviews, you might want to know first what you should look for in a baby food freezer tray.
Make Baby Food In Bulk And Freeze Them Easily With The Best Ice Cube Tray For Baby Food
What To Look For In An Ice Cube Tray For Baby Food
1. Free Of Chemicals
Aside from being BPA-free, the ice cube tray that you should get should be free from other toxics such as phthalates which have been linked to breast cancer and type II diabetes as well as PVC which can damage the liver.
2. Size
The ideal ice cube tray for baby food is compact enough to be stored even in the smallest freezers. I would also recommend that you get an ice cube tray that is easy to stack with other freezer items.
3. Cover
The last thing you want to happen is for the food to spill. Thus I suggest that you get an ice cube tray that has a very secure cover. The cover must also be easy to slide in and out of the tray.
4. Ease Of Cleaning
Get an ice cube tray that is dishwasher-safe so that cleaning it won't be a problem at all.
5. Capacity
It's really up to you how much baby food that the ice cube tray you get can hold. Most trays have a cube of about an ounce in capacity.
Top 5 Ice Cube Trays for Baby Food Available On The Market Today
#1 Mumi&Bubi Baby Food Freezer Storage Trays Starter Kit
This starter kit features two premium quality and stackable baby food freezer trays with lids. These trays are compact enough to be stored in most freezers. Each tray has a 21-ounce capacity, with 21 one-ounce cubes for maximum storage.
The trays are certified BPA and PVC-free. These trays are also dishwasher-safe thus you should have no problem in washing them.
Moms and dads will also appreciate the e-guide with 27 recipes that can help them get started in making baby food.
You might have experienced how difficult it is to remove ice cubes from traditional ice cube trays. You won't go through such ordeal when you use this ice cube tray because the cubes are rounded at the bottom. This makes it easier for you to lever out the cubes and then put back the rest in the freezer.
#2 OXO Tot Baby Food Freezer Tray
This baby food freezer tray features a flat and colorful cover that would let you control the number of cubes that you can access at a time. Each cube of the 14 has a capacity of about ¾ ounce.
The green cover is not only bright and attractive but also prevents the freezer odor from affecting the content of the tray. It is also very easy to secure. The tray is also compact and easy to stack with other freezer items.
You will also love that the tray doesn't stain easily thus clean-up of this product won't be much of a concern. When it is time to clean it, you may want to pour hot water on the tray before popping it in the dishwasher.
#3 Vremi Silicone Ice Cube Trays with Lids
This set features two ice cube trays with covers. Each tray can hold 21 ice cubes measuring 1.3 inches on all sides. The trays are made of flexible silicone. You will love how easy it is to pop the cubes out of the tray.
These are stackable trays that can help you maximize space in your freezer. And because these are dishwasher - safe trays, you need not spend a lot of time cleaning them.
These trays are also oven - safe so you can use them eventually once your babies have all grown up.
#4 JumpTots Silicone Baby Food Tray
These JumpTots trays are safe for freezing baby food as these are BPA and PVC free. They are also very flexible and getting the cubes out of them is relatively easy.
There are nine cubes in the trays with each cube having a 2-ounce capacity. The snap-on lids are clear and should let you see the food you have stored.
The lids also seal tightly, so there should be no spills when you use this tray. There's also a clip on the lid to keep the cover tightly on the tray.
As in the case of the preceding item, this tray is safe to use in the oven. You can also pop it in the dishwasher or clean it by hand.
#5 Suntake 2Packs Silicone Ice Cube Trays
These ice cube trays are also made of silicone which is 100% free from BPA and other harmful chemicals. It comes with clip-on lids designed to prevent bacteria and other odors coming from the freezer to affect or spoil the food stored in the trays.
This is actually a set of two trays of 9 cubes. Each cube has a capacity of 2.5 ounces. These trays are also safe to be used in the oven as these can resist temperatures of up to 450 degrees Fahrenheit.
What I love most about these ice cube trays is that it is really easy to pop out a cube or two. It is very flexible but durable and won't crack, unlike other ice cube trays.
And like the other ice cube trays in this list, these trays are very compact and easy to stack in the freezer.
Conclusion
So what's the best ice cube tray for baby food for me?
I am picking the Suntake 2Packs Silicone Ice Cube Trays. I feel that the ice cube trays have the best combination of size, capacity, and durability. I also like that it is very easy to pop out the cubes out of the tray.
Of course, it's really up to you to decide which one of the trays I've listed above is the best suited for your baby's needs. In case you've bought one from any of the products listed above, why don't you share your thoughts about the ice cube tray? Feel free to comment below or even better, share this article on your social media accounts.