Make Bread and Other Baked Goods with the Best Loaf Pans
Simply Healthy Family may collect a share of sales or other compensation from the links on this page.
Are you sick and tired of ending up with underbaked bread? Do you hate it when your pound cakes always stick to the pan? Well, I am sure that even the most experienced bakers will advise you to upgrade your loaf pan.
In choosing a loaf pan, you'll have to consider many factors and not just the price of the kitchen apparatus. In my book, the material and size are the two most important things to weigh in when shopping for a loaf pan.
Related Reading: Store Your Bread Properly and Keep Them Fresh With the Best Bread Box
| Rank | Product Name |
| --- | --- |
| #1 | |
| #2 | |
| #3 | |
| #4 | |
| #5 | |
**Below, you'll find our more detailed reviews, but you can also click the links above to see current prices or read customer reviews on Amazon.
What's the best material for a loaf pan?
A Loaf Pan with bread on the table
It is easy to say that aluminum is the best material for a bread pan. After all, this is the most popular material used. It is cheap and conducts temperature well. It is also able to resist corrosion, so you can be assured that an aluminum loaf pan can last for a long time.
There are other materials worth taking a look at. Silicone, for one, is very durable, too. It can also cool down faster compared to aluminum. Plus, silicone bread pans are very flexible and space saving.
Stainless steel, on the other hand, is preferred by some bakers because it is strong and scratch-resistant. Sure, it doesn't conduct temperature as well as aluminum. But stainless steel loan pans are easy to clean which bodes well for busy homemakers like you.
There are also bread pans made of ceramic. This material is also a good conductor of heat. While ceramic is non-stick, it can also crack when stored. Speaking of storage, ceramic bread pans can be very difficult to store as well.
What's the ideal size of a loaf pan?
Loaf Pans on the table
Loaf pans are available in different sizes. But most yeast recipes call for one of these two sizes—9 inches by 5 inches and 8.5 inches by 4.5 inches. Both pan sizes are 2.5 inches tall.
The 0.5-inch difference may not sound like much, but in reality, it can spell the difference between a nicely baked loaf and one that didn't rise well enough.
An 8.5 x 4.5 inches pan is ideal for yeast loaf recipes requiring 3 cups of flour. On the other hand, a 9 x 5 inches pan is best used in recipes where 3 ¾ cups of flour are required. If the recipe calls for 4 or more cups of flour, it would be best to use a loaf pan measuring 10 x 5 inches.
Other things to consider in buying a loaf pan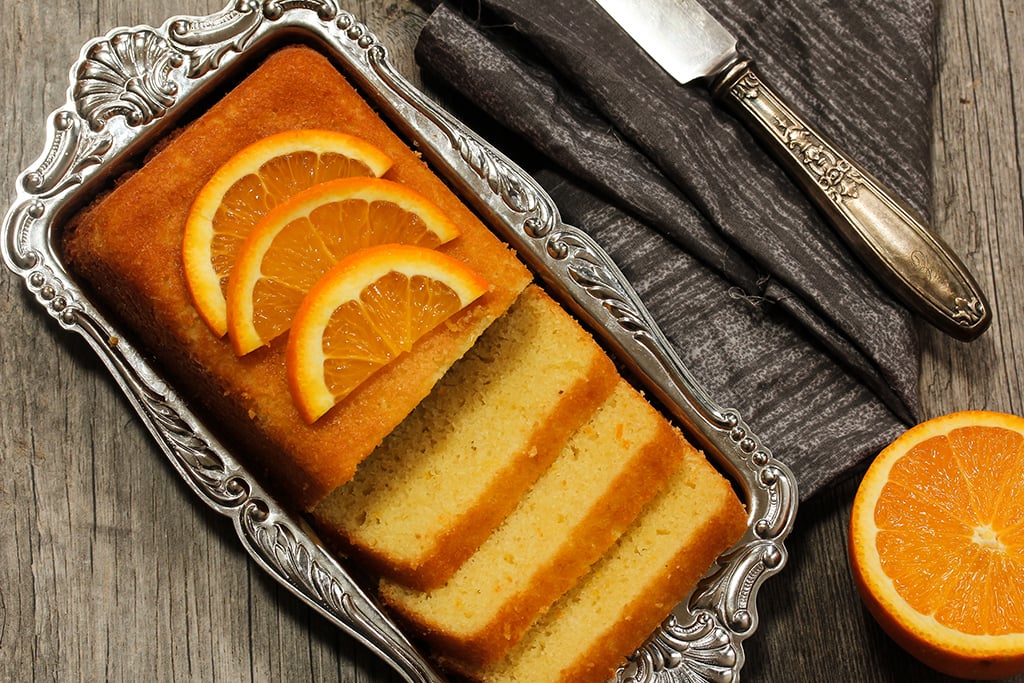 slices of bread and slices of lemon in the Loaf Pan
Aside from those above, there are other factors that you need to consider when shopping for a loaf pan.
I would recommend that you get a loaf pan with a long warranty so you can get a replacement in case the pan you get fails. Brands offer different warranties, but you want to get one with the longest warranty period.
Another thing to consider is the ease of cleaning. Similar to buying a meat slicer or even a poultry shears, you would want a loaf pan that's easy to clean. The bread pan should preferably be cleaned with soap and water.
Top 5 Best Loaf Pan Available On The Market Today
There are four things you need to look for in a loaf pan. Now let's look at five bread pans which I believe would suit most home bakers like you.
#1. USA Pan Bakeware Pullman Loaf Pan with Cover, 9 x 4 inches
https://www.amazon.com/USA-Pan-Bakeware-Nonstick-Aluminized/dp/B001TO3CN8/
This is a medium sized loaf pan that you can depend on in making beautiful and evenly baked bread. It is made of high quality and heavy gauge aluminum steel. USA Pan backs it up with a lifetime warranty.
USA Pan Bakeware Pullman Loaf Pan With Cover, 9 x 4 inch, Nonstick & Quick Release Coating, Made in the USA from Aluminized Steel
The coating of this pan is non-stick silicone, which is free from harmful chemicals. The said coating also allows a quick and easy release of bread plus makes the pan easy to clean. Simply wash it with hot water and mild soap.
The pan also features a unique corrugated surface. This is designed to further improve the nonstick property of the pan and add extra strength. It also promotes superior heat distribution in the pan.
Experienced bakers would vouch for the quality of USA Pan bakeware as the company has been in the bakeware manufacturing industry for half a century already.
PROS
Comes from a well-respected brand
It is strong and durable as it is made from heavy gauge aluminum steel
Its non-stick silicone surface makes release of bread quick and easy
It is very easy to clean
It comes with a lifetime warranty
CONS
Sharp edges where the aluminum is folded; it should be handled with care
The lit can be difficult to slide in/out
#2. Farberware 46405 Non Stick Bakeware, 9×5 inches
https://www.amazon.com/Farberware-46405-Nonstick-Bakeware-2-Pack/dp/B01BLEHWS6/
Farberware 46405 Nonstick Bakeware 2 Piece Loaf Pan Set, Gray, 2-Pack
This 9×5 loaf pan comes from Farberware, which like USA Pan, is a very reputable brand. It is well-made with a non-stick coating that allows quick release of food and clean-up.
You'll love that this loaf pan has a thick walled construction. It's not cheaply made by any means. It also won't rust, which means you can use this for many years.
This is oven-safe up to temperatures of 450 degrees Fahrenheit. You can use this not only in baking bread but also making cakes and meatloaf. Plus you can get a couple of these pans and not worry about storage because the pans can easily stack.
While this has been getting lots of love online, there are some disgruntled users who report that the non-stick surface does not last long.
PROS
It has a non-stick coating that allows easy release of food
It is easy to clean
It is oven safe
The pan is well-made
CONS
The non-stick coating reportedly doesn't last long
Some buyers received pans with dents
#3. Wilton Recipe Right Medium Loaf Pan
https://www.amazon.com/Wilton-Recipe-Right-Medium-Loaf/dp/B000FT1F6Y/
This loaf pan measures 8.5 x 4.5 inches. It is made of heavy gauge steel.
I used to bake bread on this loaf in the past. And I was impressed with the quality of the pans. They look and feel very durable. I also loved that the bread didn't stick in the pan, although greasing it would help your cause. The bread simply falls out cleanly out of the pan.
Wilton Recipe Right Medium Loaf Pan
Moreover, this pan cools so fast that you won't have to wait long to serve the bread you've made. Thanks to the non-stick surface of the pan, clean up is very quick and easy.
However, there are also some issues with this pan that you might want to be aware of. One thing I hoped that the manufacturer could have done is to make the handles bigger so that it would be easier to lift the pan while you are using a pot holder.
PROS
Made of heavy gauge steel; can last a lifetime
Its non-stick surface makes clean up quick and easy
Bread won't stick to the fan; it easily falls out
Ideal for cooking while camping out
CONS
Needs a bigger lip for easier lifting of the pan when the user wears a pot holder
You'd still need to grease it
#4. Good Cook 8 Inch x 4 Inch Loaf Pan
https://www.amazon.com/Good-Cook-Inch-Loaf-Pan/dp/B0026RHI5K/
Good Cook 8 Inch x 4 Inch Loaf Pan
Like most of the units in this list, this loan pan is made of non-stick coated steel. As you would expect from pans made of steel, it is very sturdy and durable. This pan should not dent easily and last for a long time.
This is a dishwasher -safe pan albeit the manufacturer itself recommends hand washing it. Doing so won't be much of a chore because it can easily be washed with warm water and soap. The rounded corners also mean there won't be crease for the dough to stick.
This pan's size is ideal for making loaves for one to two people. The edges are designed for easy gripping.
PROS
It has a non-stick surface
It is dishwasher safe
It is easy to wash or clean
It can be easily gripped
CONS
Pan is a bit heavy
It is dark colored which may affect your bread's color
#5. Pyrex 1.5-Quart Clear Basics Glass Loaf Pan
https://www.amazon.com/Pyrex-1-5-Quart-Clear-Basics-Glass/dp/B00H5BQICG/
This is different from the other loaf pans I mentioned because it is made of Pyrex glass. Because of the material used in this pan, you can be assured that it won't stain, absorb odors and rust which is the nemesis of cheaper metal bread pans. Of course, since it is made of glass, you will have to be extra careful in using this loaf pan.
Pyrex 1.5-Quart Clear Basics Glass Loaf Pan (Set of 2)
The loaf pans are slightly taller than your standard bread pan so you can bake taller loaves with it. You'll also appreciate that these glass pans are naturally non-stick.
This is a very good loaf pan to have in your kitchen despite it not having the biggest handles and thus making it a bit difficult to transport.
PROS
Made of glass which doesn't absorb odors
Glass is naturally non-stick
It is slightly taller than most bread pans so you can bake taller loaves
It doesn't stain or get rusty
CONS
It can be shattered into pieces if you're not careful
Small handles make transport a challenge
Conclusion
USA Pan Bakeware Pullman Loaf Pan With Cover, 9 x 4 inch, Nonstick & Quick Release Coating, Made in the USA from Aluminized Steel
All of these are excellent pans that can replace your old or underperforming pans. But would you like to know which is my favorite in this list?
I'll have to say that the USA Pan loaf pan is my favorite and because I feel it is the best in this list, too. Made of superior quality aluminum steel, it has a non-stick silicone surface. It is easy to clean, too.
The corrugated surface not only adds extra strength to the pan but also enhances good heat distribution. The limited lifetime warranty is the cherry on top, so to speak.
How about you? What do you think is the best loaf pan in this list? Let us hear from you! Write in the comments section. You can also opt to share this article on your Facebook or Twitter accounts.
Wife, Mom of 4 and so much more living in the Sonoran desert. I am passionate about making meals and snacks healthier without sacrificing flavor! I promise you that if you buy healthy foods and make healthy foods, YOUR KIDS WILL EAT HEALTHY FOODS! My motto: Live as naturally as you want to feel.