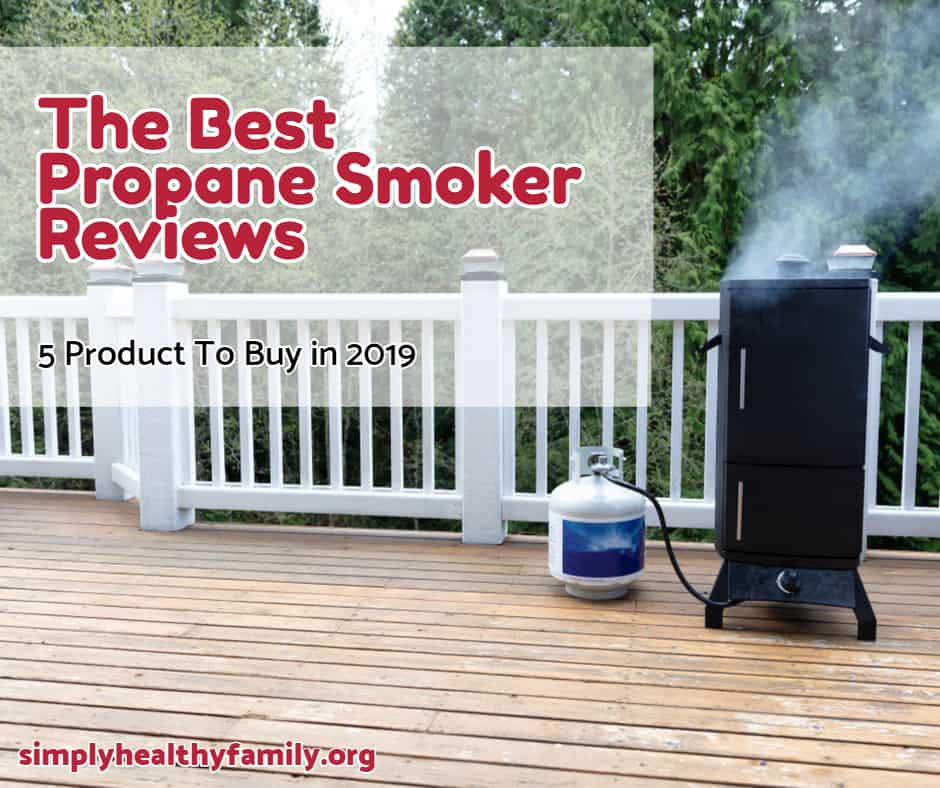 Simply Healthy Family may collect a share of sales or other compensation from the links on this page.
Propane smokers are great for giving meat that optimum smoky flavor everyone wants. They are portable, easy to use and the dreaded worry of running out of electricity and spoiling your meat doesn't exist. Ideal. When it comes to choosing a good propane smoker it can be hard.
There's a lot on the market now and knowing what to look out for and the best value for money is tricky. Luckily for you, we've done the hard part and reviewed smokers on the available today and handpicked our top 5 so you can make an informed decision. This guide will give you everything you need to know before you make the decision.
Top 5 Best Propane Smokers on the available today 2019
Best For Buget
16,500 BTUs
Best For Beginner
15,400 BTUs
Best For Big Group BBQs
15,000 BTUs
Perfect Smoker
20,000 BTUs
Perfect Smoker
15,400 BTUs
Best For Buget
16,500 BTUs

Best For Beginner
15,400 BTUs

Best For Big Group BBQs
15,000 BTUs

Perfect Smoker
20,000 BTUs

Perfect Smoker
15,400 BTUs
1. Char-Broil Vertical Liquid Propane Gas Smoker
Overall the Char-Broil Vertical Liquid Propane Smoker is a great budget-friendly smoker.
It offers adjustable dampers for heat control and there's a removal water pan and woodchip tray for the ultimate smoky flavor. It also has 3 chrome plated adjustable cooking racks which makes space for cooking easy to manage. There's a lid mounted gauge so the temperature can be checked at a glance and a rotary ignition for easy to manage ignition.
The Char-Broil Vertical Liquid smoker has a warming rack on top of the smoke chamber so food can be kept warm while the rest is cooking. This is really useful when there are large groups and you want to serve everything at the time but are worried about food going cold (we've all been there).
Why It's So Popular?
There's no denying that price plays a huge part in the popularity of this propane smoker. We could argue it's the best smoker on the market for the price, and this definitely helps with its popularity. But, there are also lots of other attractive features which make this a winner.
The smoker comes with 2 dual door partitions. One can be used for firing and the other partition is used for cooking. This means that it creates great heat flow when you are cooking your meat. Of course, the woodchip tray and water tray also play into its popularity, because that means exceptional smoky and tasty meat. Having such a wide range of features at such a reasonable price is the key for the Char-Broil Vertical Liquid smoker's popularity.
Why did we like it?
Space – There's plenty of space for cooking, with almost 600 square inches and 3 cooking grates. This means it's great for big numbers and parties. The racks are easily adjusted so even if it's a smaller amount you need to cook, space will never be an issue
Added LPG propane regulator – the smoker comes with its own LPG propane regulator, so no need to source an outside one. This also helps to keep cost down.
Lightweight – for a vertical smoker it's super easy to maneuver and is extremely portable. It can be easily transported to wherever you need
Price – OK, we have to mention the price again, please check the price here.
What we didn't like it?
Hard temperature control – managing the temperature can be difficult on this smoker and a close eye needs to be kept on it when cooking because we noticed if left unattended there was a risk of burning the meat
Poor woodchip tray design – the woodchip tray didn't live up to expectations and the design wasn't the best we have seen, this made it difficult to get the best flavor we wanted for our meat. The woodchip tray was also quite hard to remove
Small water container – the water container isn't as big as we would like, and we had to do quite a lot of refilling, which can be tedious. This also meant we needed to keep a close eye on the water, so we knew our meat was cooking all the time
2. Masterbuilt GS40 20050211 Black Propane Smoker, 40-Inch
The Masterbuilt 20050211 has a super slick black powdered outer shell design. It's a stylish smoker and is an impressive 40-inches so offers premium cooking space. It has 4 stainless steel burners, a gas control valve with a hose and type 1 regulator so safety is guaranteed with this smoker. It also comes with a porcelain coated woodchip tray which can be filled with any wood that takes your fancy.
This is a seriously strong feature for smoky lovers out there because it gives the opportunity to try different aromas and flavors. There's a temperature gauge on the door which is great for keeping an eye on temperature control during cooking and it makes the process a whole lot easier than having to check manually. The smoker comes with a built-in water tray for moisture, too.
Why It's So Popular?
This smoker offers users a well built, good quality and functional design. The 4 stainless steel racks and 1300 square inches of cooking space make it an attractive offering for people who like to cook lots of food using their smoker.
Meat, vegetables, briskets, ribs, fish and just about anything can all be cooked with ease using the Masterbuilt and flavor is never compromised.
This is an excellent smoker for beginners because it is easy to use, again another reason for its popularity. There is also a heating element of 15,400 BTU. Overall the high quality and multifunctional aspects of this smoker make it a popular choice on the market today.
Why did we like it?
The porcelain woodchip tray – This is a brilliant feature for people who love the variety and it gives the opportunity to try new wood and get a feel for the different tastes each wood offers and offers variety in smoky flavors
Construction – The steel construction makes this a well-built design and the size is perfect for bigger groups. This is one of the best smokers on the market in terms of size can go down a treat at big family gatherings
Temperature gauge – the temperature gauge is really accurate and makes controlling the cooking process a lot easier. There's no need to worry about whether the meat is being overcooked, and the temperature can be checked at a glance
Gas Control Valve – this comes in handy for easy start up when you want to cook
What we didn't like it?
Single door – depending on the model you buy the single door can make heat retention difficult. When cooking for large groups lots of meat is needed and it can be difficult to know whether or not it is all being cooked, so checking is often necessary. Which in turn can affect the cooking time and temperate control. If possible, we would advise not opening the door too much
Low temperatures – holding a low temperature can be difficult with this smoker, it is better suited to high heat cooking
3. Dyna-Glo DGY784BDP 36" Vertical LP Gas Smoker
The Dyna-Glo smoker is perfect for large numbers. It comes with a porcelain enameled steel woodchip tray and also boasts a porcelain enameled steel water bowl for the best taste and moisture options possible.
It has a double-door design, so the main oven doesn't need to be opened to access the woodchip and water pans. There are three vents to the smoker and sliding air dampers on the tops and sides for the best choice when smoking/cooking.
The design is easy to use and there is a temperature gauge on the front of this smoker, too. The heavy-duty steel body construction and powder-coat finish give this smoker a long life and it has a uniquely designed grease and condensation management system which make it easy to clean and maintain.
It also boasts a 15,000 BTU cast iron burner with a control dial and electronic button ignition. The cast iron burner maintains consistent temperatures and means it is reliable in cold or warm weather.
Why It's So Popular?
The smoker's double doors make this a popular option for people looking to invest. The double door design allows much better temperate control, while the porcelain woodchip tray means that, similar to the Masterbuilt smoker, you can choose the type of wood you want to cook with.
This is a big draw and makes this an exceptionally popular smoker. The cooking space itself is another reason this smoker is proving popular with 784 square inches it's also ideal for bigger group BBQs. The vertical design gives it easy access and also help in making this such a popular smoker because it offers greater gas efficiency.
Why did we like it?
The electronic pulse ignition system – the electro-pulse ignition system means this smoker is incredibly easy, quick and reliable to start. It's easy to use functionality and overall general ease to use made it a winner for us
Easy assemble – out of all the smokers this definitely was one of the easiest to put together. The racks are very easy to remove and in general, the overall process is relatively pain-free. This smoker also comes with the added bonus of a cooking manual, which is great for inspiration and a nice touch
Temperature control – because of the double door system, temperatures are much easier to control and temperature reduction is avoidable when opening doors. This is evident in the quality and consistency of the meat we cooked
Why we didn't like it?
Temperature gauge – we noticed that the temperature gauge could sometimes read a little off, which meant we did need to keep an eye on the meat. It's definitely not a deal breaker and the control is much better than a lot of other smokers. But, we would recommend checking your meat occasionally and checking the temperature, just to be on the safe side
Construction – while this smoker is no doubt sturdy, we noticed the doors weren't one hundred percent sealable and the construction was lacking the high-quality standards expected from Dyna-Glo, so the overall build of the smoker could do with a little upgrade
4. Smoke Hollow 38202G 38-Inch 2-Door Propane Gas Smoker
The Smoke Hollow is a high-quality design with 4 chrome plated cooking grids and multiple adjustment levels. It is also a highly competitive price and has a 20,000 BTUs gas output, which is highly effective and useful.
The smoker comes with a push-button ignition system for ease and upper and lower vents that offer maximum temperature control. As well as these features it also comes with an external temperature gauge, like some of the other smokers on the list. It also offers a two-door system for the woodchip tray and water so ease of internal heat and moisture has been considered in the manufacturing, which is always a big plus for us.
The smoker is lightweight and comes with a gas control system which in turn means that low and high temperatures are easily adjustable. The Smoke Hollow has a sausage hanger to cook sausages separately to other meat. So if sausages are your ultimate BBQ food, this might just be the perfect smoker for you.
Why It's So Popular?
The Smoke Hollow propane smoker is a popular option for so many because of its range of great features. It's high BTUs gas output, coupled with upper and lower level vents for great airflow make this a great option but beginners and experts in propane smokers.
It's easy to light and maintain temperatures and it is extremely light weight for great mobility. While not the biggest smoker on the market it is still a good size for cooking for any BBQ and its simple functionality make it a great choice for just about anyone looking to invest.
The sausage hanger is a big stand out popular feature, this brings diverse cooking options to the table and shows that this was a considered design.
Why did we like it?
Design – the overall design of the Smoke Hollow is seriously impressive. It's sleek, light-weight but the metal design means it's been designed to withstand wear and tear. All this and the separate meat and heat chambers for temperature control make it a strong contender today.
Ease of use – We've said it before, but this propane smoker is incredibly easy to use and comes with not only a built-in temperature gauge or also a thermostat
The accuracy of temperature – while some of the other smokers we mentioned don't have the best track record for temperature control this smoker is one of the most accurate for gauging temperature that we've tested
Why we didn't like it?
Woodchip design – the woodchip design was not the best quality we have tested, and the tray was difficult to remove from the bottom door
Door Sealing – the door sealing on this smoker felt a little on the budget side in comparison to some of the other smokers. This lets it down slightly. The welding could do with improvements for future models
Construction – while the smoker itself is a brilliant and efficient design the construction took longer than expected and was quite complicated. The manual could explain the build better
5. The Masterbuilt Extra Wide Propane Smoker
The Masterbuild Extra Wide Propane Smoker is the perfect companion for very large groups of people. It features over 1300 square feet of total cooking space, 4 chrome cooking racks a push button ignition, for ease. It offers 15,400 BTUs and also comes with a porcelain-coated wood chip tray and water pan.
There's a built-in temperature gauge and it is well insulated, a stand out feature for this smoker. The lock door feature means that this smoker is locked tight when meat is cooking so there is less risk of losing heat and temperature control is better managed.
There's also less chance of the smoke getting out and this means the best-smoked meat there is.
Why it's so popular?
The sheer size of this Masterbuild Smoker means it's popular for people who cook for large groups of people. It's hard wearing design also prove it's sturdy and a good investment for people looking for a bigger smoker than the usual.
It provides accurate temperature readings, some of the best on the market at the moment. The racks are sturdy enough to take the weight of high volumes of food, too. Which is another big reason that this propane smoker is so popular.
Why did we like it?
High-quality adjustable racks – the racks are incredibly sturdy and won't buckle under large quantities of food, this is a huge design benefit and the racks are easily adjusted, so no matter how much food is being cooked there's always room
Insulation – the smoker is well-insulated which traps in a lot of heat. The insulation also allows for a more consistently moist environment. This is a big plus for helping the flavor of the wood really seep through the meat
Accurate thermometer readings – so good it has to be mentioned twice, but this smokers thermometer is incredibly accurate, which is massively beneficial when judging cooking times and meat temperatures
Why we didn't like it?
Small water tray – the water tray was very small in comparison to the size of the smoker. This meant a lot of back and forth with water when cooking, which can be a little bit annoying. Especially if entertaining guests.
Single door design – this smoker doesn't have the advantage of a double door design and this means that it can be a little tricky when emptying the woodchip tray and temperatures can drop if there's a lot of opening and closing the door
Small woodchip tray – this is again another downfall for the smoker, the chips burn through quite quickly which can be a bit of a nightmare when cooking such large quantities
Conclusion
Smoked meat is one of the best things to enjoy at a BBQ and whether it's a small army you're feeding, or a nice family get together knowing the best smoker to suit your needs is important. There are so many great propane smokers on the market today that narrowing it down to just five was always going to be tricky. Each smoker chosen has been done so to give a better view on volume of cooking space, quality, design and all the features that you might not realize are important, but actually, are.
The designs are all different and boost a variety of different benefits. So, whether it's porcelain woodchip trays you are after, or a more compact design the above guide should help you pick the perfect propane smoker. Now, happy shopping, and more importantly, happy smoking.
Wife, Mom of 4 and so much more living in the Sonoran desert. I am passionate about making meals and snacks healthier without sacrificing flavor! I promise you that if you buy healthy foods and make healthy foods, YOUR KIDS WILL EAT HEALTHY FOODS! My motto: Live as naturally as you want to feel.