8 Easy & Delicious Substitutes for Seafood Stock 2023
Simply Healthy Family may collect a share of sales or other compensation from the links on this page.
Seafood stock is a flavorful, often full-bodied, soup base made from fish bones, non-fatty sea fish heads, and lobster shells. It serves as the foundation of seafood soups, adding flavor and consistency to chowders, bisques, and other seafood-based recipes.
Foods that make excellent substitutes for seafood stock include fumet (fish stock), vegetable broth, chicken broth, clam juice, and dashi. These substitutes lack the exact subtle flavors of seafood stock, but mixing and matching several ingredients infuses the desired flavor notes into your recipes.
Best Substitute for Seafood Stock: Fumet (Fish Stock)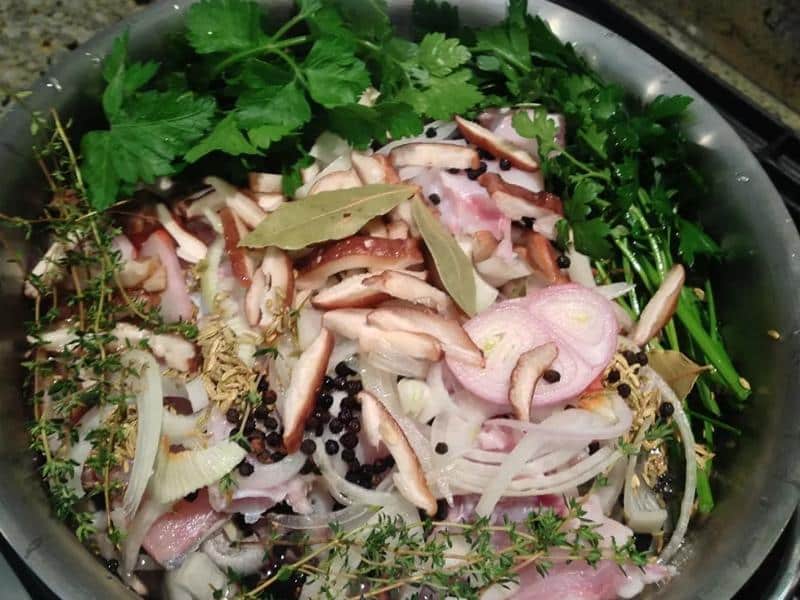 The best substitute for seafood stock is fumet, also known as fish stock. Fumet is a concentrated broth made from fish bones, non-fatty sea fish heads, vegetables or seaweed, and lobster shells. Fumet is an excellent alternative to seafood stock because of its subtle, delicate flavor and texture.
Ingredients:
1 carrot
1 lemon
2 tbsp salt
2 red snappers bones and heads
1/2 white onion diced
1 Celery stalk
2 tbsp extra virgin oil
2 bay leaves
6 sprig thymes
5 peppercorns
1 handful flat leaf parsley leaves
To make your own fish stock, clean and debone the fish, removing the head and scales. Prepare a bouquet garni (a bunch of herbs) using the vegetables and herbs, and set aside. Add oil into a pot and sauté the onion and celery until translucent.
Add the fish bones, fish heads, and spices into the crockpot, then add enough water to cover the ingredients. Bring the contents to a boil, then lower the heat and simmer for one hour.
Strain the stock into a clean pot and discard the solids. Press the liquid through a sieve to remove any remaining bits of fish and other floating particles.
When serving fumet as a substitute for seafood stock, use this stock as a base or add other ingredients to enhance the flavor. A ratio of one cup of fumet to one cup of seafood stock brings about a delicate flavor while still imparting the nuances of seafood broth. You can add seafood stock to clam chowder to achieve a similar flavor profile.
Other Seafood Stock Substitutes, Alternatives, and Replacements
This section will discuss foods you can use in place of seafood stock. You'll find information on how to prepare these foods and how much to use when substituting in the recipe.
Vegetable Broth
Vegetable broth is an excellent substitute for seafood stock. Although vegetable broth lacks the fishy flavor of seafood stock, this broth provides the base for your recipe by adding extra salt and pepper.
Vegetable broth comprises ingredients that are rich in minerals, vitamins, and natural enzymes. This broth makes a healthy alternative to meat stocks in recipes because it's lower in fat than beef or chicken broth.
Ingredients:
2 bay leaves
1 tbsp olive oil
2 chopped onions
8 cups of water
2 parsley sprigs
Salt and pepper
Vegetable scraps
Chopped celery
Chopped garlic cloves
Prepare the vegetable broth by sautéing the bay leaves, thyme, onions, and garlic cloves in olive oil. Cook until tender and translucent. Add the water, vegetable scraps, celery, and parsley into the pot and bring to a boil.
Pour the ingredients through a strainer or colander, extracting the vegetables. Discard the solids and add salt and pepper for seasoning then serve with your dish.
Vegetable broth has a milder flavor than seafood stock. A ratio of 1 cup of vegetable broth to 2 cups of seafood stock will provide a deep-flavored base.
Chicken Stock
Chicken stock is a wonderful substitute for seafood stock because of its distinct flavor and versatility. Chicken stock's pure white color enhances the seafood appearance in recipes.
Concentrates, dried forms, and fresh stock are all types of chicken stock. Use fresh stock because it has a richer flavor. Dried forms of chicken stock are a shelf-stable version, and can be stored for long periods in your pantry.
Ingredients:
Leftover bones
1 celery stalk
Quartered onions
1 carrot
Salt and black pepper
Water
Add all the ingredients to a pot, cover with water, and bring to a boil. Reduce the heat and simmer for 60 minutes while skimming the surface to remove the foam. Strain the stock into a bowl or pot and discard the solids.
Chicken stock has a deeper, more pronounced flavor than seafood stock. Use a ratio of 2 cups of chicken broth to 1 cup of seafood stock for a richer taste.
Clam Juice
Clam juice is a flavorful substitute for seafood stock. With a distinctive but subtle taste, clam juice enhances the flavors of seafood dishes. The juice from canned clams adds a hint of saltiness and just enough briny flavor for the dish. You'll find canned clams in the drinks section or the canned food aisle in your local supermarket, next to other clam products such as tuna and salmon.
Ingredients:
Add the juice from the canned clams to your recipe. Some brands pasteurize their clam juice, which affects how it tastes. Pasteurized versions possess a saltier taste compared to unpasteurized clam juice. Experiment with different brands to find your preference.
A ratio of 1 cup of clam juice to 2 cups of seafood stock provides a subtle, salty flavor to your dish. The salty taste can become overwhelming if you use more than a 2:1 ratio.
Prawn and Shrimp Stock
Prawn and shrimp stock has a similar taste to seafood stock. The shells from these sea creatures contain a full spectrum of nutrients from the ocean, including minerals and vitamins.
Prawn and shrimp are sea-based crustaceans with more delicate flavors than other types of shellfish. The shells of shrimp and prawns possess a mild, sweet flavor that makes an excellent base for seafood dishes. Prawn and shrimp stocks have a fishy smell that complements seafood dishes.
Ingredients:
1 tbsp vegetable oil
2 cups water
Salt to taste
Leftover prawn and shrimp shells
Heat the oil and add the shells to create a roasting effect. Add water when the shells turn golden brown and bring to a boil. Turn the shells while pressing down using a wooden stick to extract maximum flavor.
Season with salt and simmer for 30 minutes. Remove from the heat and strain the stock into a bowl or pot, discarding any solids. Using flavored oils such as garlic for cooking seafood dishes adds extra flavor to the dish.
Seafood stock and prawn and shrimp stock have an almost identical taste. A ratio of 1:1 prawn and shrimp stock to seafood stock makes it a perfect substitute.
Dashi
Dashi is a traditional Japanese stock made from kelp, seaweed, and bonito flakes. With deep, rich, salty flavors, dashi is a staple seasoning in many Japanese dishes.
Dashi is the essence of Japanese cuisine, packed with umami flavors that enhance and round out dishes. It's an essential ingredient in dishes such as miso soup and hot pot. Dashi is the base for most broths in Japanese cooking.
Dashi has a delicate flavor that can overwhelm stronger-flavored dishes and ingredients, such as seafood and meat. Use dashi in lighter dishes such as soups and sauces.
Dashi is available as a store-bought ingredient, but making your stock gives you the ability to control the flavor and nutrients.
Ingredients:
1 liter water
3 dried kelp sheets
2-inch square piece of kombu (kelp)
1/2 cup dried bonito flakes
Add the ingredients to a pot, cover with water, and bring to a boil. Reduce heat and simmer for 30 minutes while skimming the surface to remove the foam. Remove from the heat and strain the stock into a bowl or pot, discarding any solids.
Dashi is a delicate flavor and has many purposes. A ratio of 1 cup dashi to 2 cups seafood stock gives off an umami taste with a subtle, salty flavor.
Soy Sauce
Soy sauce is a popular condiment in many cultures. This sauce has a salty taste and acts as a marinade because of its high umami content. Soy sauce doesn't have the same flavor as fish sauce or clam juice, but the unique soy flavor enhances the taste of seafood when used sparingly.
Some soy sauce brands are too strong for cooking, but off-brand Asian brands are perfect when searching for a seafood stock substitute. Use soy sauce with fish-based dishes or seafood soups. A ratio of 1 cup of soy sauce to 2 cups of seafood stock ensures a subtle flavor.
Beef Stock
Beef stock is dark brown and has a rich, earthy flavor. It's meaty with herb flavors and a nutty finish. The beef's natural fat content gives it a bold flavor that enhances stews, soups, and sauces.
Beef stock is a good substitute for seafood dishes that require strong, robust flavors. Seafood dishes such as shrimp with cream sauce or lobster bisque benefit from the bold, robust flavors found in beef stock.
Ingredients:
1 tbsp of olive oil
2 quartered onions
2 large carrots
1 celery rib
2 garlic cloves
2 bay leaves
6 peppercorns
Meaty beef stock bones
Preheat the oven and roast the meaty bones, carrots, onions, and garlic in a large roasting pan for 45 minutes. Turn the pieces and roast for an additional five minutes. Pour the ingredients into a large pot and add water to cover the bones and vegetables.
Add the celery, peppercorns, and bay leaves into the pot and bring to a simmer. Reduce the heat and simmer for six hours, occasionally skimming the surface to remove foam and fat. Strain the stock into a bowl or pot and discard any solids.
Let the stock cool down and remove any fat layer on the surface. Beef stock isn't as salty as seafood stocks, but it gives off a strong, robust flavor that is perfect for hearty dishes such as beef stew and beef gravy.
A ratio of 1 cup of beef stock to 1 cup of seafood stock enhances the taste of shrimp or fish. Avoid using beef stock in lighter seafood dishes, such as fish soup.
Bottom Line
Seafood stocks are an essential ingredient in cooking, but not all stocks come with the same flavor profile. If you want to enhance seafood dishes without introducing overpowering flavors or making your dish taste too salty, consider using a substitute.
The perfect seafood stock substitute enhances the flavor of seafood dishes without being too strong or salty. Fumet or fish stock makes the best seafood stock substitute due to its lighter, subtle flavor.
Wife, Mom of 4 and so much more living in the Sonoran desert. I am passionate about making meals and snacks healthier without sacrificing flavor! I promise you that if you buy healthy foods and make healthy foods, YOUR KIDS WILL EAT HEALTHY FOODS! My motto: Live as naturally as you want to feel.