Top 50 Food Blogs You Should Be Reading
Simply Healthy Family may collect a share of sales or other compensation from the links on this page.
As a food blogger, I believe all bloggers – not only food bloggers spend a lot of sweat and tears to building their sites. Taking pictures or writing an article all need much of efforts. There are thousands of food blog but my pick below is based on personal thinking and some are my friends' suggestions. However, this list is in no particular order.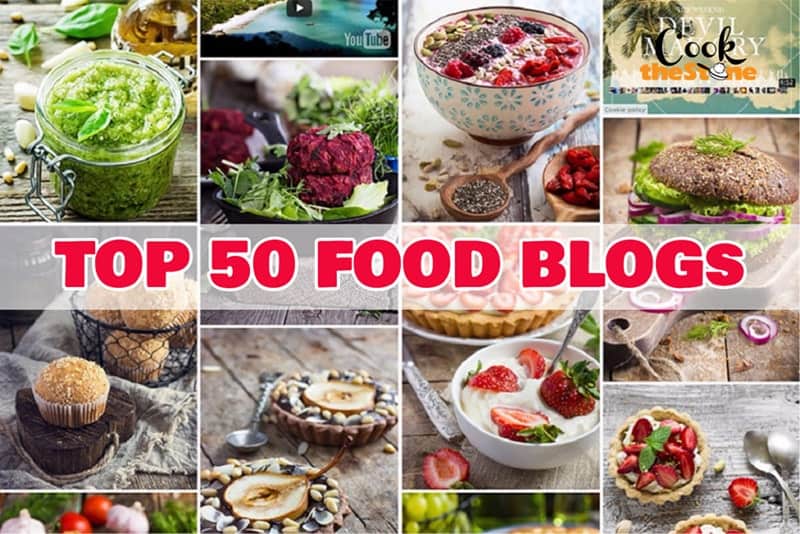 1. Fiction-Food Café
This is absolutely a place where you can enjoy the fun from food and fiction. Food and fiction, sound interesting? Diane is a girl behind this blog, who is very intelligent, I think. The way she writes her blog is amazing because it is not only fun, but also easy and clear to follow.
I had tried her Meaty Rice Balls Recipe many times when I had picnics. My whole family loves it. Meaty Rice Balls are perfect for an outside picnic because of its convenience, quick preparation and yummy. My kids always asked for 2 or even 3 balls everytime I had to cook this.
2. Pinch of Yum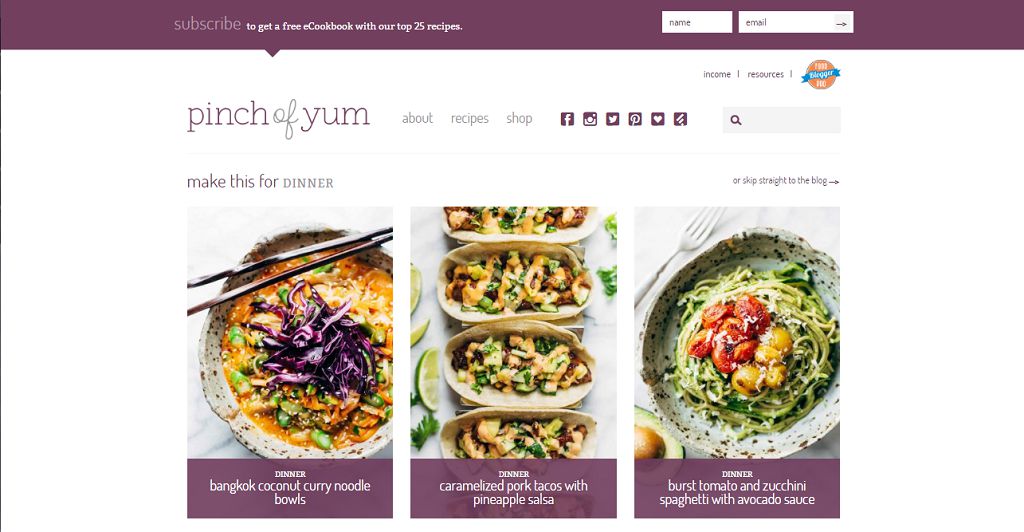 There is one thing I love on this blog which is the variety of topics from healthy food to basic recipes or any dish for special occasions. I still remember the first post I read from her site was Simple poached egg and avocado toast. And my first impression was so strong because the recipe was easy to follow and the food photos had the balance in colors. They all made me have to follow her since 2015 till now.
She has just written a recipe for Spring Detox Cauliflower Salad but I haven't time to try yet. Just thinking about that makes my stomach is boiling. I will try this recipe on next week.
3. Chocolate Covered Katie
A woman behind the Chocolate Covered Katie, of course, Katie have a major sweet tooth. She is introduced in the blog that she eats chocolate every day and sometimes has cake for breakfast. At first, Katie wrote blog just for fun, but now it becomes a full-time job. The visitors to her site are about 6 million monthly, don't you think it is a good luck? I believe she did so well and tried so hard to develop her blog so far.
I love the way she cooks and combines the healthiest ingredients with vegetables or fruits in her cakes, such as Sugar-Free Red Velvet Donuts or Avocado Crème Brûlée. Moreover, desserts aren't the only thing you can find on her site, I bet you will love to try her healthy food recipes for your family too.
4. Love From the Oven
I had known "Love From the Oven" for a long time. However, I just have remembered to visit this site when my friend told me about his experience while following this blog. My first impression is that this blog is so colorful and fun. The photos seem like they were taken for the kids. Who can prevent themselves to fall in love with these cute things?
I know the Easter event passed away but my nieces still ask me about Bunny Pudding Cups which I made for them before. And you know what, I taught them how to make this on their own. The recipe is so easy but the result is awesome. I suggest you can go to the kitchen with your kids, you will have a happy time together.
5. A Spicy Perspective
A woman behind this blog is Sommer Collier. She is a professional food writer, recipe developer, food stylist and photographer, that's why her blog has something that is very special. Good photography, balance in colors and tasty flavor, her site amazed me from the first time. In the first page of her blog, you will see hundreds of dishes, so what you can do now is picking one and then enjoy your new recipe. It will be a huge surprise to taste what you have done. I bet you will love that feeling.
6. Natasha's Kitchen
This blog is a house of recipes sharing Ukrainian and American cuisines, as well as some gorgeous desserts all over the world. I also found this is a story of Natasha about her family, why she got started to write, her passion and etc. It seems like a perfect combination of stories, recipes, tips, great photos and nice presentation.
I must say the post I love the most is "15 One-pan Dinners for Lazy Nights". If you're a busy mom, I guarantee you should follow this suggestion, then you will find cooking is never easy like that.
7. Heavenlynn Healthy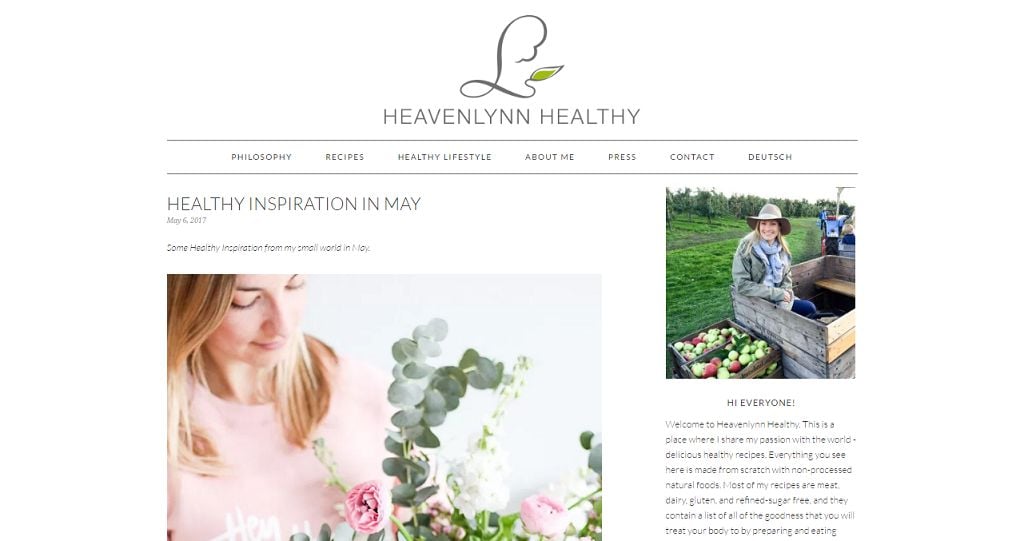 Lynn started to eat in the diet since she was diagnosed with a severe form of hypertension. As a medical treatment, eating healthy helps her improve her health. That's why she want to keep this diet and share these recipes with other people, in case they're same to her. Actually, my friend suggested this site to me after she lost 4 pounds for a week following all recipes here. I think Lynn is good on making a dish with full of vegetables becoming a healthy and tasty meal.
8. The Foodie Affair
Sandra Shaffer of "The Foodie Affair" is just like other bloggers who want to share their favorite recipes to all readers. I must admit that at first, I found it's difficult to search the recipe. However, the way she organized the specific category in the menu made me feel better. I really like her Low Carb Breakfast Sandwich recipe, so you can find more low carb dishes on this blog. And of course, I want to remind you that even you want to lose weight, do not miss the breakfast. Hope you stay fit and healthy with these low carb recipes.
9. Salt & Lavender
Salt & Lavender was published in the late of the year 2015. Although it is a new site, every time I visit her website, I'm always inspired and feel comfortable reading Natasha's blog. I must say the success of this blog because of not only tasting recipes but also amazing photos. I don't mind to share these photos to my readers. As my suggestions, some of my friends also love these easy-to-cook recipes and all incredible vegetarian dishes. At first, you should take a look on 15 Minute Garlic Lime Cashew Zoodles then you will agree with me.
10. Manu's Menu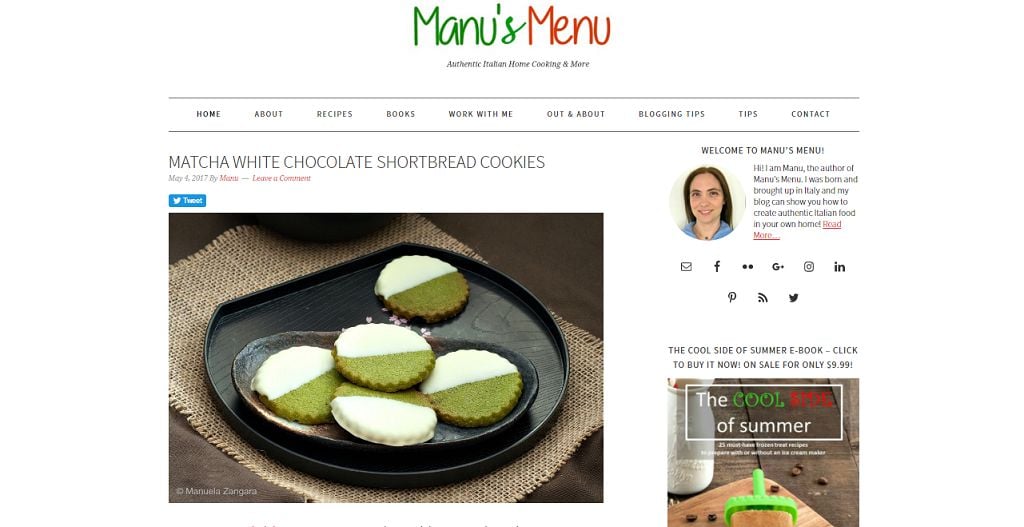 I have been following Manuela's blog for a short time as a suggestion of my best friend. She is a big fan of Italian cuisine, that's why she introduced me this site. And I totally agree with her from what I have seen and learnt from this site. Manu is an Italian and her husband is an Indian, it is nothing strange when I can learn the cuisines of both countries on one site. Believe me, this is truly worth a visit.
11. How Sweet It Is
"How Sweet It Is" is a blog where you can find incredible recipes for your whole family. Jessica did so well in combining all the local and seasonal ingredients together. Have you ever heard about Whipped Tiramisu Coffee Chocolate Mousse before? I guess you will be amazed like me. I'm not sure how many times my children had asked for a cup of coffee at night when they saw my husband drinking one.
Everyone love the coffee flavor, for sure. But if you're a mom like me, you will not permit your kids drinking coffee at night, will you? This will be a good choice to calm them down. And so far, my kids turn to love a cup of coffee cake instead of a coffee drink.
12. Smitten Kitchen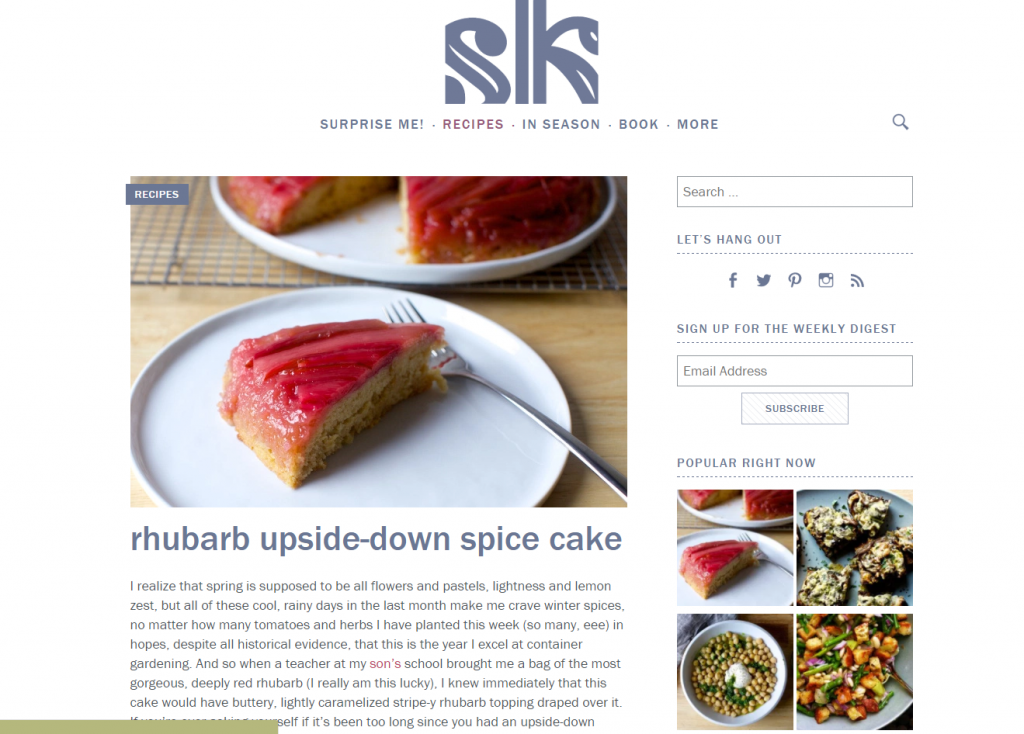 One of the concerns of all the readers I need to admit is that they can't choose what they need among thousands of recipe on blog sites. But everything is solved because Smitten Kitchen has a category "Surprise me!". As the name suggested, you will be surprised by many awesome recipes. And I'm sure, at least you will choose one to cook from this. Deb, the owner of the Smitten Kitchen, released the cookbook in 2012 and it quickly became The New York Times Best Selling Cookbook. I think you can try it once.
13. My Kitchen Stories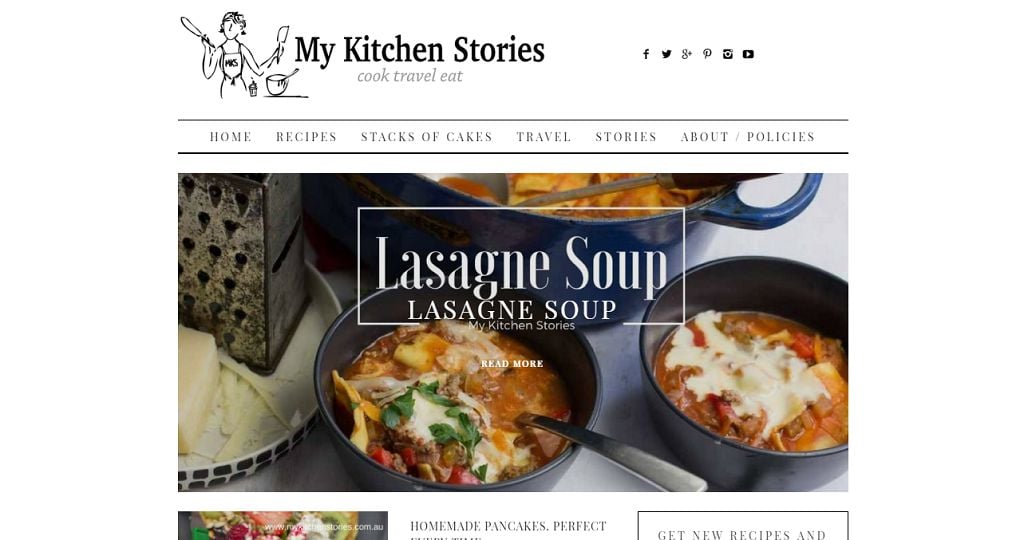 Well, "My Kitchen Stories" is no doubt a place of many stories. Tania's blog has its special style, which I can't found in anywhere else. The way she wrote has something very real and familiar. Every time I read her blog, I feel like read a note of my friend. The most favorite recipe of mine so far is Mango Lamingtons, it's not only a delicious dessert but also a gift for your beloved friends and family. Whether you're a food blogger or a food lover, this is one website you need to check.
14. Skinny Taste
Gina Homolka is an author, photographer and recipe developer of Skinnytaste.com. As its name "skinny", this blog is expected to give you healthy and low-fat recipes, which can help you stay skinny all the time. However, you can also enjoy tasty dishes at the same time. Skinny and tasty together, is it great? What I love this blog is that the ingredients are seasonal and checked nutritional information, then I feel they will be safer and more healthy to follow.
15. Fox and Briar
Fox and Briar is a bright food blog, which is light and airy with remarkable photos, as well as the recipes, for sure. I agree with Meghan that everything needs the balance. That's why you can find mostly healthy recipes on this blog, but sometimes you can treat yourself to some cocktails, cheese or a few sweets. Since I got started to write a blog, I found it is better and safer to eat at home. I always tried to cook a new recipe for my family. That's why anytime I don't know what to cook, I visit her blog and choose one recipe for the dinner. There is one dish I still love so far which is Chicken Ramen. It is easy to cook and I don't need to go out to buy the ingredients.
16. Gimme some oven
This site which is an elegant blog was published by Ali since 2009. Like almost food bloggers, Ali takes all the photos, creates the recipes, and decorates the dishes. The photography is the first thing attracted my attention. There are thousands of recipes on this site and I can make sure that all recipes there are awesome. From the main dish to dessert or diet, you can find everything in this site. I must say spending your time digging this site is worth.
17. Half Baked Harvest
I know this blog through a friend. My friend told me that she found her passion after following this blog. "Half Baked Harvest" is a food website which will inspire you to follow your dream. Tieghan Gerard was introduced to cooking at 15 years old. Getting started from the passion for cooking, now she turns cooking into a job. She cooks for her family and shares many stories with the readers. I'm also attracted by great looking recipes and stunning photography, which make me have to introduce this blog to you.
18. How to feed a loon
How to feed a loon was created in order to make people smile and have a good time in the kitchen. I always believe that behind a delicious food is a whole experience accompanied. There is various of recipes on this site, however, I love their pizza recipe most, especially the Loon's favorite pizza. My children always ask me to make a pizza every day but I only can serve twice per month. Each time I serve the hot pizza to the table, my kids were very happy and couldn't wait to try the amazing first bite. The meal time was the most time I appreciate that my family can sit around, talk and share our stories and love together.
Following this blog and new foods from other countries and cultures in the "Delicious Destinations" section of this website, I have a different point of view about the different kinds of foods in the world. Some day I will go around the world to try these dishes.
19. Fuss Free Flavors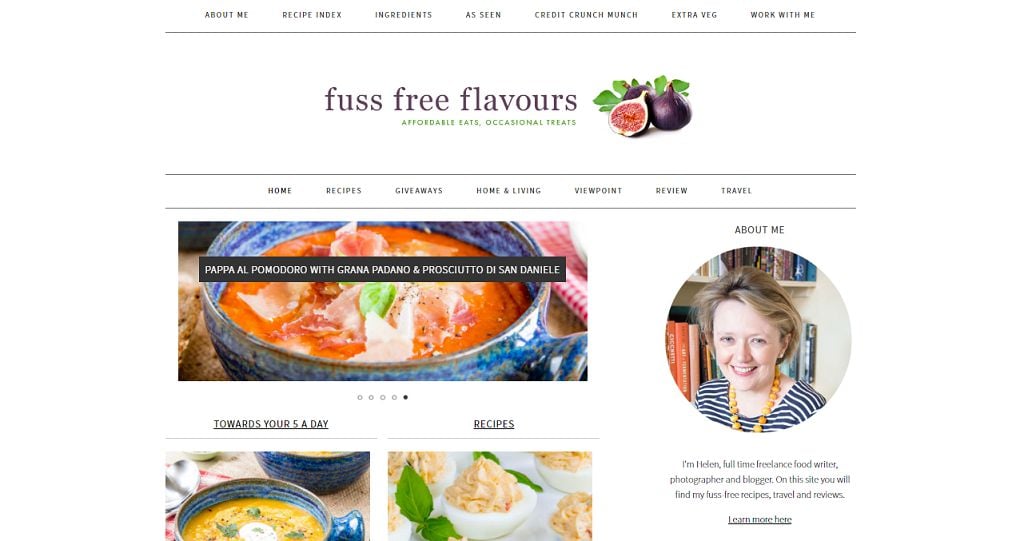 I knew this blog through Berry & Apple Pot Pies recipe last year. I was in love with this lovely and tasty pie and started reading the blog. Helen started blogging for 10 years ago, so I must say she gained a lot of experience in the cooking field. On this site, she divided the recipes into different categories namely baking, recipe by cuisine, diet, holiday & season and main ingredients. I agree that this is easy to browse but I still want she add more photos in the categories. My friend also said that it would be better if there is any photo to catch the attention.
20. Recipe Tin Eats
This blog was introduced as "a food blog with exciting new ideas for fast meals made with everyday ingredients". Nagi, the women behinds the site experienced many different cultures from over the world from Japan, Australia, Europe… to Asia and the United States. This influences on her recipes to help here transform all ingredients into familiar things and simple preparation. And the part "What's for dinner?" will help you answer that question asked every day. Why won't you choose one recipe to cook for tonight? I'm sure you will have a great meal time with your family.
21. Averie Cooks
Averie Sunshine began blogging on this site since 2009. She writes every Monday, Wednesday, and Friday. So, if you do the math, there are over a thousand posts so far. Her development path as a food blogger was remarked in 2013 when she released her first cookbook. I hope you can find some recipes that you need like me. From breakfast, lunch to dinner, I always can find something interesting on her blog. I would like to recommend Grilled Vegetables With Basil Vinaigrette and Green Goddess Dressing you don't want to miss out on.
22.  Life made simple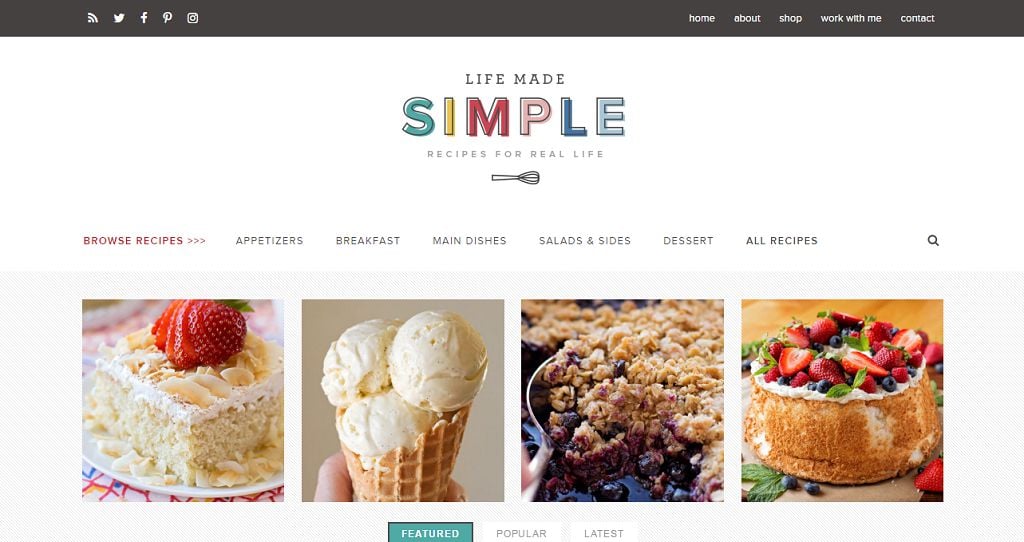 "Life made simple" was run by Natalie. She does everything from baking, writing and taking photos for this blog. She is introduced as a food lover, especially sweet dishes. That's why I expect to see amazing dessert recipes from her. And the result doesn't let me down. In the world of sweetness, I was fall in love with her Mint Cookies and Cream Ice-cream and Chocolate Blackout Cake. I see that her instructions are very clear and easy to follow, so what're you waiting for? Let's go to the kitchen and make ice-cream for your family. It will be the first choice in this summer.
23. Naturally Ella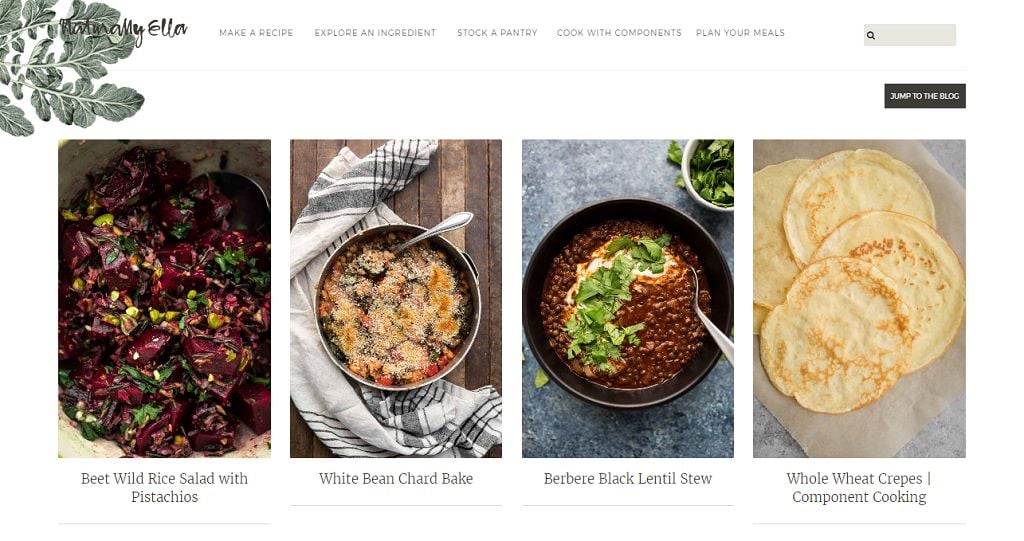 From the first time this site has grown, it has a large resource for natural cooking and vegetarian recipes. And I believe if you're searching a blog to build healthy meals, this one is for you. Erin inspired me a lot because of her story. Since she grew up on fast food, was overweight for her entire youth and watched her father suffer from a heart attack, she decided to action. You will be amazed at her outlook right now, she looks healthy and full of energy with a reasonable weight. She wants to share her knowledge to help people to build a better diet and to eat healthily.
Do you love popcorn? – My whole family's go to snack is popcorn. I made Cinnamon Honey Popcorn many times following her recipe and all my family members love it.
24. No Spoon Necessary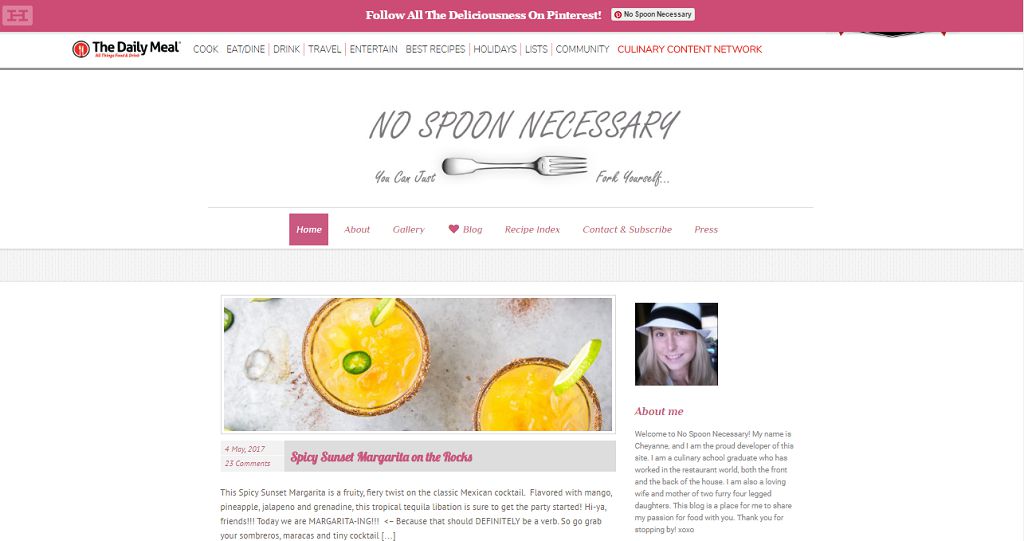 I reached out to Cheyanne sometimes before and I must say that she is a warm-hearted person. Her story and her advice inspired me a lot in the path developing my blog. In here, you will find many delicious recipes for your whole family. I'm in love with Muffins and even more for her Egg, Turkey & Stuffin's Muffins. It's also the love that she gives to her boy. And I'm sure that every husband will love these muffins will full of love.
25. Well Plated by Erin
There are so many great blogs out there and Well Plated definitely is one of them. Erin, the site founder, has been blogging on this site since 2012. Her posts are like telling a story, not only a good recipe, but also a personal thinking. I felt like these words in these articles are from my friend. I agree that she is good in connecting people to people.
"Making healthy food taste incredible" is what she is doing right now. I can name many her recipes that I love, such as Lemon Layer Cake with Lemon Cream Cheese Frosting or Healthy Turkey Chili. Another thing I like about this blog is that there are some recipes contained instructional videos. I believe you can easier to follow the guide to cooking.
26. Jo Cooks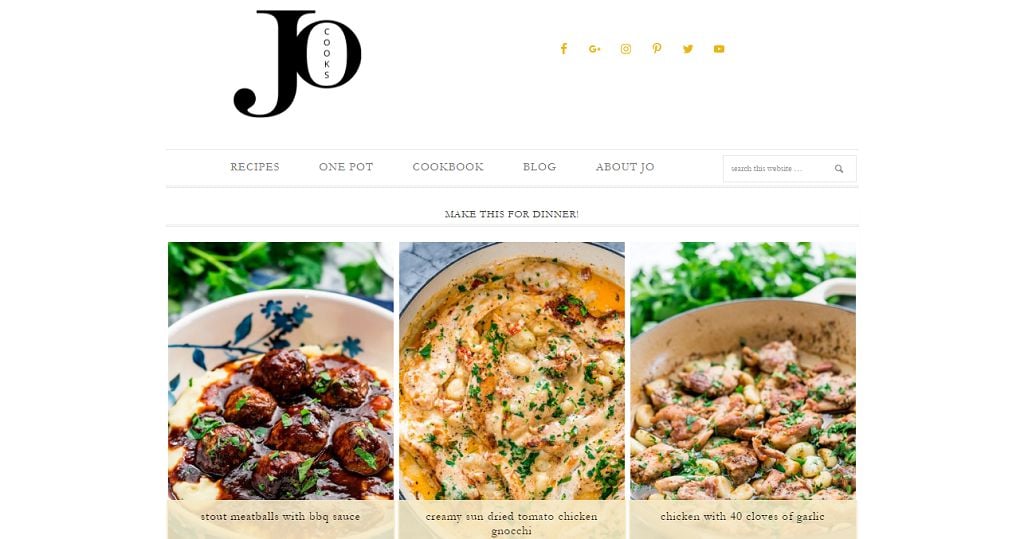 I am a big fan of Jo's blog and learnt a lot from her. I was amazed when I knew she worked in IT world before turned to cooking and baking. Many people said IT job was quite stressful for a woman and Joana was not an exception. Well, that's why she got started her blog since 2011 and keep it developing so far. In August 2016, she published her first cookbook named "30-Minute One-pot Meals". I can see her passion for cooking in every recipe and beautiful food photography. So, if anyone asks me about this blog, I will definitely say that it is one of my favorites.
27. The Chunky Chef
You will find tons of recipes on this site, from Asian cuisine to Hawaiian or Mexican cuisine. As she wrote on About me page, her mother was a great cook but she didn't take any advantages from that. After she got married, she spent more time for cooking and learning new recipes. That's why she started blogging so far. I love some recipes which I can cook quickly, but it's still delicious. I love Asian dishes because of its strong flavor from garlic and ginger, which are good for your health and enhance the taste of the dishes. And I must say, my choice was 15 Minute Honey Pepper Beef Stir Fry. Is there anything could be better when you can cook this healthy but delicious meal within 15 minutes?
28. Julie's Eats & Treats
Julie's recipes are usually simple and easy with daily ingredients. You don't need to worry about the difficulty in finding ingredients anymore. There is one part in this blog that I think it's so creative and helpful with all moms in the world: Easy Meal Plan. She will design perfect meals for a whole family from day to night in a week. So, you don't need to feel panic with the question "What's for dinner?" anymore, this is gonna help you. Everything you need to do is that check her website and choose the plan you like to follow.
29. Cookie + Kate
Kathryne, or Kate, named her blog after her sidekick, Cookie. If you visit her blog, you will see how she divided all the categories. They're suitable for browsing and attracting people's attentions. You will agree with me that this organization is so intelligent. I usually scroll the menu down and click the recipes which has nice photos.
This time, when I scroll down, I choose the Broccolini Almond Pizza to cook because it does not only look good but also good for health when it contains many vegetables. I think you won't want to miss this recipe.
30. Hapa Nom Nom
The first thing I want to mention in this blog is its amazing photos. I had followed this blog immediately after I took a look at this. And after I have more time to read her recipe, I was even more amazed at them. All the recipes are the good combination of flavors from different cultures and different traditional techniques. Moreover, they're all healthy. What can you ask more when you have almost everything in one blog? I hope you can take a look and make your own decision
31. The Flavor Blender
Dini is so intelligent when she created everything from appetizers to main meals, from desserts to cocktails on this blog but they still look clear. She's also hard-working because she's updating her blog regularly. Every time she posts a new recipe, I will show it for my husband to take a look. He loves this site's photography because the food photos are incredible. And I must note that the recipes are great too.
32. Green Kitchen Stories
I must say I admire David and Luise, a couple behind Green Kitchen Stories, very much. This blog is a result of hard-working and sharing difficulties as well as happiness together. All the recipes you can find here are described as simple and pure as possible. When I first read the introduction of this blog, when David and Luise shared their favorite posts, I also took a quick look. And you know what, I fell in love with them for the first time. Now I'm happy to share with you the Baked Herb & Pistachio Falafel and Frozen Pink Cheesecake recipes. Good looking, good taste, what can you ask more for a dish?
33. Cooktoria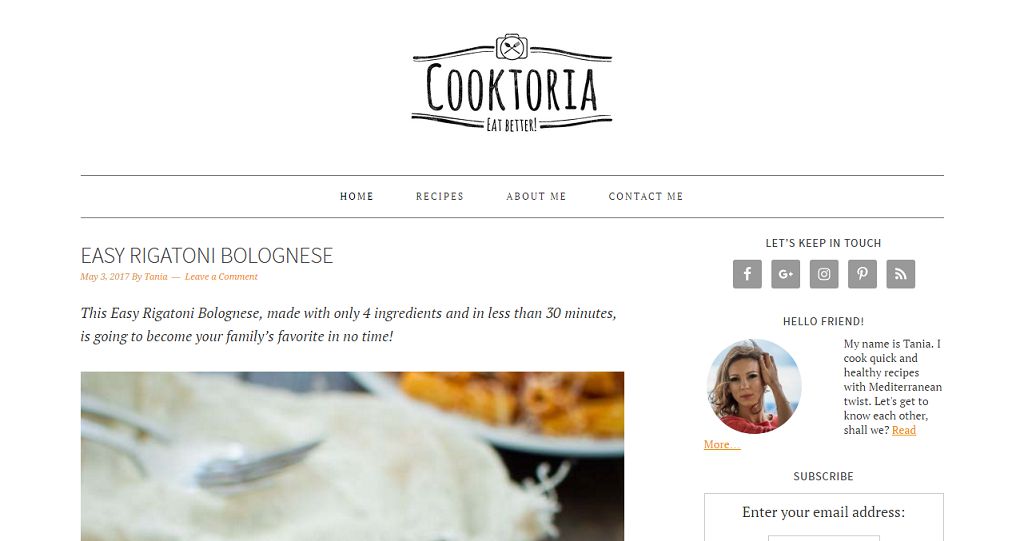 Tania had advantages on cooking because her mother is a chef. The way she started learning and cooking Mediterranean cuisine inspired me. As she wrote, "It's been an incredible journey so far". Visiting her blog is also a great journey for me to learn new recipes. Even I prefer to eat green, but pasta and goat cheese still sound good. I like Fettuccine with shrimp and spinach and hope you try your hand in cooking this easy and tasty dish.
34. Drizzle & Dip
I put this blog site on the list because of its elegance. The photography of this site is amazing. The owner, Same Linsell is a food photographer and well, I think you can understand why. She also published two cookbooks, shared thousands of recipes, inspired cooking for many people. Do you ever wonder what snacks to serve with beers? I suggest Vegan Queso Dip with Chipotles. I'm sure you will like it.
35. My Baking Addiction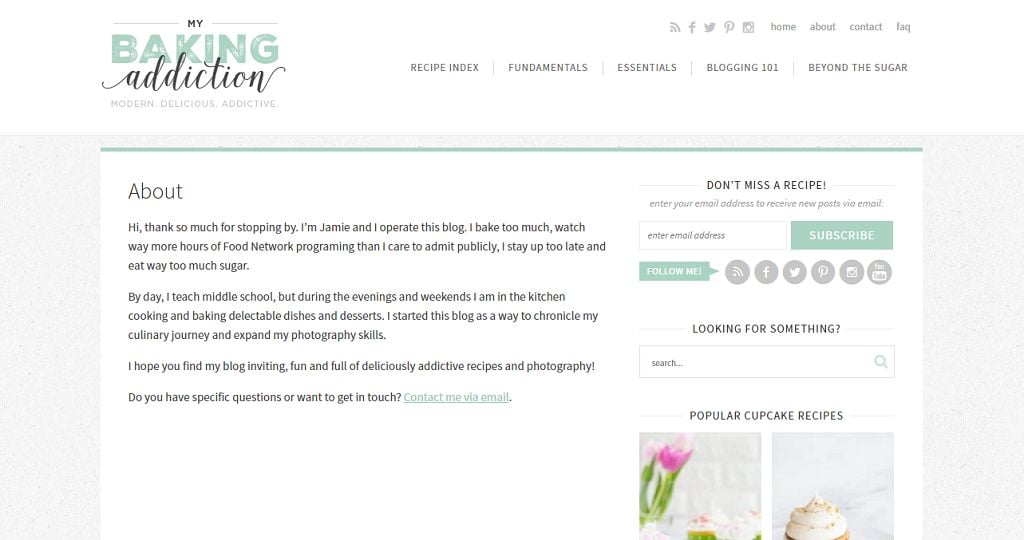 I was surprised when I knew the women behind this blog is a teacher in a middle school. I always considered that teaching is the most hard-working job in the world. But you guess what, she did both jobs perfectly, with tasty recipes, good writing, and awesome photography. I would say that the blog has many stories behind, it's real and familiar to me. I think you have to see this blog and know what I'm talking right now.
36. A Fork's Tale
As a description, Katie has a strong love for photography, passion for cooking and eating. All photos on this blog look amazing and inspiring. I agree with her that "Food should be an adventure", that's why I can't help to stop myself from searching and learning new recipes. In this site, you also know more knowledge about travel, family and her motivation to develop her passion so far. In every travel, she tasted so many new dishes from different cuisine. I think it's quite new experience for the readers.
37. Orgasmic Chef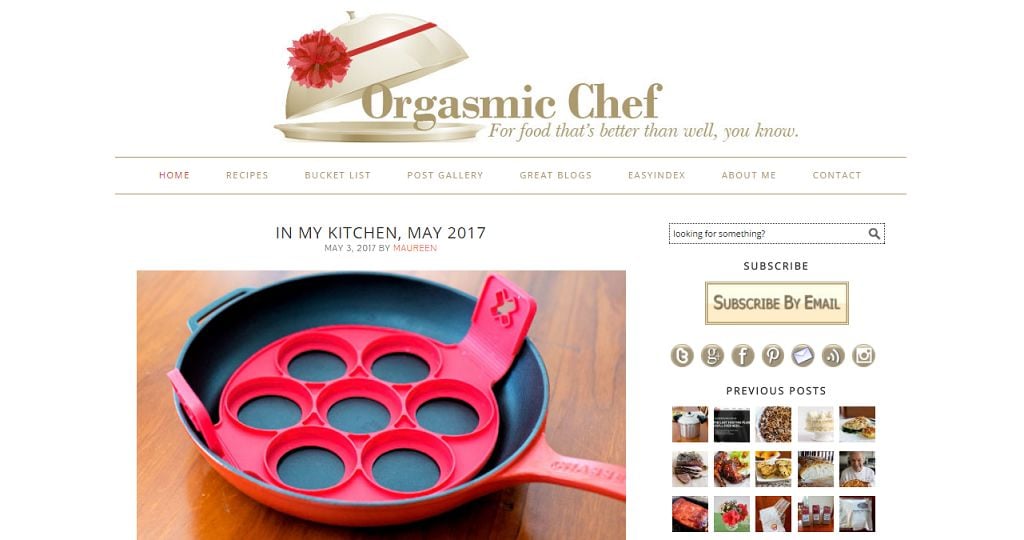 This blog site was found and running by Maureen. I like her because she's so confident. I have to admit that there is a few of people recognizes the quality of their food, but Maureen did. She can confidently say that her food is great for everyone. In addition, I like some her recipes which are Meatloaf recipe from the last century, Warm Chicken Salad. I suggest you should stop by to take a good look at what she has done.
38. The Garden Grazer
The Garden Grazer is definitely a destination for vegetarians. Nowadays, people raised the awareness of clean and fresh food. Every home cook tends to use organic/ non-GMO ingredients into their meal. Kaitlin designed many recipes that I have to admit that everyone should follow to have a better health. If you are a beginning vegetarian, I suggest Mexican Sweet Potato Bowl with Cashew-Lime Cream. I believe you will feel healthier and fresher after eating this bowl.
39. The First Mess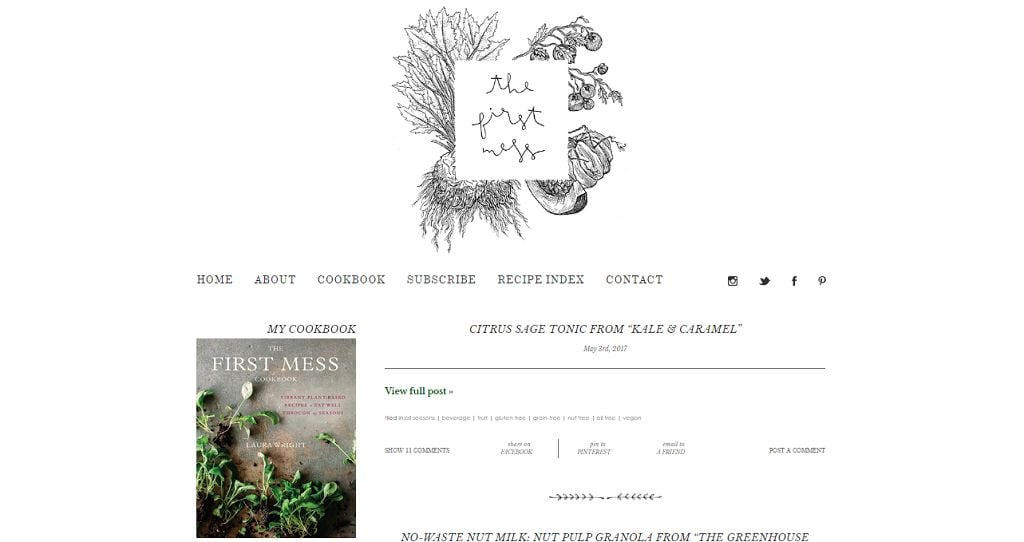 Laura is the women behind The First Mess. This blog focuses on natural and seasonal foods recipes, which maybe you're searching for. I must say that you have to check these awesome recipes which are Vegan and Gluten-Free Lemon Poppyseed pancakes and Spicy Vegan White Pizza with Broccoli Rabe and Truffle Cream. Believe me, you will like them. If I can recommend changing something on this site, I would suggest adding photos along with the name of the dishes. This will help readers easy to follow and prepare their good meals.
40. Baking Bites
This blog with useful information is definitely on this list. If you have a passion for baking, you can't miss this site. Nicole Weston and her blog Baking Bites has been written many times in the New York Times, the Washington Post and so on. She is an American pastry chef and a food blogger for a long time, so I think her presentation is great. You don't need to read billions of words to know about a dish, Nicole will help you understand the root of the recipe, its texture or some mistakes might make to avoid and so on within three to four paragraphs. So, let's take note and go ahead.
41. Kitchen Konfidence
It's easy to see Brandon, who is an author of Kitchen Konfidence, are sharing his love to both cooking and photography on his site. I must say he's a creative person when dividing the recipe category into different seasons namely spring, summer, autumn and winter. It's not a thing that bloggers usually do. When I had visited it to re-check the information before listing it on the list, I still amazed at what he has done so far. The fabulous first impression is still a necessary thing, isn't it?
42. Country Cleaver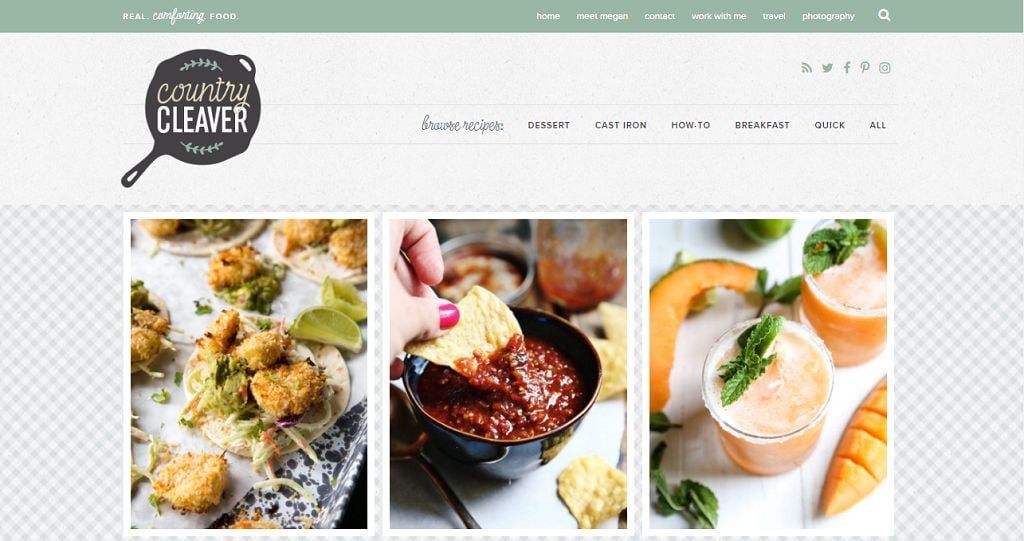 Country Cleaver is a food blog that Megan spent a lot of passion, time and effort to build till now. Just looking her photography, I immediately want to cook that. And the flavor is even more impressed. If you are finding something light and fresh, why won't you try her Butternut Squash Spinach and Tortellini Soup? Or if you're trying to against hunger, you will like Cowboy Candy Chicken Skewers for the first bite.
43. What's Gaby cooking!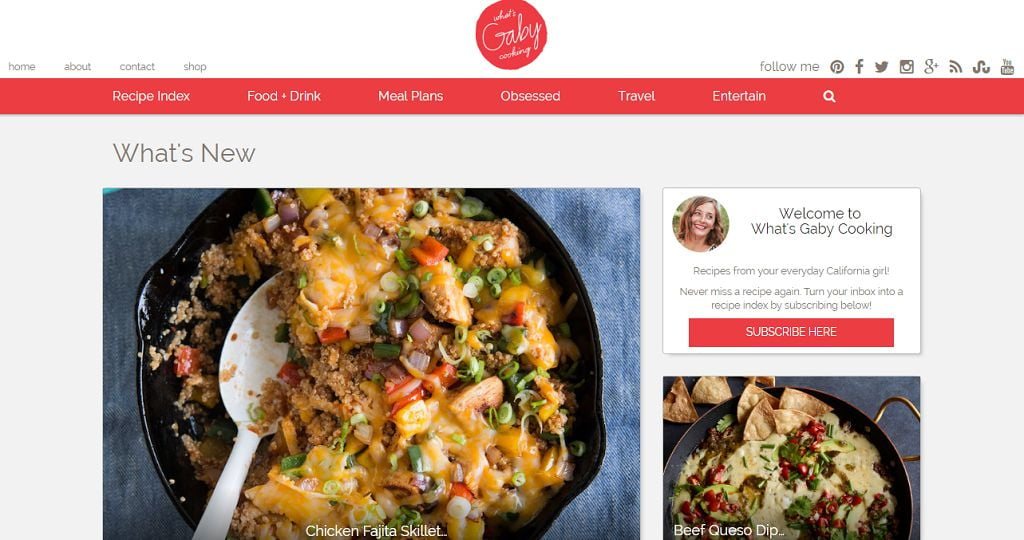 This blog is a story of a California girl, Gaby. I must say her story is so interesting. As she wrote, "I was an incredibly picky easter growing up and only ate pasta and grilled cheese until age 17". But she decided to go to culinary school. What you can ask for inspiration, I found them all here. I still remember how excited I am when I read her post named Bacon Cheddar Ranch Fries. My son told me that it is the best snack in the world ever.
44. Little Broken
Katya owes a passion for cooking and creating new recipes from her mother. For a girl who was born in Russia but living in the U.S., her recipes are mostly healthy and delicious in a special way that I can't name it. I have to list Spicy Coconut Shrimp Lettuce Wraps with Mango Basil Salsa in my favorite. It is not only amazing name, but also a perfect dish for the summer. What can you more for suck a quick and healthy dinner recipe?
45. That Skinny Chick Can Bake
www.thatskinnychickcanbake.com
If you enjoy the stories of the bloggers, this just may be where you're searching for. Liz Berg can even give you an inspiration. She shared so many recipes on this blog, however, I was very impressed with her baking recipes such as Lemon Layer Cake with Lemon Curd Filling. You can also find many healthy but tasty recipes at the Skinny Tips category.
46. Lively Table
At first, I followed Kaleigh, who is introduced as a Registered Dietitian Nutritionist and Master of Nutrition, to learn new delicious and healthy recipes. This place is absolutely for you and your friends, who are searching for a healthy way to eat. Recently, I was very excited to make Blueberry Lavender Sangria following her instructions. It was my first time try this cocktail and the result didn't let me down. I must say that I love it and absolutely share this with my friends.
47. Carlsbad Cravings
The women behind Carlsbad Cravings is Jen, who lives in Carlsbad, California. She wrote on her description that " Some people escape in dreams of sandy beaches and sunny skies, I escape in dreams of mangoes, chipotle peppers, and bacon", which I can easily feel her passion. This blog site is a house of a lot of deliciousness to share along with the beautiful photos. If you haven't know about this blog, you should follow from now.
48. The Seasoned Mom
I saw myself in Blair, a busy mom always tries to take care of their children. There are tons of no-name work for every mom, but cooking must be the priority in all. If you need new recipes and new tips to make your cooking easier, this blog is for you. In case you are new followers, I suggest you can check her favorite recipes to try some or my suggestion here. I like Honey Garlic Dijon Pork Tenderloin Marinade and Garlic Parmesan Tilapia. They're all easy to cook but the flavors are all awesome.
49. The Spice Train
Nicole Branan is the founder of this blog, who is well-known as a professional food photographer in the greater Denver area. I must say all the photos published on this site is so beautiful in its own style. I don't know what words I can use to talk about this beauty. You can take a look at her site, then you will know why her food photographs have won international awards.
I'm not the only one agree that the first impression of a good dish is very important. It's like the first door to go to the heart of someone. On this blog, I also learnt many different flavors in the recipes which like a play of spices.
50. What to Cook Today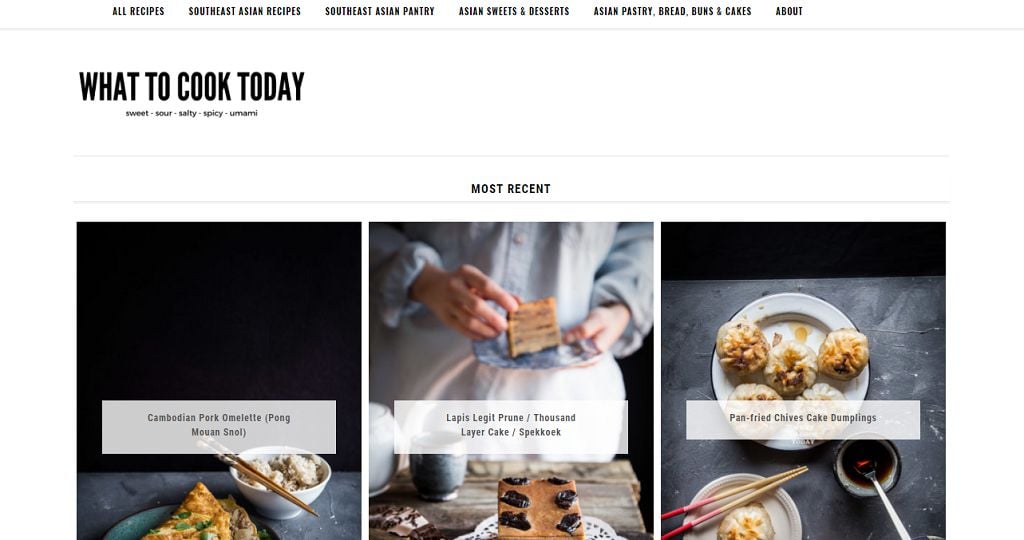 Marvellina is Indonesian girl living in the U.S, that's why you can see most of her recipes around Asian and Southeast Asian cuisine. Sometimes eating Asian dishes is not a bad idea, is it? I'm a fan of Asian cuisine which is a perfect combination of special ingredients such as garlic, ginger and soy sauce. Every time I get a cold, I will eat a bowl of Chicken and Mushroom Noodles and my energy is like recharged immediately.
Oh yes, and finally, I have done the list. These blogs are all my favorites based on my personal experiences. Hope you can choose some sites to follow and let's gain useful knowledge. You will absolutely be a master chef in your own kitchen.It's not only about cooking, but also sharing in the community. So, please let me know your thoughts by leaving comments below. And in case you have blogs that want me to introduce or visit, I'm always willing.
Wife, Mom of 4 and so much more living in the Sonoran desert. I am passionate about making meals and snacks healthier without sacrificing flavor! I promise you that if you buy healthy foods and make healthy foods, YOUR KIDS WILL EAT HEALTHY FOODS! My motto: Live as naturally as you want to feel.