Top Ten Asiago Cheese Substitutes
Simply Healthy Family may collect a share of sales or other compensation from the links on this page.
"A substitute is no lesser than a regular, it is just the best saved for a perfect time."
Cheese is one of the most eaten foods around the world and there are surely many types of it. One of the most popular cheese types is Asiago Cheese.
This cheese is actually made from cow milk and is semi-firm in nature. This is actually the specialty of Italy.
There are mainly two types of Asiago cheese available in today's market i.e. Fresh and Aged. The fresh type has a rather sweeter taste while the aged one has a tangy twist to it.
The uses of Asiago cheese are many as salads, soups, and pasta etc, the ones which require grated cheese.
As this cheese type cannot be available everywhere, there are many substitutes that can be used instead of this one. Top of Form:
What is Asiago Cheese?
Asiago cheese is made using an Italian cow's milk. The great thing about this cheese is that it can be made with different textures but doesn't lose or change taste.The texture depends on the aging process of the cheese. It can vary from very smooth, to crumbly up to hard, according to how long it was aged.
1. Grana Padano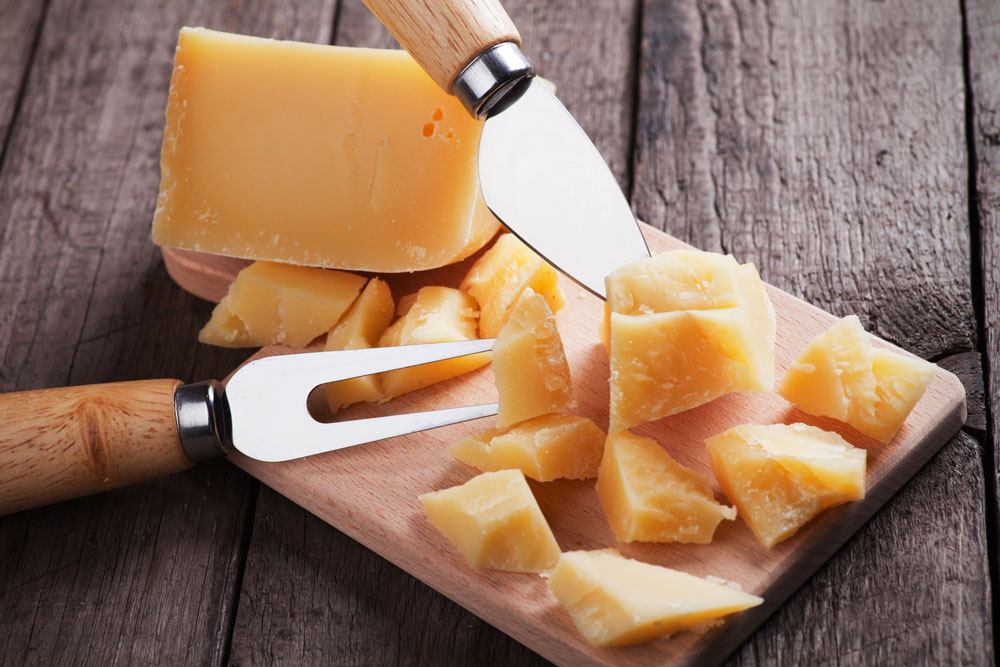 Sliced Grana Padano, a knife and a fork on the chopping board
One of the best substitutes for aged Asiago cheese is the Grana Padano, which provides almost the same feels as the Asiago.
This cheese type also has the same firm texture and can be used for pasta by Grating. The same tangy taste and grained texture make this cheese a substitute choice.
This cheese is produced by using unpasteurized skim and cow milk. The more this cheese ages, the more its flavor grow to be strong, fragrant & tangy. The cheese is a great substitute surely for Asiago.
2. Parmesan Cheese
This is another great substitute for Asiago cheese because of its sharp, grainy and rich taste.
This cheese is made using skimmed milk and costs a bit higher than others. Parmesan cheese is also firm and can be used on many dishes like pasta, soups etc. after grating.
It is easily available in the market but the packaging should be checked properly to ensure it is sealed as well as make sure to ask about the originality of this cheese as many imitations are available in the market.
3. Aged Manchego
Sliced Aged Manchego and a knife on the chopping board
This is a Spanish cheese which can be used as a very good substitute as this cheese also comes in two types i.e. fresh and aged. This cheese type is made using unpasteurized milk of a sheep.
With a yellowish tint & firm, the aged Manchego cheese can be grated and used in dishes like pasta while fresh is soft and sweet.
The aged one is more similar to Asiago and is more widely used. Great in taste and look, the cheese is surely a great choice for you.
4. Provolone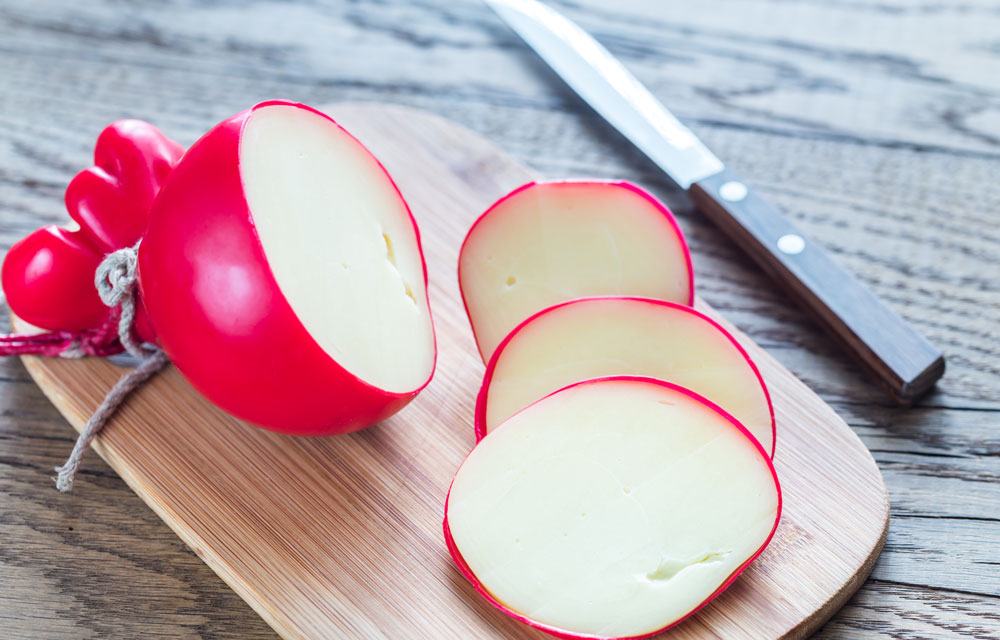 Sliced Provolone cheeses on the chopping board and a knife
Another very good substitute for Asiago is Provolone cheese. This Italian cheese is also made from cow milk and can be used easily in sandwiches etc because of its sweeter taste. This cheese also has two types i.e. Provolone Dolce and Provolone Piccante.
The Dolce is sweet & thus similar to fresh Asiago cheese and Piccante is tangy and thus similar to the aged Asiago. The provolone cheese can be used as a pizza topping as well as with garlic bread.
5. Romano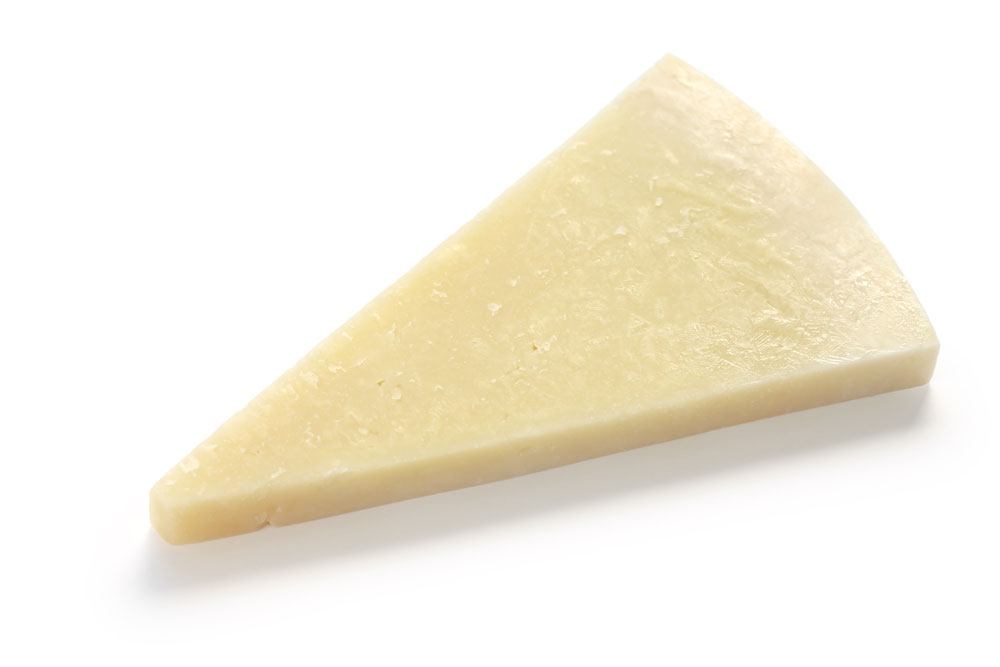 a Sliced Romano cheese
Romano basically is a kind of cheese that had its origin in Rome. This Italian cheese is a great substitute for Asiago when it comes to pizza and pasta toppings. This cheese has many kinds like Pecorino Romano and Caprino Romano etc.
The first one is produced using sheep's milk and has a rather sharp taste while the latter is produced using goat's milk. This cheese is easy to make and can even be created at home. It is also very widely preferred by people.
6. Dry Jack Cheese
This cheese is a hard version of a similar cheese type of 1950s, named Monterey Jack. With the same taste and structure, this cheese can be used a very good substitute for Asiago.
This cheese can be grated over pasta, soups, omelets, and sandwiches etc and have the same taste & feel of Asiago cheese.
The creamy and rich taste of this cheese along with its granular quality makes this cheese a great choice when it comes to Asiago's substitutes. This is a very fine cheese type for daily use as well.
7. Sap Sago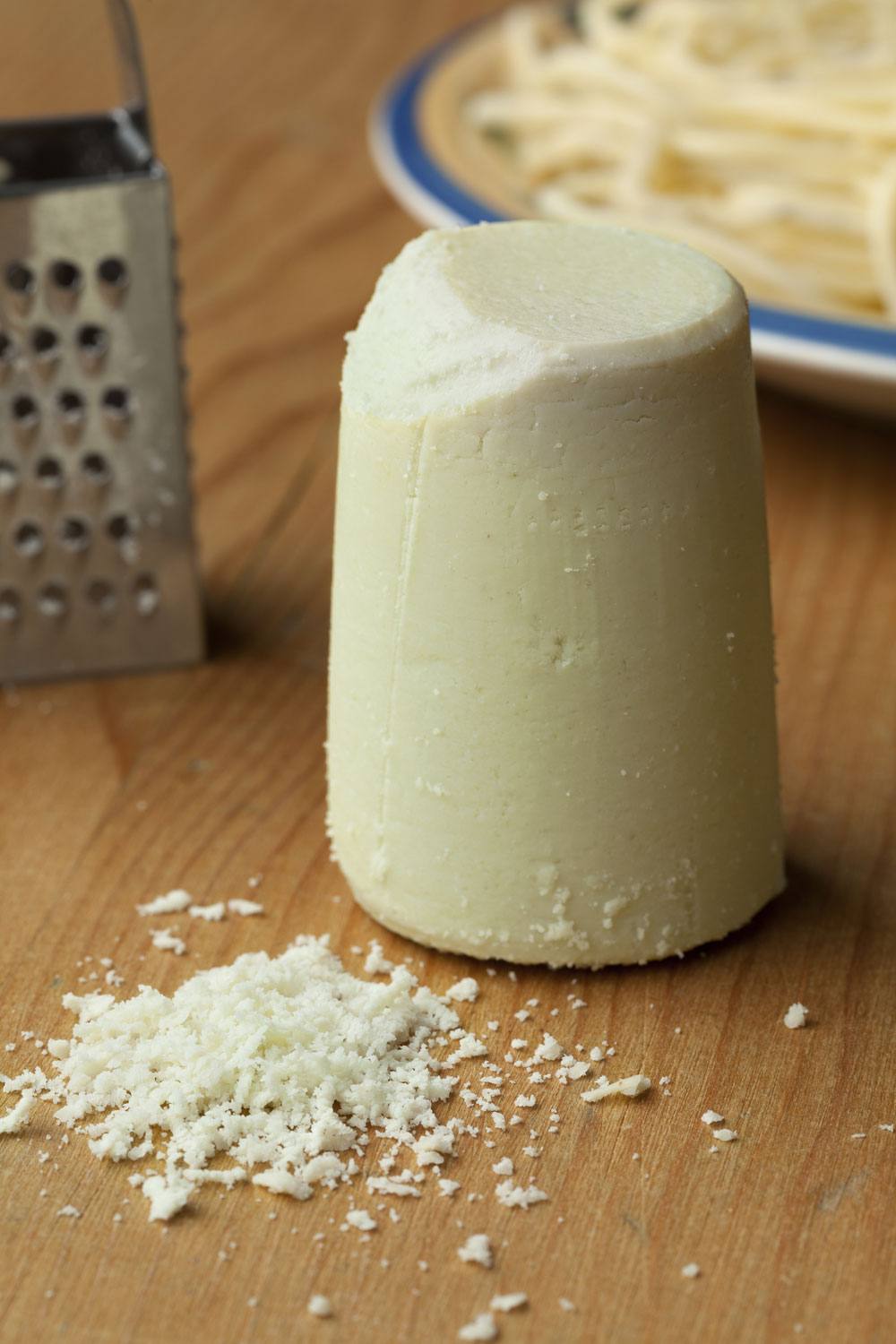 a Sap Sago cheese and crumbs of Sap Sago
Sap Sago is a Swiss cheese type that has a firm structure and is made up of skimmed milk and fenugreek, which is a flavor adding wild clover found locally in Switzerland. Due to its firmness, it is a great cheese option for pasta, soups, etc after being grated.
The finest quality of this cheese is that it is a low-fat cheese, making this cheese a great substitute for people who are dieting and looking to lose weight.
8. Nutritional Yeast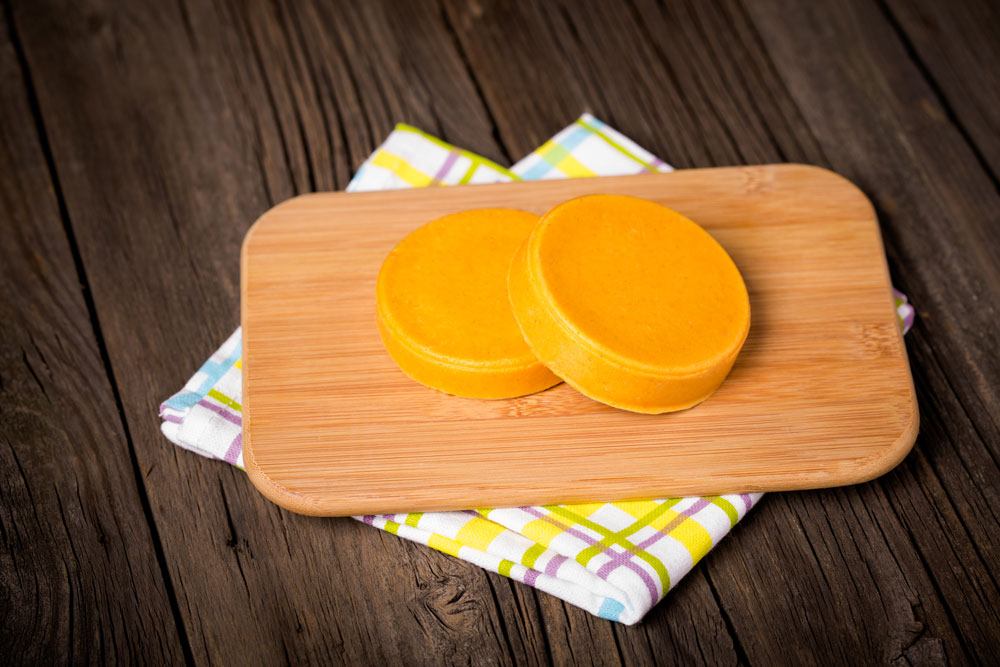 Two pieces of Asiago cheese on the chopping board
Another one of the yet essential substitutes for Asiago cheese is the Nutritional Yeast. This is not actually a cheese but a passive form of yeast created from sugarcane. As the name suggests, this cheese is high in nutrition with a great amount of Vitamin B, proteins and low fats.
The product has a cheesy flavor and is a great choice for people who have milk allergies as this doesn't use any of those. This yeast can be easily used on all dishes by sprinkling like pasta, soups, etc.
9. Oil-cured black olives
A huge Bowl of Oil-cured black olives on the table
The Oil-cured black olives i.e. olives that are made softer by soaking in oil for a couple of months is also a great Asiago cheese substitute. These olives have a wrinkly look and after being cured, the olives lose all their bitter taste.
They can be used in pizzas for a very awesome taste and there are many health benefits provided by these olives. Additionally, the olives contain a great amount of Vitamin E and low fat value.
10. Seasoned Breadcrumbs
Seasoned Breadcrumbs
Seasoned Breadcrumbs are also a very good substitute for Asiago cheese as these provide a similar taste and feel like aged Asiago after grating on your pizza.
These breadcrumbs add greatly to the taste of your pizza and can be bought from stores or made at home as well. These breadcrumbs are small in size and can be sprinkled over your pizza.
Related Article: Substitute for Fontina Cheese, a slightly soft cheese that might be perfect for you!
Conclusion
So, was the list interesting? Did you choose the perfect substitute for Asiago cheese for yourself?
This is the best list if seen from a consumer's point of view as the features and uses of all these substitutes make it easier for you to compare and choose the desired one.
This list also gives you a great amount of knowledge about the various cheese varieties available in the market and how can each be utilized.
These 10 options are surely the best you can ever find.
Wife, Mom of 4 and so much more living in the Sonoran desert. I am passionate about making meals and snacks healthier without sacrificing flavor! I promise you that if you buy healthy foods and make healthy foods, YOUR KIDS WILL EAT HEALTHY FOODS! My motto: Live as naturally as you want to feel.