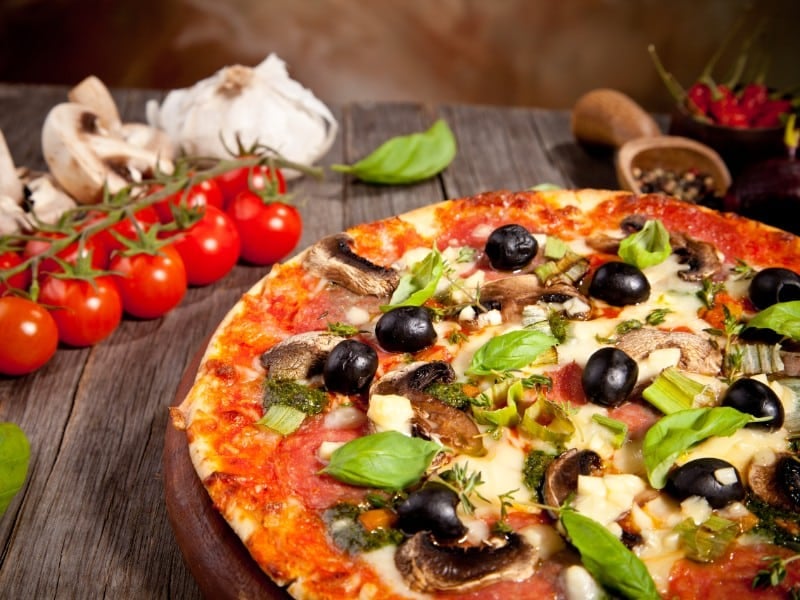 Simply Healthy Family may collect a share of sales or other compensation from the links on this page.
A supreme pizza is a pizza with multiple toppings. There are many variations of supreme pizza, with popular pizza chains creating their own signature versions of supreme pizza by adding an exclusive blend of toppings.
You can make your own supreme pizza at home. Traditionally, a supreme pizza has at least two meat-based and two vegetable-based toppings, as well as the usual pizza sauce and cheese.
Here are the toppings on a supreme pizza:
Pepperoni
Salami
Sausage
Bell peppers
Olives
Onions
Mushrooms
Corn
Supreme Pizza Toppings (& Popular Variations)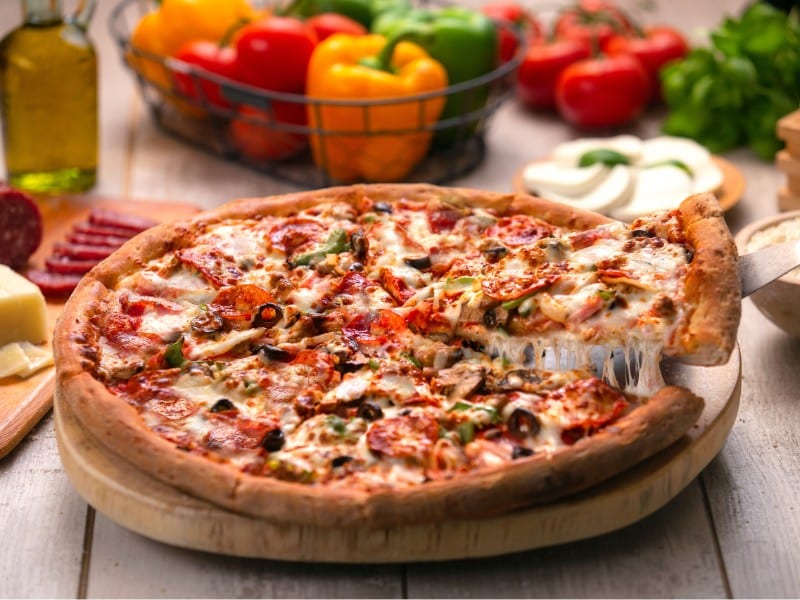 Supreme pizza is made with traditional pizza dough covered with pizza sauce and mozzarella cheese, and topped with a variety of interesting toppings.
The most common supreme pizza contains a combination of meat and vegetable toppings, but an alternative variation is the vegetarian supreme pizza, which is meat-free and topped with veggies.
Veggie Supreme Pizza Toppings
A combination of veggies takes your supreme pizza to a whole new level. Here are some veggies that you can use as toppings on supreme pizza:
Bell peppers — Green bell peppers make a scrumptious supreme pizza topping. The bright green color of the peppers makes your pizza look utterly appealing
Capsicum — Capsicum is a popular variety of red pepper, frequently used as a supreme pizza topping. With a hint of sweetness, capsicum peppers go well with the savory flavors of meat supreme pizza toppings
Mushrooms — Portobello, Porcini, and Truffle mushrooms are the best mushrooms to use as toppings on supreme pizza. Choose the variety that best appeals to your taste. You should cook mushrooms by frying them lightly in a few drops of olive oil before putting them on the pizza. Raw mushrooms dry out when baked on pizza, so you don't have to worry about how long the mushrooms are good for
Olives — Black olives, green olives, and kalamata olives all make great supreme pizza toppings. Green olives complement the flavor of bacon or salami, while black olives go well with feta cheese. Kalamata olives are the most versatile and are delicious in combination with most toppings on a supreme pizza
Onions — Regular onions and red onions go well on supreme pizza. Both types of onions add a sweet and salty flavor to the pizza. Red onions add color, which looks appealing. You should sauté the onions lightly to soften and caramelize them before adding them to the pizza
Sun-dried tomatoes — Sun-dried tomatoes add a strong tomato flavor to supreme pizza. Before adding sun-dried tomatoes to pizza, you should soak the tomatoes in warm water for 2-3 minutes to rehydrate them
Corn — Canned sweetcorn kernels are a fabulous supreme pizza topping. Corn adds a sweet crunch to pizza. Drain the corn well before placing corn kernels on pizza to prevent them from making the pizza soggy
Pineapple — The sweet, tangy, tropical flavor of pineapple makes it a scrumptious topping on supreme pizza. Cut the pineapple into small triangles and place on the pizza before baking
Meat Supreme Pizza Toppings
Supreme pizza is characterized by its meat toppings. A slightly smoky, salty flavor adds an interesting twist to supreme pizza. You can add any of the following toppings to supreme pizza:
Pepperoni — Pepperoni is a type of meat similar to salami, made from a mixture of beef and pork and spiced with paprika, black pepper, garlic, and other spices. Small pieces of thinly sliced pepperoni make a great supreme pizza topping, adding a smoky, salty flavor to pizza
Sausage — Small chunks or slices of sausage go well on supreme pizza. Sausage has a distinctive, savory flavor that complements the taste of bell peppers
Salami — Genoa salami has a mild, smoky flavor that makes it a fantastic topping on supreme pizza
Bacon — Short rashers of thinly sliced bacon make a tasty topping on supreme pizza. The chewy texture and savory flavor of bacon add an unusual dimension to supreme pizza
Domino's Supreme Pizza Toppings
Domino's Pizza calls their supreme pizza The Extravaganza. The Extravaganza is well-known for its meaty toppings. You will find bacon, sausage, and pepperoni on a Domino's supreme pizza. Domino's supreme pizzas are filled with veggies like capsicum, onions, mushrooms, and are usually topped off with a few chunks of pineapple.
Pizza Hut Supreme Pizza Toppings
You will find pepperoni, Italian sausage, green peppers, red onions, and mushrooms on Pizza Hut's traditional supreme pizza. Pizza Hut also offers a Super supreme pizza, topped with the same toppings, including ham, ground beef, and olives.
Papa John's Supreme Pizza Toppings
Papa John's supreme pizza is known as The Works, and is topped with Italian sausage, pepperoni, ham, black olives, mushrooms, onions, and green pepper.
How to Make a Supreme Pizza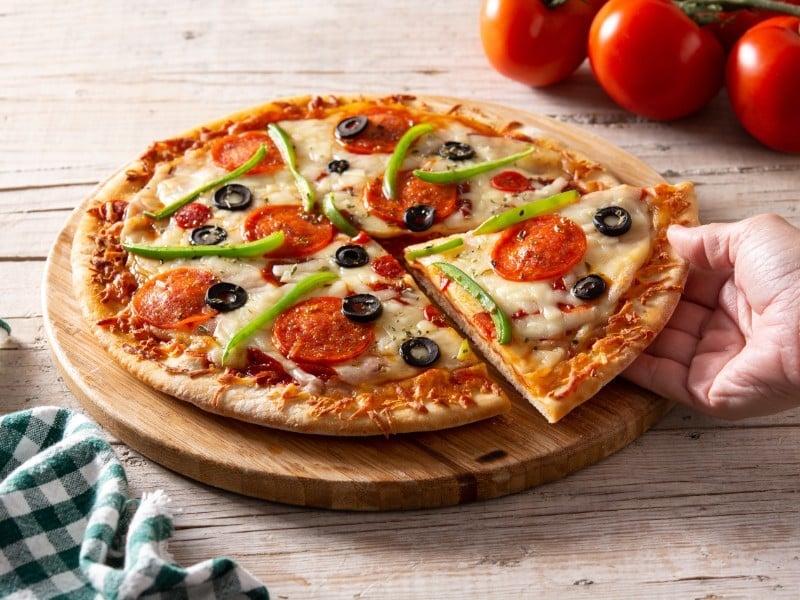 Use this easy-to-follow recipe and instructions to make your own homemade supreme pizza. If you want to follow the easiest route, you can buy ready-made pizza dough or make your own dough by following this simple recipe.
Required Equipment
You need the following items to make supreme pizza from scratch:
1 small bowl
1 large bowl
A rolling pin (or a rolling pin substitute, in case you don't have a rolling pin handy)
A board
2 pizza pans OR a pizza stone
Ingredients for the Dough
1 pound ready-made pizza dough
OR
3–4 cups flour
1 tablespoon dry yeast
1 tablespoon sugar
1 cup warm water
¼ cup olive oil
¼ teaspoon salt
Ingredients for the Toppings
½ cup pizza sauce
2 cups shredded mozzarella cheese
2 tablespoons parmesan cheese
4 ounces chopped sausage
2 ounces sliced pepperoni
1 sliced red pepper
1 sliced green pepper
¼ cup sliced black olives
½ a red onion, thinly sliced
2 large Portobello mushrooms, sliced
Instructions
Preheat oven to 425°F
If you are using a pizza stone, dust it with cornflour and place the stone in the oven to heat up
Mix the yeast, sugar, and water in a small bowl, and leave the mixture to stand, covered, for 5–10 minutes, or until bubbles appear on the surface
Pour the yeast mixture into a large bowl and add the salt and half the olive oil to the mixture
Gradually add the flour to the bowl, 1 cup at a time, mixing after each cup. Keep adding flour until the dough is no longer sticky
Place the dough on a floured board and knead for 4–5 minutes, until it feels firm
Place the dough in a clean bowl, cover the bowl with a tea towel, and leave the dough to rise for 1 hour
While the dough is rising, prepare the pans by greasing them lightly with oil
Punch down and roll out the dough
Place the dough in the pizza pans, smoothing the dough out gently with your fingers
Allow the dough to rise for 15 minutes in the pans
Prick the dough with a fork, and brush it with the remaining olive oil
Spread pizza sauce over the dough and sprinkle the shredded mozzarella and parmesan cheese generously over the pizza base
Add the toppings on top of the cheese
Bake for 15–18 minutes, or until the cheese has melted and the crust is golden brown
Tips for the Perfect Supreme Pizza
Here are a few tried and tested tips for cooking the perfect supreme pizza:
Avoid using too many toppings. Overloading the pizza with toppings makes the crust limp and soggy.
The highlight of supreme pizza is the meat, which gives the pizza a special flavor. Vegetarians don't have to miss out on the meaty flavor entirely. Season the veggies with a generous helping of fennel. Fennel has a mild anise flavor, which gives the veggies a smoky taste when the veggies are cooked. Veggies cooked with fennel mimic the meat flavor of pepperoni, sausage, and salami
Bake supreme pizza on a pizza stone for a crispy pizza crust. A pizza stone helps to distribute the heat in the oven, allowing the pizza dough to cook evenly
Sprinkle a thin layer of cornmeal on the pizza stone before placing the pizza on the stone. Cornmeal prevents the pizza from sticking to the stone, and cornmeal also helps to crisp up the crust
Use pizza sauce sparingly. Too much pizza sauce makes the dough soggy
Use a combination of 2 types of cheese for extra flavor